Getting an SUV with high-ground clearance is not only desirable for off-road drives, but it also offers better traction and absorbs road shocks.
Though SUVs are popular for their high-ground clearance, not all models offer optimum ride heights.
We've looked into the compact SUVs that offer the highest ground clearance. You may also be interested in sports cars with high ground clearance.
Sub-compact SUVs
Naturally, you wouldn't expect a very high ground clearance from sub-compact SUVs. Besides, many people liken them to sedans in terms of off-road capabilities.
If that's what you expect, explore SUVs with the lowest ground clearance. You're bound to find some small SUVs there too.
For now, let's explore the small SUVs with sufficient ride heights for our beloved off-road trips.
1. Toyota Corolla Cross
The 2022 Corolla Cross comes with an attractive and sharp-looking exterior. It offers a family SUV look with smartly angled pillars and curved fenders.
Its ground clearance comes at 8.1 inches which is one of the highest in this category as most subcompact SUVs offer way lower.
With this ground clearance, owners can go on off-road drives without having to compromise any of the vehicle's underbody components.
However, note that off-road drives shouldn't entail extremely uneven terrains, as experts recommended between 8.8 inches and 10.8 inches or higher for such.
The Corolla Cross has a base MSRP of $22,445. This is quite affordable compared to other SUVs.
2. Mitsubishi Outlander Sport
The 2022 Mitsubishi Outlander Sport exterior offers an interesting look that will attract car buyers. Its interior also offers quality materials, but not as upscale as you will find with rivals.
Cheak also: problems with Mitsubishi Outlander models.
This is owing to the not-so-inspiring designs that come in some parts of the cabin such as the dashboard.
However, the 2022 Mitsubishi Outlander Sport is another subcompact SUV with one of the highest ground clearance in its class. It has an 8.3-inch ride height which is also rare among sub-compact SUVs.
The ground clearance is enough to go on off-road drives without damaging your car. However, it's still not equipped for extremely uneven roads.
This is to protect the undercarriage of your vehicle and indirectly prolong the life of your car.
The 2022 Outlander Sport sells at the base MSRP of $21,445. Prices increase depending on the options you'd like to include and the trim level you choose.
3. Subaru Crosstrek
The Subaru Crosstrek is another sub-compact SUV in this category with a great interior layout and functionality.
It comes with enough space for comfort but the rear row might be a little cramped for towering passengers.
The 2023 Crosstrek also offers one of the highest ground clearance of 8.7 inches. Note that this is the highest ground clearance on our list under the subcompact category.
With such a ride height, it could withstand tougher off-road terrains than its peers.
Starting MSRP for the Crosstrek stands at $23,645, which is still very affordable.
Compact SUVs
When we go higher by one class, we usually raise our hopes high for more functionality. However, remember that it's only a thin line between sub-compact and compact SUVs.
Honestly, many people can't even tell the difference between them. Anyway, these are the best compact SUVs for off-road driving.
4. Jeep Wrangler
The Jeep Wrangler offers a more rugged look and performance than many of its rivals. For the interior, the infotainment is easy to use.
Also, it may not be the most spacious in this category, however, it offers enough space for storage.
For ground clearance, the Wrangler tops our list under this class with 10.8 inches of ride height.
Now, this is enough to drive on extreme off-road terrain including rocky and uneven surfaces, as its ground clearance is high enough.
While there are many other factors that determine off-road suitability, the Wrangler has a pretty great head start. Notably, its impressive horsepower plays an important role in off-road driving.
That's why it's also on our list of compact SUVs with the most horsepower.
Owing to its high ground clearance, owners also get to enjoy a majestic driving position behind the wheels.
This not only helps drivers to have a splendid view of the road ahead, but they also don't feel intimidated when driving with bigger vehicles on the same road.
The base MSRP of the 2023 Jeep Wrangler is just $27,745.
5. Subaru Forester
The Forester includes a rugged exterior look, but an interior that offers a relaxed and excellent ride. Also, it offers spacious cabin and cargo areas.
Accompanying these features is the high driving position that offers great visibility of the road ahead. That's why it's one of our favorites among small SUVs with the best visibility.
Note that this is owing to the high ground clearance of the 2023 Forester. It comes at 8.7 inches, and while it's not as high as the Wrangler, off-road driving is achievable.
However, while it can handle rough drives, moderate off-road trails are ideal. Besides, even heavy-duty trucks shouldn't spend their entire lives on the roughest of terrains.
The 2023 Subaru Forester comes with a base MSRP of $26,395.
6. Mazda CX-50
The 2023 Mazda CX-50 offers an agile and fun drive. Also, owners get to enjoy the solid fuel economy it offers.
This SUV also comes with one of the highest ground clearance in this class, especially in the higher trims.
The base trim comes with 8.3 inches of ground clearance, which is sufficient, but the higher trims measure up to 8.6 inches.
So far, the CX-50 comes with a base MSRP of $26,800 and the midrange Premium Plus trim comes at $36,400. The highest trim, however, has a 41,550-dollar price tag.
7. Mitsubishi Eclipse Cross
Owning a 2023 Mitsubishi Eclipse Cross means owning an SUV that offers bold styling for a modern look.
Even better is that you need not worry about low-ground clearance. It offers one of the highest in the compact SUV category at 8.5 inches, thus, it's capable of powerful off-road drives.
The 2023 Eclipse Cross comes with a base MSRP of $$25,795. This is just a little above average for SUV prices in this category.
8. Ford Bronco
The 2022 Ford Bronco offers unique customization that's not common with other SUVs in this category. Its cabin is easy to get in and out of despite its high ride height.
Depending on the trim, the 2022 Bronco offers between 8.3 inches and 11.6 inches of ground clearance.
However, while the ground clearance is great for each trim level, the trims with 11.6 inches of ground clearance are the toughest for off-roading of any kind.
One of these trims is the Wildtrak model.
The Bronco comes at a base MSRP of $29,300 for the two-door and $33,450 for the base four-door.
9. Toyota RAV4 
The RAV4 is one of the most popular SUVs in the market so far. This is owing to many factors including noticeably its reliability.
The compact SUV also offers one of the highest ground clearances in this category at 8.4 inches. By now, everyone knows that ground clearance comes with enhanced off-road capabilities.
The 2023 Toyota RAV4 has a base MSRP of $27,575.
10. Mitsubishi Outlander
This three-row SUV comes with an attractive exterior thanks to its lovely bodywork. It also comes with a ground clearance of 8.3 inches.
Though some compact SUVs offer more, 8.3 inches of ground clearance is practical and offers average functionality.
Still, choose your battles wisely, and don't push the limits that your SUV is constructed to maintain. The base MSRP for the 2022 Outlander is only $25,795.
11. Jeep Cherokee
This five-passenger compact SUV offers a nice interior, a quality ride, and comfortable seats. Ground clearance is a functional 8.4 inches, and this aids its ability on gravel-ridden roads.
The Cherokee's base MSRP is $35,590 which is higher than the price of rival models.
12. Hyundai Tucson 
Finally, the Hyundai Tucson concludes our list with its lovely interior and quality materials.
It is quite practical and comfortable for passengers. However, its ride height is not far off from all the other SUVs on our list.
So, ground clearance stands at 8.3 inches and the base MSRP for the 2023 Hyundai Tucson is only $26,450.
Sources
5 Compact SUVs With the Highest Ground Clearance for Surviving the Big Flood | Motor Biscuit
Was this article helpful?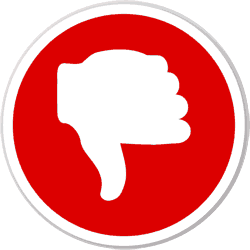 Did you find wrong information or was something missing?
We would love to hear your thoughts! (PS: We read ALL feedback)