There's no denying that Cadillac has provided some incredible luxury vehicles throughout the years – the Escalade definitely being one of them.
However, there are some models that haven't quite risen to the occasion.
And though there are definitely more expensive vehicles out there, the Escalade does require a fairly hefty investment.
Before you make the move to purchase one, it's important that you know which models are worth it and which are not.
We're going to walk you through five of the best and four of the worst years to help you through your decision.
The Best and Worst Years for Cadillac Escalade Are:
The Escalade models to consider for purchase include 2002, 2005, 2009, 2013, and 2018. The 2007, 2008, 2010, and 2015 models are some of the years you should consider avoiding.
If you want to buy an Escalade, you should know which years are good investments and which are not.
So, let's dive deeper.
What Cadillac Escalade Years Are the Most Reliable?
The Cadillac Escalade is a beautiful, powerful vehicle with a general reputation for being reliable.
However, like any other brand of vehicle, there are some good and bad years.
The following is a list of some of the most reliable choices from the Cadillac Escalade lineup.
2002 Cadillac Escalade
The 2002 Cadillac Escalade has been referred to more than once as one of the most reliable SUVs on the market.
J.D. Power hasn't provided any ratings, but there is still plenty of information on it.
Edmunds.com gives the 2002 Cadillac Escalade 4.7 out of 5 stars, with consumers praising everything from the 6.0-liter V8 engine to the comfortable interior.
It also achieved 4.7 out of 5 stars from Kelly Blue Book, with 93% of consumers reporting that they recommend this vehicle.
There were three recalls on this vehicle revolving around the wheels, an inadequate seal in the fuel system, and an issue with the seats pinching fingers. However, all three issues were addressed promptly.
Most owners spend around $1,007 per year on repairs according to Repair Pal. This might seem a bit high, and it's no secret that Escalade repairs can seem expensive.
However, they tend to happen less often with Escalades than with many other vehicles, so you're not spending that much too often.
2005 Cadillac Escalade
The 2005 Cadillac Escalade is also a well-loved vehicle, with many owners refusing to upgrade to a newer model until their 2005 just won't go anymore.
As the 2005 is now going on 18 years on the road, we can see that it was built to last for quite some time.
They love the V8 engine that provides 345 hp, the comfortable seating for eight, and the cargo space – making it a favorite for family road trips.
The biggest reported downside is that the fuel economy could be a little better with it topping out at about 16 MPG.
Also, because it's pretty big, it's difficult to park in small spaces.
Even with these disadvantages, it has consistently received a 4.8 out of 5 for quality, as well as reliability, according to Kelly Blue Book.
It received an overall rating of 4.8 out of 5 from Edmunds. Approximately 93% of both current and former owners recommend the 2005 Cadillac Escalade.
2009 Cadillac Escalade
The 2009 Cadillac Escalade was named the #1 in 2009 Luxury Large SUVs and #2 in Used Luxury Large SUVs that are priced under $50,000.
It's packed with safety features and luxury interior design, but it doesn't just look great. It also has a towing capacity of up to 8300 lbs and a 6.2-liter V8 engine, providing a great amount of power for any trip or task.
The 2009 Escalade also provides some pretty great technological features for its time, including multiple DVD entertainment systems for passengers, a Premium Bose sound system, and more.
U.S. News rated it 9.0 out of 10, especially in regard to its performance and luxury interior.
It also received 4.0 out of 5 on Edmunds and 4.9 out of 5 on Cars.com.
Additionally, J.D. Power rates it as #2 in the Large Premium SUV category, with an overall 80 out of 100 for quality and reliability, driving experience, and resale value.
The major downside of the 2009 Escalade is the cargo space. Though it provides up to 137.4 cu ft of room, you have to remove the third-row seating in order to achieve that.
Owners are unhappy that you can't simply fold it over as you can in many other vehicles.
Regardless of that fact, 100% of owners recommend this vehicle, according to Cars.com.
2013 Cadillac Escalade
The 2013 Escalade has been referred to as the longest-lasting Escalade of all time.
It received a J.D. Power rating of 86 out of 100 for quality and reliability.
Cars.com rated it 4.8 out of 5 for reliability and Edmunds rated it at 4.5 stars out of 5 stars overall.
Owners love the powerful V8 engine with 403 HP and the 8,300 lb towing capacity. And the fuel efficiency isn't bad in comparison to other large luxury SUVs.
And who can complain about heated and cooled front seats, an entertainment system for passengers, and a 10-speaker Bose system?
Unfortunately, the third row still has to be removed for maximum cargo space, so this is a frustration for most owners. However, more than 90% are still happy to recommend this vehicle.
2018 Cadillac Escalade
2018 was another good year for the Cadillac Escalade. It also comes with a powerful V8 engine but with a 10-speed automatic transmission instead of an 8-speed.
It still boasts a heavier towing capacity than most of its competitors.
Additionally, Cadillac addressed the third-row removal and gave consumers what they wanted with power-folding capabilities.
U.S. News reports that the 2018 Escalade also has below-average costs for an SUV in its class.
All of this and more earned it some pretty good ratings, including a J.D. Power rating of 82 out of 100 for quality and reliability and 85/100 on resale value.
Consumers on Cars.com rate it an overall 4.7 out of 5, and 91% would recommend it to others.
The biggest complaints from customers seem to be that the infotainment system doesn't always work as it should and the third row is a bit cramped.
What Cadillac Escalade Years Should You Avoid?
The following are some of the most unreliable Escalades, according to our research
2007 Cadillac Escalade
The 2007 Escalade is one you would be wise to avoid. It has no fewer than 308 issues reported by consumers on CarComplaints.com.
These issues range from seat belt and airbag problems to transmission issues.
Among the most frightening is at least one incident where a short caused a fire and filled the cabin with black smoke while the owners were driving.
Repair Pal provided a rating of only 3.0 out of 5 for reliability, placing it at #26 in 32 car brands – very close to the bottom of the list.
The NHTSA also reports more than 100 seat belt and airbag problems, along with several brake complaints, which suggests it's not the safest vehicle on the road.
2008 Cadillac Escalade
The 2008 model doesn't have quite as many complaints, but it does have at least 181 reported issues.
The biggest complaints include moisture in the headlights, low tire pressure, and broken door handles.
However, the NHTSA reports 75 seat belt and airbag problems, approximately two dozen complaints about the electrical system and engine, several brake issues, and more.
Repair Pal reports the fuel level sensor failing, speedometers not working properly, and several other sensors failing.
J.D. Power rates it at 76 out of 100 for quality and reliability.
Though many owners still love the look, feel, and space offered in the 2008 Escalade, most are unhappy with the amount of money they are having to put into repairs and maintenance.
2010 Cadillac Escalade
The 2010 Escalade is a very pretty model, but that doesn't make it a good choice.
It has 43 reported problems according to CarComplaints, which might seem like a small number compared to the other years on this list. However, some of those reported issues are pretty big ones.
One is that the rims are made of really low quality, which leads to the tires constantly leaking air. And unfortunately, the answer is not just to put more air in the tires – owners are constantly having to replace them.
The airbags were also involved in a recall because they would not deploy. Instead, they explode.
If those aren't enough reasons to stay away from the 2010 Escalade, you should also know that the engine often misfires and you need a good distance to brake safely.
It seems to be an unwise and potentially dangerous investment.
2015 Cadillac Escalade
Another year to avoid is the 2015 Escalade. With over 100 reported problems, there is just too much to overlook.
Though it's a beauty, there are some issues to contend with, including engine problems. For one thing, the engine tends to make a tapping noise while it's being driven, which is very annoying for owners, but it goes beyond that.
It's actually been known to just die while on the road, which is not only irritating but dangerous. Imagine your vehicle suddenly stops while you're driving and a large truck behind you doesn't have time to stop.
Many owners also complain about the transmission shaking and jerking while they're driving.
In addition to these issues, the pain is also known to fade easily, the AC condenser leaks, and the suspension causes some trouble.
These issues are enough for consumers to rate the vehicle 2.6 out of 5 stars on Edmunds.com.
J.D. Power rated it at 60 out of 100 for quality and reliability, so it's best to stay away.
What Are Some Typical Problems With the Cadillac Escalade Models?
Though problems can change from year to year, there are some that have been fairly consistent with the Escalade, including those below:
Electrical shorts
Broken door handles – both inside and out
Transmission failing or not operating properly
HVAC issues, leaving some owners without proper heating or air
Faulty sensors and instrument panels
You can learn more about Escalade complaints in our in-depth article.
Sources
Was this article helpful?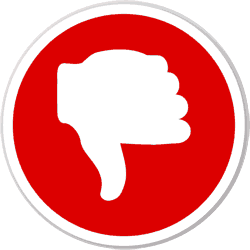 Did you find wrong information or was something missing?
We would love to hear your thoughts! (PS: We read ALL feedback)
ⓘ  The information in this article is based on data from National Highway Traffic Safety Administration (NHTSA) recall reports, consumer complaints submitted to the NHTSA, reliability ratings from J.D. Power, auto review and rating sites such as Edmunds, specialist forums, etc. We analyzed this data to provide insights into the best and worst years for these vehicle models.
---