Mercedes-Benz is a well-known German automobile company that has been producing desired luxury vehicles for more than a century.
Even while most of their cars have a high cost of maintenance, this does not indicate that every Mercedes is prone to frequent breakdowns.
Here is everything you need to know about the best and worst years for the Mercedes Benz-A class.
The Best and Worst Years for the Mercedes Benz A-Class:
For the Mercedes-Benz A-Class, the worst model years are 1997-2004 (W168), 2001–2004, and 2004–2008. Throughout these years, many customers who used these models raised a lot of complaints. The best years for A-Class vehicles are those between 2012-2018, 2019-2022, and from 2022 to the present.
What Mercedes-Benz A-Class Years are the Most Reliable?
Even within the same model, there may be great differences in reliability from one year's model to the next as well as from one vehicle to the next.
Having said that, in general, the more recent models of the Mercedes-Benz A-Class tend to have a higher degree of reliability than the older ones do.
When shopping for a used automobile, reliability is one of the most important factors to consider since a number of problems may put a major dent in your budget.
The following are the Mercedes Benz A class years that are reliable.
2012-2018 (W176)
The 2012–2018 (W176) Mercedes-Benz A-class is widely regarded as a reliable vehicle with low rates of customer complaints for various reasons.
The A-class model that was produced from 2012-2018 (W176) was solidly constructed and strong, which contributed to increasing the vehicle's longevity with time.
The A-class model from 2012-2018 (W176) comes standardly equipped with a variety of cutting-edge safety features and driver assistance systems that, when combined, have the potential to enhance the vehicle's overall performance as well as its longevity.
The A-class model (W176) was released in 2012 and remained in production until 2018.
It represented an improvement over earlier generations of the vehicle by addressing a number of the most common complaint.
Improvements include:
Transmission and powertrain of the vehicle.
Issues that had been reported about various electrical components.
Suspension problems 
These were problems that had been reported by owners of former models of the A-Class.
2019 to 2022 (W177)
The A-Class model (W177) that was released in 2019 and onwards has recieved generally excellent reviews for its reliability.
Owners have praised the vehicle for its refined and pleasant ride, efficient power train, and high-quality interior.
This model comes standard with a variety of modern technologies, including capability for semi-autonomous driving as well as a broad range of cutting-edge safety systems.
The ride quality of the 4Matic all-wheel-drive variants of this Benz is not very comfortable, and this Benz could benefit from a little more luggage space.
An anticipated dependability rating of 3.5 out of five stars has been assigned to the 2019 Mercedes-Benz A-Class. This rating is slightly above average.
It is also a great value, with pricing that is lower than usual for the category. When it comes to performance, the A-Class offers snappy acceleration as well as steering that is well-weighted.
2022-present (W177 facelift)
In the autumn of 2022, Mercedes-Benz gave the A-third Class's generation (W177) one more makeover to give its compact-sized portfolio a boost in anticipation of the model's replacement.
With this facelift, the German automobile manufacturer didn't give the impression that it was making an excessive amount of effort to demonstrate the modification. From the standpoint of the outward design, it wasn't such an essential makeover.
Despite there being very few obvious modifications, the 2022 A-Class still rates well in terms of reliability. This vehicle gained a predicted reliability score of 76/100 from J.D. Power. This is considered an upper-average score.
It is noteworthy that the National Highway Traffic Safety Administration has not issued any safety recalls for this car.
Based on our research, a prospective Mercedes-Benz owner would be satisfied with the firm ride this car offers.
What Mercedes-Benz A-Class Years should you Avoid?
The A-Class is a very reliable vehicle that is available in several different powertrain configurations. It was an excellent automobile; however, many consumers have chosen to move to newer models.
The following are the Mercedes Benz A-Class years to avoid.
1997-2004 (W168)
The "Vision A 93" which debuted in 1993 was equipped with either a diesel or gasoline engine of 1.2 liters in displacement.
A continuously variable transmission was coupled to each of them (CVT). The concept was well received, and during the next year's Geneva Motor Show, the production model of the A-Class was shown off to the general public for the first time.
It was an entirely novel approach to business for the German automobile manufacturer.
Customers reported a wide variety of faults with the vehicle, some of which were electrical issues, problems with the battery, and other problems.
Given that this was one of the first vehicles in its class, it is not surprising that these issues occurred.
2001 – 2004
In 1997, Mercedes-Benz introduced the A-Class MPV to meet customer demand for a more urban-friendly and space-efficient luxury automobile.
In 2001, to correct even more of the car's flaws, the long-wheelbase model was released.
The A-Class gained a bad reputation when it was discovered to have failed the elk test (a test of the stability and handling of a motor vehicle when swerving sharply) conducted by a Swedish magazine.
This exam is sometimes referred to as an avoidance test since the driver was required to do a series of rapid maneuvers that included right and left turns.
After that, Mercedes-Benz called for a recall for the vehicles it had already sold and paused the manufacturing line while it reworked the vehicle.
2004 – 2008
In 2004, Mercedes-Benz unveiled the A-Class, the second version of its compact minivan, which was also known as the A200.
The German automaker thought that the market required a premium product in the compact sector and came up with the A-Class as a solution to meet this need.
Although it represented a significant improvement over its predecessor, it was not a commercial success to the same extent.
Because of the large number of customer complaints that were lodged, this is another model that you should steer clear of if you are looking for a dependable automobile.
You may continue to purchase numerous newer models, which are always being released.
What are Some Typical Problems with the Mercedes-Benz A-Class Models?
Although A-class vehicles are long-lasting, this does not alter the undeniable truth that they are also susceptible to various issues.
The A class has a lot of different control units on board, and it also has a lot of different electrical problems. Fixing these electrical problems might easily set you back several thousand dollars.
The Mercedes-Benz A-Class has several problems, some of which are listed are:
Insecure seat backrest
Oil spill
Loss of drive
Front passenger airbag
Camshaft failure
Risk of fire
Dual-clutch gearbox failure
Brake booster failure
For an in-depth analysis, please take a look at our article about common problems with Mercedes-Benz vehicles.
Final Thoughts
In general, the reliability of a vehicle can depend on various factors, including the model and year, maintenance history, driving habits, and operating environment.
Some factors that may affect the reliability of the Mercedes-Benz A-Class include the quality of its components, build quality, and any common issues or recalls that have been reported.
It may also be helpful to consider the ratings and reviews of previous owners or to consult with a mechanic or dealership for more detailed information.
Was this article helpful?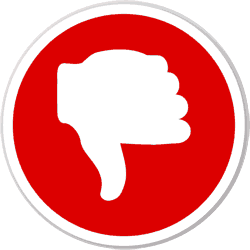 Did you find wrong information or was something missing?
We would love to hear your thoughts! (PS: We read ALL feedback)
ⓘ  The information in this article is based on data from National Highway Traffic Safety Administration (NHTSA) recall reports, consumer complaints submitted to the NHTSA, reliability ratings from J.D. Power, auto review and rating sites such as Edmunds, specialist forums, etc. We analyzed this data to provide insights into the best and worst years for these vehicle models.
---