The Audi A6 has been remarkable for its front-wheel or four-wheel drive available in all six generations. While Audi is a luxury brand, the A6 has been known for a series of issues, with gas leaks being the worst of them all.
If you want to learn about all its common issues, stay on this page to discover them all.
1. There's an Alarming Rate of Gas Leaks
One of the severe issues with the Audi A6 is the cracks and leaks in the fuel tank. This has resulted in gas leaks and has remained a threatening area of concern for many owners of the vehicle.
The gas leak is a serious automobile issue.
It could lead to a fire outbreak around the vehicle, and could as well cause a serious explosion.
Some Audi A6 models had been recalled for this problem, but not all of them. Meanwhile, only a few models, like the 2000, 2001, 2003, 2012, and 2016 models, are affected by the issues, judging by user complaints.
Aside from a crack or leak in the fuel tank, a lousy seal, damaged fuel lines, and defective fuel injectors or fuel pressure regulator issues could also lead to a fuel leak.
Moreover, a fuel leak can make the cabin unsafe, as it could contaminate the cabin with its fumes or odor.
2. The Instrument Cluster May Become Vague or Unreadable
The instrument cluster is responsible for displaying vital information like a warning signal, speedometer, and other info vital to the operations of a vehicle.
When it becomes nonfunctional, a vehicle will remain functional, but the driver will remain unassisted with information related to the vehicle and its mechanical components.
This is another common problem with the Audi A6, and it's particularly prominent with the 2000 model. Three factors often cause the failure of the instrument cluster to display:
Issues with the electrical system of the vehicle
Faulty wiring or ground connection
Faulty fuse
Sometimes, the backlight of the instrument cluster would not be visible; and in several other periods, it'll become so dimmed that you'd hardly see its display content.
Checking or fixing either of the factors above could help to fix the instrument cluster. Otherwise, you may have to get it repaired by a professional.
Replacing an instrument cluster costs around $200 to $400, according to instrumentsales.com.
3. Excessive Tire Wear Due To Frontal Vibration
A fault with the suspension or alignment of a vehicle will make it lose balance. This sometimes causes unnecessary vibration which hastens the wear and tear of the affected tire.
Unfortunately, this is another issue with many older Audi A6 models.
A number of owners have complained about a sudden gust of their tire while driving. Of course, a tire will wear out quickly when the vehicle keeps vibrating as you drive.
The vibration of this car usually occurs at the front end, and aside from damaging the tires, it also gives off a noisy ride.
4. Worn or Defective Coolant Pump, Causing Overheating
A coolant pump is equally important in a vehicle as the fuel pump. This is because it helps to transfer heat away from the engine to help the car maintain a healthy temperature.
When the vehicle is in use, the engine is always producing energy and it could get so hot if the coolant pump becomes nonfunctional.
In most cases, especially when the pump is made of plastic, it gets worn over time, losing its efficiency.
This is likely the case with the Audi A6. Several owners have complained about the vehicle overheating, while some have even reported instances of the engine ending up in flames.
Mind you, Audi has also made a recall on the engine cooling issue, and this issue mostly affects the 2016 and 2012 models.
5. The Headlight Sometimes Flickers or Fails To Respond
Another significant issue with this vehicle is the failure of the headlights. Sometimes it flickers, and most times it just works erratically.
This could either be a defect in the wiring harness or an issue with the vehicle's electrical system.
On the extreme, some owners have complained about the voltage of the headlights becoming too hot that the lights would go off while the wiring gets burned or melted.
Mind you, this issue is not as prominent as the others, and it is most common with the 2008 and 2005 Audi A6 models.
6. Steering Column Sometimes Gets Locked
Another issue to note about the Audi A6 is the steering column which sometimes gets locked. And when it does, it becomes unable to start the car. This problem is common to the 2005 and 2012 Audi A6 models.
Usually, the steering wheel gets locked when the steering rack becomes clogged with dirt or when there's a mechanical malfunction with the car. For this car, this problem seems to be a mechanical issue.
As claimed by an owner,
After parking the vehicle and shutting the engine off, the vehicle would not start the following day and the message "steering malfunction, do not drive" was displayed. The cause of the failure was not determined.

Source: carcomplaints.com
Not only that, another problem with the steering wheel is a defective cold weather package. Of course, some Audi A6 models feature heated seats and steering wheels designed for use during cold climates.
However, due to some defect in the system, the steering may get so hot even when you try to heat the seat.
This is a problem that is peculiar with only the old A6 models, particularly the 1990s versions.
Make sure to also check the best and worst Audi A6 years here.
General Pros and Cons of the Audi A6
Just like every other vehicle, the Audi A6 comes with many exciting features and, aside from its numerous issues, it also has some downsides too.
Here are the pros and cons of the Audi A6:
Pros
It comes with loads of hi-tech and safety features
A6 features attractive interior designs
It offers a comfortable and refined drive
Its fuel economy is quite impressive
It comes with spacious and comfortable seats
Cons
Its cargo space is less spacious for an executive car
The infotainment system is a little challenging
Severe engine problems
Transmission and electrical problems may arise too
Another less pronounced advantage of the Audi A6 is that it's among affordable cars that are really quiet.
What Do the Reviews Say?
Despite having loads of impressive technologies, an ugly side to the Audi A6 is its infotainment control.
Unlike a smartphone, you have to press the screen with more pressure in order to trigger it, so you won't accidentally tap on the wrong areas.
Also, the car doesn't come with a better or different look to set it apart from its predecessors.
For better or worse, it is difficult to tell the A6 apart from its larger A8 and smaller A4 siblings. We suspect future models will be better differentiated, as this is a long-held criticism of the German carmaker's designs.

Source: Carbuzz.com
However, Audi A6 has been acclaimed by many critics for its roominess and comfortable seats.
The A6 is not only safe, secure, and very nicely equipped, but all of this gear gets added to a four-door sedan that's very accommodating both front and back. The rear seats allowing room for three adults in comfort, although if only two are aboard, a fold-down armrest enhances the art of relaxation.

Source: thecarmagazine.com
It is important to note that this car has a lot of models with a series of complaints. However, the 2000 version remains the most dreaded for its engine and electrical issues.
By far, the worst year for the Audi A6 was 2000. This model had extensive engine issues that plagued investors. It also had transmission issues, a double-wammy when dealing with vehicles.

Other common faults in the Audi A6 models included interior accessory troubles, more engine problems, and electrical issues.

Source: copilotsearch.com
What's the Resale Value of the Audi A6?
The Audi A6 is one of the few cars with awful depreciation rates, as claimed by reviewers.
Although CarEdge indicates that the vehicle will depreciate by 16% after three years, and 46% after 5 years, a study by iSeeCars has revealed that A6 lost up to 55.8% in value after just three years.
Mind you, whether a car will hold its value or not is highly dependent on its overall state and the mileage it's covered.
That said, here are the resale values of different Audi A6 models, derived from Edmunds:
| | | |
| --- | --- | --- |
| Model | Mileage | Price |
| 2021 Audi A6 | 10,864 | $43,923 |
| 2020 Audi A6 | 23,355 | $42,590 |
| 2019 Audi A6 | 15,559 | $36,590 |
| 2018 Audi A6 | 37,371 | $30,990 |
| 2017 Audi A6 | 50,429 | $25,499 |
| 2016 Audi A6 | 61,535 | $23,590 |
| 2015 Audi A6 | 105,582 | $16,550 |
| 2014 Audi A6 | 79,586 | $19,990 |
| 2013 Audi A6 | 53,062 | $20,590 |
| 2012 Audi A6 | 67,449 | $17,590 |
| 2010 Audi A6 | 69,910 | $16,990 |
If you'd rather drive a new A6, you should know that it's among the Audi models you can lease.
Check problems for all Audi models.
Was this article helpful?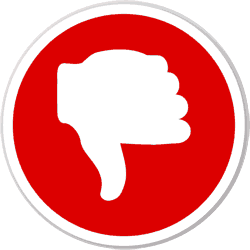 Did you find wrong information or was something missing?
We would love to hear your thoughts! (PS: We read ALL feedback)
ⓘ  The information in this article is based on data from National Highway Traffic Safety Administration (NHTSA) recall reports, consumer complaints submitted to the NHTSA, reliability ratings from J.D. Power, auto review and rating sites such as Edmunds, specialist forums, etc. We analyzed this data to provide insights into the best and worst years for these vehicle models.
---