Hankook is one of the most popular mid-range tire brands.
Do they cost more than your regular budget-priced tires do, but are they worth the money?
Are Hankook tires worth the price?
Given their excellent performance and effectiveness, Hankook tires are worth the money. Sure, they cost more than the regular budget tires. However, they offer more value compared to cheaper alternatives.
Hankook products have high durability and do not wear out as quickly as low-cost tires do. They are effective in almost all kinds of driving conditions.
As such, you can drive with confidence, knowing that your tires will keep you safe.
We've also looked at how noisy Hankook tires are and how long Hankook tires last.
Why Are Hankook Tires More Expensive?
From a relatively unknown maker of racecar tires, Hankook has become the seventh-largest tire manufacturer in the world.
Now, the tire industry is crowded, and many brands are available.
There are the premium, high-end brands, and the dirt-cheap, budget-cost brands.
Hankook is closer to the 'premium, high-end' status than the 'dirt-cheap, budget-cost' status.
You should also be reading our article which talks about Are Hankook Tires Quiet or Noisy?
Why Is This So?
As with most premium tire brads, Hankook tires are high-priced because they cost more to make.
The cost of making a tire is not limited to the actual production itself. Tire pattern designing, material selection, prototyping, testing, analysis, and evaluation happen before the actual tire manufacturing.
Of course, Hankook could skip these processes as some companies do, but that would hurt its reputation. Observing those procedures allows Hankook to produce high-quality tires.
Circumventing any of these pre-production steps will inevitably lead to a decrease in the quality and effectiveness of its tires.
Moreover, Hankook spends a tremendous amount of funds on improving its production techniques. For example, robots, removing the need for human workers, do manufacturing in Hankook's factories.
Humans can make mistakes that can lead to varying quality in tires produced. Automating the manufacturing process ensures that all tires produced have the same level of quality.
For the post-manufacturing stage, technicians inspect each tire by hand, checking for any flaws and weaknesses. Only after the tires pass through these stages, do they get to you, the end-user.
Now, you can understand why Hankook tires are more expensive than tires manufactured with little or no regard for quality.
You should also be reading our article which talks about Are Nexen Tires Quiet or Noisy?
Are Hankook Tires More Durable?
Hankook has multiple state-of-the-art Research & Development (R&D) facilities where it tests its tires before earmarking them for production.
These test centers can replicate real-world road conditions from dry climates to snowy weather.
Professional test drivers test the Hankook tires on these simulated surfaces, and engineers record observations.
The engineers test the performance and durability of the tires. If a tire shows signs of wear, Hankook's engineers analyze the causes of rapid wear.
They fix any present defects and take it back for further testing.
This process continues until the tires are proven highly durable.
Hankook vs. The Competition (Durability)
Hankook tires are among the most durable on the market.
According to toptenreviews.com, Hankook tires have an average tread life of 59,000 miles. That's around 3,500 miles higher than the market average.
Here's how Hankook compares to rivals in terms of durability:
Hankook Optimo H727 vs. Goodyear Assurance TripleTred (All-season): The Assurance TripleTred is Goodyear's longest-lasting tire with around 85,000 miles in estimated tread life.

However, Hankook's most durable model, Optimo H727, beats this comfortably and can last up to 100,000 miles.

Hankook Dynapro AT-M vs. Pirelli Scorpion ATR (All-terrain): Based on Consumer Reports ratings for both models, Hankook beats out Pirelli in terms of durability.

According to Consumer Reports, Hankook's Dynapro AT-M has an estimated 85,000 miles of tread life.
On the other hand, the Pirelli Scorpion is projected to last 60,000 miles.
What's the Real Difference Between Hankook Tires and Other Brands?
Hankook is not the only mid-range tire brand available.
Given the time, we are sure you can find up to six or seven rival brands that are less expensive.
Below are some qualities that distinguish Hankook from its competitors:
1. Affordability
Affordability is a big concern when buying tires, particularly if you have to replace all four tires.
While Hankook is more expensive than the average budget-tire brand, it is actually cheaper than most popular brands available.
Hankook is part of the 'Big Ten,' which refers to the ten biggest tire brands in the world. Of these brands, Hankook is among the cheapest.
Only a few brands, such as Cooper, can beat Hankook's low prices.
Interestingly, Hankook tires provide almost, or even better quality, as its higher-priced competitors.
In one test, Hankook tires performed better than models from well-known manufacturers such as Goodyear, Pirelli, Michelin, and Bridgestone.
This feat gets more impressive when you realize that Hankook tires are around $50 cheaper than Pirelli.
You are saving close to $200 on a set of tires.
2. Quality Control
Hankook tires undergo a systematic quality control process, from the prototype up to the finished product.
Moreover, the use of robots in production ensures that quality remains consistent across all Hankook tires.
The process continues after manufacturing, and each tire is examined carefully for defects/flaws. Engineers return tires that do not meet the quality specifications for improvement.
These activities contribute to the high level of quality of Hankook tires.
3. Comfort
Your tires are often the biggest factor influencing the comfort you experience while driving.
Hankook tires embody the company's "Kontrol" philosophy that aims to improve ride quality.
As such, each Hankook tire comes with specially made tread designs that help decrease interior noise and make riding comfortable.
In fact, Hankook's engineers test these tires at performance centers and collect data to help reduce noise levels further.
4. Durability
Hankook tires feature a unique tread compound that increases their toughness, and by extension, their lifespan.
The tires also use a variety of technologies aimed at reducing the rate of wear and tear.
It is hardly surprising that Hankook tires have some of the highest estimated tread mileage available.
You can buy Hankook tires with the assurance that they will last you for thousands of miles.
Here are some things that distinguish Hankook from its competitors:
Hankook vs. Bridgestone
Both tire brands are among the top Asian tire manufacturers.
However, they are different in some aspects, including:
Performance
Hankook offers better performance, compared to Bridgestone.
For example, Hankook's all-season tire Kinergy ST achieves optimal effectiveness in various conditions, including wet roads, dry roads, and even snow-covered surfaces.
Conversely, Bridgestone's all-season tire performs poorly in both wet and dry conditions, and worse in snow.
Longevity
Hankook also beats Bridgestone in terms of reliability and durability.
Tire Rack gives Bridgestone's Turanza EL42 (all-season) scores 4.6 points for tread wear.
Meanwhile, Hankook's Optimo H724 (all-season) scores 6.1 points for tread wear.
Hankook vs. Goodyear
Both tire brands offer quality, comfort, and variety.
But there are a few differences:
Performance
Hankook tires provide a better dry grip than Goodyear tires.
In a Car and Driver test, the Hankook Ventus V12 Evo2 provided a better grip on dry roads than the Goodyear Eagle F1 Asymmetric 3.
However, Goodyear's Eagle F1 Asymmetric 3 outshined Hankook's Ventus V12 Evo2 tires in wet conditions.
Affordability
Hankook's tires are some of the lowest-priced tires to come from any top-ten tire brand.
For example, Hankook's SUV tires cost $139 on average.
Goodyear SUV tires cost $162 apiece on average.
What Are the Cheaper Alternatives to Hankook?
The following are cheaper alternatives to Hankook tires:
Cooper
Cooper is, perhaps, the only top-10 tire brand that can match Hankook's value for money.
It offers similar performance, yet costs less. While Hankook's average sedan tire costs $82, Cooper sells a sedan tire for $73 on average.
Similarly, Cooper's average price for SUV tires ($118) is lower than Hankook's average price in the same category ($139).
Nexen
Just like Hankook, Nexen offers great tires that handle well in different road conditions and last long.
However, Nexen has more options for price-conscious buyers. A good example is Nexen Aria AH7.
It is effective both in winter and summer season, lasts long, and has reduced noise.
How Much Should You Pay for Four Tires?
Hankook's lineup features different tires that cater to different needs.
Thus, the cost of four tires will vary according to the type of tire you buy.
For example, the prices of the Hankook SUV summer tire (Ventus Evo S1 Evo2) range between $133 and $378. Therefore, a four-piece set will likely cost $931 to $1,512.
Hankook Ultra-High Performance tires are more expensive, with some costing up to $500 apiece.
However, you will only need this if you own a high-end sports car.
Do Hankook Tires Ever Go On Sale?
Hankook offers sales discounts and rebates on its tires at different times of the year.
Usually, you will need to satisfy a particular criterion before you qualify for the rebate.
A visit to the site should give you an idea of what you must do to qualify for the rebate.
Was this article helpful?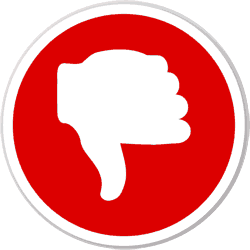 Did you find wrong information or was something missing?
We would love to hear your thoughts! (PS: We read ALL feedback)