Initially gaining fame for its track prowess, Hankook has grown to become the seventh-largest tire brand worldwide.
Hankook tires offer exceptional performance found on premium tires but do not cost as much. This has made them popular with budget-conscious buyers across the world.
Before we start, check out our articles about how long Hankook tires last and whether they're worth the high price.
Are Hankook tires quiet or noisy?
Despite their affordable price, Hankook tires offer quiet performance and smooth riding experience. Hankook utilizes its signature Sound Absorber noise-reduction technology and other features to minimize noise and vibration on its tires.
This explains why Hankook tires are among the least noisy tires in various classes.
Are Hankook Tires Quieter Than Other Brands?
Hankook continues to be the tire brand that offers premium quality at a price lower price than the average premium-tire alternative. Particularly in terms of passenger comfort and ride quality, Hankook can compete favorably with most brands.
Thus, we can say Hankook tires are as quiet as other brands.
However, this hardly crowns Hankook as the quietest tire brands on the market. Premium-brand rivals such as Goodyear, Pirelli, and Continental have more quiet tires compared to Hankook. However, Hankook will give you slightly less quiet performance, but at a lesser cost.
The major factor behind the quiet performance of Hankook's tires is its dedication to riding comfort.
As part of its Kontrol design philosophy, Hankook aims to make tires that reduce noise that affects ride quality negatively.
This explains the Korean brand's practice of assessing the noise level of its tires before mass production. In-house engineers analyze data collected from these tests and use the knowledge to reduce noise levels.
The Sound Absorber technology is a good example of Hankook's efforts to minimize road noise and vibrations on its tires.
This system consists mainly of a lightweight acoustic foam attached to the inner surface of the tire's cavity.
This foam element prevents tire vibration, a.k.a. tire cavity resonance, which causes tire noise at normal driving speeds.
You should also be reading our article which talks about Are Hankook Tires Really Worth the Price?
How Are Hankook Tires Tested for Noise?
As explained earlier, Hankook evaluates noise output on its tires before full-scale production.
Hankook's testing procedure is similar to other tire manufacturers and measures both interior and exterior noise.
Exterior Noise
Exterior noise a.k.a. external rolling noise denotes tire noise that people outside the vehicle can hear.
It takes place on a dedicated track with sound sensors placed on both sides. The sound sensors (microphones) record pass-by noise from the moving test vehicle and analyze the volume.
The first of these tests is the "coast-by" test. As the name suggests, the coast-by test involves the driver coasting by the microphones.
How does she do this? Initially, she advances at a stable speed but kills the engine as she enters the racetrack. Then the driver switches to neutral gear and coasts through the track with the engine off.
After the coast-by test, the drive-by test comes up next. According to this method, the driver approaches the racetrack in second or third gear. As she enters the course, she steps on the accelerator and zooms past the sound sensors.
Because the driver accelerates through the test zone, this procedure is often described as the "Acceleration Test."
The last of the exterior noise assessment procedures is the "cruise-by test," also called the constant speed test. Unlike previously mentioned procedures, the vehicle's speed remains the same from start to finish.
That is, the driver approaches the test zone at a fixed speed and maintains the same to the end.
Interior Noise
Tire noise contributes significantly to internal vehicle noise.
The purpose of the interior noise assessment is to evaluate the level of tire-induced noise in the vehicle's cabin.
This test often takes two forms:
The dummy test:
A dummy sits in the vehicle's passenger seat, sporting microphones linked to sound-measuring devices. Afterward, engineers speed up the car to a certain point, say, 80 mph. The measurement apparatus is then triggered to analyze the volume of cabin noise for a specific duration.
The human driver test:
For this procedure, an experienced test driver is asked to drive over rough ground and give his impressions. In most cases, the driving occurs on tracks peppered with obstacles, including manhole covers, bumps, potholes, and so on. This way, engineers can get a feel of the tire's potential noise output in real-life driving situations.
What Hankook Tires Are the Quietest?
While Hankook tires are generally quiet, some are quieter than others.
To guide your buying decision, we have picked out the quietest Hankook tires for you:
Hankook Optimo H724
The Optimo H724 is an all-season tire designed for today's sedans, coupes, minivans, and pickups.
It provides dependable handling and traction come rain or shine, with a comfortable ride to boot.
On this tire, an all-season tread sports a continuous center rib for stability and responsive steering qualities. In addition, circular shoulder blocks with deep-cut grooves provide improved traction and cornering ability, particularly on dry roads.
Furthermore, optimized peripheral grooves expel water from the tread while driving over wet pavement, eliminating the risk of hydroplaning. Similarly, crosscut sipes give the tire a biting edge useful for navigating mud and deep snow.
The Optimo 724 is more than just about performance, however. It comes with a pitch design technology that minimizes noise and boosts ride quality.
This noise-reducing feature works by forcing the tires to spin rapidly, even in high-speed situations.
Hankook Optimo H727
The Optimo H727 is undoubtedly Hankook's quietest tire on offer.
This is evident in its numerous appearances on several "Quietest Tires" reviews. Along with its class-leading 100,000-mile tread life warranty, it is easy to see why this tire is popular.
First, let us dive into what makes this tire special.
The Optimo H727 has a computer-optimized symmetric tread that features Carbon Compounding Technology and Footprint Shape Optimization for noise-free driving. It also combines tapered lateral slots and a center rib to decrease road noise and improve handling.
However, the Optimo H727 is more than a quiet tire; it offers reliable performance, regardless of weather conditions. For example, it has four peripheral grooves and dozens of sipes that give it a sharper bite in winter.
In fact, buyers have reported that this tire can easily drive through snow up to six inches.
Hankook Ventus S1 Evo2 Radial Tire
The Ventus S1 Evo2 is a high-performance summer tire designed for SUVs, trucks, and crossovers.
Sporting a classic symmetric design and silica-infused compound, the Ventus S1 Evo2 provides a serene ride with considerable rider comfort. It also has lower rolling resistance, which helps prolong tread life and increases fuel efficiency.
Wet performance is impressive, as circumferential grooves remove water and bolster the tire's wet grip. The tire performs well in the dry, too: robust shoulder blocks make for improved cornering and handling on dry pavement.
The Ventus S1 Evo2 can compete favorably with the Optimo H727 in terms of quietness. To start with, it has intermediate tread blocks for noise reduction. The blocks themselves feature stealth technology and wingtip design for a noise-free ride.
In addition, the Ventus S1 Evo2 comes with Hankook's signature Sound Absorber Technology.
This tech uses a polyurethane foam sheet placed in the tire's inner surface to keep rolling noise to a minimum.
What Hankook Tires Are Noisier?
While Hankook has one of the best tire noise suppression technology on the market, some of its models are noisy.
They include:
Hankook Optimo H426
The Hankook Optimo H426 is an all-season tire designed to provide year-round traction and handling.
While the tires offer outstanding performance, many users have complained that they are noisy during rides.
On a Volkswagen TDI forum, multiple owners reported changing the tires due to the excessive noise. In fact, a particular owner said he swapped out the Optimo H426 tires at just 200 miles.
In a similar fashion, owners of the Hyundai Genesis Sedan, which features the Optimo H426 as OEM equipment, made several noise-related complaints. This case was particularly bad as Hyundai was forced to recall the Genesis sedan after the complaints kept increasing.
Based on these reports, you may want to avoid buying the Hankook Optimo H426 tire if you want a quiet ride.
Hankook Dynapro ATM
The Dynapro ATM tire is an all-terrain tire built to provide superior performance both on and off-road.
While it delivers in terms of performance, it exhibits dismal ride quality, as shown by many noise-related complaints from buyers.
Although it is normal for all-terrain tires to emit above-average noise, users say the noise on the Dynapro ATM is worse.
In one case, a Nissan Pro-4X owner reported hearing a whining sound from his tires, especially around 40 mph. Other owners shared similar complaints, with many indicating the problem started even while the tires had significant tread life left.
We also found noise-related complaints about the Dynapro ATM tires on a Toyota Tacoma forum. According to owners there, the noise level on the tires often increased as the tread wore out.
In most cases reported, the noise took the form of a low hum or drone and usually surfaced around 50 mph.
Can You Make Hankook Tires Quieter?
Excess tire noise can be problematic for drivers, as it can distract attention and reduce ride quality.
Luckily, here are some activities to help you make your Hankook tires quieter:
Maintain your tires regularly.
Ensure wheel bearings are in good condition
Monitor tire pressure
Re-align and re-balance your wheels regularly.
Which Tire Brand Is the QUIETEST?
Here are the quietest tire brands on the market:
1. Goodyear
2. Michelin
3. Continental
4. Dunlop
5. Bridgestone
6. Pirelli
7. Cooper
8. Hankook
References:
TIRE TECH: NOISE REDUCING TIRE TECHNOLOGY
Was this article helpful?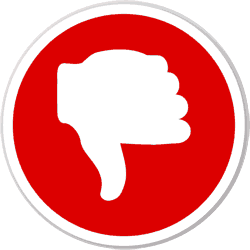 Did you find wrong information or was something missing?
We would love to hear your thoughts! (PS: We read ALL feedback)