All-wheel drive vehicles have a myriad of benefits and are especially known for providing great traction on the road. With an AWD, you can enjoy driving on normal roads as well as on uneven roads and surfaces.
With the advent of electrical cars all over the world, automakers are now producing electric vehicles that have AWD.
Electric cars with all-wheel-drive systems can offer better acceleration and improved grip on slippery roads. Offroading is just as fun in an electric all-wheel drive as it would be with traditional fuel engines.
In this article, we're looking at some affordable electric cars with all-wheel drive. These are both new and older models from respected automakers.
With that said, let's get into it.
1. Hyundai Ioniq 5
The Hyundai Ioniq 5 is available in both rear and all-wheel drive systems and has a lot to offer in the electric SUV space. This SUV from Hyundai is quite stylish and has a good driving range.
The powerful Ioniq 5 has an amazing battery pack at about 58 kWh for the standard and a huge 77.4 kWh for the dual motor. You can expect a range of 266 miles with the signle motor and around 303 miles for the dual motor.
Charging the Ioniq 5 is really convenient too, with a DC fast charger getting you from 10 to 80 percent in 18 minutes. Consequently, a slower charger will charge the battery at a slower pace for shorter trips.
All-wheel-drive systems are known to need a lot more power than rear-wheel drives. With this Hyundai, you can get around 99 MPGe on the all-wheel drive version.
For those long trips and off-roading adventurers, the Ioniq 5 is super comfortable in the interior. There is plenty of legroom and headroom for even tall adults on long trips.
The infotainment system boasts an exquisite 12.0-inch touchscreen display. The display elongates into the instrument gauge and cluster.
It comes with a variety of driver-assist technologies and safety features from Hyundai.
The Ioniq 5 now comes with Highway Driver Assist 2, a level 2 autonomous drive mode. This allows the car to change lanes automatically on the highway with little help from the driver.
The Hyundai Ioniq 5 is a great offering in the all-wheel drive industry for electric cars. The price is a little steep at $42,000, but it has great value and a myriad of features to offer.
Related: 21 Electric Cars With 3 Isofix Car Seats (With Pictures)
2. Kia EV 6
The Kia EV 6 is the company's first all-electric SUV and now comes with an all-wheel drive. Kia has taken it up a notch with the EV 6 and it is now estimated to go over 300 miles.
With its 800-volt architecture, the EV 6 can be charged from 10 percent to 80 percent in about 18 minutes. This is suitable for the large battery included with the all-wheel-drive version.
A 350-kW fast charger is recommended for faster charging on long trips. The smaller battery can last for about 232 MPGe, while the larger battery gets you around 310 MPGe.
Slowly but surely, electric cars are now getting bigger and more efficient batteries that last more than 300 miles. This is a big step for the electric vehicle industry and its future.
Long-distance trips will be delightful in the Kia EV 6 with plenty of space both in the front and passenger seats. The center console and infotainment area look futuristic and well designed.
Like the Ioniq 5, the EV 6 from Kia features an elongated infotainment touchscreen display. The 12.0-inch display is elongated and connected to the instrument cluster and gauge.
The infotainment system software itself is responsive but not as well designed as other competitors'. It has the ability to accept over-the-air updates and integrates well with Apple CarPlay and Android Auto.
The EV 6 has a variety of standard safety and driver-assist features. These include automated emergency braking and automatic high beams as standard across versions.
Also available as are standard blind-spot monitoring, rear cross-traffic alert, and adaptive cruise control. On the premium versions, you get lane-keeping assist and remote parking assist.
Crash-test scores from the NHTSA are not yet available for the KIA EV 6 but it comes with a generous powertrain warranty cover. You get all the standard safety tech such as automatic braking systems and automatic high beams.
With a base price of $42,695 for the rear-wheel drive and $52,995 for the all-wheel-drive, the Kia EV 6 sets itself apart. A great offering from a reliable brand.
Related: 7 Electric Cars With Front-Wheel Drive (Pictures & Prices)
3. Volkswagen ID.4
The latest dual-motor EV from the German automaker, the all-wheel-drive model of the VW ID.4 is fun to drive and gives great traction on the road. This all-wheel-drive EV sports all-season tires for a great off-road drive.
When it comes to acceleration, the ID.4 can get you from 0 to 60 in about 6.9 seconds flat with about 299 horsepower. With all that power, this electric vehicle has no problem going up really steep gradients.
It has an EPA-rated 250-mile range and a battery capacity of about 77 kWh. Real-world driving in the ID.4 is closer to about 238 miles of range from a full battery.
For long-distance trips, the ID.4's interior is well suited with advanced tech and a modern infotainment system. It's got a 10-inch touchscreen with the latest VW infotainment system and a 12-inch touchscreen on the base Pro trim.
The interior material feels solid, with a few plastic materials here and there. On the base Pro trim, you get leatherette materials that give it a premium feel and quality.
The interior space is comfortable enough for tall adults with plenty of headroom and legroom for front and back passengers. The trunk has about 30.3-cubic-foot, which is enough for luggage when going on long-distance trips.
Rear-wheel drives of the VW ID.4 give good ride quality as well as the all-wheel-drive versions. Interior noise is also kept to a minimum because of the stellar build quality.
Volkswagen made sure that the ID.4 both feels premium and drives just as smooth as a luxury car. It features all the bells and whistles you can get with some of the most premium electric all-wheel drives on the market.
It's also a pretty good-looking car both outside and inside, giving minimalist themes all-round. From the interior and exterior design, you can tell that VW prioritized cabin space over other features.
Not only is the ID.4 family-friendly, but it also features a variety of safety features across the range. It gets tech such as automatic emergency braking with pedestrian detection, blind spot monitoring, and cruise control.
Across the various trims, you also get automatic high beams and parking sensors free. The IIHS has given the VW ID.4 a 9 out of 10 for safety technologies included and crash tests.
With a base price starting from $41,955, the VW ID.4 gives great value for money compared to competitors.
Related: 13 Electric Vehicles With Range Extenders (With Prices)
Was this article helpful?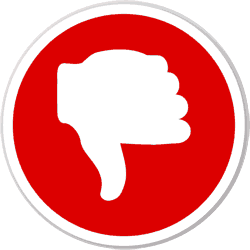 Did you find wrong information or was something missing?
We would love to hear your thoughts! (PS: We read ALL feedback)