The drag and weight of minivans' large, chunky frames mean that it's hard to create an electric-powered family car that's financially viable for consumers with an acceptable battery range.
That means there are barely any affordable electric crossovers or minivans with three ISOFIX points, or places to attach child seats.
But as battery technology gets more affordable and efficient, the road blocks that hold back affordable electric family cars from large-scale development are starting to crumble.
Car companies still need to do plenty of testing, research, and investment before we see affordable, fully-electric minivans with enough ISOFIX spots for big families with small children hit the market.
However, there are already some relatively affordable EV options out there with two isofix spots that can fit three child seats.
There are also some exciting EVs that haven't been released yet or aren't available in the US, some with three ISOFIX points, that represent how the electric minivan will develop over the next few decades.
Here are 13 Electric Vehicles That Can Fit Three Child Seats with Isofix
1. Kia e-Niro
The 2021 Kia e-Niro has a base price of $40,385, and it sports two ISOFIX hookups, one on each of the back seats. 
It can accommodate up to three child seats without sacrificing legroom for the front passengers.
Families looking for affordable EVs will be well satisfied with the e-Niro's low price compared to other electric SUVs and its ample 239-mile range.
2. Mustang Mach-e
At a base price of $44,995, this crossover EV has a spacious interior and two ISOFIX spots. 
It's possible to fix three child seats, but there's just barely enough room and they'll fit quite snugly.
The Mach-e is a great bargain: if you opt for the rear-wheel drive package and extended-range battery, you can get up to 305 miles of range for $49,875.
It's also got an all-wheel-drive option, and all of its trims offer an ultra-smooth driving experience.
3. Volvo XC40 Recharge Pure Electric
This luxury SUV EV starts at $54,645 and has just enough room for three child seats, though it's a tight squeeze. 
You'll find an isofix spot on both rear seats, and despite the difficulty of fitting three seats in the back, the XC40 has a spacious interior with lots of cargo space.
The XC40 also sports a 223-mile range on a full charge and all the trappings of a luxury car like sophisticated safety features, a partially autonomous driving mode, and a zippy, smooth driving experience.
4. Audi e-tron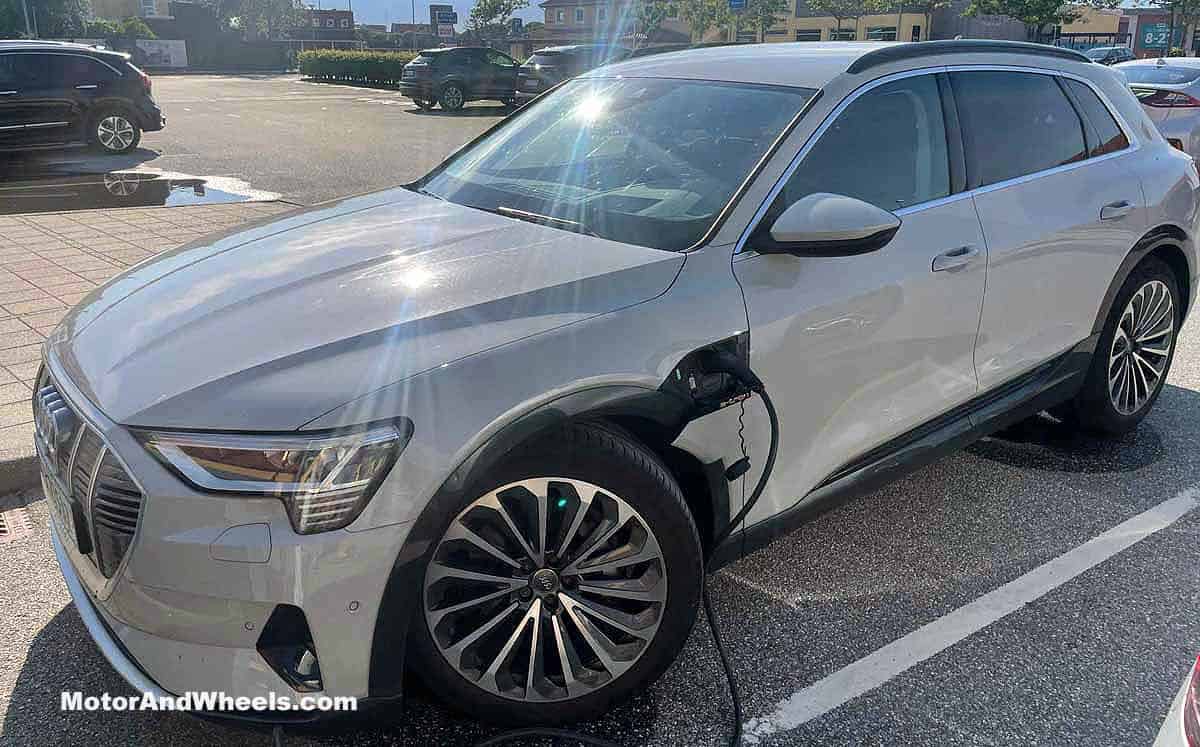 The Audi e-Tron has a high base price of $67,995, but it's the ideal electric family vehicle with three ISOFIX points in total—one in the front passenger seat and two in the back. 
You can even fit three child seats in the back with no trouble and still have room for one more up front.
That high price tag means the e-tron is decked out with premium features like driver assistance and forward-collision warning, and it's got a sizable 222-mile range.
If you're in the market for a sporty Audi, check out our article about sporty cars that come with ISOFIX or latch.
5. Kia EV6
With a base price of $42,695, this affordable EV crossover features two ISOFIX spots in the rear and can handily accommodate three child seats in the back.
The EV6 has a 232-mile base range, formidable for its price point.
If you're willing to go up in price and go for the extended-range battery, the EV6 can muster a whopping 310 miles of range.
6. Hyundai Ioniq 5
The Hyundai Ioniq 5 starts at $42,000 and has two ISOFIX spots, one on each side of the rear seat setup.
It's tough and unwieldy to fit three child seats in the back of the IONIQ, but it's possible if you reverse one of them and face towards the back of the car.
There's a basic battery range of 202 miles and extended range options of 266 miles, or 303 miles if you opt for the single-motor drivetrain.
7. BMW iX3
This state-of-the-art EV SUV starts at $84,195, which may price out some buyers. However, its spacious and comfortable interior features two ISOFIX spots and can fit three child seats, although snugly.
The iX3 has a mighty battery range of roughly 324 miles per charge.
It's outfitted with automated emergency braking and lane-keeping assist and a high-tech infotainment system.
8. Rivian R1S
This bold, futuristic luxury EV truck justifies its $91,075 price tag with a capacious interior that features four ISOFIX spots. 
It's got three rows of seats in total, and you can fit three child seats in the middle row with no problem and still have room for two more in the back.
The R1S is made for high torque capacity for towing, and all-wheel-drive comes standard.
It's got a whopping 316 miles of driving range, and an even higher 400-mile battery is due to come out in future model years.
9. Hyundai Kona Electric
The subcompact Hyundai Kona Electric may be small, but it can fit three child seats in the back with relatively little struggle and features two ISOFIX spots, one on each rear seat. On top of that, it's affordable—its base price is just $35,295.
The Kona is outfitted with a robust regenerative braking system that helps bolster its respectable 258-mile range.
In one-pedal-driving mode, the regenerative braking system works even harder.
10. Chevrolet Bolt EUV
This compact EUV is designed with a deceptively roomy set of back seats that can easily accommodate three child seats, and it's quite affordable at a base price of $28,195. It doesn't use the ISOFIX system, but it features two LATCH-system hookup points in the back.
It's also a bargain in the range department with 190 miles of range on a full battery, which is great for its low price point.
11. Tesla Model X
The Model X is Tesla's second foray into the luxury SUV EV market after the model Y, and it's super roomy—you can opt for a seven-seater model that easily accommodates three child seats. All models feature three ISOFIX spots.
The standard model X battery claims an impressive 335-mile range.
It's also efficient with its charge, sporting a 105 combined MPGe (the electric car equivalent of miles per gallon).
12. Tesla Model Y
The Model Y was conceived as a crossover addition to Tesla's lineup of luxury EV SUVs, and it's roomy enough to function as a family car with just enough space for three child seats in the back if you're willing to use smaller seats or adjust their orientation.
Its base price is $67,440 and it has two isofix points.
The Model Y justifies its price tag with sleek, luxury features and safety additions like automated emergency braking and lane-keeping assist.
It's got a Long Range model with a 330-mile range and a Performance model with a 303-mile range but better acceleration and a higher top speed.
13. Polestar 2
The Polestar 2 has a base price of $49,800 and can accommodate three child seats in the back. It has an ISOFIX point on both rear side seats.
This crossover-hatchback-sedan EV makes up for its relatively lower range and weaker acceleration for its price point with a superior driving experience and luxurious interior.
It's got a 270-mile range and modern computer-controlled safety features like automated emergency braking and blind spot monitoring.
14. Jaguar I-Pace
The $71,050 price tag may be a limiting factor for many, but if you overlook that, the I-Pace works as a family car—it can accommodate three child seats in the back with some creative positioning, and it features two ISOFIX points.
A 253-mile range gives you decent trip-planning room, and the I-Pace has modern automated safety systems like:
forward collision warning,
lane-departure warning,
lane-keeping assist,
and adaptive cruise control.
15. Ford F-150 Lightning
This groundbreaking EV truck is designed for high torque and towing capacity, but its cabin is quite roomy and can easily fit three child seats.
The Lightning's relatively affordable $41,769 price point makes it more attractive as a family car. Instead of the ISOFIX system, the Lightning has two LATCH-system carseat hookup points.
The Lightning sports a whopping 300-mile range and modern safety features with automated braking for all trim levels.
16. Skoda Enyaq iV
The Skoda Enyaq is the ideal electric family car—it's roomy, can fit three child seats, has an ISOFIX point near the passenger seat and two more in the back, and it's affordable.
The Enyaq starts at a base price of £34,850, which works out to $41,314.
It's got ample range too, with 286 and 311-mile battery options.
Unfortunately for Americans, the Enyaq is only available in Europe and it's not set to make its way to the US market anytime soon.
17. Volkswagen ID.3
This practical, affordable hatchback fills a similar role to the popular Volkswagen Golf, although it's electric. It's a great family car that happens to be electric, and three ISOFIX spots are located on the rear side seats and the passenger seat.
The back row can snugly accommodate three car seats.
Its base price is £28,370, or around $39,000. At a range of 259 miles, it's got a pretty attractive range-to-price value as well.
18. Citroen e-Berlingo
Europe has started to see a variety of great electric family vehicles hit the market, and the French-made Citroen e-Berlingo is a great example of that.
The e-Berlingo is affordable at a base price of £29,495, featuring three ISOFIX points and enough room for three child seats in the back.
The Berlingo is gigantic and has tons of storage space.
It's intended as a practical car, so its style and handling aren't going to blow you away, but it's got an ample 174-mile range.
19. Volkswagen ID.Buzz Microbus
Volkswagen is finally introducing a new car to the US market in 2024 with the ID.Buzz Microbus, and it's bound to be a great family car with its spacious interior and ample cargo space.
It will be able to fit three child seats in the back row, and its price will be set around $40,000.
20. Cadillac Lyriq
Set to hit the American market next year, the Cadillac Lyriq is a big step forward for luxury SUV EVs. It's got tons of passenger and cargo space and it should be a cinch to fit three child seats in the back.
The lyriq has a base price of $62,990 and a maximum range of 312 miles.
21. Toyota bZ4X
This EV SUV will come at an affordable $43,215 price point and sports a roomy, practical interior that can fit three child seats in the back.
The bZ4X's range is decent but nothing to write home about when it comes to highway driving—it only gets 160 miles of its claimed 242-mile range.
However, it's relatively affordable and roomy, making it a great option for those looking for an electric family car.
Sources
https://greencars.com/post/best-family-electric-vehicle-in-2022
https://heycar.co.uk/guides/best-ev-electric-cars-three-child-car-seats
https://www.whatcar.com/advice/buying/best-electric-cars-for-three-child-car-seats/n19508
https://www.caranddriver.com/
Was this article helpful?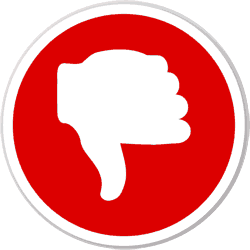 Did you find wrong information or was something missing?
We would love to hear your thoughts! (PS: We read ALL feedback)