Victory Motorcycles was an American manufacturer of V-twin power cruisers, touring bikes, and baggers.
It was established in 1998 by Polaris Industries and discontinued production in 2017, three years after Polaris revived the Indian motorcycle brand due to a lack of profit.
Victory motorcycles are known for their low center of gravity, smooth handling, and powerful engine. However, since all Victories available for purchase are used deals, bike shoppers are frequently asking themselves just how reliable the motorcycles are?
Here's the Short Answer to How Reliable Victory Motorcycles Are:
A 2015 study that analyzed 12,300 motorcycles from 10 different brands found Victory Motorcycles to be a highly reliable bike brand. These motorcycles had the highest consumer satisfaction rating.
In fact, some owners claim their Victory bikes can last over 300,000 miles with proper maintenance. 
Are Victory Motorcycles As Reliable As Other Motorcycles?
Victory motorcycles are considered reliable compared to other motorcycle brands, especially Harley-Davidson. According to a 2015 study that analyzed 12,300 motorcycles from 10 different brands, Victory had the highest consumer satisfaction rating and the lowest number of problems per 100 bikes.
But don't take our word for it; here are some quotes from real-life Victory motorcycle owners who attest to their reliability compared to other brands:
"I've been a Harley rider for 45 years and was skeptical to ride anything else. But I gave this Victory a ride and was amazed at the comfort, performance, and horsepower. The ride is much better than most cruisers. The bike is all steel and quality built."

"Love this bike. The Fit and finish are excellent. Handling is great at both high speed and low. Add pegs for long-distance touring, and you have one comfortable ride. Best bike of the five that I have owned."

[SOURCE: Cycle Insider]
That said, since Victory ceased production in 2017, finding parts and service centers for these bikes may be more complicated than for other brands. This leaves more than a few riders wondering if Polaris still makes parts for Victory motorcycles.
According to the official Victory Motorcycles website, Polaris still offers service and repair parts for these motorcycles. You can shop for parts online using schematic drawings or locate them at a dealer near you.
You may also be able to find some parts from aftermarket sources that are compatible with Victory motorcycles.
"This is a great motorcycle. I purchased it new, and have about 60,000 miles on it. The ride is great on long and short runs. I have done half of the United States; if it was not for time and money, I would have done it all twice by now. It is just a great machine that was built well."

"Overall, the Victory is very well built and overall better than an equivalent Harley, but it's built down to a price, so there's a few cheap-looking bits lurking like the Japanese-style plastic indicator housings. We haven't heard of any major problems with reliability."

[SOURCE: motorcyclenews.com]
How Reliable Are They Compared to Similar Brands?
Victory motorcycles are reliable compared to similar brands such as Harley-Davidson, Indian, and Triumph.
While finding parts and mechanical service for the bikes may be challenging since they are no longer in production, Victory motorcycles have fewer problems, higher customer satisfaction, and better performance than many of their competitors.
See an overview of their comparison below.
Victory vs. Harley-Davidson
Based on various customer reviews and studies, Victory motorcycles have fewer problems per 100 bikes and higher consumer satisfaction ratings than Harley-Davidson motorcycles.
Victories offer more advanced technology, better handling, and superior performance than Harley-Davidson motorcycles, which focus more on heritage and tradition.
That said, Harley-Davidson motorcycles have more models, experience, and fans than Victory motorcycles. They also have a classic design and brand philosophy that appeals to many riders.
Therefore, the choice between Victory and Harley-Davidson may depend on personal preference and the availability of parts and service.
Victory Vs. Indian Motorcycles
Victory motorcycles and Indian motorcycles are both owned by Polaris Industries, but they have different histories and features. Polaris built Victory from the ground up as a modern and innovative alternative to Harley-Davidson bikes.
However, Indian motorcycles long pre-date Polaris.
Indian is the oldest motorcycle brand in the US, dating back to 1897. With their acquisition and re-design of Indian, Polaris focused on integrating their cutting-edge tech into the bikes, honoring the brand's classic and heritage style.
In terms of reliability, both Victory and Indian motorcycles are very reliable, with high customer satisfaction ratings long-term.
Still, some owners have reported issues with the suspension, steering, and brakes of Victory motorcycles. Indian motorcycles have improved on some of the technology and design flaws of Victory motorcycles, such as the transmission and the primary drive.
Learn more by checking our article on 8 main differences between Victory and Indian motorcycles.
Victory Vs. Triumph
Victory Motorcycles and Triumph Motorcycles are two different brands catering to different market segments. Victories are American-made cruisers and touring bikes that compete with Harley-Davidson.
On the other hand, Triumph motorcycles are British-made sport, classic, and adventure bikes that compete with Japanese and European brands. However, both brands produce powerful and unique motorcycle engines focusing on performance and innovation.
In terms of reliability, Victory Motorcycles once had a better reputation than Triumph Motorcycles. According to a 2015 Consumer Reports survey, Victory had the lowest number of problems per 100 bikes and the highest owner satisfaction rating amongst the ten brands.
Conversely, Triumph had a higher problem rate and one of the lowest satisfaction ratings. Some of the common issues with Triumph motorcycles include electrical faults, oil leaks, and engine failures.
That said, Triumph's reliability has significantly improved since 2015, offering more variety, innovation, and heritage than Victory motorcycles. You might want to read about how reliable Triumph motorcycles are.
So, the choice between Victory and Triumph motorcycles may depend on personal preference, riding style, and budget.
How Many Miles Do Victory Motorcycles Last?
Victory motorcycles routinely last for more than 150,000 miles without experiencing significant problems; thanks to the innovative Polaris engineering behind their engine designs.
Don't take our word for it; here are some real-life examples of Victory motorcycles with over 150,000 miles on their odometers and counting!
"I have a 2000 V92C that has 150,000 miles on it. I have had no major problems with it. I have replaced the clutch cable twice and the battery once. I change the oil every 3000 miles and use synthetic oil. I love this bike and would not trade it for anything." Victory V92C Owner
-"I know of a guy who has over 200k on his Vision. He's had to replace a few things but nothing major. He rides it like he stole it too."  Victory Vision Owner
"I have a 2008 Vision Tour Premium that has over 160,000 miles on it. It still runs great and looks good. I have done all the regular maintenance and replaced the tires, brakes, and belts as needed. The only major issue I had was a cracked oil cooler that was replaced under warranty." Victory Vision Tour Owner
"I met a guy at Sturgis who had a 2010 Cross Country with over 180,000 miles on it. He said he rode it all over the country and never had any problems. He said he used Victory oil and filters and followed the service manual. He was very happy with his bike and planned to keep it for a long time." Victory Cross Country Owner
Is the Victory Motorcycle Brand Still Considered High Quality?
The Victory motorcycle brand is still considered high quality by experienced riders and mechanical experts, even though it ceased production in 2017.
Victory motorcycles have a reputation for being smooth, robust, and reliable, with some owners claiming they last over 300,000 miles.
The brand has a high customer satisfaction rating, with 80% of owners saying they would buy the same bike again.
What Usually Breaks First on Victory Motorcycles?
Some of the parts that break first on Victory motorcycles include the clutch, transmission, and brakes. These parts may wear out faster on Victories than on other models due to the high torque and power produced by their engines.
In many cases, the premature wear on these parts occurs because of the aggressive riding style of the bike's owner.
These bikes also has received a few reported issues with the electrical system, such as faulty wiring, corroded connectors, or bad batteries. However, these problems are uncommon and can be prevented or fixed with proper maintenance and care.
Victory motorcycles are generally very reliable and durable machines that can last for well over 150,000 miles without requiring severe repairs.
How Often Do Victory Motorcycles Break Down?
Victory motorcycles break down less often than most other motorcycle brands. Only 17% of Victory owners reported a significant problem with their bikes in the previous four years, compared to 26% of Harley-Davidson owners and 42% of Can-Am owners.
That said, these motorcycles can still break down due to normal wear and tear, poor maintenance, or accidents.
Related: How Many Miles & Years Do Victory Motorcycles Last? (Helpful Facts & Tips)
Do Victory Motorcycles Cost More to Repair?
The cost of repairing a Victory motorcycle depends on several factors, such as the type and extent of the damage, the availability of parts, and the hourly mechanic's labor rates.
Here are some general estimates based on standard repair costs:
Changing a Victory motorcycle's tire can cost around $100-$200.
An oil and filter change on a Victory can cost around $50-$60.
Changing the brake pads on a Victory can cost around $15-$30.
Changing a Victory motorcycle's chain and sprocket can cost around $55-$65.
Finding replacement parts can be more expensive than other brands, and finding specialized service centers may be more difficult since Victory ceased production in 2017.
What Are the Most Reliable Victory Models?
Some of the most reliable Victory models include:
Victory Vision: A full-dress touring bike with a futuristic design and a powerful engine.
Victory Cross Country: A versatile bagger with ample storage, sleek style, a high-performance engine, and a comfortable riding position.
Victory Vegas: A classic cruiser with a low seat and a high torque,
Victory Octane: A sporty cruiser with a liquid-cooled engine and agile handling.
Victory Magnum: A custom bagger with a large front wheel and a loud stock sound system.
Sources:
Victory Motorcycle OEM Service & Repair Parts | Victory Motorcycles
Was this article helpful?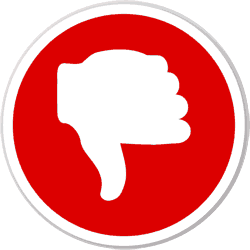 Did you find wrong information or was something missing?
We would love to hear your thoughts! (PS: We read ALL feedback)