Modern vehicles always have a list of safety features ready to protect passengers in case of a crash.
One of the most sought-after safety features in a vehicle is the crumple zone or a crush zone. The crumple zone is a safety feature or area of a car that controls impact during collisions.
Located mostly in the front part of a vehicle, the crumple zone is designed to minimize the force of a collision by delaying the total force applied.
Invented way back in the 1930s by a Mercedes Benz engineer, crumple zones have been shown to be effective.
This might be a very old development for the auto industry, but not all vehicles come equipped with an effective crumple zone.
In this article, we list out a few popular cars that don't have a crumple zone or have one that is ineffective during a crash.
1. Kia Rio
The Kia Rio is no stranger in the super-mini-car market. This hatchback gets stellar improvements in aerodynamics and the interior.
Back in the days when compact cars were known to be cheap and have less than stellar reliability ratings, the Kia Rio changed this.
An improvement to the styling both inside and outside separates the Kia Rio from many of its competitors. It certainly feels bigger and has lots of standard and optional features to choose from.
The Rio sports a 1.6-liter four-cylinder engine, pumping out about 138 horsepower with 123 pound-feet of torque. The engine is nifty enough for daily driving in the city.
Most modern cars, no matter how small, do come with a crumple zone. The problem with some of these cars, like the Rio, is that the bumper is too small for a crumple zone to be effective.
The bumper of the 2014 Kia Rio and many in this segment and the front part of the car is too small. A smaller space in the front of the car means that there's less space for the crumple zone.
A crumple zone should be big enough to delay and absorb most of the impact in a crash. With smaller cars, manufacturers leave insufficient space for the crumple zone in the engine area.
In government testing, the 2014 Kia Rio received average scores for frontal collision protection and a better score for side protection. It also received an average rating for head restraint design that protects against whiplash in rear impacts.
With that said, the Kia Rio has stellar reviews in other areas such as the interior, space, and comfort. This four-door hatchback has sufficient cabin room for its size. The infotainment system gets a thumbs up as one of the best in the segment of compact cars.
The 2014 Kia Rio gets solid ratings for a compact modern city car. But in terms of safety, the low bumper and small front-engine space of the Rio get subpar safety ratings.
Related: Kia Rio Problems: 5 Common Issues (Explained)
2. Honda Fit
When properly maintained, the Honda Fit can typically last you upwards of 250,000 miles. Reliability and value for money are what you'd get with this subcompact car from Honda.
With a 1.5-liter, four-cylinder VTEC engine, the Fit gives a peppy performance in city driving and is a reliable daily driver. Another plus is the mileage and fuel efficiency. It gets 34 mpg for highway driving and 28 mpg for city driving with its five-speed manual transmission.
Compared to other subcompacts in its class, the Honda Fit gets up-to-date safety features and technologies. It's equipped with side curtain airbags, front-seat side-impact airbags, and anti-lock brakes.
In government crash tests, the Fit gets average scores for frontal and side crumple zones. It didn't fair better for rear crash tests, getting a rating of "poor".
A report from IIHS (Insurance Institute for Highway Safety) that crash-tested the Honda Fit found that the front bumper is not very strong. The bumper usually sustains major damage during a collision and the Honda Fit's bumper puts passengers at risk.
Another factor affecting the crash test scores for the Fit is the rather small frontal area where the crumple zone is. Because of this small crumple zone, the impact of a crash renders the crumple or crush zone less effective.
Safety is a big concern when buyers look for a car and an ineffective crush zone is a big letdown for consumers.
This 2008 Honda Fit has excellent performance and practical looks for a car in its segment. For the price range, it is also attractive for first-time car buyers and great for a daily driver.
Related: 11 Honda Fit Statistics You Should Know (Facts & Numbers)
3. Hyundai Accent
Another subcompact hatchback making it onto this list is the 2012 Hyundai Accent. The Accent has had its fair share of complaints in its 26 model years.
With regular maintenance, this vehicle can last as long as 200,000 miles and have great savings on fuel consumption. This hatchback has a stronger engine, feels much bigger, and is impressive both inside and out.
For the 2012 model, Hyundai decided to redesign the Accent to appeal to a much larger target market. Because of this redesign, the Accent could go up against the bigger boys in the subcompact segment.
Hyundai equipped the Accent with a 1.6-liter direct-injection four-cylinder engine outputting 138 horsepower and 123 pound-per-feet of torque. This setup gives the Accent a solid performance for driving through the city and on short trips.
One of the major drawbacks is the size of the car. Although the Accent is not very small, it does have a subcompact stature.
When it comes to safety, the Accent gets the standard set of features you'd expect for a car in this price range. It's equipped with side-impact and side-curtain airbags, stability and traction control, and brake assist.
Subcompacts and superminis have lower than usual bumpers. A bumper should be the first point of contact with another car in a collision.
The problem with subcompact bumpers is that the upper part of the engine area takes most of the impact. The crumple zone is lower and, therefore, not as effective as it should be.
The government crash tests score for the 2012 Hyundai Accent was above average for overall crash test protection. The IIHS gave the Hyundai Accent a rating of "good" for roof strength, frontal-offset, and side impact.
Related: Honda VS. Hyundai: 8 Important Differences (Before Buying)
4. Chevrolet Aveo
Sporting a 1.6-liter, four-cylinder engine giving out 103 horsepower and 107 pound-feet of torque, the 2007 Chevrolet Aveo is quite the workhorse.
The Aveo is built in Korea by Daewoo. The company made sure that this version would be able to go up against some of its best competitors.
Not only is the Aveo hatchback quite affordable, but it also boasts all-new styling and a much better interior design. It is much smaller and yet has a lackluster fuel economy.
This 2007 model's mileage estimates are about 28 mpg for city driving and 36 mpg for the highway. Even with the manual gearbox, the Chevrolet Aveo's fuel efficiency is much lower than that of its competitors.
All five passengers in an Aveo get seatbelts, with pre-tensioners only in the front seats. Not all the Aveo versions get antilock brakes, but all include electronic brakeforce distribution.
In NHTSA crash tests for the Chevrolet Aveo, it got an excellent rating for frontal protection. On the other hand, an "average" rating was given for side-impact protection.
Crumple zones are also made for side impacts, so a manufacturer willing to install side-impact crumple zones will have better crash test ratings.
The industry is now moving towards a "driver safety first" approach. This is to say that manufacturers are going the extra mile to keep passengers safer during crashes.
Was this article helpful?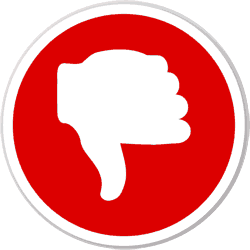 Did you find wrong information or was something missing?
We would love to hear your thoughts! (PS: We read ALL feedback)