We all love our pets and we often need to bring them along when we travel on public transportation. However, that's not always as simple as you might think!
Do Buses And Trains Allow Dogs And Pets?
Service dogs are allowed by law. Other dogs, however, are only allowed on public transportation in some major metropolitan areas. The rules vary from company to company so you need to check the rules before you go.
We'll get into that later on.
Are Dogs Allowed In Trains And Buses?
There are a number of regulations for pet owners in relation to taking their pets on public transportation. Thankfully, pets are allowed in certain trains, buses, light rails, and trolleys.
But, unfortunately, traveling with Greyhound won't afford you a pet option on their trains and buses.
Service Animals
When you see dogs accompanying their owners on buses, trains, or light rails, it doesn't mean that the transport company allows dogs. They probably are service dogs, which according to the American Disabilities Act, are exceptions to all transport regulations on pets. Still, special regulations still apply to service dogs.
Some regulations for service dogs include; a specific boarding time, a standard fare your dog, and dogs must be well-behaved. Additionally, even when all conditions are met, your dog could still be refused if it smells foul.
A different set of regulations apply to therapy dogs, which by the way, are different from service dogs. In order words, therapy dogs classify as "other".
Other Animals
Other pets are allowed on some transport services, however, certain conditions apply. 
Transport regulations on other pets are recently becoming more flexible. Especially after Hurricane Katrina, where it was discovered that the mandatory evacuation through public transport was refused by some people because their animals couldn't accompany them.
It's always better to call the hotline or check out the website of your city's public transportation for most accurate answers since they could change per time. But, let's take a look at the basics.
Dogs On Trains
For National Rail, up to two dogs on the train is allowed per person for free. But, they still reserve the right to refuse dogs as per their bye-law 16. Especially if other passengers are inconvenienced by your best bud. Sleeper trains also allow dogs, but with conditional cleaning charges and compulsory prior booking of at least 48 hours.
As for London Underground, it depends on the route and size of the dog. For dogs to be allowed on tube trains, they must be carried through escalators. The same rule applies to support dogs but their owners must prove that the dog has been trained specifically for it by providing a pass.
Amtrak trains now allow pets, but with some rules;
Only four pets are allowed per train, on a first-come, first-serve basis.

A 20-pound weight limit for pets with carriers.

A $25 fee for dogs.

Only one pet is allowed per passenger.
Local trains, i.e. the MARC train that serves Maryland, Washington DC, and West Virginia, allow small pets in pet carriers. There are varying policies with different local trains, so check first.
Dogs on Buses
Unlike trains, there is no national legislation regarding dogs on buses, so it depends on the bus company you are traveling with. Generally, apart from support dogs that are always allowed free of charge, lots of bus services allow dogs as long as certain restrictions and/or charges are met. Such as keeping dogs on leashes and off the seats.
Many bus systems have regulations that may look like the following;
Pet carriers are not always required, but dog leashes are.

Dogs are not allowed on seats, they either sit on your lap or on the floor next to you.

Big dogs attract the standard fee, but lapdogs ride for free.

The driver sometimes has discretionary powers to limit the number of dogs on the buses or reject some badly behaved dogs.
For now, let's take a break from dogs for a bit, because what about our furry friend, Whiskers, right?
Are Cats Allowed In Trains And Buses?
When people talk about pets in public transportation services like trains and buses, they just talk about dogs, dogs, dogs. Well, it's because there's not a lot of rules on taking cats on trains and buses. More so, their similarity in size doesn't automatically translate the same privileges.
To be sure, it's always better to check with the public transportation company in question.
Suppose you could, great! But, does your cat really? Cats are routine animals, and they stress over the slightest change. They prefer to stay safe and comfortable in their familiar environment. So, unlike their owners, cats don't get excited over a trip. I'm pretty sure they don't look forward to it, even when circumstances call for it. 
But, if you must, preparing for your cat's comfort should be your top priority. The first and most important thing to check off your list is a large, strong, clean, secure, and durable cat carrier. Cats are secure and stress less in spaces that are cozy and large enough to stretch. If you're going to be out for a while, factor in secured water bowls and food. 
Now that you've made the journey positive, happy, convenient, and comfortable for your cat, let's get back to dogs.
Are There Pet Regulations Regarding Other Types Of Public Transportation?
We know all about buses and trains, but what about taxis, boats, etc. Some of them have regulations, so let's check them out briefly.
Dogs on Boats and Ferries
Dogs must be part of the pet passport scheme before they can come aboard a ferry. And unless you have pre-paid for an on-board kennel accommodation, your dog must stay in the car throughout the crossing.
Taking your dog on boats and ferries may attract some fees and additional conditions, so ensure to check in with the operator first.
Dogs in Taxis
As always, service dogs are an exception, unless the taxi driver has a certificate that allows him/her to refuse a service dog. Such as where the driver has been medically diagnosed as asthmatic.
Generally, some private taxi firms don't allow for health and hygiene reasons, while some leave it to the driver's discretion. 
What Major Cities Allow Dogs On Public Transportation?
California's public transportation system is regarded as one of the most pet-friendly places dog owners. To some degree, Massachusetts and Washington DC allow large and small dogs.
However, with certain conditions, some major U.S. cities like San Francisco, Seattle, Denver, New York, Atlanta, Chicago, Orlando, Boston, etc. also allow dogs on trains, buses, or subways. 
Here's a mirror of the rules for a few of these cities, as follows;
New York & Chicago
Transport rules allow dogs in the Chicago Transit Authority (CTA) and small dogs in the bus, subway, and commuter rail system of New York City. However, for these cities, dogs must be in a carrier and carried in such a way as not to upset other passengers. 
San Francisco
The same rule applies to San Francisco's Bay Area Transit, including their trolleys, rail cars, cable cars, and municipal buses. Only that certain sizes and types of dogs are allowed and at certain hours. In addition to being put in carriers, dogs must have muzzles on for safety.
Boston
Small dogs can only ride the T Subway System and must be in carriers. Larger dogs on leashes are allowed too, but only during non-peak hours.
Dallas, Orlando & Atlanta
Orlando's public transit and Atlanta's Rapid Transit Authority only allow dogs in pet carriers that can fit on the owner/passenger's lap.
Denver, San Diego & Sacramento
Denver, San Diego, and Sacramento only allow small dogs in buses and the light rail. An additional condition applies in Denver, mandating that dogs are put in rigid carriers and not soft carriers.
Seattle
Seattle public transit leaves discretionary power to the driver who decides whether or not a dog is allowed. They can refuse to let a dog on board if they find such dog smelly, unruly, or aggressive.
It is essential that while traveling with your dog, such a dog must be under control, calm, and not inconvenience others. But, how do you make sure your dog is ready for a ride on a crowded bus, train, tram, or subway? Here are a few tips;
Top 10 Tips For Taking Your Dog On Public Transport
For the sake of other passengers, don't take a badly-behaved dog on public transport if you can't keep such a dog under control. A few things you can do include;
Make sure your dog is socialized for public or crowded places.

Bring paperwork, such as your dog's health records, such as immunization reports, and other documentation for service dogs. 

Carry along with you short leashes, carriers, or muzzles (where necessary) for your dog, and make sure they're protected with these items at all times.

Take your dog to the toilet before the trip, and bring along some emergency wipes, and car-sick medication for your dog just in case.

Avoid rush-hour traveling, so as not to stress your dog.

Always carry freshwater with water bottles and bowls for your dog.

Don't allow your dog to invade other passengers' spaces, as some people have a dislike or allergy for dogs. Also, try to change your position where necessary.

Have dog calming products handy for your trip. 

Wash your dog, as a smelly dog may be offensive to other passengers, and may sometimes result in rejection by transport authorities.

Carry along plenty of treats, toys, sweaters, blankets, or whatever is needed to keep your dog self-occupied, calm, behaved and docile.
The information above seems complete enough to prepare you and your dog for a smooth public transportation experience. But, it's still a wise choice to verify with the public transportation company in question, to get the updated rules on pets before you even book and/or head out for a trip.
Was this article helpful?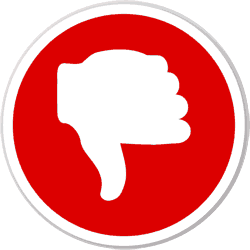 Did you find wrong information or was something missing?
We would love to hear your thoughts! (PS: We read ALL feedback)