The Toyota Tundra is a full-size pickup truck that has been in production since 1999.
Its latest iteration comes with a powerful turbo-charged V6 and a hybrid powertrain, while earlier versions sport a V8 motor.
The Tundra is an impressive performer on the pavement and off-road, and occupants can enjoy a comfortable and clutter-free cabin.
While the Tundra has many outstanding features, it has some problems of its own. We discuss the most common Toyota Tundra issues below.
1. Front Suspension Lower Ball Joint Wear
The lower ball joint in some Toyota Tundras is likely to wear faster than normal.
This connects the wheels to the steering. It's also the medium that allows the driver to navigate the car effectively. Since different terrains cause different effects on a car, ball joints would wear out, eventually.
With the Tundra, however, there is a risk that it would wear faster because of improper finishing on the joints. This is a production error, and it is so severe that Toyota issued a recall for the affected vehicles.
One danger of premature wearing of the ball joints is that it can cause the driver to lose control of the truck. This could be partial or complete, and it can even lead to an accident on the highway.
Drivers complained about their ball joints "breaking", causing them to go off track. Other drivers said they experienced the ball joints breaking on over two occasions. This type of frequency for one driver is quite alarming.
Car Complaints gave the 2006 Tundra a 10.0 severity rating, which is the worst rating a car can get for a specific problem.
Possible Causes and Solutions
The cause of this problem is a manufacturing defect. Because of the large number of affected vehicles, Toyota issued a recall to correct the error.
Warning signs of this issue include difficulty in maintaining control; increased steering effort; significant vibration, and high-pitched sounds. The sounds would get more pronounced as the ball joint wears further.
These are all signals that you should get your ball joint replaced as soon as possible. Repairpal.com estimates that the replacement cost for the ball joints is more than $400 but less than $450. This is including labor costs.
If you intend replacing the ball joints yourself, you can save over $100. However, it is advisable to leave the job for the mechanics.
You should know that replacing your ball joints would require that you realign your wheels, which can cost more than $100, depending on the service provider.
Car Complaints put the ball joint repair cost at over $1000. This data is mainly for the 2006 model year.
Related: How Long Do Toyota Tundra Last? (Solved & Explained!)
2. Faulty Air Injection Pump
The air injection pump is a vital component of the truck's emissions control system. It supplies clean air to the exhaust system.
This causes a more complete combustion process and reduces environmental pollution.
However, the Tundra's air injection pump is known to constantly develop problems. It often leads to reduced fuel economy and harmful exhaust fumes because of improper combustion.
The Tundra also has a high severity rating on Car Complaints for its air pump.
Drivers complained of engine stalling. Others had to spend more money on gasoline than they usually do.
Possible Causes and Solutions
Our research shows that the cause of the air injection system failure is the entry of moisture into the emission control system. When this happens, the vehicle goes into a "Fail Safe" mode, which reduces performance. Owners have to repair the emission control system at great cost.
You would usually get warnings that alert you of the air injection pump failure. You should always keep your eyes peeled and ears sharp to notice them. Here are some of the signs:
Check Engine Light: This is the first warning to look out for. While the "Check Engine" light may lag or come too early, you should always investigate it. You should know that the "Check Engine" light may come on because of several other errors in the emissions system.
Engine Power Loss: When your engine loses power, it could be a symptom of a bad air injection pump. Your engine would strain really hard when you attempt speeding up. It may lag, and its output would diminish. When you observe this, get your truck checked. It may be because of one of many problems which could be the air injection pump.
Rough or Loud Sounding Engine: You must have gotten used to the normal sound of your engine. Therefore, it will be easy to identify a new sound if your engine makes one. It gets even easier since the sound made is usually a knocking or banging sound.
Expect to pay about $100 for your check light diagnosis. After the diagnosis, however, you may have to get your air injection pump replaced.
The average air injection pump replacement cost for the average vehicle is about $520. It cost $1,265 to do the same thing in a Toyota Tundra. You may also need to change your emission control valve.
Related: Toyota Tundra In Snow & Winter Driving? (Explained)
3. Exhaust Manifold Failure
The exhaust manifold in some Toyota Tundras is prone to leaks. The constant expansion and contraction that the manifold experiences regularly causes the metal to fracture.
The more common mode of failure in a manifold is by cracking.
Drivers observed ticking noises because of the leaking manifold. They mostly observed the ticking noise when the engine is idle or cold. This may be because the manifold expands and seals the cracks when heated.
Drivers remarked that the ticking sometimes got very loud and discomforting. Others (who may have automobile mechanical experience) attempted fixing the problems themselves. They considered professionals too expensive.
Majority of drivers, however, suggest that Toyota should recall the affected vehicles.
Like many other problems that occur in the emission system, exhaust manifold failure also causes an increase in fuel consumption.
The reduced fuel economy is always among the first problem drivers observe as it directly affects their bank accounts.
Possible Causes and Solutions
There are several causes of this problem. However, it seems the most common cause is a cam shaft tower seal leaking onto the exhaust. Poor quality control during the sealing of the exhaust system is another potential cause of this problem.
If you have or are planning to buy a Tundra, ensure you watch out for any of the signs above. This would help you catch a problem early and get it fixed fast.
Other signs to look out for are thick black smoke from exhaust pipes and loud exhaust noise.
Ensure you protect the underbody of your truck from rust. Rust may spread out to cause partial damage to the exhaust manifold.
The gaskets may corrode and eventually fail. Minor leaks that are caused by gasket failure are less expensive to fix.
Refusing to replace the gasket may damage your exhaust valves.
The best step to take for a failing exhaust manifold is to have it replaced. The exhaust manifold replacement cost ranges from $1,190 to $1,340.
If you delay repair or replacement, it may cause additional problems to other components under the truck hood.
4. Transmission Slipping (The Strawberry Milkshake)
It's not as pleasant as it sounds.
This problem usually occurs in certain models from 2000 to 2006 with automatic transmission.
The part of the radiator responsible for cooling the automatic transmission fluid ruptures. This causes a mixture of the automatic transmission fluid and the engine coolant.
The mixture develops into a pink fluid, hence the name strawberry milkshake.
This problem causes the transmission and engine to overheat. The overheating may cause partial damage to the engine. The transmission, however, if not taken care of sooner, may require replacement.
Drivers complained of the tranny fluid being emptied and severely overheating, even after topping up. Don't forget to view the best and worst Toyota Tundra years.
Possible Solutions
You should change the radiator as soon as you observe the problem. Have your mechanic flush the engine cooling system and transmission.
Ensure you scrutinize the engine and transmission afterwards, in case it developed any problem because of the overheating that must've occurred.
The cost of replacing the radiator ranges from $570 to $610. The cost for your engine coolant change is about $80 to $105.
You should know that the above prices are estimates and may vary with the quotes you'll get from different mechanics. You might pay more or less depending on your location.
Related: 11 Toyota Tundra Statistics You Should Know (Facts & Numbers)
Other Problems With the Toyota Tundra
Frame corrosion is also a problem associated with the Tundra. Toyota may have skipped out on the rust proofing. This is because the built-in resistivity of the frame is not enough to withstand corrosion.
Drivers complained of the truck frame vibrating when corrosion set in.
The 2007 model year has recorded complaints of the driveshaft failing. Vibrations when the velocity increases also accompanied it. The gears may also make noises when changing to increase velocity or to reverse.
General Pros and Cons
Here are some of the pros and cons of the Toyota Tundra:
Pros
Excellent durability and durability
Several engine options, including V8, V6, and hybrid motors
Exceptional off-road performance
Comfortable interior
The Toyota Tundra has good cargo capacity too.
We have a full rundown here of how the amount of cargo space for each Toyota Tundra generation.
Cons
Front Suspension Lower Ball Joint Wear
Faulty Air Injection Pump
Exhaust Manifold Failure
Transmission Slipping (The Strawberry Milkshake)
What Is the Resale Value of Previous Model Years
The Toyota Tundra is known for retaining its value over time. This is the norm for most Toyota vehicles.
The Tundra, however, won the Kelley Blue Book 'Full-Size Truck Best Resale Value' Award for 2021.
| | | |
| --- | --- | --- |
| Model Year | Mileage (Miles) | Resale Value ($) |
| 2010 | 132,000 | 11,433 |
| 2013 | 96,000 | 16,472 |
| 2015 | 72,000 | 22,987 |
| 2018 | 36,000 | 27,412 |
| 2020 | 12,000 | 38,726 |
What Do the Reviews Say?
"Toyota's full-size pickup still offers brawny styling, excellent reliability, the massively spacious CrewMax cab and — unique for a full-size pickup — standard accident avoidance tech. However, there's also its subpar fuel economy, jittery ride, dated interior and general lack of innovation"
Source: Autotrader
"Lowly fuel economy and unrefined road manners make it our least favorite full-size truck to drive on a daily basis. Still, the Tundra's available crew cab has a huge back seat and loads of useful storage space. Although it's not one of the best new pickup trucks, the 2020 Tundra will satisfy outdoorsmen and those who glorify the Toyota badge."
Source: Car and Driver
Final Thoughts
If you own a Toyota Tundra, other than maintenance of your truck, keep yourself updated on news about recalls. A recall might affect your truck and you wouldn't know.
You can search on the NHTSA website using your Vehicle Identification Number to be sure. Also, always do your homework before purchasing any truck. This would show you potential problems that may arise and how to give extra attention to the affected parts.
Go Back: Problems for each Toyota model.
Was this article helpful?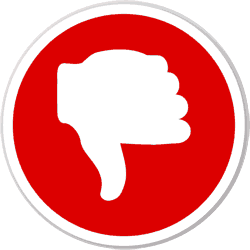 Did you find wrong information or was something missing?
We would love to hear your thoughts! (PS: We read ALL feedback)
ⓘ  The information in this article is based on data from National Highway Traffic Safety Administration (NHTSA) recall reports, consumer complaints submitted to the NHTSA, reliability ratings from J.D. Power, auto review and rating sites such as Edmunds, specialist forums, etc. We analyzed this data to provide insights into the best and worst years for these vehicle models.
---