The Lexus LX is a full-size luxury SUV introduced by Lexus in 1995. Now in its fourth generation, the LX has remained the largest and most expensive luxury SUV made by Toyota's luxury division.
If you want to learn about the issues with this vehicle, stay on this page to discover some of them. Not only that, we also discuss the resale value of the SUV to give you a better insight into its worth and reliability.
Before we jump right in, you can examine some Lexus SUV problems.
1. Seat Belt/Airbag Indicator Light Is Always Blinking
Due to a defect in the Takata airbag, many Lexus vehicles, as well as some other vehicles, are affected. So, it is very common to have to deal with either abnormality in the airbag system or total failure.
For the Lexus LX, the issue is minimal.
Most of the complaints received on the vehicle are often related to a faulty sensor.
When there's a fault with the sensor of a car, it results in a series of abnormalities in the affected components. Many owners have complained about the airbag warning light staying on always.
To a few others, it's either the seat belt indicator light starts blinking when the vehicle is in use, or the airbag warning light comes on when the seat belt gets connected.
This might prevent the airbag from deploying when needed.
Aside from a faulty sensor, the airbag system could also malfunction when there's a defect with its wiring harness. To fix this, you might spend a lot because the airbag wiring harness comprises different sections.
Mind you, Lexus has issued a recall on several LX models to fix the airbag issues. So, you might have to confirm before going for the ride.
2. It Offers Subpar Fuel Economy
Indeed, full-size SUVs are notable for their lower gas mileage. However, for a ride of its worth and average price, the Lexus LX would have better come with a much-improved fuel economy.
Check also here how fast this Lexus goes 0-60 MPH.
In an era where
the Cadillac XT6 offers 21–23 mpg:
Toyota Sequoia has a 20–22 mpg
and the BMW X7 giving 17–22 mpg
The 2021 Lexus LX 570 offer only 12/16 mpg in city/highway drive.
Besides, the BMW X7 costs less than the Lexus LX.
Mind you, the Lexus LX comes with much improvement in its fuel economy with the newly introduced LX 600.
Unlike the older variants, LX 600 offers an EPA estimated 19 mpg with 17 city/22 highway combined.
Don't forget to note that LX 600 is only available in 2022 and 2023 model year and it comes with a higher price, with the MSRP of the 2023 model ranging from $87,815 – $127,905.
This outweighs the X7's $77,850 – $103,100.
3. The Three-row Models Offer a Cramped Third-Row Space
The Lexus LX offers two-row and three-row seats. Being a full-size SUV, it is ideal for a large family who'd most likely prefer the three-row configuration.
However, the third-row is quite cramped and its most suitable only for kids. This means older children may complain about comfortability when placed in the rear-most seat.
Besides, the second-row space is not as spacious as the first, but more comfortable than the last.
While the rear headroom measures 38.9 inches and the legroom having just 36.6 in, it will be convenient for average-sized adults.
Mind you, lanky passengers may not get the comfort expected of a full-size SUV in the second row.
Moreover, the 11 cubic feet available behind the third-row seat may be too small for a large family trip.
This is another reason why the Lexus LX remains a less popular SUV than most of its rivals.
General Pros and Cons of the Lexus LX
In the automobile industry, you'd hardly find a faultless ride. Virtually all vehicles come with a few advantages and some downsides.
That said, here are the pros and cons of the Lexus LX:
Pros
It offers a quiet ride
The LX offers an impressive off-road capability
It comes with an exquisite cabin
It features a split tailgate
The latest LX 600 comes with the Mark Levenson audio system
Cons
Third-row seat is less spacious
It comes at a higher price than many of its rivals
Its fuel economy is somewhat below standard
Side-folding third-row limits cargo space
What Do the Reviews Say?
Aside from having few issues, unlike many other Lexus rides, reviewers have claimed that the Lexus LX is so reliable that it hardly requires repairs.
It's not often on the Lexus LX 570 that something needs to be fixed or replaced, adding to its reliable reputation. Several buyers have reported that their Lexus has never needed repair, or perhaps it needed repairs once or twice that wasn't severe by any means.
A major downside that many critics have noted about the car is its poor fuel economy.
Other Lexus LX models that preceded the LX 570 also had high reliability ratings from J.D. Power. That said, however, while reliability is rated high, fuel economy is not.

Source: hotcars.com
Although full-size SUV are notable for lower fuel economy, the Lexus LX 570 is unfortunately one of the large SUVs with the lowest MPGs.
Its fuel economy is abysmal even by full-size SUV standards, and the third-row seat is cramped, difficult to reach and doesn't fold into the floor. Instead, it flips against the cargo area sides, which reduces utility.

Source: Edmunds
Moreover, full size SUVs are often characterized with a capacious cabin and comfortable space in all its seat rows. This is less obvious with the LX.
The LX 600's large stature doesn't translate to a roomy interior, especially in the second row, where the SUV only has 36.6 inches of rear legroom…. Compared to some options, the LX 600 is down nearly five inches in second-row legroom and three inches for leg space in the third-row.

Source: themanual.com
What's the Resale Value of a Lexus LX?
According to Car Edge, the Lexus LX will depreciate by 32% after 5 years, with a resale value of $73,418 afterwards.
However, the actual resale value of a car is determined by its overall state and the mileage it has covered. If buying isn't an option for you, it might interest you to know that the Lexus LX is among Lexus models you can lease.
That said, find the resale value of different LX models below.
| | | |
| --- | --- | --- |
| Model | Mileage | Price |
| 2003 LX 470 | 145,583 | $25,277 |
| 2020 LX 570 | 36,916 | $79,688 |
| 2019 LX 570 | 25,364 | $70,990 |
| 2018 LX 570 | 32,835 | $64,590 |
| 2017 LX 570 | 57,560 | $61,290 |
| 2016 LX 570 | 82,465 | $51,990 |
| 2015 LX 570 | 95,888 | $42,590 |
| 2014 LX 570 | 79,348 | $41,990 |
| 2013 LX 570 | 164,559 | $27,998 |
Source: Edmunds.com
What LX Model Is the Best?
The Lexus LX comes in different variants:
LX 450 (1995 – 1997)
LX 470 (1998 – 2007)
LX 570 (2008 – 2021)
And the LX 600 (2022 – present)
The LX 600 is still a new variant; so, it doesn't have enough reviews or customer feedbacks yet. However, the 2003 LX 470 has received the major complaints so far on carcomplaints.com.
It is also selected as the worst model year by the car complaint hub.
Mind you, the 2003 Lexus LX 470 boasts attractive reviews from critics for its overall performance. It has 4.8/5 on Edmunds and 4.9 on KBB. So, it might still serve as a good buy.
On the other hand, the 2014 and 2015 LX 570 fare better amongst the other LX models in terms of user complaints.
Unlike the others, they have received no reports so far on carcomplaints.com as of the time of writing this article.
Moreover, the 2014 Lexus LX is rated #1 out of eight 2014 luxury large SUVs by US News. The 2015 version doesn't enjoy a similar feat, but it also features on the #3 position out of eight 2015 luxury large SUVs ranked by US News.
Final Thoughts
Asides its high price and low fuel economy, the Lexus LX is one of Lexus' vehicles with the least customer complaints.
Although the vehicle is less popular probably because of its high price, many users and critics have rated the SUV for its reliability and impressive performance.
With four generations in its lineup, the latest LX 600 offers even much improved performance, especially on gas mileage. A major downside to the model is its high price when compared with other competitors.
Meanwhile, SUVs are known for holding their values, and the Lexus LX didn't disappoint. Lastly, the LX also has one of the best sound systems.
GO BACK: Problems for all Lexus models.
Was this article helpful?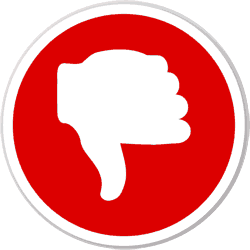 Did you find wrong information or was something missing?
We would love to hear your thoughts! (PS: We read ALL feedback)
ⓘ  The information in this article is based on data from National Highway Traffic Safety Administration (NHTSA) recall reports, consumer complaints submitted to the NHTSA, reliability ratings from J.D. Power, auto review and rating sites such as Edmunds, specialist forums, etc. We analyzed this data to provide insights into the best and worst years for these vehicle models.
---