The Lexus LS is a full-size luxury sedan introduced by Lexus in 1989 and has remained in the market to date.
It is famous for a few issues, like a defect in the brake actuator, a melting dashboard, delayed acceleration, and others.
In this article, you'll learn about all the common issues with the car, as well as its resale value so let's get started.
1. Weak and Failing Brake Actuator
The brake actuator of a car comprises the pump motor, accumulator, linear solenoid valve, wheel cylinder, and master cylinder pressure sensors. These components all work together to control the hydraulics of the brake.
The actuator serves as a relay system for the brake, without which it won't function effectively. This is because the brake actuator helps to push the brake shoes outward as you release the pedal.
Moreover, the brake would become harder to depress when the actuator becomes faulty. This could make it difficult to stop the car, especially during an emergency.
Many a time, you'd see the brake warning light turned on to indicate a fault in the brake system.
Unfortunately, many owners of the Lexus LS, particularly the LS 460, have complained about the brake failing to respond when used. Some have even complained about their inability to move the car due to a defect in the brake system.
The truth is, fixing a brake actuator could be costly, especially when it affects the ABS system. According to getjerry.com, the average cost of repairing a car actuator is $300, depending on the make and model of the car.
So, you'd better check out other LS models, instead of the LS 460, especially the 2007 and 2008 versions.
2. Loss of Steering Power
The aim of modern automobile technology is to make driving easier and seamless. This is why virtually all modern vehicles come equipped with the steering assist system.
With this, you only need minimal effort on the steering to navigate left or right.
In fact, if you're a pro, you could even leave the steering to move by itself to a regular position after you must have turned to a side.
That's the comfort that modern drivers get with power steerings.
However, the steering assist system in the Lexus LS seems to become less reliable after a few miles. Several customers have complained about the loss of steering power when they drive.
Interestingly, without a power steering, it becomes difficult to turn the car's wheel.
Many of the owners who have complained about the issue claimed that it usually happens when driving around 20 mph. Mind you, it is most peculiar to the 2007 and 2008 Lexus LS 460.
3. Delay and Sudden Acceleration
Another common issue with the Lexus LS is the temporary loss of acceleration. Hardly would you find a driver who can move at a single speed without having to slow down at different intervals.
Even when you hardly come across heavy traffic, you'd likely reduce your speed on sharp turns.
You'd agree that it'll be very frustrating to have your car refusing to accelerate after a brief stop. Well, if you drive a Lexus LS, you may get to deal with this.
More unfortunate is the fact that several drivers have experienced a loss of acceleration after downgrading to a low speed. This could be a brief issue, as several owners have claimed that their vehicle often picks up later after experiencing the delay.
On the contrary, quite a few other users have also expressed concern about this car's safety.
Rather than having to deal with a delayed acceleration response, they complained about how the vehicle suddenly increased its acceleration right before they step on the pedal.
A major cause of unintended acceleration is a defect in the electronic system of a vehicle.
In most cases, shifting to neutral helps to stop the car, but it could also lead to a crash if not done promptly.
So, rather than having to deal with a faulty electronic system, you may want to avoid the LS 460. The issue is most common with that particular model.
4. Melting and Cracking Dashboard
A common problem with many Lexus cars is the inability of the dashboard materials to withstand a hot temperature.
Many owners of different Lexus rides have complained about the sticky and melting appearance of their dashboards due to exposure to sunlight.
You may not love to hear that this issue is also common with the Lexus LS and as mild as it may seem, a melting dashboard can distract or reduce the focus of a driver.
When a part of the dashboard melts, it gives off a shiny appearance that reflects sunlight back to the windscreen. As a result, the focus of the driver may become less visible due to the effect of the reflection.
Unlike the other problems with the car, you can quickly get rid of a sticky area on the dashboard by following the steps below:
Clean up the affected area to get rid of any particles around it
Get soap or a dashboard cleaner and a soft cloth
Mix the cleaner with water and dip the fabric into it
Ensure the fabric is damped before applying it to the dashboard
Scrub the surface with a damp cloth until the area looks clean
Then leave it to dry
Apply a vinyl protectant on the dashboard to protect it from melting again
Make sure also to check the problems with Lexus cars here.
General Pros and Cons of the Lexus LS
Aside from the few flaws discussed earlier, the Lexus LS is not a bad car. It comes with loads of comfort-inducing features and a few advantages.
Find some of the pros and cons of the Lexus LS below:
Pros
It offers a tranquil ride
The interior features premium and lustful materials
Its ride quality is impressively remarkable, especially on rough roads
It comes with top-class seats
Cons
The accelerator is not always reliable
It comes with a fuzzy touchpad infotainment system
The fuel economy is lower than that of many rivals
The trunk is relatively small
What Do the Reviews Say?
The Lexus LS offers a higher upgrade to other Lexus sedans that were introduced before it.
In spite of its impressive features and tasteful ride quality, the LS 460 comes with a series of issues that make people dread the model.
While the LS 460 has been considerably updated and improved, the 2007 and 2008 models were some of the worst. There were numerous complaints about its melting dashboard and panes, high repair cost, and average mileage problems.

Source: Hotcars.com
Nonetheless, the Lexus LS 460 has been acclaimed for its comfort-inducing interior.
The LS 460 luxury sedan from Lexus is much like the potential buyers it targets: refined, reliable, and conservative. What stands out most about the car is its emphasis on comfort. Drivers can expect to be pampered, with the vehicle's impeccable interior (rich leather, with wood and aluminum trim).
Meanwhile, Lexus LS is still less fancied by many drivers because of its subpar acceleration.
I couldn't get over the impression that the LS 460 seems designed for older drivers – those who may value comfort over speed.

Source: dmagazine.com
Even with the IS hybrid model, many drivers still loathe its speed, which might have been reduced by its heavy weight.
No turbos, no plug-in capacity, and a total system power of 354bhp. Engine torque is only 258lb, but boosted by the e-motor it's closer to 400lb ft as a system output. Those numbers are on the low side when LS's prodigious 2,265kg kerbweight (and that's for the lighter ones) is taken into account.

Source: Topgear.com
It may interest you to know that the Lexus LS is among the cars that rust the least.
What's the Resale Value for a Lexus LS?
Kelley Blue Book quotes the depreciation of a Lexus LS to be 33% after 5 years of ownership.
If you're still unsure about a purchase, it's a great thing the Lexus LS is among the Lexus models you can lease.
In this light, check the resale value for different Lexus LS models below.
| | | |
| --- | --- | --- |
| Model | Mileage | Price |
| 2021 LS 500 | 17,087 | $61,590 |
| 2019 LS 500 | 24,973 | $51,990 |
| 2018 LS 500 | 42,323 | $47,990 |
| 2014 LS 460 | 95,235 | $25,990 |
| 2013 LS 460 | 98,552 | $24,990 |
| 2011 LS 460 | 78,708 | $22,590 |
Source: Edmunds.com
Final Thoughts
The Lexus LS does not have a large sales volume in recent times, unlike it did in the early 2000s. This could be why there's been only a few customer reviews and complaints about its most recent models.
Don't forget that this car also comes at a more expensive price. Its starting price range beats that of many other Lexus sedans by over $30,000.
Specifically, the starting MSRP for the 2023 Lexus LS is $76,885 – far more than that of the ES at $41,440.
This could also be the reason for its lesser popularity.
Mind you, LS is Lexus' flagship sedan, and it offers a higher upgrade than its subpar predecessors.
It is quite unfortunate that regardless of its few user complaints, the LS 460 still emerges as one of the worst Lexus sedans due to its numerous issues.
GO BACK: Problems for all Lexus models.
Was this article helpful?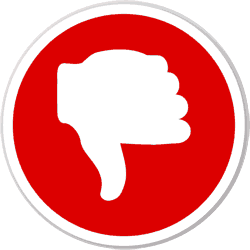 Did you find wrong information or was something missing?
We would love to hear your thoughts! (PS: We read ALL feedback)
ⓘ  The information in this article is based on data from National Highway Traffic Safety Administration (NHTSA) recall reports, consumer complaints submitted to the NHTSA, reliability ratings from J.D. Power, auto review and rating sites such as Edmunds, specialist forums, etc. We analyzed this data to provide insights into the best and worst years for these vehicle models.
---