The Kia Niro is one of the most reliable cars. Consumer Reports gave Kia Niro a steady 78/100 in reliability.
Kia's consumers love the Niro for its smooth ride, fuel efficiency, and affordability. And Kia made strides with the new Niro, which is available in hybrid, plug-in hybrid, and all-electric configurations.
Inside, the new Kia Niro has an immaculate cabin that has everything a driver on the go needs. From super comfy seats to an intuitive touch screen and many driver assistance features.
Despite this, the Kia Niro is no perfect car. In this article, we take a close look at some shortcomings of the Niro.
Before we start, however, check out how long the Nissan Niro will last you.
We researched and found some issues to be more familiar to Kia Niro models of various generations.
1. Possibility of an Electrical Relay Overheating
Most car owners of the 2016 and 2017 Niro models report an electrical relay overheating issue. Those car owners were requested to contact their dealers. But others were not contacted by dealers.
If your car has this issue, your dealer will inspect your vehicle for any heat damage and replace the old part with a new part.
Possible causes and solutions
Kia engineers discovered that most Electrical Relay Overheating within the power relay assembly might have poor connections. Hence, it is significant resistance.
If you don't fix this problem, it can overheat the rear seat and increase the fire risk.
Solution:
When you take your Kia Niro to your dealer, they will inspect the power relay assembly for damage. If there is an issue, they will fix it for you immediately.
Here are some solutions to the Electrical Relay Overheating:
A mechanic will verify the damage.
Firstly, the mechanic will verify the cooling fan relay issue. The mechanic will need to open the direct access relay to do this.
A mechanic will remove the Cooling Fan Relay.
The mechanic will remove the Cooling Fan Relay from the relay box. Then take a close look at it.
The mechanics will check the connection of the Cooling Fan Relay.
They will ensure that your Niro gets a functional Cooling Fan Relay. They will do this by installing it by lining up the pins.
Once the mechanics install everything, they will be able to test the Cooling Fan Relay. They do this by running the engine and turning on the A/C.
The price of replacing a Cooling Fan Relay may vary from one mechanic to another. Expect to pay an average of $123 for a new Cooling Fan Relay; $95 will be for labor.
2. Problems with the hydraulic clutch actuator housing
There are at least 27,000 Kia Niros that had defective clutch components. There are also burrs in the hydraulic clutch actuator housing of those Kia Niro. You will find most Niros produced around 2016 to 2017 with this problem.
If you don't take care of the problem, it may damage the oil seal. Or even cause oil leaks. Furthermore, it may cause a fire.
Usually, you will know that you have this problem when you see the light on your dashboard.
Possible causes and solutions
Around December 2017, Kia stated that some Kia Niro hybrid SUVs had a hydraulic clutch actuator problem.
After numerous tests, Kia confirmed that oil was leaking within the actuator housing. As a result, all the Kia Niros generated an error code with that problem.
The Solution
Use one of the below solutions:
You will have to inspect the hydraulic clutch actuator.
You can ask your dealer to inspect the hydraulic clutch actuator assemblies.
You need to install the reverse order of removal.
But first, you need to check the assembled state of the O-rings.
To ensure that the reverse order is removed correctly, Kia recommends turning the ignition switch off and disconnecting the battery terminal.
From there, you need to remove the undercover. That it will disconnect the engine clutch actuator connector and hose.
Use the GDS or KD equipment.
It will allow you to inspect line learning and diagnostic information.
When using a vacuum pressurized hydraulic fluid injection device, you must change the maximum vacuum to 2.5 torrs and injection pressure to 2.3-2.5 bar.
The price of replacing a hydraulic clutch actuator housing may vary from one mechanic to another. Expect to pay anything from $121.95 to $26 and $95 for labor.
3. Problems with the braking system and powertrain
The 2019 Kia Niro Hybrid is another model that has a braking system problem. In some instances, owners of the Kia Niros also experienced no pressure from the braking pedal when they applied it. In some cases, this has led to accidents.
A faulty braking powertrain is another common problem. A couple of Kia Niro users have confirmed the following issue with the powertrain:
If you put your vehicle in the park on a moderate slope, your car may roll back even if it is in "park" mode. Sometimes it rolls backward until you apply the brakes. Most Kia Niro owners say they experience this problem occasionally.
You will find this to be a common problem among hybrid cars.
Possible causes and solutions
It is not clear what could cause the powertrain and braking system. And Kia hasn't issued any statement to acknowledge or test the claims.
If you experience any of those problems, we recommend taking it back to your Kia dealer. They should look at your car to see if they can fix the issues.
Fix the powertrain or braking system problem of the Kia Niro.
Schedule an appointment with your mechanic.
Your mechanic will take a look at the problems. If you are experiencing any issues with your powertrain, don't delay.
Check the transmission oil.
Kia recommends that every Kia owner have the transmission system routinely checked for wear and tear.
And make sure that the fluid is Kia-approved.
Check your miles.
As soon as you reach 30,000 to 60,000 miles, it is best to have your transmission fluid checked or changed by your mechanic. Your service intervals will depend on how you use your car.
Avoid riding the brakes in your Kia 2017.
Using your brakes or keeping your foot on the pedal can cause transmission issues.
Remember, it is always crucial to have your brakes checked regularly. And when you drive in hilly terrain, use your engine braking system instead of your parking braking.
The solution
When the braking system regenerates, do the following:
Schedule your car with a mechanic to inspect the braking system of your Kia Niro Hybrid.
The mechanic will also check if the braking system doesn't leak under pressure. If there is a leak, the mechanic will solve the problem.
If one flexible brake line is loose, the mechanic will tighten it and add brake fluid to your car.
4. Problem with the engine
Another common problem Kia Niros have is the engine. If you own the Kia Niro Hybrid, expect it to have a different problem from the gas engine. Most Niro Hybrids do not start under 10 degrees.
When you take your car back to Kia dealers. They will likely tell you that most Kia Niro Hybrids have this common problem.
Unfortunately, Kia doesn't do the replacement on Kia Hybrids that have an engine problem. That said, they are fully aware of it.
Typically, when there is an engine issue, the engine light on your dashboard will come on. When you see that light flashing, take your car in for inspection immediately.
Possible causes and solutions
A couple of factors may cause problems to the engine of your Kia Niro.
Let's take a look at them:
First, there may be a problem with the clogged injector. It would help if you considered cleaning your injector thoroughly. When your engine injector is dirty, gas will have trouble circulating.
If the underlying cause is the engine injector, your Kia Niro will start operating normally.
If the Lambda of your Kia Niro no longer works, it will affect the engine. Besides, the computer won't be able to modulate the injection to reduce emissions if the lambda doesn't work.
Remember, sometimes the engine light may come for other reasons. For instance, the engine light may flash because the car warns you that your coil and spark plugs cause pollution.
If you drive your Kia Niro at a usual high speed, that may cause the engine light to come on.
The position of the sensor
When an untroubled position sensor no longer works properly, that may be enough to turn the engine light on.
The sensor should produce the right mixture of fuel and oxidizer.
A dirty Particulate Filter
Another cause of engine problems is a clogged Particulate Filter. Consider taking your vehicle to the mechanic to confirm if your Kia Niro has a clogged Particulate Filter.
Solution
If you see the light coming on your dashboard, it's challenging to know what could be the problem. It is advisable to take your Kia Niro in for servicing.
The mechanics will confirm the cause of the engine problem and fix it right away.
The price of fixing your engine may vary from one mechanic to another. Expect to pay anything from $95 to $245.
Pros
The Kia Niro is affordable.
It has a functional and user-friendly design.
The Kia Niro is fuel-efficient.
The Kia Niro comes with a wide array of safety features.
The Kia Niro comes with comfortable seats.
The Kia Niro has a spacious cabin. It offers 19.4 cubic feet of space.
Cons
The brake system of the Kia Niro is weak.
It is not one of the safest cars.
The engine of the Kia Niro is not high-quality.
Braking problems are not too uncommon among fully electric cars either. Click here for a full list of known problems with electric cars.
What Do the Reviews Say?
If reviews are anything to go by, there are several other issues that Kia should address. According to Edmunds reviews, the Kia Niro's software on the touchscreen is not as interactive as it should be.
We have a list here of what Nissan Niro years that are best and worst.
One unhappy user claims the touchscreen is poorly organized.
The user revealed that the touchscreen has too many unnecessary icons. It's also impossible to navigate back to the home screen once you try to access the Kia software using Android Auto.
Still, you have to pay a $200 license annual fee to use the software.
Meanwhile, CarBuzz also confirms that the powertrain of the 2022 Kia Niro feels unrefined. That makes the ride quality of the Niro even more mediocre.
The depreciation value of the Kia Niro
Expect your Kia Niro to depreciate at 55% after five years.
It will have a resale value of $13,944.
Final Thoughts
Lastly, Kia is working relentlessly to improve the Kia Niro. For instance, the 2022 Kia Niro is slightly better than the 2017 Niro model. Although, car owners still report a few powertrain issues. 
Was this article helpful?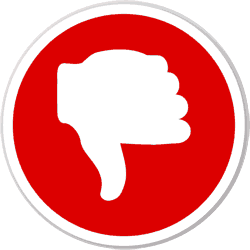 Did you find wrong information or was something missing?
We would love to hear your thoughts! (PS: We read ALL feedback)
ⓘ  The information in this article is based on data from National Highway Traffic Safety Administration (NHTSA) recall reports, consumer complaints submitted to the NHTSA, reliability ratings from J.D. Power, auto review and rating sites such as Edmunds, specialist forums, etc. We analyzed this data to provide insights into the best and worst years for these vehicle models.
---