Tires are generally expensive.
However, Walmart and Costco offer their tires at the lowest prices.
So, as is the case with cheap products, buyers often doubt whether their tires are reliable.
How good are the tires from Costco and Walmart and other retail stores?
Costco and Walmart sell quality tires, even though go get them at extremely discounted prices. The quality and performance of the Michelin or Pirelli tires you buy from Costco and Walmart are the same as that of the same brand from more expensive dealerships.
Should You Buy Tires in Retail Chains?
Yes, you should. Retail chains such as Costco and Walmart offer the best deals, especially if you are buying a new set of tires.
Since they are online, they are easily accessible. Moreover, they often provide tires difficult to find in other places.
Nevertheless, it's best that you only purchase tires from renowned retail chains. Consumer Reports conducted a survey to determine the satisfaction rate of buyers in tire retail chains.
About 90% of drivers who purchased their tires in popular retail chains gave positive reviews about them.
The retail chains in question include Les Schwab, America's Tire, and Discount Tire. On the other hand, less popular tires did not do so well.
How Good Are Tires from Walmart?
Walmart is one of the cheapest tire dealerships.
Buyers only have to pay $12 to install their tires.
Not only does this small amount cover installation, but it also includes free tire balancing and rotation for the life span of the tires.
To enjoy a warranty against road hazards, car owners only have to pay $10.
For some car owners, Walmart Tires aren't that good. Because Walmart offers tires at the lowest prices, many tire makers only sell their most basic models with the company.
Sometimes, the tires they sell even have a different logo than their regular symbols.
Reviews & Comments on Walmart Tires:
According to a few sources (see reference links below), the tires customers bought at Walmart only lasted 20,000 miles.
Not surprisingly, Walmart is very strict about who enjoys its tire warranty. If, for example, your tires wear out early because of rough handling, you might be eligible for their tire warranty.
This is why it is important to research tires before purchasing them.
However, we also found tire buyers who claim that you can find good tires at Walmart if you research high-quality models before buying.
One source says that the Uniroyal Tires he purchased at the store deliver superb handling, even in the snow and untarred roads.
Because of the mixed reviews about Walmart tires, we suggest that you do your necessary due diligence before buying tires from the store.
How Good Are Douglas Tires from Walmart?
Douglas Tires offer relatively lower quality products compared to premium brands.
We have a seperate article here about how good Douglas tires perform.
They make up for the less-standard quality with their low prices. Now, you can only get them at Walmart.
The question is, since Douglas tires are exclusive to Walmart, a retail store that offers the lowest prices, how good can they really be?
If you can only afford budget tires, Douglas tires are one of the best you can get. Despite lacking the bells and whistles of high-end tires, their tires offer an ideal combination of performance and longevity.
Although Douglas Tires is not a premium tire brand, its engineers put a lot of effort into creating its products. This makes the company's tires excel in terms of safety and durability.
Given that Douglas tires don't cost a lot, they offer a rather impressive warranty at 45,000-miles.
However, you can only enjoy this warranty if your tires are installed at Walmart.
Douglas tires have a few shortcomings. For one, they are not as reliable as premium tire brands like Michelin. Since they don't even cost as much as the premium brand, it is rather unsurprising.
Likewise, most Douglas tires don't fare well on rough and snow-covered roads.
If you are short on cash, then you should absolutely go for Douglas tires. However, it's best that you purchase slightly more expensive brands if you can afford them.
How Good Are Tires from Costco?
Although Costco tires cost more than Walmart's tires, they are no doubt inexpensive.
People who don't want to spend too much money on tires can buy them at a physical Costco store or order them online.
Once customers pay the $15 required for installation, they enjoy extra benefits of free rotation, balancing, and maintenance services.
Even the warranty for road hazards is covered by the installation fee.
Costco tires may not cost much, but they are usually more durable than the average budget tire. This is because Costco inflates the tires with Nitrogen, in place of the compressed air used at other dealerships.
When tires are inflated with Nitrogen, the air pressure in them holds up for much longer than when compressed air is used.
This often translates into a longer life span for the tires.
Since tires with higher air pressure provide better gas mileage, using Costco tires will likely save you a lot of fuel.
In addition, you enjoy a five-year warranty and free lifetime maintenance on Costco tires.
Can You Save Money Buying Tires Online?
Tires sold online are always cheaper than tires bought at physical stores.
The reason for this is that the dealer adds a percentage of the rent and other overhead costs to the price of his stock of tires.
You eliminate these extra costs when you buy your tires online.
Besides, purchasing your tires online means you have more time to research the tire quality and prices across different online stores before deciding.
So, you are more likely to get the best tires at the lowest prices when you buy online.
In case you are worried about the cost of delivering and installing your tires, you shouldn't be. Your tires will be delivered directly to a trusted installer near you.
Apart from the original cost of your tires, you'll only have to pay for the cost of installing them in your vehicle.
That said, if you buy your tires online, it will take a while before you get them.
Customers have also complained that online tire stores shipped the wrong size or tires to them.
How Good are Tires from Tire Rack?
Tire Rack is an online dealership.
Since the overhead costs of renting and maintaining an offline store have been eliminated, their tires are often not as expensive as other tire shops.
Tire Rack does not install your tires; rather, they ship your orders to a local installer near you who will mount your tires.
Judging by the large number of positive customer reviews Tire Rack enjoys, we can assure you their tires are quite reliable. According to sitejabber.com, over 88,000 customers gave positive reviews about Tire Rack.
For example, Peter, a buyer from Guelph, says Tire Rack offered him tires at a much lower price than another dealership was offering.
He also says that they make timely deliveries.
However, not all customers were gushing about the online tire dealership. For example, a buyer said he discovered bubbles on his tire's sidewall a few days after buying it from Tire Rack.
Some buyers also claimed the dealership shipped them a different size of tires than what they requested.
How Good Are Tires from Sam's Club?
Sam's Club tires are the most expensive among other low-budget stores.
Tire installation at Sam's Club costs $15 per tire, according to www.today.com.
Sam's Club's tires are proof that cheap tires don't have to be inferior. According to vivaeltoro.com, a lifestyle website, buying tires from Sam's Club will cost you $80 less than other dealerships.
The dealership's tires are also durable. It has sophisticated equipment for mounting, rotating and balancing wheels for improved tire performance. And it takes care of customers.
Even if your tires develop faults, Sam's Club will repair the tires for free.
Was this article helpful?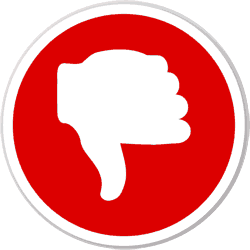 Did you find wrong information or was something missing?
We would love to hear your thoughts! (PS: We read ALL feedback)