Originally presented to the world as the Honda Accord Crosstour, this vehicle's name was changed to simply the Honda Crosstour in 2012.
The vehicle was discontinued in 2015 due to low sales but many tout it as a great car.
As with any vehicle, there are downsides to the Honda Crosstour and it was not without issues.
Read on for more information on the problems and solutions with this vehicle since there are still plenty of them on the road and for sale as used vehicles across the nation.
Before we start, make sure to read our article about how long the Honda Crosstour will last you.
Problems and Solutions for the Honda Crosstour:
A total of 55 complaints have been made by consumers about the Honda Crosstour in the four years since its name was changed in 2012 to 2015 when Honda discontinued producing the model.
It ranked number 11 in overall reliability out of a total of 24 Honda models with brake and interior issues leading the complaints against reliability.
Problem #1:
Starter grinding and Not Always Starting the Engine of 2013-2015 Accord and Crosstour, Leaving Owners Stranded
This four-door hatchback, which was designed after the original Accord sedan, has experienced issues with drivers hearing a grinding noise when starting their vehicles.
It seemed to happen more commonly in the models from 2013 to 2015 that have automatic transmissions.
The issue has been attributed to either a clearance or a misalignment issue in between the vehicle's starter system and the torque converter ring of the vehicle's transmission.
Honda did address the issue in a report regarding the vehicles but it did not offer assistance to owners, which then led to multiple lawsuits.
Solution:
In these particular vehicles, the starter system needs to be repaired so that it can properly engage with the torque converter ring gear on the transmission to be able to spin up the engine.
The ring gear needs to be put in the proper position to make this process happen properly.
The Crosstour has also had issues with needing higher capacity batteries that have the needed power to fire up the motors.
Honda recommended to car dealers that the starter motor needs to be replaced in these vehicles in that the crankshaft should be rotated by at least one bolt hole.
Repair costs can be covered under the vehicle's warranty but the warranty ends at 36,000 miles and the issues normally start occurring when the vehicle has been driven about 50,000 miles.
Owners may have to pay and out of pocket charge of around $650 to have the issue repaired.
Problem #2:
Possible Dangerous Takata Airbags in Crosstours
More than 100 million vehicles of all different types have been recalled throughout the world due to defective Takata airbags that had been responsible for at least 27 deaths across the world.
Several Honda and Acura vehicles were affected by this issue, including the Honda Crosstour.
The inflators become unstable over a period of time and have the potential to rupture or explode if the airbag becomes deployed which can then shoot metal fragments throughout the vehicle, injuring drivers and passengers.
Solution:
Buyers of used Honda Crosstour should check with the seller or dealership to ensure that the vehicle has been taken in to have the Takata airbag replaced. Since the issue is part of a worldwide recall, there is no charge to vehicle owners to have the situation remedied.
Problem #3:
Rodents Love Chewing Honda's Soy-Coated Wiring
To go green and become more environmentally friendly, Honda began using and electrical wire made of soy and other environmentally friendly materials, but the soy-based wrapping is very attractive to rodents that want to use the electrical wiring in Honda vehicles to build their nests.
Solutions:
Many vehicle owners have taken several prevention measures, including odd ones such as using coyote urine or capsaicin-laced tape to cover the wires and detract rodents. Another solution is to wrap the wiring in a spicy pepper tape that will repel rodents instead of attracting them.
Repair costs can be in excess of $1,000 if rodents chew the electrical wiring in a Honda Crosstour.
Contour owners should keep an eye out for any shredded pieces of wire coding or other materials when they move their car that may fall out from under the hood.
Owners can also check under the hood often to inspect the engine and wiring for any signs of rodents.
Some vehicle owners have used mothballs, liquid peppermint oil, or dryer sheets in their engine compartments to ward off critters.
Owners can also purchase Honda's rodent tape that the manufacturer created for this issue at a cost of about $36 for a 20-meter roll.
Problem #4:
Excessive Oil Consumption
Many of Honda's V-6 engines are consuming a large amount of oil and the automaker was even sued for their engine design that promotes this activity.
Solution:
Some vehicles now have an extended warranty of up to eight years and unlimited mileage to combat the issue so that owners can have their vehicles fixed without any extra cost.
General Pros and Cons
Pros:
The Honda Contour offers the appearance and versatility of a wagon or hatchback without looking like an SUV.
The Crosstour boasts a roomy interior with a wider cabin area than the Accord.
Added versatility with the rear hatch.
A rear camera was added to the Contour beginning with the 2012 model.
The vehicle gets about 31 miles per gallon of gasoline.
Offered in both front-wheel or all-wheel drive.
Offers a comfortable, smooth ride.
Collision warning was installed in the 2013 to 2015 models.
Very dependable vehicle
Easy Drivability
The cabin area is spacious with plenty of storage room also.
Plenty of money-saving deals
Spacious seating
Carlike driving dynamics
Quiet cabin area.
Cons:
Starter grinding and Not Always Starting the Engine of 2013-2015 Accord and Crosstour, Leaving Owners Stranded
Possible Dangerous Takata Airbags in Contours
Rodents Love Chewing Honda's Soy-Coated Wiring
Excessive Oil Consumption
Reviews of the Honda Crosstour:
"It also has a slighter higher stance than typical midsize sedans, and this makes it easy to get in and out while providing a better view of the road ahead. In addition, shoppers in the Snowbelt will appreciate the Crosstour's available all-wheel drive, a feature that isn't offered on the Accord."
"Yes, the Crosstour has its strong points. The 278-hp  V6 in our all-wheel-drive EX-L test vehicle is lively, smooth, and responsive, and it's mated to a new six-speed automatic transmission that shifts seamlessly. The ride is compliant, and the roomy interior provides comfortable seating."
What Is the Resale Value of the Honda Crosstour?
Year Mileage (Miles) Price ($)
2012 95,655 $17,990
2013 84,026 $18,990
2014 102,061 $20,990
2015 78,814 $22,990
Final Thoughts:
If you are not interested in an SUV but want some of the advantages of one, the Honda Crosstour may be the perfect vehicle for you.
It is capable of driving through deep snow and on rough road conditions, especially the Honda Crosstour model.
It has beautiful unique styling and Honda is known for its quality when it comes to car manufacturing.
The vehicle is spacious and you can pick one up for a very good price these days since the last year they were made was in 2015.
Even vehicles with very high mileage are still running very well so these cars can last a long time.
This car is a great vehicle for someone who wants a combination of a sedan, wagon, and SUV with a hatchback area that is easy for bulky or even taller items to be transported and stored in.
It gets around 31 miles per gallon on the open road which is a pretty good gas mileage by today's standards and overall, the vehicle is very reliable and high quality in its design.
While car buyers can opt to purchase a Honda Accord Crosstour pre-2012, the Honda Crosstour from 2012 to 2015 seem to be much more popular after the vehicle underwent a name change as well as design changes.
Many people in today's economy are opting to purchase used and pre-owned vehicles versus newer ones so the Honday Crosstour is actually gaining in popularity in recent years.
This is an excellent vehicle for someone who wants versatility since it drives and operates much like an SUV but is actually more of a sedan-style body.
This vehicle offers a smooth ride, plenty of comfy seating, and ample storage space in the back area that features a hatchback system to make it easier to place items in and take them out of the vehicle, much like an SUV.
This is a great vehicle for families, especially families who love to travel or who have a lot of camping or sporting equipment to transport along with dogs, other pets, and kids.
GO BACK: Honda problems per model.
Was this article helpful?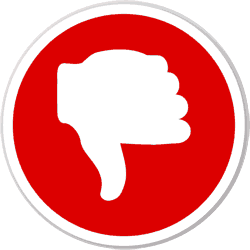 Did you find wrong information or was something missing?
We would love to hear your thoughts! (PS: We read ALL feedback)
ⓘ  The information in this article is based on data from National Highway Traffic Safety Administration (NHTSA) recall reports, consumer complaints submitted to the NHTSA, reliability ratings from J.D. Power, auto review and rating sites such as Edmunds, specialist forums, etc. We analyzed this data to provide insights into the best and worst years for these vehicle models.
---