Depreciation is an inevitability every motorcycle owner faces.
The moment you drive your bike off the lot, its value takes a hit. Still, it helps to know the level of depreciation to expect on your H-D bike.
Do Harleys depreciate or increase in value?
Unless it is a rare classic, no motorcycle, including your Harley, will increase in value. Your bike depreciates as soon as you buy it. That said, Harleys have a better depreciation rate than most motorcycles.
Strong demand, limited availability, and reliability allow Harleys to depreciate slowly and command better resale prices.
Average Depreciation Per Year For Harley-Davidson Motorcycles
Depreciation will always lower the value of any motorcycle.
However, not all bikes depreciate at the same pace. Buying a motorcycle that holds its value well will protect you against sharp depreciation to an extent.
Are you buying a Harley and want an idea of how well Harleys hold their value? We've compiled the average depreciation rates for Harley-Davidson motorcycles.
These numbers are the product of a careful analysis of data gathered from online sources. They are not official statistics.
Model
Average Depreciation
Harley-Davidson Street Glide
47.9%
Harley-Davidson Road King
50.1%
Harley-Davidson Road Glide
7%
Harley-Davidson Street (500&750)
58.5%
Harley-Davidson Sportster 1200
51%
Harley-Davidson

Sportser

883
54%
Harley-Davidson

Softtail

47%
Harley-Davidson Electra Glide Ultra Classic
53.3%
Harley-Davidson Ultra Limited
58.2%
Do Harleys Depreciate Faster Than Other Brands?
Harley-Davidson motorcycles are some of the most expensive on the market.
But if you're willing to look past the initial price, they make for great investments. Per data, Harleys have better resale values than most rival brands.
Some of the following factors are responsible for the high resale value of Harleys:
1. Low Production Volume
Harley-Davidson has always produced its bikes in small numbers.
In the past, you'd have to wait months before getting the Harley you ordered. While things have changed, there are still not many Harley bikes on the market.
Compared to rivals like Honda, who produce millions of bikes per year, H-D produces way less. This artificial scarcity helps keep the price of used models stable.
2. Popularity
The Harley-Davidson brand is arguably the most recognized motorcycle brand in the world.
Harleys are almost like the Ferraris of the motorcycle world. They may be expensive, but the status and recognition attached to them mean millions of people want one.
This demand is particularly beneficial as it helps keep the value of used models high.
3. Reliability
Although H-D's reliability history is checkered, modern Harleys are among the most reliable bikes on the market.
Therefore, people are more willing to buy used models because they believe they won't end up with lemons.
Additionally, Harleys are incredibly easy to work on and don't require extensive servicing. Spares are also affordable, thanks to a strong aftermarket industry.
As a result, they have reduced maintenance costs, making them even more attractive to buyers.
A 2013 Kelley Blue Book Official Motorcycle Guide report named Harley-Davidson the motorcycle with the highest resale value. According to the report, Harley-Davidson motorcycles held over 84% of their value for over five years.
This number was higher than rival brands such as Honda, BMW, Triumph, and Indian.
Which Models Depreciate The Least?
Although Harleys hold their value well over time, some are better at it than others.
Below are the Harley models with the least depreciation rates:
1. Harley-Davidson
Softtail

:

Average five-year depreciation: 47%

The Softtail model family is one of Harley-Davidson's most popular models since its inception.

First produced in 1984, the Softtail cruisers have become a hit with H-D's core customer base.

Models in the Softtail family include the Breakout, Heritage Classic, Softtail Deluxe, Softtail Slim, Fatboy, Street Bob, and Fatboy.

In particular, Softtails are the preferred choice for long-distance riders who don't want larger models. They are more affordable and offer improved riding comfort than the motorcycles in Harley-Davidson's touring lineup.

The ensuing popularity of the Softtail models keeps demand healthy and resale values stable.
2. Harley-Davidson Street Glide
Average five-year depreciation: 47.9%
One of Harley-Davidson's bestselling cruiser models, the Street Glide, is suitable for heavy cross-country riding.
It comes standard with a host of creature comforts designed to make long rides as pleasurable as possible.
Such features include cruise control, tuned suspension, infotainment system, and many others.
Due to the Street Glide's popularity among members of the Harley community, used models command reasonable resale prices.
3. Harley-Davidson Road King
Average five-year depreciation: 50%
Many have declared the Road King Harley-Davidson's most exceptional touring motorcycle.
Built to withstand long-distance touring, the Road King packs comfortable ergonomics, impressive performance, and exquisite design in one package.
Strong demand for the Road King models has kept resale values of used models relatively stable. It is one of the best bikes in the H-D touring/cruiser lineup, with only the Street Glide having better resale value.
You may also like to read our article on Do Harleys have ABS Braking Systems?
Which Models Depreciate The Most
Harleys typically hold their value well, but some models have below-average depreciation rates.
Here are the Harleys with the worst depreciation rates:
1. Harley-Davidson Street 500/750
Average five-year depreciation: 58.5%
The Street models (500 & 750) are the cheapest production Harleys on the market.
They are lightweight (for Harleys), making them attractive for beginners.
These models are also the fastest depreciating Harleys. People who buy Street models often dump them after a few years for larger Harleys.
Because of this, the market gets flooded with used models, driving down resale prices.
2. Harley-Davidson Ultra Limited1
Average five-year depreciation: 58%
Luxury motorcycles depreciate faster than non-luxury versions.
Along with the Ultra Limited Low, the Ultra Limited represents Harley-Davidson's most expensive non-CVO luxury offering. You can expect it to lose value faster than its other counterparts.
Luxury motorcycles usually have steep depreciation rates because consumer demand for them is low. Most individuals who prefer luxury bikes won't spend a premium on a used, outdated model. They'd rather buy newer variants.
Also, luxury models often have high maintenance costs. As they gulp huge sums in servicing costs, people are wary of buying them.
Things like these keep demand for luxury bikes such as the Ultra Limited low and reduce resale values considerably.
3. Harley-Davidson Fatboy 114
Average five-year depreciation: 55%
The Harley-Davidson Fatboy is one of the most iconic Harleys on record.
It is also one of the worst models in terms of depreciation, keeping 45% of its value after five years.
Our research suggests that Fatboy's bestselling status is hurting retail prices. Too many people are buying, and there's an overabundance of used models on the market.
This inevitably creates a glut in the market and increases depreciation on existing Fatboy models.
4 Ways To Improve The Value Of Your Harley
Mostly, your Harley's value will reduce with age, and you can do nothing to avoid it.
But with the right practices, you can slow down depreciation on your Harley-Davidson motorcycle.
Here are some ways to improve the value of your Harley:
1. Avoid excessive modifications and upgrades
Almost all riders love modifying their bikes.
Some mods are meant to enhance performance, while some [e.g., custom paint jobs] improve the bike's looks. While modifications are attractive, they rarely increase your bike's value.
Yes, some performance mods could increase the resale price of a Harley. But that only happens where the buyer appreciates such modifications. If your buyer is in the hunt for a clean bike, he will not pay more for your heavily customized Harley.
Also, remember that certain performance upgrades, such as changing the exhaust, may be illegal.
Performance mods give buyers the impression that you've ridden your bike extra-hard, meaning there's a higher chance of wear-and-tear.
Modifications don't improve resale value. If anything, they could discourage people from buying your Harley.
2. Keep the mileage low
A low-mileage bike will often command higher prices than a high-mileage bike.
If you bought your bike as an investment, then do all you can to keep miles down. Many people see a high odometer reading as a sign of a tired bike. They believe extensive use exposes the bike to damage and wear.
Even if you have proof that your motorcycle has seen regular servicing and maintenance, only a handful of buyers will buy it from you.
However, this doesn't mean your bike should become a garage queen. Leaving your bike unused for long can lead to problems, which may lower your chances of selling it.
No one wants to buy a motorcycle and still spend good money to keep it on the road.
3. Keep your bike in excellent condition
Not everyone buys a bike as an investment.
Maybe you want to buy a bike, use it for a few years, and sell it off. In such a case, ensure your bike stays in tip-top condition so its value doesn't drop.
A Harley-Davidson motorcycle with visible signs of wear will probably have a poor resale value. Body dents, rusted parts, faulty electronics, etc., are obvious signs of poor maintenance.
Inadequate maintenance reduces the overall reliability of bikes. As such, most buyers will hesitate to buy a bike that looks like it wasn't maintained properly.
Comprehensive service history can show buyers that your Harley has received proper maintenance and is in good condition.
Ensure you keep all documents relating to your bike's maintenance history safe.
Was this article helpful?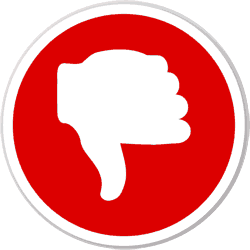 Did you find wrong information or was something missing?
We would love to hear your thoughts! (PS: We read ALL feedback)