Wondering what characterizes a full-size SUV or where to draw the line between standard SUVs and the mid-size ones?
Read this article to find out the difference between a large SUV and an ultra-luxury one.
What Characterizes a Full-Size SUV?
Most standard SUVs are characterized by their distinguishing size, space, towing capacity, off-road capability, and large engine. But, many of these features are also found in various intermediate SUVs.
So where do we draw the line between full-size SUVs and their mid-size counterparts?
1. They are larger
In terms of size, standard full-size SUVs are about 10 inches larger than the mid-size ones. Whereas a typical intermediate sport utility vehicle is around 190 inches long, the full-size ones are at least 200 inches in length.
This is why they provide more rear and cargo space than other SUVs.
2. They offer more rear space
The cabin of these SUVs poses the most point of confusion to users. While full-size SUVs feature three-row seats that can house 6-8 people, many mid-size SUVs also offer similar capacity.
Notable amongst the popular mid-size SUVs that offer three-row seats are the Hyundai Palisade, Chevrolet Traverse, and the Nissan Pathfinder.
Mind you, several other mid-size SUVs such as the Honda Pilot, Jeep Grand Cherokee, Ford Edge and the Subaru Ascent come equipped with 2-row seats.
Regardless, one of the outstanding differences between these intermediate SUVs and the full-size ones is the wider third-row seat offer by the latter. The rear seat of a standard full-size SUV is about 4-5 inches wider than the mid-size variants.
For example, while the 2022 Chevrolet Traverse, which is a mid-size SUV, offers 56.9 inches of rear hip room and 34.8 inches of legroom, the 2022 Chevrolet Suburban–a full-size SUV–provides 42 inches of rear legroom and 61.3 inches of rear hip room.
3. They have higher towing capacity
Towing capacity is another distinguishing factor of monstrous SUVs. Many of them offer over 8,000 Ibs. maximum towing capacity. That's more than 2000 Ibs. higher than most intermediate rivals.
So, full-size SUVs are most suitable for towing heavy trailers.
4. They have more powerful engines 
Full-size SUVs have more powerful engines because of their bulk. Lower-powered engines are not suitable for these vehicles, because they are heavier.
A number of full-size SUVs offer V8 engines which generally have more power than the V6 engine mostly used by mid-size variants. The 2023 Cadillac Escalade, Nissan Armada, Range Rover, and the 2023 Chevrolet Suburban all come equipped with V8 engines capable of delivering up to 500 horsepower.
This justifies how stronger the full-size SUVs are when compared with their mid-range counterparts.
e. Large SUVs typically have lower fuel economy
Because of the larger engine capacity of many full-size SUVs, they are less efficient on fuel economy.
Whereas the average MPG for standard full-size SUVs is 14/19 city/highway drive, that of the mid-size variants falls at 18/25 city/highway drive.
Talking about fuel efficiency, you'll be interested in knowing about the cheapest full-size SUVs with the best gas mileage.
Types of Full-Size SUV
Aside from their large sizes, full-size SUVs also come in different varieties. This is why they feature different specifications and have different price levels.
Here are different full-size SUVs according to their class.
a. Ultra-Luxury SUVs
Ultra-luxury SUVs offer extravagant designs and top-quality interior finishes. They often come equipped with higher quality infotainment experience, extended safety features, and a deluxe cabin.
While these SUVs may maintain the same standard features as the large SUVs, they are more expensive. A typical ultra-luxurious SUV costs around $75,000-$205,000.
b. Large SUVs
Large SUVs also offer a comfortable cabin and luxurious ride, but not as high-ended as the ultra-luxurious ones. They also mostly do not offer full specifications, especially when it concerns infotainment services and safety features.
These SUVs are cheaper than the ultra-luxury ones. Their prices typically fall around $50,000-$85,000.
We can also classify large SUVs based on their seating arrangements.
c. Large SUVs With Rear Passage
These SUVs have a passage at the rear seat that accommodates 6-7 persons. Some of these SUVs have two executive seats in the second row with a seat for three in the third-row.
Several others feature a full rear passage, with two seats on both the second and the third row.
d. SUVs with full seats
There are also large SUVs that come with full rear seats designed to accommodate 8 adults. Rather than having a rear passage, these SUVs feature adjustable seats or separate doors for each back row.
Obviously, large SUVs share numerous similarities with their intermediary ones. Because of the many overlapping features between these SUVs, it is easy for a full-size SUV to lean into the mid-size category.
We also have an article with the complete list of full-size SUV brands.
When Does a Full-Size SUV Lean Into the Mid-Size Category?
Size is the major criterion used in classifying SUVs. Regardless of the giant-looking exterior, the interior of a full-size SUV is also expected to be more spacious, especially in the third-row.
So, when three adults can only cramp themselves in the back row of a supposed full-size SUV, then the ride has leaned into the mid-size category. Whereas a typical intermediate SUV offers 50–58 inches for rear hip room space, a full-size one is expected to offer between 60–65 inches.
Let's explore 4 popular full-size SUVs.
1. 2023 Chevrolet Suburban
The 2023 Chevrolet Suburban is a large SUV that offers a convenient space for a full family ride. It comes equipped with three-row seats capable of conveniently sitting 7 persons. This is because it makes a provision for a rear passage on the second row, which prevents a possible three seats.
Being a large SUV, it could pose a little difficulty for a new driver to park conveniently. However, it offers enough driver-safety features and a thrilling infotainment system that will delight the occupants, especially first timers.
When compared with the 2022 version, the 2023 Chevy Suburban offers a semi-autonomous driving system that requires little control on steering, acceleration, and even braking. Mind you, this is only applicable on some certain highways.
Being a large SUV, the price of the 2023 Chevrolet Suburban falls around $55,500-$79,100.
2. 2023 Ford Expedition
The grand-looking 2023 Ford Expedition comes with a powerful ride, spacious and comfortable seats, and good gas mileage.
Like the Chevy Suburban, it also features a rear passage, giving it only 5 rear seats. This Ford Expedition is one of the few SUVs that offer enough cargo space (20.9 cubic feet) aside from the foldable rear seats that could help expand the cargo up to 104.6 cu.ft.
The SUV comes with a standard infotainment system that features enough physical button to make it easier to use. Aside from the 12-inch touchscreen display, it offers a Wi-Fi hotspot, wireless Apple CarPlay, and Android Auto, including four USB ports.
While it offers little to no difference from the 2022 Expedition, the price of the 2023 Ford Expedition falls around $52,905-$84,670.
3. 2023 Land Rover Range Rover
The 2023 Land Rover Range Rover is an ultra-luxury large SUV that will cart away about $101,000-$211,200 to own. It is a highly posh ride with fantastic interior and top-notch tech features.
This SUV offers a 13.1-inch touchscreen that features navigation, wireless CarPlay, Amazon Alexa, wireless device charging, and Wi-Fi hotspot. The classy ride also offers an 8-inch touchscreen in the rear center armrest and two 11.4-inch rear-seat display for back seat entertainment as additional infotainment features.
With a 7-seat executive layout that makes a provision for a rear passage, in-car experience in this SUV is inspiring. Besides, the 2023 Land Rover Range Rover is highly suitable for a mass travel as it offers 40.7 cu.ft. of cargo space behind the rear seats.
4. 2023 BMW X7
The 2023 BMW X7 is another inspiring ultra-luxury SUV that offers a blend of comfort and utility. When compared with its predecessors, it offers stronger engine power and a more advanced infotainment system to better thrill the occupants.
This X7 offers a 14.9-inch touchscreen, wireless device charging, Apple CarPlay, Android Auto, and a Wi-Fi Hotspot. While it offers an enticing cabin, its cargo space is one of the smallest. It only offers 12.8 cu.ft. of cargo space despite being 204 inches long and 79 inches wide.
This SUV can accommodate up to 8 persons and it is also available for 7-passenger ride to offer a rear passage. Unlike many other ultra-luxury SUVs, the 2023 BMW X7 also offers a more affordable price, ranging from $77,850-$103,100.
Please also read our article about small SUVs with luxury features.
Final Thoughts
Full-size SUVs do not only offer ample space for up to 8 occupants, they also provide better convenient seats and more comfort-aiding features. Because they are the most spacious, they offer more in-car experience than their counterparts.
These large SUVs also come with stronger engine capable of hauling heavy trailers while conveniently conveying bigger passengers and cargo. It is why they have a length of up to 207 inches.
Was this article helpful?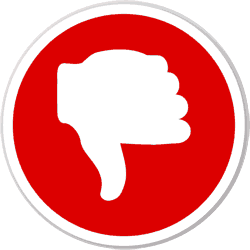 Did you find wrong information or was something missing?
We would love to hear your thoughts! (PS: We read ALL feedback)