Enhanced rearview visibility became a legal standard in every vehicle produced from the year 2018 onward. Ever since, the era of rearview cameras, blind-spot mirrors, and others started gaining prominence.
While this is a relatively new invention in the auto industry, some vehicle brands got it right, while several others had to resort to recalling their vehicles because of issues with the rearview system.
If you are, therefore, on the lookout for the vehicles with the best rearview visibility, stick with this page.
We have comprehensively explored the auto market to provide you with the best of them across all categories: SUVs, Sedans, Pickup trucks, and Vans.
Let's check them out!
SUVs With the Best Rear-View Visibility
Below are 4 great SUVs with enhanced rearview visibility.
1. Kia Sportage
The 2023 Kia Sportage comes with an exquisite design that offers great rear visibility and rearview enhancement technologies.
This SUV has a rear-quarter window at the rear side to help enhance the rear visibility of the driver.
Unlike many other vehicles with a rear-quarter window, Kia Sportage reduced the pillar between the side window and the rear quarter, especially in the 2014 model. This helps to enhance the driver's rearward visibility.
Although the actual rear window is not big enough to reduce the driver's blind-spot, the visibility of the vehicle is enhanced with a backup camera that works with a wide touchscreen.
Moreover, the 2023 Kia Sportage features a Blind-Spot Collision-Avoidance Technology and a Rear Cross-Traffic Alert to give a more digitized rear and blind-spot protection.
Mind you, these features may not be available in all Sportage models. You can find it all in the new Kia Sportage 2023 model.
2. 2023 Subaru Forester
The 2023 Subaru Forester is one of the notable vehicles that put the spine of a driver into consideration when building the small SUV.
In a situation where drivers could only turn their neck comfortably around 90 degrees plus, the vehicle makes a provision for wide rear quarter windows.
While this is not a new design in modern vehicles, the window is bigger when compared with that of Toyota RAV4, Ford Escape, and others. So, the vehicle provides one of the best rear visibilities for drivers.
Although the rear window of this vehicle is wide enough for improved rear visibility, drivers can't rely on it for a reduced blind-spot. So, the 2023 Subaru Forester is also equipped with a rearview camera as a standard feature.
In terms of reliability, Consumer Reports gives the 2020 and 2021 Subaru Forester good marks.
3. 2023 Toyota RAV4
Toyota has made a significant improvement to the size of the rear-quarter windows, especially in the latest RAV4 models. Unlike the 2014 model, the 2023 RAV4 now features a larger rearward window with two little pillars.
Aside from the rear-quarter view, the rear window of this SUV is big and wide enough for improved visibility. Because a big rear window is not enough to simplify over the shoulder blind-spot in a vehicle, this SUV offers a rearview camera and driver-assistance technologies.
So, Toyota RAV4 offers a Blind-Spot Monitor that enhances the driver's rear visibility. It also offers a Rear Cross-Traffic Alert technology that helps minimize back-over crashes.
Mind you, these features may not be available in all RAV4 models. They are, however, available in the latest RAV4 models.
4. 2023 Ford Escape
Although the 2023 Ford Escape also has an extended side window to enhance rearward visibility, the window is not as big as the other SUVs here.
The rear seats are also big enough to obstruct rear visibility. So, Ford ensures the headrest, which is missing in the middle, is adjustable.
The rear window of Ford Escape is big enough to ensure an improved over-the-shoulder visibility. It has a similar design with the RAV4 except that it isn't as big as the Toyota's.
This SUV also makes provision for rearview enhancement technologies since the mirrors and rear window aren't enough.
The 2023 Ford Escape features a backup camera to support back-over views. It also features a more reliable Blind Spot Information System with Rear Cross-Traffic Braking to protect the driver in blind spots.
Make sure to also read our article about whether SUVs have more blind spots.
Sedans With the Best Rear-View Visibility
Here are 4 sedans with great rearview visibility:
5. 2022 Honda Accord
The 2022 Honda Accord comes with a reduced trunk that features a large rear window. Even though the rear quarter view is obstructed by a wide pillar, the compact rear design of this car gives it a great rearview visibility.
The fact that Honda allows the head restraints of the rear seats to be adjustable further enhances over-the-shoulder visibility in this car.
Moreover, this sedan features a Blind-Spot Information System (BLIS) and other safety technologies, such as the Cross Traffic Monitor. While BLIS provides digital enhancement of the driver's rearward visibility, the CTM provides alerts on oncoming vehicles when backing over.
This car also comes with a rearview camera to give the driver a digital rearward eye. This is enhanced with an 8-inch touchscreen display.
To boast of comprehensive driver-aid visibility technologies, the 2022 Honda Accord also features the Collision Mitigation Braking System. This helps to reduce crash or collision.
6. 2023 Nissan Altima
The 2023 Nissan Altima is another sedan that makes a provision for a great rear visibility. Although Altima features a small rear-quarter window, the rear windshield is wide enough for improved visibility.
However, the trunk of the car is not compact enough for a reduced rear blind-spot. As a result, Nissan makes provisions for a driver-aid visibility assistance that includes a 360-degree view. Fortunately, this technology is a standard feature for every 2023 Nissan Altima.
The surround-view system is enhanced by a 12-inch touchscreen, which is available in some latest models of Altima. So, a driver of this car gets a much-digitized visibility on both the rear and the sides.
7. 2022 Audi A4
Designed with wide side glasses that extend to a rear quarter window with little pillar, the 2022 Audi A4 is another vehicle built with an enhanced rearview visibility in mind.
Although, when compared with the Nissan Altima and Honda Accord, this car has a more extended trunk. So, it has a larger rear blind-spot.
Without relying on the big rear window, Audi makes provisions for driver-assistance technology to reduce blind-spots while enhancing visibility.
So, the vehicle also features a rearview camera that extends to a surround view display. Some Audi A4 models also come with a rear cross-traffic alert which supports the driver when backing over.
8. 2022 Mercedes-Benz E-Class
Mercedes-Benz also makes it to this list with the 2022 E-class sedan which features luxurious cabin technologies.
Aside from providing great visibility for the driver, it also features the innovative Mercedes-Benz User Experience that responds to your voice commands.
Like the other sedans here, this car also features a wide rear window to aid rear visibility. Although the pillar between the rear-quarter window and the rear windshield is wide, the compact trunk helps create a reduced rearward blind-spot.
Besides, the 2022 Mercedes-Benz E-Class offers a standard Blind-Spot Assistance and a rearview camera to help support and enhance the driver's blind-spot visibility.
We also have an article about the cars with the least blind spots.
Pickup Trucks With the Best Rear-View Visibility
Because of the extended cargo space of pickup trucks, they usually have more rear blind-spots. Amongst the few pickup trucks with an improved rearview visibility are the Ford Super Duty, the Ram Heavy Duty, GMC Sierra, and the Chevy Silverado.
9. 2022 Ford Super Duty
The Ford Super Duty comes with a large rear windshield that provides a great over-the-shoulder visibility for drivers. Besides, this truck features a Pro Trailer Backup Assist that provides a sublime rear visibility enhancement.
This vehicle also features a Blind-Spot Information System with Trailer Coverage. So, a driver can be rest assured that he has a digitized assistance that could protect him in his blind spots.
10. 2020 RAM 3500Heavy Duty
Like the Ford Super Duty, the RAM Heavy Duty also features a big rear window that provides good visibility for an over-the-shoulder view.
While this is not enough for an enhanced rearview visibility, RAM goes a step ahead to create two backup cameras: one for the cargo area and the other for a comprehensive rearview visibility.
Aside from these, the RAM 3500 also offers a rear park-assist sensor to give the driver more convenience when backing over. Overall, driving a RAM Heavy Duty attracts a feeling of convenience, especially on the rear drive.
11. 2023 GMC Sierra HD
Built with a grand exterior design, the 2022 GMC Sierra Heavy Duty offers an intelligent ride with a wide rear window. Like the Chevy Silverado Heavy Duty, this truck offers about 15 different camera views. The aim is to enhance driver visibility while providing support to all blind spots.
This truck offers a surround view camera system, a rearview display, and a bed view camera (for the cargo area). While these provide a great rearview visibility for the driver, the 2023 Sierra HD also offers an innovative transparent trailer view mode. This allows the driver to see through the trailer, especially in a tight driving situation.
Nonetheless, Sierra still provides extended foldable side mirrors to gain more rear visibility.
Mind you, these features may not be available in all Sierra models. You'll, however, enjoy a comprehensive rearview visibility in many latest models, from the 2020 upwards.
12. 2023 Chevy Silverado HD
If you are on the lookout for a pickup truck with great rear visibility, the 2023 Chevy Silverado Heavy Duty is another great option. Like the GMC Sierra, it also offers up to 15 different camera views to enhance driver visibility and provide safety assistance. Although, it is a little more costly.
The 2023 Chevy Silverado provides a hitch view to maximize driver visibility when connecting to a trailer. It also offers the bed view, surround view, as well as a rear top-down view to show the distance between the truck bed and surrounding objects.
Regardless of the technological assistance, the 2020 Silverado and other latest models feature bigger and more extended foldable side mirrors. These help to provide a reduced blind spot on the rearward sides.
We've also written about whether trucks or SUVs are safer.
Vans with the Best Rear-View Visibility
Amongst all vehicles, vans are one of those with the worst rearview visibility. However, the Nissan NV Passenger and Ford Transit are a few modern vans that feature an improved rearward visibility.
13. 2022 Ford Transit Connect and 2021 Nissan NV Passenger
The 2022 Ford Transit Connect Wagon offers three side windows. This is unlike the regular two or one side window notable of many vans. With the wide rear-quarter window, over-the-shoulder views are more visible for drivers of this van. This is also the same as it is with the 2021 Nissan NV Passenger.
Aside from the rear-quarter windows, the rear windshield is large enough for an enhanced view. While the windows would not be enough for an enhanced visibility, Ford Transit features the Blind-Spot Information System and the Pre-Collision Assist technology. The two vans, however, feature a Rear View Camera.
Regardless, the side mirrors of these vans are a little more extended to enhance rearview visibility.
Please also read our article about mid-size SUVs with best visibility.
Was this article helpful?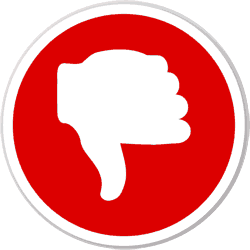 Did you find wrong information or was something missing?
We would love to hear your thoughts! (PS: We read ALL feedback)