The Ford Taurus evolved from a mid-sized car to a full-sized one in the mid-2000s.
The Taurus, more often than not, are four-door sedans and was the best-selling car nameplate in the United States from 1992 to 1996.
In this article, we'll discuss comprehensive details about the Ford Taurus keys.
Ford Taurus Key Fob Buttons, Functions and Tricks
Depending on the model year and trim, the Ford Taurus key fob can have four or five buttons, including Lock, Unlock, Panic, 2X (Remote Start), and Trunk Unlock.
The Taurus key fob buttons are equipped with lock and unlock buttons.
The remote start button is only available in newer model years, while the panic button and the trunk button are available in most Taurus key fobs.
The regular Taurus has a sun roof (or moon roof, depending on your active hours).
Holding the Unlock button on the key fob for at least two seconds would roll down your windows. In most models it would even cause your moon roof to tilt upwards.
How Much Does an Extra Key Cost?
A new key has a price range of $60 to $360.
Make sure you see the proper professionals, like an automotive locksmith or your car dealer, for your key.
You can also get replacement keys from online retailers, and these are often cheaper.
My Taurus Car Key Is Not Detected
Your key fob battery may be dead or too low for any signal to be sent to your car's system.
In any of the above cases, a simple battery replacement is all that's required to fix the problem.
It can also be because of faulty programming. Your key fob would have to be reprogrammed to become functional again.
The problem might not be from your key at all.
A low car battery could cause your car's system to malfunction or stop working totally. This should be your next step if you discover that all is well with your key fob.
You shouldn't rule out the fact that your key fob may be damaged. Changing your fob shouldn't be that much of a hassle as long as you locate the right dealer and fair prices.
Also read our article about the Ford Taurus in snow and winter driving.
Which Batteries Do Ford Taurus Keys Use?
A CR-2032 3-volt Lithium-ion coin cell battery is compatible with any Taurus key fob. Just be sure to get a quality one.
CR-2032 batteries aren't expensive and you should easily get them at your local Wal-Mart or Amazon.
Click here to buy affordable Ford Taurus key fob batteries on Amazon.
Can You Change the Key battery Yourself?
You can easily change your key fob battery yourself.
Make sure your hands are clean to avoid contaminating the terminals.
Most people prefer leaving every detail in the hands of their trusted locksmiths. It is however useful to learn how certain operations in your car work (the key fob for example) in case of an emergency.
You would need a small-sized screwdriver which can be used to either unscrew the fob or pop it open.
Split the fob into two parts and pry out the damaged battery. Fix in the new one while noting the terminals.
Gently fix both parts of the fob back where they belong, together.
Also read our article about how long the Toyota Avalon lasts. 
What to Do When Key Is Stuck in the Ignition?
If the stuck key is a broken key, apply lubricants in and around the keyhole.
After that, try pulling the key out, but never apply too much force as that might complicate things further. If that doesn't work, call your locksmith.
If a whole key is stuck in the ignition, it's probably due to a steering wheel that's been accidentally locked.
Many drivers don't know about this feature and may fall victim to it from time to time.
Turn your steering wheel clockwise and counterclockwise as you pull out your key simultaneously.
Also, be sure your gear isn't wrongly set.
A broken ignition cylinder can also cause this problem.
Popular Key Fob Covers
A good key fob cover that completely encloses the Taurus key fob is the Royalfox 5 buttons genuine leather smart keyless entry fob cover. It is stitched with a flawless seam and has a clip attached to it.
Another comes from M.JVisun. The method which you would use to fix the fob cover over the fob has a python-prey like relationship. It mostly comes in black.
REPROTECTING Silicone Rubber key fob cover can double as a key holder.
The rubber material gives the fob a mushy feeling when held and also acts as a water-proof covering for the fob. All fob covers listed above cost below $20.
Check here for popular Ford Taurus key fob covers on Amazon.
How to Find Key Codes for Lost Keys
New cars have their key codes located in the owner's manual.
Ford dealerships also have access to the code database.
They can always find your key code and even program you a new key with it. All you have to do is provide the adequate credentials to prove that you're the owner of the car.
Older models which use non-transponder keys may not have key codes. So if you're asking this question, we assume you use a transponder key or a smart remote key fob.
What to Do If the Key Won't Turn?
Your key might be damaged if it doesn't turn in the ignition, and you would need to replace it.
Also, be sure your gear lever is in Park. Usually, your Taurus would not let you remove your key while it is still in drive mode.
Also, be sure you're using the correct key. A dead battery can also prevent your key from turning in the ignition.
Also read our article about where the Ford Taurus is made.
My Key Won't Go in the Ignition
If your key won't go into the ignition, it might be because of a blocked ignition cylinder.
Call your automotive locksmith, you would probably need a new key. This is because most cases of a key that won't go in the ignition results from a bad or worn out key.
What to Do If Keys Are Locked Inside a Ford Taurus?
A locksmith can unlock your car for you. More conservative methods would involve using your FordPass app to unlock your car.
If you don't already have the app, you just have to download it. Setting it up would require only a few easy steps.
Login to your Ford owner's account and create a pin to secure your car. After entering your car's information, click on finish and you're good to go.
An alternative is to make use of your factory keyless entry code to get in.
Simply input the factory code on your Taurus keypad. The code can be used to unlock/lock your doors, trunk and even enable the auto lock feature.
Ford Taurus MyKey Explained
The MyKey feature is arguably the best tool for regulating driving behavior on the road. Its debut was in the 2009 Ford Taurus.
Perhaps you want your teen driver to drive responsibly on the road. Maybe you just love your Taurus so much and don't want it overworked.
MyKey works by limiting certain keys to fewer functions while driving. They include speed limits, maximum volume for radio, seat belt reminders, and other restrictions.
An admin key is used to set up a MyKey. The admin key does not have limitations and is usually held by the owner of the car.
Other drivers who may not be trusted with the car on their own, are given a MyKey.
One downside is that the MyKeys cannot be programmed individually. Rather, programming is done collectively. So the settings on all keys are the same.
In emergencies, the MyKey might do more harm than good because drivers would need to hurry to a hospital. Thus the limits would be unappreciated during a crisis.
Was this article helpful?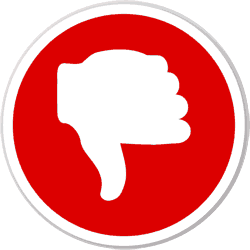 Did you find wrong information or was something missing?
We would love to hear your thoughts! (PS: We read ALL feedback)