Is it worth buying a sports car like Ferrari?
If depreciation is an issue then the short answer is a supercar is not for you. If you have a passion for supercars, and in this instance Ferrari then, by all means, go ahead.
In saying that, it is possible that depreciation will not be as big an issue you might think.
On average Ferrari's depreciate in the first three years from new at a rate of 15 percent. The Ferrari does a lot better than Lamborghini or Porsche simply because Ferrari produce a lot fewer cars.
Let's start by looking at the numbers in general.
The Hagerty Price Guide Index is a stock market style index that averages the values of 13 of the most sought-after street Ferraris of the 1950s-70s. The graph shows those values of the years for #2 condition or "excellent" cars.

The Ferrari market may have experienced a correction earlier in the year, but for now, it is holding steady at a comfortable, more realistic level.
Purchasing a Ferrari may still seem attractive.
So, let's consider which of the more popular Ferrari's would be viable in terms of depreciation or appreciation. The cost of depreciation could well balance out with the purchase price, let's have a look-see.
There seem to be other issues that impact depreciation anyway.
How quickly do new Ferraris depreciate?
The reality is that a car will always lose value through depreciation and sadly it will take place even as the signature ink dries on the ownership documents. It's a fact of life that any current asset will depreciate.
The wealthy will always own luxury cars, and because they have the financial resource they will look for the latest models. This would stimulate a constant demand as they replace cars.
The high value of luxury cars has a higher value loss compared with that of the average car on the street – Its all about proportions.
There is more value to depreciate: $100,000 of straight-line depreciation is a higher value to $10,000 because the proportion is higher.
There are models which depreciate at a lot lower rate, for instance, the 360 at 7% and the F12berlinetta at 3%, however, these seem to be exceptions. The 612 depreciates at a rate as high as 41%, which makes the purchase unthinkable.
Ferrari Car Depreciation by Model
Here are the numbers on how much 7 Ferrari models depreciate during the first three years:
| | | |
| --- | --- | --- |
| Model | Average depreciation (3 years) | Estimate confidence |
| Ferrari 360 | 7% | 95% |
| Ferrari 458 | 29% | 95% |
| Ferrari 612 | 41% | 92% |
| Ferrari California | 11% | 92% |
| Ferrari F12berlinetta | 3% | 95% |
| Ferrari F430 | 16% | 78% |
| Ferrari FF | 12% | 95% |
How does the value develop over time on the classic Ferrari models?
It's simple economics, where demand plays off of supply. If there are no issues with the model, the Specials often appreciate a lot faster than other models.
The Ferrari Laferrari Aperta and the Ferrari 250 GTO seem to be two models which have held their value. We take a look at them as examples.
The Ferrari Laferrari Aperta
A very powerful and beautiful car.
The top-down was essentially the same as the fixed-roof version but with some add-ons. It also came with a hefty price tag, the manufacturer suggested retail price [MSRP] at $1.5 million.
This made it more expensive than the counterpart McLaren P1 and the Porsche 918. It made up the MSRP by being able to appreciate over time and more than tripling its price.
The Ferrari 250 GTO
A classic was released in 1963 for $18,000.
This old girl has aged well, and time has been good to its price tag as well.
Bloomberg once reported an article about an unknown buyer who purchased a pristine 250 GTO for $52 million. That's a lot of money for a car that's older than most of us.
Here are some facts on our article about Are Ferraris Expensive to Maintain?
How do Ferraris depreciate?
It doesn't always make sense to buy a car new, let alone an exotic or supercar. Four critical concepts push down automotive pricing and so, this is why you normally lose on average 30% of the price value even before you drive it off the showroom floor.
There are a couple more reasons that impact the exotic car depreciation.
These factors can all be leveraged and mastered to minimize the impact on price and the buying and selling of exotics.
1) Mileage
The mileage of the exotic car doesn't impact the price the same way it does to regular cars.
Most regular cars in the States allocate approximately 5,000 miles a year as low miles and in the region of 15,000 miles a year as high mileage. So, if the car is five years old, it breaks the car mileage down to average yearly miles. If a car is ten years old with 60,000 miles it will be considered low mileage for that model.
A Ferrari wouldn't work that way and don't factor in time-to-mileage. They use a timeless mileage table when considering miles driven. Even if a car is more than twelve years old they could retain value because the mileage is low.
There are of course exceptions, but most exotics fall into these categories as each checkpoint kicks in the depreciation and lowers the selling price.
Exotic car mileage model
| | |
| --- | --- |
| Mileage | Comment |
| 0 to 2,000 miles | Should be pristine and command a premium |
| 2,000 to 5,000 miles | Lightly driven and brings a smaller premium |
| 5,000 to 10,000 miles | Enjoyed but not driven daily and brings a break-even of good near new |
| 10,000 to 15,000 miles | Driven and enjoyed allowing a nice car for much less |
| 15,000 to 20,000 miles | High miles bringing issues and price should be a lot lower |
| 20,000 to 30,000 miles | Danger mileage means this is a risky purchase |
| 30,000 miles | Don't make the purchase you're asking for trouble |
The key here is to buy and sell the car while in the same mileage range. So, buy your Ferrari at 10,000 miles and then sell it before hitting the 15,000-mile mark. In doing this, the market perception will not have changed much.
2) Marketing
Marketing is about buying the hype instead of the product. The hype escalates the price artificially.
Retailers capitalize on this by placing higher margins on the original hype and then are allowed "discounted" margins once the hype dies down. The stock which has been sold suffers when the leftover stock price is manipulated to counter the sales slowdown.
This causes the economic law of supply and demand to kick in, prices drop, and the drop-in value is blamed on depreciation.
The answer is to limit discounting to such small percentages that it slows the depreciation table.
3) Warranty
The warranty on exotic cars would fall away after some time. Buyers become scarce as fear of hefty maintenance price tags set in. The expense of the repair is often even higher when out of warranty. This reduces the number of people interested in exotics by as much as 60%, and so dealers find they are marketing to a smaller pool of price aggressive people.
The 90s did bring a bit of a change because development in technology allowed parts to cross over more than one exotic car – use the same part but a different part number.
This brought down the cost of repair and maintenance and curbed those buyer fears somewhat. It came to a point where the car didn't require a warranty any longer, just a thorough check-up before purchase.
Exotics out of warranty sell for 10% below their counterparts which have at least six months on warranty left. The buyer need not rely on aftermarket warranty's because only factory warranty has relevance in terms of depreciation.
4) Condition
The condition of the car counts a lot and makes a huge difference.
Options and colors change between cars making it difficult to compare them on that basis, even if they are the exact model. Ferrari's are often garage kept and cared for because usage causes an accelerated deterioration.
The exotics have certain characteristics which are adversely impacted with use versus regular cars. Rock chips, and lack of basic maintenance, such as brakes and tires, will also account for price variation.
If there has been any paintwork done because of minor or major accidents – even if it's just a repainted bumper will have a significant role.
Minor scratches lower the price by over 10%
Major scratches and problems drop the price as much as 30%
Are today's supercars immune to depreciation?
Ferrari's did historically depreciate quickly, with the buyer in 1980s and 90s typically wanting the newest, fastest, and best car. So, as the car passed from one owner to another the resale price may plummet.
It's a little different for modern Ferrari's which are holding their value, sometimes not depreciating at all. It's just that build numbers are lower.
Data gathered by the Hagerty Valuation senior data scientist John Wiley offers a comparison of market performance of 28 limited-production collector cars. According to Wiley's data, eight models built in 2002 and later have never been sold for less than their original MSRP.
| | | |
| --- | --- | --- |
| Model | 2002 Sale Price | Price Development |
| 2012-2019 Pagani Huayra | $1.4M | +21.64% |
| 2011 Ferrari 599 GTO | $450K | +18.29% |
| 2016 Porsche 911 R | $185K | +15% |
| 2011 Ferrari 599 SA Aperta | $500K | +14.46% |
| 2014-2015 Mc Laren P1 | $1,35M | +12.43% |
| 2002-2004 Ferrari Enzo | $650 | +12.42% |
| 2014-2015 Ferrari LaFerrari | $1.4M | +4.71% |
| 2014-2015 Porsche 918 Spyder | $847K | -10.47% |
There seems to have been a correction across the collector car market in the late 2000s which was influenced by the mortgage lending crisis and related economic downturn.
There also seems to be a phenomenon causing an increase in potential buyers with modern Ferraris coming free of clutch pedals improving the ease of use.
It's never easy buying a Ferrari?
Often the ability to purchase a Ferrari depends on having privileged status with the manufacturer. Ownership can also depend on a promise to hold the car or suffer the wrath of the manufacturer. This keeps the supply low and averts the old-school depreciation.
Ferrari is one of the most famous sports cars in the world.
They make a big thing about the exclusivity of their cars; it's not you who chooses to buy a new Ferrari; Ferrari must choose you.
Ferrari fans are sometimes left bitter and snubbed by the manufacturer.
Ferrari will often demand to see a history of ownership before allowing customers to buy a new one. There is a slim chance of getting one if the buyer has never owned one before – and certainly not if the buyer is under the age of 40 years old.
Ferrari's limited-edition models are only released for purchase to the elite and it doesn't matter that the buyer owns others.
A 55-year old web designer Bill Ceno realized this while having owned four limited-edition Ferraris (each of which were bought second hand, but cost him around twice the original list price).
Eventually, he accepted that he wouldn't be getting the new LaFerrari Aperta – the convertible version of the LaFerrari hypercar.
He said that he just wasn't prepared to deal with the politics and so relented to only buy used cars. It requires years of relationship building with the Ferrari dealer, and it's frowned on if the buyer has never been to visit Ferrari's factory in Maranello.
There is another story of an 85-year old former racing driver, entrepreneur and multi-millionaire Preston Henn. He has collected Ferraris for decades and owned more than 18 different Ferraris – including one of only three 275 GTB/C 6885 Speciale models ever built.
And a Formula One car driven by Michael Schumacher.
He took Ferrari to court wanting to sue the manufacturer for more than $75,000 claiming that Ferrari had damaged his reputation, although his legal team later withdrew the lawsuit.
Henn had placed an order for the LaFerrari convertible only to be told his order was rejected. He even sent a $1 million check directly to the Ferrari chairman Sergio Marchionne as a down payment, he was still informed that he was "not qualified" to purchase the Aperta.
What to do?
They say driving a Ferrari is a sensory experience.
If that's what this is about, then sure you should buy a Ferrari. If it's motivated by status or "keeping with the Jones", then you have lost the plot and shouldn't embarrass yourself.
Ferraris made in the current decade are much less maintenance-intensive and include 7 years of scheduled maintenance in the purchase price.
Still, cost of ownership can only be justified if it's the experience you're after. Whether it depreciates or not is irrelevant.
Was this article helpful?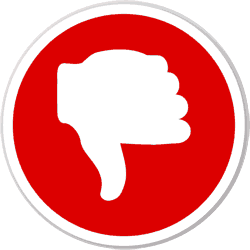 Did you find wrong information or was something missing?
We would love to hear your thoughts! (PS: We read ALL feedback)