When it comes down to choices of cars by owners, a hatchback model can be a necessity, especially if you have reasons for larger cabin space, luggage and adaptability.
This article will discuss 5 electric cars that have this configuration.
What Is a Hatchback, and What Does It Offer?
A hatchback is a car made with an extra door at the rear that can swing upward to create access to a cargo area. People often refer to a hatchback as a five-door or three-door vehicle because of the extra opening at the rear.
Hatchbacks mostly offer the luxury of folding flat back seats for space optimization. You can load more cargo when the back seats are down and, according to most car rating reviews, hatchback models can offer more space than what sedan provides. 
Now, if you're into EVs, you might be wondering whether they come as hatchbacks. Well, here are some electric hatchbacks that won't really hurt your bank account:
1. Chevrolet Bolt EV
The Chevy Bolt is an affordable all-electric hatchback model. The starting price of this model is $26,595 according to Edmunds.
It received praise it for its engine performance and comfortable cabin space. It ranks 8.5 out of 10 for its luxurious interiors.
This model feels larger than you might expect. It can comfortably seat three passengers in the back because it has a tall roofline all the way to the rear hatch. 
The 2022 Chevy Bolt has a 16.3 ft.³ of cargo space with the rear seats upright and 56.9 cubic feet of space with the seats folded.
However, compared to its other competitors, the cargo space is considered small. But still, it has decent storage plus a floor panel that can be removed to take more loads.
2. Nissan Leaf
The Nissan Leaf is a compact electric hatchback that has a 5 seats configuration. It is easy to maneuver through congested traffic because of its small size. Regardless of the size, it has an impressive rating in storage and interiors.
According to Edmunds, the storage ranks 7.5 out of 10 as it offers 23.6 cubic feet of cargo space even while the seats are in use and 30 cubic feet when they're folded. However, maximum capacity isn't easy to reach because the backseats don't fold totally.
The Nissan Leaf also has wide opening doors and a tall roofline for passengers to easily reach strapped-in children. In addition, it is flexible for installing rear-facing seats because of its space. 
For the interiors, it ranks 7.0 out of 10, according to Edmunds. The interior gives clear visibility because of its large windows. It is also very comfy as it has plenty of legroom and headroom regardless of what seats you are in. The floor price of this model starts at $27,400.
The Nissan Leaf hatchback comes in various styles. The ‌styles include:
SL PLUS 4dr Hatchback (Electric DD)

S 4dr Hatchback (Electric DD)

S PLUS Hatchback (Electric DD)

SV PLUS Hatchback (Electric DD)
3. Mini Cooper Electric Hard Top
The model is a mini-sized hatchback car that offers great driving dynamics and a lovely interior, however, cramped in space. On storage rating, this car ranks 6.0 out of 10, according to Edmunds. In terms of cargo space, you can only get 8.7 cubic feet. Fortunately, the back seats can fold completely to give more room.
On the other hand, the interior is much better. It ranks 7.0 out of 10, with two large accommodating doors that give room for short and averagely tall drivers.
However, for the passenger seats, the cabin space is not so large to conveniently take two full-sized adults, but it gives good visibility as a plus, especially when the rear seats are down.
The floor price of this model starts at $29,900 and $34,225 for the 2-door and the 4-door variant, respectively, according to the manufacturer's website.
Related: 3 Affordable Electric Cars With All Wheel Drive (With Prices)
4. BMW i3
The BMW i3 is a four-door hatchback that comes with an electric power train. It is praised for its stylish interiors, lightweight and compact size.
The BMW i3 is large enough to accommodate adults. It ranks 7.5 out of 10 for its interior. There is plenty of headroom and legroom for all car seats, but it is logical to sit in twos at the rear for full convenience.
Furthermore, for its storage, it gets a rating of 7.5 out of 10. It has a good storage space because of its various item storage to place your stuff. There are many bins and shelves at the door and on the dashboard.
Related: Popular Electric Cars With Dogs Mode or Pet Mode
Its cargo area, compared to its counterparts, is quite small but still decent and useful. The estimated measurement of the cargo space is 15.1 cubic feet. The i3 also gives the luxury of easy access to front-facing child safety seats and its floor price is about $44,450.
5. Hyundai Ioniq 5 Electric
The Hyundai Ioniq is an impressive model, as it offers a mix of swift performance, tech, and generous cargo space. The floor price of this model starts at $42,000 according to caranddriver.com.
The interior ranks a whopping 7.5 out of 10. All the seats are fully functional with enough space. They have enough head and legroom for both rows. The back seats also slide backward for passengers' comfort. The Ioniq 5 doesn't offer great visibility, unlike its competitors because of its thick rear roofline. 
The storage capacity gets an 8.0  out of 10. It holds 27.2 cubic feet of cargo space behind the back seats. It also has the luxury of folding completely flat, giving more space.
However, compared to the Mach -E or the Tesla Model Y, its cargo space is considered small. It also features various small item storage to place your bottles, wallet and phones and allows easy access to the child safety seats and installation of a rear-facing safety seat.
Related: 5 Electric Cars With Large Display Screens
Pros of Having a Hatchback
Here are some advantages of owning a hatchback:
Easy to Control
You don't have to do or learn too much to drive a hatchback compared to SUVs and sedans. They have the easiest car features, which makes it convenient for drivers, especially new ones.
Flexibility
The hatchback offers more flexibility in its configuration to carry more cargo and passengers. It has the luxury of folding the back seats flat, which comes in handy when doing on trips and impromptu shopping.
Superior Visibility
Hatchbacks have more glass area than other vehicles, which, in no small measure, increase the visibility from whichever position you are in the car. However, this could also create a lack of privacy.
Compact Size
Driving through congested traffic can be a real deal, especially if you drive an SUV. Hatchbacks save you the stress because they are compact, easy to control, and have tight turning control that makes it possible to maneuver your way easily.
They also take up little space in parking lots and can leave tight positions because of their great visibility and small size. 
Cons of Having a Hatchback
Here are some drawbacks of driving a hatchback:
They're Not Common
Hatchback models are not as easy to find compared to sedans. There's a low consumer demand for these cars. Even at dealerships, they're difficult to sell or buy because consumers do not prefer them, unlike the larger market options for sedans.
Expensive
Hatchbacks are slightly higher in price than sedans because manufacturers majorly add the configuration on high trim levels of existing car models. And if perhaps the models are made available in all trim levels; their prices are still usually set higher than the same model of the sedans. This makes it less desirable and costly for average customers.
Poor Fuel Efficiency 
Sometimes, the hatchback gets a poor fuel economy because it can be heavier with the cargo and less aerodynamic than the sedans. 
Lack of Privacy
If your hatchback lacks a cargo cover, it can be a little exposed because whatever is in the rear seats will be visible to passersby. It can also cause some road noise because, unlike the sedans, the rear area isn't sealed off from a part of the cabin.
They Can Be Heavy 
The hatchback is a utility car and for that reason, they can weigh more than regular sedans. They also have extra body structures and glasses compared to sedans.
The hatchback can have a weight difference of up to 100 pounds compared to sedans, depending on the model. This adds up to the reasons for the less demand for the car.
Was this article helpful?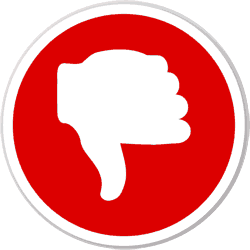 Did you find wrong information or was something missing?
We would love to hear your thoughts! (PS: We read ALL feedback)