The Dodge Challenger is one of the most popular domestic car maker Dodge's models. This vehicle is known for performance and features and comes in several trim levels with optional performance features and technology.
We already looked at how long the Dodge Challenger lasts, and now we'll dive into the most-common issues.
However, there are a few common issues that some owners experience over time.
1. Totally Integrated Power Module Electrical Problems
One of the most common problems concerning Dodge Challengers is the electrical problems associated with the totally integrated power module or TIPM. This component is significantly affected by the models years 2008 through 2021.
This part is the hub of electrical operations.
Some of its functions include operating the fuel pump and the windshield wipers.
Some common signs that this issue is a problem for Challenger owners include:
starters not cranking when it starts,
random horn noises,
and unexpected deployment of the vehicle's airbags.
Also, check out the best and worst Dodge Challenger model years.
2. Unexpected Airbag Deployment
Dodge Challengers have a history of having unexpected airbag deployment from the years 2008 through 2013. In fact, these incidents are a bit more severe than simple deployment. They actually may explode.
This problem eventually resulted in a massive recall for several years of the Challenger model.
The cause of this issue is related to the propellant used to make the airbag. The faulty propellant was eventually replaced in the affected years.
When this unexpected deployment or explosion occurred, the result was shrapnel from metal components being hurtled through the air into the cabin of the vehicle.
Once the unstable propellant is replaced, however, certain models should be safe to drive and deploy airbags as expected during a crash.
Individuals can find out if a particular Challenger falls under a factory recall by contacting the manufacturer or searching the recall website using their vehicle's VIN number.
Check also issues on the Dodge Caliber models here.
3. Faulty Air Conditioning
Not every year model of the Dodge Challenger suffers from a common AC malfunction. However, the most prone year model was 2014.
The source of the problem was usually reported to be issues with leaks around the cabin and compressor.
Sometimes, when individuals were driving and using the air conditioner, it would either fail altogether or begin blowing hot air.
The fix for this problem would be installing another AC or compressor and sometimes even the evaporator coil or a combination of both.
These models were also plagued with issues involving the heat.
The heater would only run for a few minutes and then completely shut down or become unbearably hot and overwhelm the cabin.
4. The Power Steering Assembly Leaks
Some models of the Dodge Challenger have issues related to their power steering assembly hoses. Some model years affected by this issue had corrugated assemblies that sometimes separated from components and would leak power steering fluid.
As a result of this problem, there was a large recall for the 2010-year model.
Individuals owning Dodge Challengers with this issue complained of power steering fluid dripping into the engine compartment, which could potentially cause a fire. Anyone owning a
Dodge Challenger or considering a purchase should check if that particular vehicle was affected by the recall by checking via the VIN number.
General Pros and Cons for the Dodge Challenger
Here are the top pros and cons of the Dodge Challenger that professional reviewers and car owners alike cited.
Pros
Overall Ride
Many Dodge Challenger owners feel like the car offers a superior ride, especially for the newer models. It provides a smooth, bump-free ride on most terrain and handles incredibly for a mid-size car.
For a performance vehicle, it's a great choice for those who want to have more control over the handling.
The steering is surprisingly responsive, helps keep the vehicle where you want, and prevents jumping. Anyone who wants a muscle car that drives like a luxury car will love the quality of ride the Dodge Challenger offers.
Plenty of Room
There is a significant room in the front seat of the Challenger, which makes it incredibly comfortable to drive, even for long time frames.
The backseat is significantly smaller but still offers a moderate amount of head and legroom.
It's worth mentioning that this 2-door vehicle is more challenging to enter or leave if you sit in the backseat because the front seat must come forward.
When it comes to the trunk, it has one of the largest in this class. It has a total of 16 cubic feet of storage space, which easily accommodates any groceries, luggage, or equipment you want to transport.
Technology Features
The Challenger is filled with modern technology and safety features. It also has a large, easy-to-use infotainment console in the front. The system also provides connectivity for internet and Bluetooth devices or even iPods.
The stereo is also high quality and delivers crispy sound throughout the vehicle.
There are also top-of-the-line driver-assist features and backup cameras that allow drivers to easily see areas where they maneuver.
This vehicle also has duel AC zone controls for most models and plenty of features for the driver's console, including an avatar with any warnings or alerts.
Fuel Economy
It gets good gas mileage, considering its size, whether you have a V6 or a V8 version of the Dodge Challenger.
Naturally, those who drive the V6 version will have the best efficiency, but most models offer around 20 mpg and even close to 30 on the highway. That's about the same as some older four-cylinder cars.
Overall, anyone looking for a muscle car that doesn't use too much fuel to function as a family car too will want to consider the Challenger.
Just remember to use premium-grade fuel to ensure the engine performs predictably.
Potential for Plenty of Power
While the 6-cylinder version isn't as powerful as the V8, it still offers plenty of get-up-and-go.
However, the V8 model is a true muscle car with plenty of power for an exciting ride.
Most people who buy the Challenger are attracted to its ability to move quickly, and some models even have more than 800 hp.
There are a few different versions of the V8 available that range from 375 hp to 807hp for the SRT Super Stock.
Cons
TIPM electrical issues
Unexpected airbag deployment
Faulty air conditioning
Power steering hose leaks
What Do the Reviews Say?
"The Dodge Challenger is a blast from the past, not only because its whole vibe is inherently old school, but some models are seriously entertaining."
https://www.caranddriver.com/dodge/challenger
Dodge's big muscle car is a hoot to drive, even if it doesn't feel quite as sharp as the Chevrolet Camaro or Ford Mustang. Of the three, the 2022 Challenger is the most old-school.
https://www.edmunds.com/dodge/challenger/
What's the Resale Value of the Dodge Challenger?
The following information reflects the resale value of used Dodge Challengers from the years 2022 through 2019.
Theses prices are the average starting point for the Challenger. Models with higher trim packages will increase in price.
| | | |
| --- | --- | --- |
| Year | Mileage | Price |
| 2022 | 12k | $32,025 |
| 2021 | 17k | $28,295 |
| 2020 | 25k | $28,095 |
| 2019 | 42k | $27,295 |
Final Thoughts
Anyone considering buying a Dodge Challenger will have plenty of reasons to make a purchase. It's worth mentioning that this car can vary greatly from year to year when it comes to the chassis and the features it offers.
Naturally, the older models don't have the latest technology, but they still provide surprising modern features for a performance vehicle compared to other brands.
While this model is on the large side for a muscle car, it still delivers tight steering and a great ride, which provides more control and adds to the car's comfort.
Not only is this model an excellent purchase for those who want power, but it can easily double as a daily driver capable of saving on fuel while still providing the get-up and go muscle car enthusiasts crave.
Naturally, the V6 models are the best option for those who want to save money all-around while still benefiting from their retro looks and great features.
Still, those who want power have several types to choose from that can provide the massive horsepower to thrill any hot rod lover.
Before making a decision, it's best to check to see which years have the most common problems or recalls to help avoid selecting a model prone to issues.
Keep in mind that some used Challengers may already have the recalled parts installed and are safe to operate.
Getting a CarFax or similar report will provide those details and any other information related to the Challenger you consider purchasing.
In all, the reviews from experts and owners alike are very positive and put it in the top spot as a possible match for those who want to drive a performance car for their daily needs.
Go back: problems for all Dodge models here.
Resources
https://www.kbb.com/dodge/challenger/2019/
Was this article helpful?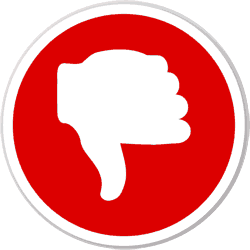 Did you find wrong information or was something missing?
We would love to hear your thoughts! (PS: We read ALL feedback)
ⓘ  The information in this article is based on data from National Highway Traffic Safety Administration (NHTSA) recall reports, consumer complaints submitted to the NHTSA, reliability ratings from J.D. Power, auto review and rating sites such as Edmunds, specialist forums, etc. We analyzed this data to provide insights into the best and worst years for these vehicle models.
---