The Dodge Challenger shows class, performance, and comfort. While we're approaching its final model, it's important that we explore its finest and least elegant models over the years.
Let's get right into it.
The best and worst years for Dodge Challenger are:
The best years for the Dodge Challenger are the 2008, 2016, 2017, 2018, 2019, 2020, and 2021 models. On the other hand, its worst years are the 2009, 2010, 2011, 2012, 2013, 2014, and 2015 models.
While the models above aren't all good or all bad, they've earned their place on our list for some reason.
What Dodge Challenger Years Are the Most Reliable?
The best years of the Dodge Challenger have excellent attributes, and here are some of the most reliable years you can trust. Meanwhile, speaking of reliability, you should also know how long Dodge Challengers last.
1. 2018 Dodge Challenger
This is unarguably the best model of the Dodge Challenger. It has a V8 engine that can push out 840 horsepower without hassles.
It can go from 0 to 60 mph within 2.3 seconds and possess 770 pounds of torque. When it comes to massive power, the 2018 Dodge Challenger ranks higher than the Ford Mustang GT350 and the Bugatti Chiron.
It is also available in 13 different trims, making it a favorite automobile for many enthusiasts with diverse preferences.
2. 2019 Dodge Challenger
With a solid interior, a sophisticated exterior, and a turbocharged V8 engine, the 2019 Dodge Challenger has earned its spot on our list.
It is also available in six different trims with several variations with a V6, V8, or a V8 turbocharged engine, 6 and 8-speed transmissions, rear-wheel drive, and all-wheel drive.
This Challenger offers incredible power and delivers comfort for all passengers. It is one of the most trusted years you can buy if you need a Dodge Challenger.
3. 2020 Dodge Challenger
The 2020 Dodge Challenger comes with one less trim and a slight improvement over the previous 2019 model. It delivers a lot of power with its supercharged V8 engine, and you can choose between the V6 and the V8 models.
All trims of the 2020 Dodge Challenger have updated wheels, upper door panels, and a stitched dashboard.
Also, check our article about Dodge models you can lease.
4. 2008 Dodge Challenger
The 2008 Dodge Challenger is available in a single trim and delivers enormous power and style.
Dodge produced it in limited variants and it possesses its Hemi V8 engine that delivers an excellent performance of 425 horsepower.
It can conveniently seat five persons and has an enhanced interior obviously better than the 1970s models. This Challenger further has a 5-speed automatic tranny and autonomous suspension.
5. 2021 Dodge Challenger
This Challenger is known as the most powerful muscle car. Still, many people would pick the 2018 model over it.
The automobile has excellent appraisals on some of its features including a stylish interior and a supercharged engine.
It also shares some similarities with the 2019 model in terms of engines and transmission and even the 2-door style.
6. 2017 Dodge Challenger
Though not as strong as the other aforementioned models, it presents incredible power and speed. Its standard engine can deliver 305 horsepower and can go from 0 to 60 mph within 5.2 seconds.
You will love the spacious interior with incredible features like the performance page, and user-friendly multimedia system.
The 2017 Dodge Challenger is available in ten different trims to suit your preference.
7. 2016 Dodge Challenger
The 2016 Dodge Challenger shares some features with the 2017 Dodge Challenger but has fewer trims.
It has a spacious interior like the 2017 model. This is one of the most reliable models as more customers have shared excellent reviews about the muscle car.
What Dodge Challenger Years Should You Avoid?
Just like every other automobile, the Dodge Challenger has some model years that must be avoided. These models should be avoided mostly because of some Dodge Challenger problems.
Below are some examples of the Dodge Challenger you should avoid.
1. 2012 Dodge Challenger
Labeled as the worst Dodge Challenger, it is essential to avoid this year because of the problems associated with it.
The 2012 Dodge Challenger model has received more complaints than other models of this vehicle.
It is known to have electrical issues as the alternator usually turns off abruptly. Individuals who buy brand-new vehicles are not exempted from this problem.
Its engine even fails to start; in some cases, the window's latch or smart door drains the car battery. The brakes may also malfunction and this could lead to a fatal accident if proper care is not taken.
2. 2013 Dodge Challenger
This model, like the 2012 model, is also plagued with electrical problems. The difference is that the issues are not as obvious in this model as in the 2012 model.
Its automatic windows malfunction often, mostly delivering fluctuating performance. The 2013 model has alternator problems and also has a nasty reputation for consuming excess fuel.
3. 2009 Dodge Challenger
The 2009 Dodge Challenger is one unreliable model you should not buy.
It is plagued by engine issues and complaints about this model are that its engine suddenly turns off while in motion. If this happens while driving at high speed, it could lead to a fatal accident.
Also, it isn't economical in terms of fuel consumption. The body and paint job of the vehicle are other reasons you should not consider buying it.
This Challenger is prone to rusting as the paint is likely to fade off quickly. Further, its hood seal does not last long, and that's not good for a vehicle with such a high price tag.
4. 2010 Dodge Challenger
The 2010 Challenger has similar problems to the 2009 model. Although it is more fuel-efficient than the previous model, it is plagued by other problems.
For instance, its timing chain is prone to failure without notice. You are more likely to face loss of power while driving this model.
This can cause damage to the block of the vehicle, and these parts can be hard to source when it is time for repairs.
The paint on this model is likely to rust within a short time.
5. 2011 Dodge Challenger
The 2011 Dodge Challenger is another model you should be wary of. The only difference is that the manufacturer was able to fix the major body and paint problems noticeable in previous models.
Unfortunately, the model consumes more fuel, and it is known to have fuel leakage issues.
It's also plagued with electrical issues, and the alternator suddenly goes off because of battery discharge. This signifies a complete loss of power, and it could lead to an accident while driving.
6. 2014 Dodge Challenger
The 2014 Dodge Challenger has engine issues and is quite easy to repair. Unfortunately, the problem is also evident in brand-new cars.
There are reports about malfunctioning air-conditioning and heater systems.
In some cases, owners complain about the heater blowing hot air during winter, and the air conditioning system not working at all.
7. 2015 Dodge Challenger
Though it has lesser problems, we have to mention the issues with this model to give you a fair idea of what you want to purchase.
Its cooling system isn't free of problems and its transmission system may need to be changed entirely when there is an issue. Coping with its overheating engine would also be a problem.
What Are Some Typical Problems With the Dodge Challenger Models?
These are common issues you are likely to face when you own a Dodge Challenger.
1. Interior Problems
The major aim of the automaker is to produce fast automobiles, and if you prioritize the interior, you may be disappointed.
When the air conditioning system is faulty, the interior may suffer the heat.
The Dodge Challenger is known to have issues with the airbags. There is a higher chance of an explosion of airbags and metal fragments will be spattered on occupants.
Unfortunately, the problem with airbags led to the recall of millions of Dodge Challengers.
2. Defective TIPM
The Integrated Power Module in the Dodge Challenger, when faulty, can cause a failure of its electrical system. Once it is defective, the vehicle will not be able to perform most of its crucial functions properly.
These include failure of the starter crank, sudden stopping of power windows, and horn problems.
3. Transmission Problems
The Dodge Challenger is not an exception when it comes to transmission issues.
For example, most models between 2009 and 2016 are associated with transmission problems. Car owners complained of harsh shifting even before 35,000 miles.
They also complained about a weird noise when the tranny shifts, and in some cases, it fails to shift entirely.
Thankfully, the manufacturer improved the transmission for newer models, so many of them don't have transmission issues.
Sources
Dodge Challenger Model Year Comparison | Car Complaints
Was this article helpful?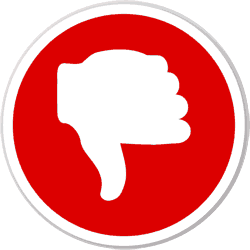 Did you find wrong information or was something missing?
We would love to hear your thoughts! (PS: We read ALL feedback)
ⓘ  The information in this article is based on data from National Highway Traffic Safety Administration (NHTSA) recall reports, consumer complaints submitted to the NHTSA, reliability ratings from J.D. Power, auto review and rating sites such as Edmunds, specialist forums, etc. We analyzed this data to provide insights into the best and worst years for these vehicle models.
---