Many times, bumps discomfort drivers and passengers alike when encountered on the road.
One could say that SUVs have better ground clearance, therefore, can handle bumps better. They are also typically designed for comfort and off-road purposes.
Let's explore together if having an SUV means you're on the safe side.
Here's the short answer to whether SUVs handle bumps better:
Bumps are built in different sizes and shapes, therefore, their effects on vehicles vary. Still, SUVs with good suspensions and solid tires have better ground clearance compared to regular cars. This means SUVs have easier handling and a smoother feel over bumps.

Do SUVs Feel Smoother When Passing Speed Bumps?
SUVs feel smoother when passing speed bumps, seeing that they have high-riding suspensions.
The components of SUV suspensions include; springs, shock absorbers, wheels, rods, joints/bearings/bushings, steering system, and frame. These pieces are strongly built into SUVs and they enhance smoother rides.
Since SUVs are designed for comfortability and rugged terrains, their suspensions (whether solid axle or independent) are mostly bigger and stronger.
Also, SUVs have more weight than most cars, and this warrants more need for super strong suspensions for a smooth ride.
Bigger wheels and tires also help SUVs to have better ground clearance, enabling them to pass over speed bumps effortlessly.
Do SUVs or Sedans Handle Speed Bumps Better?
SUVs are designed with high-riding suspensions because of their needed and undeniable weight-bearing capacity. Therefore, SUVs have stronger suspensions than sedans.
However, that's only one reason they handle speed bumps better than sedans.
Sedans are designed for comfort, efficiency, and city or highway purposes, while SUVs are mainly for comfort and off-road functions. That's why SUVs are more strongly built than most sedans.
It is common knowledge that sedans are lowly built, and that's sometimes a disadvantage. Regarding bumps, it's a pretty big one.
SUVs often have bigger and thicker frames than their sedan counterparts. So, for these reasons, we can admit that SUVs handle speed bumps better than sedans.
You can also read our article about the reasons SUVs are easier to drive.
10 SUVs With Comfortable Suspensions for Smooth Rides
We've established that SUVs handle speed bumps better. Here we explore some SUVs with comfortable suspensions for smooth rides according to their class.
Sub-compact SUVs With Comfortable Suspensions
These are the smallest of SUVs and are usually crossovers. They fall in between the range of big sedans and mid-size SUVs. Anyway, here are some sub-compact SUVs with comfortable suspensions for smooth rides.
1. Mazda CX-30
The Mazda CX-30 uses the MacPherson struts in the front wheels and the torsion spring suspension in the rear wheels.
Its front and rear dampers improve the suspension's damping characteristics off-road while upgrading driving quality and smoothness.
2. Kia Seltos
The Kia Seltos's suspension type uses the MacPherson strut with coil spring suspensions. Its rear suspension employs the coupled torsion beam axle (CTBA) with coil spring.
The Seltos comes with size 16 rims, giving it a fair ground clearance for a sub-compact SUV.
Compact SUVs With Comfortable Suspension
Compact SUVs are bigger than sub-compact SUVs but smaller than mid-size SUVs.
Typically, they are heavier than sub-compact crossovers, so there's a natural need for good suspensions with them. These are some compact SUVs with comfortable suspensions.
3. Honda CR-V
The Honda CR-V is a compact SUV with a MacPherson strut suspension in the front for good handling.
Its rear suspension is a multi-link suspension tuned for desirable rides and top-notch stability, even against bumps.
4. Ford Bronco
The Ford Bronco comes with high-performance off-road stability suspensions (HOSS).
It has an independent front suspension and taller coil springs. With such features, the Bronco is ready for rugged terrains (including bumps) without compromising comfort.
The taller coil springs enhance ground clearance and off-road skill.
In fact, the Bronco is one of the compact SUVs with the highest ground clearance.
5. GMC Terrain
The GMC Terrain comes with a strut with coil springs and a direct-acting stabilizer bar front suspension.
In the rear is a 4-link independent suspension which is designed to deliver enjoyable rides.
The wheel sizes 17, 18, and 19 provide it with acceptable ground clearance and a balanced driving experience.
Mid-Size SUVs With Comfortable Suspension
These larger SUVs usually have two-row seats or even three-row seats sometimes.
Mid-size SUVs are superb off-road vehicles, mainly because they have exceptional suspensions and better ground clearance. These are some of them with impressive suspensions.
6. Toyota Highlander
The Toyota Highlander is a 3-row SUV with a strut front suspension, an anti-roll bar, and coil springs. Its front shocks are gas pressurized for optimal performance.
The Highlander further has an independent multi-link rear suspension with a rear anti-roll bar and the same gas-pressurized shocks. This enhances driving comfort and good handling, while its size 18 rims give it a notable ground clearance.
7. Volkswagen Atlas
The Volkswagen Atlas, like most competitors, has strut front suspensions and multi-link rear suspensions. This enables it to handle bumps and off-road trips satisfactorily.
Its size 18 aluminum rims contribute to the Atlas' ground clearance good for both highway and off-road functions. However, it's noteworthy that, like most SUVs, it's not as smooth as a sedan on highways.
Full-Size SUVs With Comfortable Suspension
As the name implies, full-size SUVs are the biggest of all SUV sizes.
They have bigger and stronger suspension types and are designed to carry the SUV's body mass to maintain a functional ground clearance.
These SUVs are perfect for off-road drives as they possess luxury and ruggedness. Here are some full-size SUVs with comfortable suspensions.
8. Toyota Sequoia
The Toyota Sequoia comes with a double wishbone suspension, gas-pressurized shocks, and coil front springs. Its rear suspension is a multi-link suspension with gas-pressurized shocks and coil springs as well.
Thus, the Sequoia's suspension makes it comfortable to drive and offers smooth handling. Besides its sturdy suspension, the Sequoia is also one of the SUVs with the largest trunk space.
9. Lexus LX
The Lexus LX makes ride comfort seamless because of its suspensions. The wishbone suspension, premium shocks, and coil springs are located in the front.
Its rear side has a multi-link suspension, premium shocks, and coil springs that deliver complementary balance while driving. Such refined systems are among the reasons the Lexus LX is so luxurious.
10. Cadillac XT6
The Cadillac XT6 has a strut front suspension, gas-pressurized shocks, and coil springs while its rear part uses multi-link suspensions, gas-pressurized shocks, and coil springs.
It has got a sport suspension tuning that gives it a pleasant ride while alleviating vibrations.
Was this article helpful?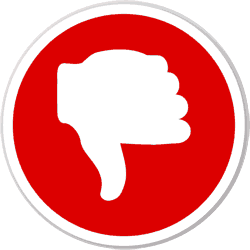 Did you find wrong information or was something missing?
We would love to hear your thoughts! (PS: We read ALL feedback)