The Chevy Silverado is one of the most popular full-size trucks on the planet. Its popularity is due to its versatility, including multiple configurations and a plethora of options offered by Chevy.
We've previously looked at some very interesting Silverado statistics that you'd want to check out if you're considering this vehicle.
Now it's time to look at some common issues.
Drivers can also choose from a number of powertrain options to fit their personality and driver needs.
However, Silverados also have their share of issues and problems.
Faulty Fuel Tank Pressure Sensor
One of the most reported issues Chevy Silverado drivers report is a fuel tank pressure sensor malfunction.
When this happens, it can give false readings, which leads to it delivering incorrect information on the gas gauge.
Drivers with this issue will notice the fuel levels won't change, even after filling with fuel.
Probable Causes and Solutions
When drivers notice this problem, they may get a malfunction code in the P0440 range.
Specifically, the fuel tank level codes range between P0452 and P0453.
Usually, this problem comes with age, and is easy to fix by replacing the fuel tank pressure sensor. If replacing the fuel tank pressure sensor doesn't repair the problem, it may be necessary to replace the fuel pump itself.
Check also our list of the best and worst years for the Chevy Silverado.
Silverado Won't Shift Out of Park
A common problem Silverado drivers come across is the truck being stuck in park. To shift out of park, drivers have to press the brake, which activates the brake light and the shift interlock solenoid.
When the brake relay goes bad, the shift interlock solenoid doesn't activate, which leaves the truck stuck in park.
Problems and Solutions
It's easy to correct this problem by replacing the brake light switch. The repair doesn't require much time and will cost about $100 all together.
RELATED: Where are Silverado's Made?
Transfer Case Malfunction
A Chevy Silverado transfer case malfunction can be serious and is relatively common, especially for 4WD models.
When the transfer case malfunctions, it can cause the truck to go into neutral and lose power.
If the truck is parked when this happens, it can cause the vehicle to roll away.
Probable Causes and Solutions
When General Motors became aware of the issue, they recalled more than 400,000 affected vehicles. It was one of the biggest recalls ever for the manufacturer.
So if this happens to you, it's essential to check with your dealership to see if there is a recall for the truck.
Climate Control System Failure
When a Chevrolet Silverado's climate control system fails, it can cause the truck's air conditioning unit to push hot air out.
Probable Causes and Solutions
The failure is caused by mode door actuators and defective condensers. The problem is corrected by changing the condenser or compressor line in the unit. The job should be completed by an authorized dealer or mechanic.
RELATED: How Long Does A Chevy Silverado Last?
Random Failure to Start
If you find your Chevy Silverado truck suddenly won't start, you probably have one of two problems.
Both of these issues are common and easy to fix.
Probable Causes and Solutions
The first cause of a Silverado suddenly not starting could be a dead battery. If your battery is in good shape and you still have plenty of power, you might have an electrical problem.
The first thing you can check is the vehicle's fuses.
If none of the fuses have blown, you might need to have your truck's computer rebooted.
Speakers in Door Fail
If you like to listen to music or podcasts during your commute, you might be disappointed if one of your Silverado's speakers fails.
Some Silverado owners have reported speaker failure within a few months of buying their vehicles.
Adding to the confusion of this failure is the fact that sometimes the speakers will suddenly work again.
Probable Causes and Solutions
If you find yourself with a blown speaker, you have a few options. You can opt to have the speakers looked at by an audio professional or change your speakers altogether.
You can opt to have affordable speakers installed or upgrade since your already replacing the speakers.
Power Brake Failure
A number of Chevy Silverado trucks will notice a parking brake failure.
Probable Causes and Solutions
If you have an issue with your Silverado's parking brake, you should visit an authorized dealer as soon as possible.
The issue can easily be fixed with a low-force spring retainer. On TRW models, a new brake assembly may need to be installed.
Stalling or Randomly Loosing Power
Randomly losing power or having your Silverado stall at a red light can be quite concerning. This is a problem that should be addressed right away.
The first thing you should do is have a diagnositc test run on your truck.
A diagnositic test will point you in the right direction and help you pinpoint the vehicle's problem.
It's important to point out that this is not something you might experience across the many generations and models. Check our article here about all Chevy Silverado Engine sizes.
Probable Causes and Solutions
There are a number of reasons a Silverado may begin to stall including the reasons listed above:
Faulty mass air flow sensor
Damaged fuel pump
Need to replace fuel filter
Bad alternator
Worn out spark plugs
Faulty camshaft or crankshaft position sensors
Dirty or faulty throttle body
Failure of the throttle position sensor
A diagnostic code will help you narrow down this list. It's important reminder that a power failure could also be caused due to:
Transmission problems
Poor electrical connection
Defective torque converter
Faulty shift solenoid
Intermittent computer failure
Since there are so many reasons a Silverado could randomly start stalling, it's a good idea to have a mechanic narrow down the problem for you.
Incessant Beeping from the Interior Cabin
If you are being annoyed by an incessant beeping from the interior cabin of your vehicle, you'll be glad to know it's usually an easy problem to fix once you identify the source.
Probable Causes and Solutions
Of course, driver seat and first row passenger seat riders not wearing their seatbelt can cause incessant beeping from the interior of the cabin. But that's easy to identify and fix.
If you are having a hard time identifying the beeping from the interior of the vehicle, it's a good time to check your truck's emergency brake.
Often the beeping is caused by the emergency brake being slightly out of place.
To correct this problem, simply make sure the emergency brake is completely engaged and then put back in place when not in use.
Headlights Keep Burning Out
Headlights will burn out occasionally. Headlights, taillights, and even interior lights will eventually need to be replaced after being in use for a number of hours.
However, if you are having to change your headlights often, you might have a bigger problem.
Probable Causes and Solutions
If your headlights seem to be burning out more often then they should, you should have the following parts tested to see if they could be going bad.
Alternator
Search for moisture
Not using the right headlights
If a Silverados' alternator is going bad, it could cause power surges that are zapping the headlights and making them burn out quickly.
If moisture is getting near the headlights, it could also cause the headlights to fail.
It's also important to make sure you are using the right headlights for your vehicle.
Check your vehicle's owner manual to find out what bulbs you should be using. Using the wrong bulbs could cause the headlights to burn out before their run time has neared.
General Pros and Cons of the Chevy Silverado
Pros
Powerful engine options to choose from
Able to haul heavy loads
Multi-camera trailing system
High payload capacity
Tons of cargo space
Amazing handling capabilities
Highly-rated offroad capabilities
Comfortable interiors
Built-in easy-to-use infotainment systems
Best-in-class fuel economy
Cons
Faulty fuel tank pressure sensor
Transfer case malfunction
Climate control system failure
Random failure to start
Speaker door failure
Power brake failure
Truck won't shift out of park
Stalling, randomly losing power
Incessant beeping
Headlights keep burning out
What Do the Reviews Say?
"We've spent just enough miles in Silverados powered by the new 2.7-liter turbocharged four-cylinder engine to feel confident recommending it as a viable alternative to a more traditional V8. If we were to opt for ultimate efficiency, though, we'd want the Duramax diesel engine that's strong, impressively quiet and well-suited to truck duty."
[Source: Autoblog]
The 2022 Chevy Silverado comes with a 2.7L turbo-charged 4-cylinder engine and is a great alternative to traditional V8s, according to the car experts at AutoBlog.
The professionals also recommend upgrading to the Duramax diesel engine for the best in efficiency.
"Dependable 1997 Silverado truck for work or play. Many more miles to give. Solidly built, good power going up grades. Comfortable ride and easy to drive."
According to Cars.com, 85% of 1999 Chevrolet Silverado owners would recommend driving the vehicle.
For these drivers, many mention the dependability of the 1999 Silverado.
The reviews go on to explain that this year's model is built solid, delivers towns of power, and is easy and comfortable to drive.
[Sources: Cars.com]
What's the Resale Value on the Chevrolet Silverado?
We pulled some numbers so you can check the depreciation over time with the Silverados.
| | | | |
| --- | --- | --- | --- |
| Model | Year | Mileage | Price |
| Silverado 1500 | 2018 | Best | $30,674 |
| Silverado 1500 | 2016 | Average | $25,065 |
| Silverado 1500 | 2014 | Below Average | $21,457 |
| Silverado 1500 | 2012 | Below Average | $14,523 |
| Silverado 1500 | 2009 | Below Average | $11,257 |
Final Thoughts
The Chevrolet Silverado has a reputation of being a tough, durable truck.
It's perfect for work and play.
With regular maintenance and having your vehicle looked at as soon as you recognize there may be a problem, you'll be able to rely on the truck for year after year.
Go back to see problems for all Chevrolet models.
Sources:
Was this article helpful?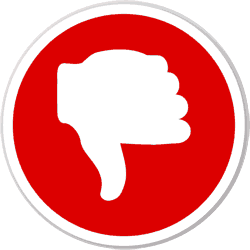 Did you find wrong information or was something missing?
We would love to hear your thoughts! (PS: We read ALL feedback)
ⓘ  The information in this article is based on data from National Highway Traffic Safety Administration (NHTSA) recall reports, consumer complaints submitted to the NHTSA, reliability ratings from J.D. Power, auto review and rating sites such as Edmunds, specialist forums, etc. We analyzed this data to provide insights into the best and worst years for these vehicle models.
---