A catalytic converter is present in most modern car models.
It is a device that regulates exhaust emission and transforms noxious gas and pollutants from an internal combustion engine into less-toxic pollutants. 
Manufacturers mostly deploy catalytic converters for internal combustion engines, especially the ones fueled by diesel or gasoline.
The component became a lot more popular after the 1975 model year when the Environmental Protection Agency toughened its regulations on exhaust emissions. 
For the multiple decades they have been the go-to emissions regulations component for gas-fueled cars, catalytic converters have largely served their purpose. While they don't completely eviscerate the threat of air pollution, they definitely help cut down on emissions. 
However, with technology going berserk literally every year, we now have cars that do not at all require catalytic converters. These are mostly all-electric cars that are not fueled by either gas or diesel. Let's check out some popular car models that fit this profile, shall we?
1. Mini Electric Hardtop (Cooper SE)
The Mini Electric Hardtop is the electric variant of the Cooper, which is mostly gas-powered but for this variant.
As a matter of fact, the most significant difference between them is the electric powertrain obtainable in the Mini Electric Hardtop. 
It is also popular for being one of the most affordable electric vehicles on the market with a federal EV tax credit to go along with it.
Being an EV, the Mini Electric Cooper SE has no catalytic converter and has no need for one. 
While there is no catalytic converter, the model boasts great handling, excellent cabin and top-tier technology. Other splendid features standard on the Mini Electric Cooper SE include Apple CarPlay/Android Auto, heated front-seats and intelligent driver-assist features. 
If you are scouting for a car that has no need for catalytic converters, the Mini Electric Cooper SE is a great, affordable choice. 
2. Nissan Leaf
The Nissan Leaf made its debut in 2010 as a compact hatchback battery electric car. It notably won the Green Car bison award in 2010 and European Car of the Year Award in 2011.
The Nissan Leaf has also sold over 150,000 units in the United States and more than 500,000 units globally. 
Among its many strengths are spacious and comfy seats, decent cargo space, impressive handling and adroit maneuverability. Not to mention its exotic stack of driver-aid systems, and a quick charge port with 50 kilowatts capacity and a cable. 
Overall, the Nissan Leaf is a great battery electric vehicle(BEV) and, like other electric vehicles, it has no catalytic converter. It's definitely an optimal choice for BEV enthusiasts who would rather not have to deal with catalytic converters. 
3. Polestar 2
Manufactured by Polestar, a sub-division of Volvo, the Polestar 2 was officially unveiled in 2019. It boasts a 1-speed fixed gear transmission, an all-wheel drive option, a gorgeous cabin that can seat up to four adults and great cargo space. 
It is also known for its exciting acceleration and the thrill it affords drivers. Also standard on the Polestar 2 is a 11.2-inch touchscreen, hands-free liftgate, heated front seats, and an array of intuitive safety and technology features. 
What the Polestar 2 doesn't have, however, is a catalytic converter, and that's because it really has no need for it. The Polestar 2 is a full-blooded electric vehicle and one of the best around. 
4. Porsche Taycan
The brand "Porsche" screams luxury and the Porsche Taycan is no different. It was unveiled in 2019 as a battery electric sedan and comes in multiple variants. It was notably awarded "Performance Car of the Year" by What Car in 2021. 
It sports one electric motor and rear-wheel drive on base trims and it does everything you'd expect from a traditional Porsche.
That's with the exception of one thing-it doesn't run on gas.
This means no catalytic converters and zero chance of gas pollution and getting into trouble with the EPA. 
The Taycan's topmost trim is the Turbo S trim and it can go from 0 to 60 mph in just 2.6 seconds. It's one of the fastest production cars to ever hit the market and it does all of that without a turbocharger.
Besides all that, you also get standard features like wireless charging, Apple CarPlay, partial leather upholstery and a plethora of great driver-assist systems.
The interior is lovely, and the cabin takes four adults comfortably. Apart from the traditional back trunk, you also get a trunk at the front for some cargo.
If you are looking to get past cars with catalytic converters, the Porsche Taycan would be a great way to start your all-electric journey. 
5. Tesla Model 3
The Tesla Model 3 is an electric fastback sedan officially classified as a compact executive car. Production began in 2017 and it became the best-selling electric car in 2020 whilst also surpassing the 1 million units milestone in 2021. 
Named Car of the Year by Auto Express in 2019, the Tesla model 3 is known for its mind-blowing features.
That includes its full:
self-driving hardware,

roomy cabin,

incredible acceleration

and class-topping, EPA-certified range numbers. 
You can control almost everything in the car with the 15-inch touchscreen and an independent infotainment system.
We should also mention the Wi-Fi Hotspot, software updates, especially for the self-driving hardware, heated front-seats and a dash cam.
And, of course, it has no catalytic converter. 
The Tesla Model 3 is a delightful vehicle and would be perfect for customers who are looking to move on from gas-powered cars and catalytic converters. 
Related: 11 Popular Cars Without Cup Holders (With Pictures)
6. BMW I3
The BMW I3 was BMW's first attempt at a mass-produced zero emissions car and became an illustrious part of the newly launched BMW I sub-brand.
It has an electric powertrain, a single-speed transmission, a Li-on battery pack and a standard rear-wheel drive. 
It debuted in Leipzig, Germany back in 2013 and went on to become a top-selling electric car with sales north of 200,000 as of 2021.
It got the coveted World Green Car of the Year Award in 2014 and is frequently regarded as one of the best electric cars ever made. 
Of course, by its very nature as an electric hatchback, the BMW i3 has no catalytic converter.
However, it does have:
excellent acceleration,

spacious cargo capacity,

a 6.5-inch display screen,

heated front seats,

rain-sensing wipers,

amongst others. 
If you are looking to transition from catalytic converters to a zero-emission car, the BMW i3 should be on your list.
We must, however, mention that it doesn't offer an all-wheel drive option, which is one of its downsides. 
Related: 5 Popular Cars Without A Clutch (Easy To Drive)
7. Tesla Model S
This is the second Tesla model on this list and that shouldn't surprise anyone really seeing as it is the brand's specialty.
The Tesla Model S is Tesla's flagship car, and it was launched as an all-electric liftback in 2012. Its 2013 model was famously named the "Ultimate Car of the Year" by MotorTrend in 2019. 
The Tesla Model S exceeds the range of many of its peers by a lot while also boasting an acceleration rate of 0-60 mph in under 2 seconds. It comes standard with an all-wheel drive system, an attractive interior with plush seats that can take five passengers and overwhelmingly impressive tech features. 
How about the Tesla AutoPilot, voice-activated controls and wireless charging amongst tons of others? Fact is, there are not many electric cars that can stand on the same pedestal as the Tesla Model S. 
If you are looking to be done with catalytic converters and non-electric cars, the Tesla Model S will get you started excellently.
Related: 4 Popular Cars Without Crumple Zones (Avoid These Models!)
8. Chevrolet Bolt EV
The Chevrolet Bolt EV is a battery electric vehicle manufactured by General Motors and LG.
It debuted in 2016 as a subcompact hatchback with a 149 kilowatts motor, 266 lb-ft of torque, and a 1-speed electronic transmission.
MotorTrend named it Car of the Year in 2017 and it also notably made TIME's list of best inventions in 2016.
The Chevrolet Bolt boasts two rows of roomy seats, excellent acceleration and more-than-enough torque for highway and city driving. 
It goes without saying that there are no catalytic converters on the Chevrolet Bolt EV. If you are looking to transition fully to electric models, the Chevrolet Bolt EV would make a great first. We should, however, caution that the Bolt EV no longer qualifies for the federal EV tax credit.
Was this article helpful?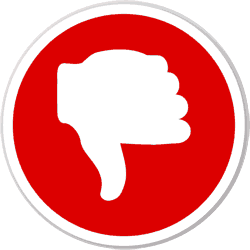 Did you find wrong information or was something missing?
We would love to hear your thoughts! (PS: We read ALL feedback)