Recognizing a hatchback in the past used to be easy, as all you had to do was look out for a small and boxy car with no trunks. They were either two-door or four-door, and a flip-up tailgate, known as a hatch, was located right in their tails.  
However, things have changed and the "boxy" stereotype is not enough to recognize a hatchback nowadays. The rooflines are a lot more elegant and they drop right down to rear bumpers that could almost be confused for a trunk.
Also, modern hatchbacks are not nearly as cheap as their old counterparts.
One of the most distinguishing features of hatchbacks is the absence of a traditional, vehicular trunk. In this respect, sedans are often considered as opposites of hatchbacks. In sedans, the trunks are rather extended and in hatchbacks, the trunks are "top-hinged" with seats you can fold for more cargo space.
Below is a list of some popular cars without hatchbacks across different brands:
1. Honda Civic
The Honda Civic is one of the most popular vehicles in the United States. It hit the market in 1972 and entered its eleventh generation in 2021. As of 2020, the Civic had sold over 18 million units and became the sixth best-selling car of all time. 
Without a doubt, the Honda Civic has no hatchback, seeing as it is a compact sedan with a dedicated trunk for cargo. In addition, it can seat up to five people, has 7 trim levels and boasts 30 MPG in the city and 37 MPG on the highway. 
You also get potent engines, incredible interior and an exquisite list of tech and safety features. If you are looking specifically for a car without a hatchback, the Honda Civic is one you should definitely try out. 
2. Hyundai Elantra
The Hyundai Elantra is a compact car that debuted in 1990. Manufactured by South Korean auto giant, Hyundai, the Hyundai Elantra entered its seventh generation in 2020 and has sold up to 2 million units across two decades. 
It has one of the roomiest cabins in its class and remains one of the few non-SUV models still standing strong in the U.S. market. The Elantra is a sedan and comes with no hatchback; it, however, has 7 trim levels, standard front-wheel drive and great fuel economy. 
The Hyundai Elantra is one of the most popular cars without hatchbacks and you should check it out if this is your preferred category. 
3. Audi A3
The Audi A3 is a sedan classified as a subcompact executive car and manufactured by the German auto giant, Audi. Now in its fourth generation, the Audi A3 first debuted in 1996 and has achieved a considerable level of success since then. 
A 2014 World Car of the Year Award winner, the Audi A3 is a top-tier luxury car with 5 seats and 3 trim levels. It also boasts gorgeous looks, an elegant design and an incredible powertrain. It was initially offered as a hatchback until its full metamorphosis into a sedan body style in 2015. 
Considering its line-up of topnotch safety and infotainment features and its turbocharged engine, the Audi A3 is undoubtedly one of the best cars without a hatchback. 
4. Volkswagen Jetta
The Volkswagen Jetta is a compact car that has been in production since 1979.
Marketed by Volkswagen, the Jetta entered its seventh generation in 2018 and as of 2014; it had moved over 14 million units. It also won the Green Car of the Year Award in 2009, although it was eventually revoked. 
Besides its evident success, the Volkswagen Jetta is a sedan and has no hatchback offering. Like most other sedans, it has 7 trim levels, a notably spacious backseat and a vivacious 2.0-liter turbo engine. Not to mention its intriguing pile of safety and infotainment features. 
If you are interested in cars without hatchbacks, we suggest checking out the Volkswagen Jetta. An extended trunk and a panoramic moon roof are amongst the myriads of features you'd enjoy if you go for it. 
Related: Do All Cars Rust Eventually? (Here's What To Expect)
5. BMW 4 Series
The BMW4 series first entered the market in 2014 as a line of compact executive cars. Now in its second generation, the BMW 4 Series is one of the top-rated luxury compact cars.
Critics have notably praised its manufacturers for equipping even the base models with high-end features like a turbocharged engine. 
It has a luxurious cabin perfect for a ritzy family, and an assortment of configurations to cater to varying tastes. Available in coupe and convertible variants, the BMW 4 Series has no hatchback variant: it maintains the conventional trunk style. 
If you fancy your vehicle without the hatchback style, the BMW 4 Series is one to consider, given its status as one of the best such cars on the market. 
6. Nissan Versa
The Nissan Versa is a nameplate first used in 2006 by Nissan for the first-generation Versa Sedan and the first generation Versa hatchback. Now classified as a subcompact car, the Nissan Versa remains one of the few cars in its class, still pulling decent sales figures amidst the SUV takeover. 
It features 3 trim levels, a 1.6L I4 engine, a four-wheel drive and great gas mileage. The Nissan Versa also comes with suave safety and technology features and a delightful infotainment system. 
As we mentioned earlier, the Nissan Versa used to be the nameplate for a hatchback produced between 2006 and 2013. As of right now, there are no hatchback variants of the Nissan Versa; the model is a sedan through and through and it's one of the best ones available. 
Related: How Long Do Nissan Versas Last? (9 Important Facts)
7. Cadillac CT-4
Cadillac famously unveiled the CT-4 on May 30, 2019 as a replacement for the Cadillac ATS. Classified as a compact executive car, the CT-4 is a 4-door sedan and its first full sales year was 2020, with over 4,000 units moved. 
While it doesn't get the perfect or near-perfect ratings from critics that some of its competitors enjoy, the Cadillac CT-4 can certainly hold its own.
It sports turbocharged engines, standard safety and infotainment features, and the semi-autonomous driving technology known as SuperCruise. 
The Cadillac CT-4 has no known hatchback variants. It's an ornate sedan that serves owners with a pile of easy-to-use features, including an orthodox trunk. If you like your cars without the hatchback, the Cadillac CT-4 is worth your consideration. 
8. Volvo S60
The Volvo S60 is classified as a compact executive car and has been in production since 2000. Now in its third generation, the Volvo S60 has moved over 100,000 units in the North American region and has enjoyed rave reviews from pundits. 
Styled as a 4-door sedan, the Volvo S60 is often praised for its powerful turbo engine, stack of standard safety and tech features. It also has an all-wheel drive option, a panoramic moon roof, and a hands-free trunk. 
Speaking of trunks, the Volvo S60 is a full-blooded sedan with no hatchback, not in the slightest. And, if you prefer cars without hatchbacks, the Volvo S60 is one of the very best ones you can lay your hands on. 
Related: 8 Popular Cars Without Catalytic Converter
9. Genesis G80
Genesis, a subdivision of the Hyundai motor company, launched its G80 model in 2016. Classified as an executive car, the Genesis G80 is styled as a 4-door sedan and it entered its second generation in 2020. It has notably been a IIHS top safety pick since 2017.   
A sloping roofline and gorgeous double headlights are amongst the features that contribute to the Genesis G80's majestic looks. You also get a turbocharged four and six-cylinder engine options, a premium infotainment system and standard safety features. 
The Genesis G80 is a full-fledged sedan, and it has no hatchback variants. If you'd rather have your car without hatchbacks, the Genesis G80, (rated as J.D. Power's most dependable midsize premium car), would be a superb choice. 
Was this article helpful?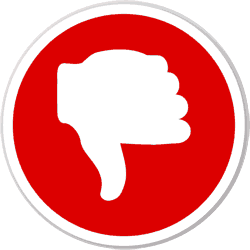 Did you find wrong information or was something missing?
We would love to hear your thoughts! (PS: We read ALL feedback)