The first cars ever built looked like simple wooden carriages. In fact, the only notable difference between them and regular carriages was that combustion engines powered them and not horses.
Cars have come a long way since then. Nowadays, it seems the bulk of automobile components are electrical and not mechanical.
Even the engines require electrical components to keep track of emissions.
We now have electric cars which are motor driven instead of the regular old combustion engine
This article lists seven popular cars with few electronic parts.
1. Kia Rio LX
Kia is an automobile brand from South Korea. It is the country's oldest car manufacturer, and it's second largest. It is easy to see why the Kia Rio has been so successful globally.
Perhaps one of the major contributors to its success is its simplicity. The Kia Rio has less connectivity than its siblings, like the Kia Forte and the Kia K5.
This simplicity is also why it is one car with the least electronic parts, especially the second and third generations. Although not all trims sport this distinctiveness, the LX trim is the area of interest here.
In fact, the major features of the LX trim only include airbags, air conditioning, seatbelts and an antilock braking system. Whereas other trims have Bluetooth and cellular connectivity.
The Rio has cool advantages like fuel economy, affordability and an exterior design that never goes out of date. This is clear in the earlier models, which have brilliant designs that are still trendy today.
Besides all of this, the Kia Rio has a 4.5 out of 5 reliability rating on RepairPal. It also has an annual maintenance cost of $434. It is thus easy to purchase and maintain.
Hence, if you're a little old school, the Kia Rio is a superb choice for you.
Related: How Long Do Kia Rios Last? (9 Important Facts)
2. Mazda MX-5 Miata (2015)
Mazda is a popular Japanese automaker known for making reliable cars since the world war era. They produce cars from the most technologically advanced Mazda RX-7 and CX-5 to the humble MX-5 Miata.
The MX-5 Miata has been in production since 1989. Bagging a 4.0 out of 5.0 reliability score on RepairPal is no small feat. This proves the Miata is an efficient car you can rely on.
Also, the modern-day Miata sports pretty impressive features like cruise and audio controls on the steering wheel. It also brandishes a keyless ignition. However, it wasn't always so. The 2015 Miata found itself on Edmund's list of "Top Picks for Tech-Averse Car Buyers".
Besides that, cars.com described the 2015 Miata as "having been left behind by the times." "It has no touchscreens, no USB dock and no other amenities automakers are starting to include as standard amenities." Just a regular radio which, to be honest, isn't worth mentioning.
Check out more here about known issues with the Mx-5 Mazda models.
While many would view this as a disadvantage or a ripoff, others fancy such cars. Are you among those who see a car as simply an instrument to get you from here to there? If that's the case, the Miata may very well be your best choice.
3. Nissan NV Passenger Van
The Nissan NV is a full-size van easily recognized because of its massive size and sharp edges. The NV has both cargo and passenger vans in its lineup. It also has an interestingly comfortable interior for a van. However, its durability comes as no surprise.
The Nissan NV3500 has a 3.0 out of 5.0 reliability rating from RepairPal and ranks 10th out of 21 for commercial vans.
However, the NV prioritizes load capacity, security, powerful engines and performance over tech, as is mostly expected from a van. It seems with the NV, Nissan intended to produce a task-oriented work hungry horse with minimal connectivity.
Although the NV3500 has features such as cruise control and Bluetooth connectivity, it lacks an electronic system susceptible to hacking. This makes it freer of electronics than most vehicles on the road today.
Thus, if you need a passenger van but aren't interested in all the confusing technology, anyway, you should totally consider the Nissan NV.
Related:  How Long Do Nissan NVs Last? 9 Important Facts
4. Nissan Frontier
People often see the Nissan Frontier as a rugged, versatile and reliable truck, not to mention its high performance. These features always cause it to be compared with cars like the Toyota Tacoma and the Ford Ranger. However, they might beat the Frontier if we are talking about style and interior.
To top it all off, the Frontier has a 4.0 out 5.0 reliability rating on RepairPal. It also has an average annual ownership cost of $470. This makes it a desirable model.
However, that's not all we've noticed from the Japanese model. The Frontier, besides being efficient, has maintained its ancient technology and has developed little over the years. Unlike its Toyota and Ford counterparts, it maintains a link with basic 'SMS' technology.
For the sake of this article, the acronym SMS simply means start, move, and stop. That's how the Frontier operated for the most part of its 1st and 2nd generations.
The latest models now come equipped with tech features that include Bluetooth connectivity, cruise control, push-button start and others. Don't worry though, if you're really anti tech, you can go for the 2015 model or the models before it.
Related: How Long Do Nissan Frontiers Last? (9 Important Facts)
5. Hyundai Accent GLS and GS trims
The Hyundai Accent is another remarkable model.
It has quite a name for its fuel economy, generously spaced interior and reliability. This is not to mention its affordability relative to other cars with equal specifications.
It has excellent ratings from RepairPal, where it is rated 4.5 out of 5.0 in quality and reliability. The vehicle also has a lower frequency of repairs and an annual maintenance cost of $444.
Speaking of ratings, cars.usnews.com gives the 2015 Accent an overall rating of 7.8 out of 10. On Edmunds, consumers rated it 3.8 out of 5, with most of them remarking positively on its reliability.
The Hyundai Accent has been in production since 1994. However, until recent years, not much had changed in the Accent.
Despite the modern body designs and intimidating stance, the Accent is another model guilty of SMS technology. But that's what you want, isn't it?
It still keeps most of the basic features it's been brandishing since the earliest models saw the light of day.
That said, all cars have problems. Check our list of the most common problems with the Hyundai Accent models.
6. Alfa Romeo 4C
Finally, some action on the list, a car that can go from 0 to 60 mph in less than 5 seconds. You'd expect an expensive sports car to possess features that feel like alien tech, right? Wrong, the Alfa Romeo 4C is an exception.
The 4C is a pretty magnificent car with remarkable speed. Yet the manufacturers thought it'd be a good idea to leave all that tech behind for once. They even exempted the option of a power steering to reduce overall car weight, hands on wheel at all times.
Don't get the wrong idea, the 4C has amazing features. They include plush upholstery, lightweight carbon fiber frame, responsive handling and so on. Alfa Romeo just prioritized performance, efficiency and reliability over electronics and, of course, cargo space.
Hey, it's not as if the 4C doesn't have a radio, right? That's all you need if you don't fancy new age features like adaptive cruise control and emergency braking.
Few models have been sold and the unique grill design with the licence plate positioned to the one side is not something everyone enjoys.
We also see the asymmetrical design (license plate moved to the right) on the Stelvio models. You can see the best and worst years for Alfa Romeo Stelvio here.
7. Jeep Wrangler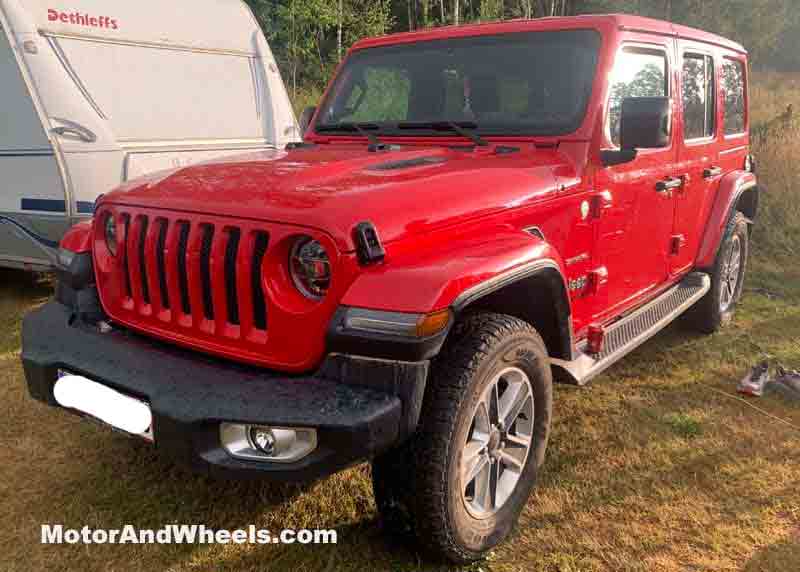 The Jeep Wrangler is a pretty impressive vehicle, as would be expected from a company that specializes mainly in SUVs. The Wrangler flaunts the unmistakable Jeep look we all know.
It's a splendid vehicle with amazing off-road capabilities, spacious passenger compartment and a powerful drivetrain. Not to mention its durability. You could describe the Wrangler as rugged in its build and versatile in its use.
The Wrangler now sports a more modern look and feel. It even has a basic infotainment system. Still, it has grown little in terms of electronics, hence making it in time for the 7th place on our list.
Related: How Long Do Jeeps Last? 7 Models Compared (Miles & Years)
Additional Information
Most cars mentioned in the list above are Asian made. This is quite surprising since we all know Asia for their groundbreaking technology in automobiles.
There are a few theories why they'd manufacture such vehicles with minimal electric components. One is that they recognize a market for such cars and are simply supplying a need.
However, it's only a matter of time before the demand for such cars experiences a huge decline and eventually stops.
For the cars on this list, the 2014 or 2015 models or earlier are preferred if you're avoiding electronics.
Also, for the cars listed above, unless specified, we've discussed the base trims alone. Other trims may come with upgrades, components or tech features.
Final Thoughts
Most cars today contain a decent infotainment system. Even the cars listed above aren't completely void of these features. Thus, it's permissible to say that electronics have taken over the world of automobiles.
Many people don't even buy cars without sophisticated navigation systems anymore.
Cars we once knew as rugged old school vehicles are now being equipped with the latest technology. Brands that don't adopt this may gradually be viewed as obsolete. In a few years, there may be no cars left with SMS technology.
Sources
Edmunds.com Names Top Picks for Tech-Averse New Car Buyers | edmunds.com
Was this article helpful?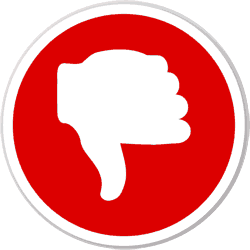 Did you find wrong information or was something missing?
We would love to hear your thoughts! (PS: We read ALL feedback)