Since its 1989 debut, the Mazda MX-5 has found a soft spot in the hearts of over a million owners. Currently, in its fourth generation of development, the initial Miata was designed to fill the niche of the affordable drop-top roadster. Mazda has fulfilled that goal and then some.
Does the Mazda MX-5 have problems? Yes, it has a few, but every car does.
And with a market run of over 30 years, issues helped Mazda make the MX-5 one of the best, most fun, and most affordable roadsters on the market.
Let's get into the most common issues with these models.
9 common issues with the Mazda MX-5
Note also that the Mx-5 is one of the cheaper cars you can easily modify yourself.
The Mazda Miata MX5 has fewer problems than many other roadsters.
1. Early MX-5s had paint issues
The first Miata made by Mazda had problems with the paint and paint sealer, delaminating. You've seen them. Cars look like they are recovering from bad sunburn and peeling.
It's not a good appearance, and the only way to fix delaminated paint is by removing the old and laying down new layers of the same or a new shade.
The problem was corrected along the way, but if you own or are buying an early model Mazda MX5, this can be an issue.
2. Some convertible tops have fallen apart with age.
When a car has a problem that frequently happens outside of warranty, it is rarely mentioned. That is because recalls for these problems are very rarely issued. But unfortunately, that is the case with the vinyl convertible tops of some MX-5s.
The vinyl begins to break down with age and fails at stress points.
When this occurs, your roof can leak into the car, exacerbating rust issues. The top of the MX5 generally lasts past the warranty phase.
However, if you are frugal and handy, you can replace the roof of your Miata for around $500.
3. Leaky clutch slave cylinder
A clutch slave cylinder that won't hold fluid can make it impossible for you to shift the gears of your manual transmission. This issue mainly affected MX-5 Miata's between the 1990 and 2008 models.
The fix for a leaky clutch slave cylinder is not that expensive. However, being able to shift is very important.
If you own one of the above model years, be aware that it is possible if your Miata has a manual transmission.
4. Check engine light issues
Check engine lights due to fuel filler pipe
The threads of the fuel filler pipe of some model years of the Mazda MX-5 can set off engine check lights.
When the fuel filler pipe becomes too loose to keep the fuel system pressurized, the light comes on, and your car may fail to start.
Check engine lights due to a restricted EGR system
The Exhaust Gas Recirculation system (EGR) becomes clogged; it can cause an engine check warning to light up. If it is not repaired, it can get blocked to the point that your engine won't be able to start.
5. Noisy valve lash adjusters
Some car engines will get noisy valve lifters when the oil is too low. However, the MX-5 will develop noisy lifters if the oil is not changed frequently enough.
6. Faulty valve-cover gaskets will leak oil
Valve cover gaskets worn to the point of leaking can allow oil to pour from under the cover and drip down the side of your engine and across the spark-plug wires.
The worst-case scenario is that a leaky valve cover gasket on an MX-5 Miata, or any other car, can cause an engine fire.
The best case is that, in most cases, a valve cover gasket is not one of the most expensive parts to repair on an MX-5 Miata. However, if you find that yours is leaking, have it repaired as soon as possible to prevent further damage.
7. Rough engine idle
The incident of these occurrences was in the first four model years of the MX-5 Miata. The problem in this instance was with a worn oil pump.
So, if you have an early model Miata that has a rough idle issue or stalls when the engine is cold, you could have a bad oil pump.
8. Rusting bodies
Perhaps it's the MX5's proximity to the ground or a lack of rust-proofing. Whatever the reason, MX5s tend to rust around the wheel wells and quarter panels.
9. Misfiring when under a load
Misfires are generally due to faulty spark plug wires. However, there is a chance that the misfire is caused by water in the wells where the spark plugs fit, which can cause the same type of electrical arcing that causes a car to misfire.
If your car is misfiring, check the well where the spark-plugs seat and for faulty plug wires. It is best to take your vehicle to a technician if it has this problem because it may be worse than it appears. However, it has not been a common complaint among owners of the Mazda MX5.
Pros and cons of the Mazda MX-5
It's hard to say anything bad about a Mazda MX5. It's a convertible roadster that has typical mechanical problems. Yet, according to Consumer Reports, the Mazda Miata MX5 is one of the most dependable of the top ten cars in this sector.
Its biggest drawback is its size, which is also one of its most appealing attributes. Keeping the MX-5 small and harkening its design to the late MGBs, Fiats, and other small convertibles of a lost era, played in their favor.
However, driving a Miata may be like wearing very tight shoes if you are a big person.
This is because these small roadsters have intimate interiors that are MG Midget sized, not the MGB GT or Fiat 124-sized roadsters, which are the most competitive cars over the MX5.
The Fiat 124 can only be found used at this point because Fiat discontinued selling it in 2021.
Mazda found a market niche that needed filling and, over 30 years later, still holds a place there. That alone is a testament to a relatively problem-free design, except for the above-listed issues, which do not affect every model year of the MX5.
Although it's not the quickest roadster to ply the highways, the agility, handling, and top-down ride of the Mazda MX5 overcomes almost any negative on this list.
Any make or model car can have reliability issues.
Although the Mazda MX5 has a few problems, they are not deal breakers if you know what to look for in purchasing a new or second-hand MX5 Miata.
Quote reviews
"The MX-5 dishes out fizzy fun at legal speeds and costs peanuts to run. What more could you want?"
"Despite some compromises, the Miata's eager handling will delight driving enthusiasts."
Resale value reduction over time
The Mazda MX-5 will retain 80 percent of its purchase value after five years. That's phenomenal, and not many car models can compare.
Depreciation of the Mazda MX-5 Miata over ten years of ownership shows that this little roadster will hold its value very well.
| | | | | |
| --- | --- | --- | --- | --- |
| Resale Year | Depreciation | Resale Value | Mileage | Residual Value |
| 2022 | $2,102 | $32,586 | 12,000 | 93.94% |
| 2023 | $3,302 | $31,386 | 24,000 | 90.48% |
| 2024 | $3,465 | $31,223 | 36,000 | 90.01% |
| 2025 | $4,926 | $29,762 | 48,000 | 85.80% |
| 2026 | $6,712 | $27,976 | 60,000 | 80.64% |
| 2027 | $8,810 | $25,878 | 72,000 | 74.60% |
| 2028 | $10,129 | $24,559 | 84,000 | 70.80% |
| 2029 | $10,753 | $23,935 | 96,000 | 69.00% |
| 2030 | $11,385 | $23,303 | 108,000 | 67.18% |
| 2031 | $12,855 | $21,833 | 120,000 | 62.94% |
Overall, the reliability of the Mazda MX-5 Miata is stellar.
The Mazda MX5 is a small car that, for all intents, is impractical. It has no back seat and very little trunk space. However, the Miata wasn't designed to be a cross-country people hauler and does what it is supposed to do very well.
Riding about in a roadster with the top down will leave a smile on your face. It's not for everyone, though. Mazda set out to develop the Miata over 30 years ago, which has been a great success.
As a result, the Mazda MX5 is dependable and relatively problem-free, making it a gem among roadster options.
As roadsters go, the MX5 is one of the most reliable on the road. Its initial cost is a little higher than other cars in this slot. However, there aren't many whose reliability and resale value compare. And there are even fewer that can go topless.
Go Back: Problems for all Mazdas.
Was this article helpful?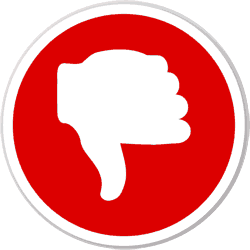 Did you find wrong information or was something missing?
We would love to hear your thoughts! (PS: We read ALL feedback)
ⓘ  The information in this article is based on data from National Highway Traffic Safety Administration (NHTSA) recall reports, consumer complaints submitted to the NHTSA, reliability ratings from J.D. Power, auto review and rating sites such as Edmunds, specialist forums, etc. We analyzed this data to provide insights into the best and worst years for these vehicle models.
---