Cup holders are common in many modern cars for convenient storage of your coffee or beverage. Some of the biggest cup holders can be found in family SUVs that require large cup holders for convenience.
It can be frustrating when you have to store your cup only to find that it doesn't fit in your car's cup holder.
We'll be listing out some cars with big cup holders for large drinks, so let's get started.
1. Ford F-Series Super Duty
The F-Series is just a marvel in the heavy-duty pickup truck and when looking at it, you can just tell why.
With an entirely new redesign to put it back on the top, everything is just bigger and that goes for the cup holders as well.
This heavy-duty monster gets a new exterior and interior design with quality materials and design all around. Just looking at the exterior, you can tell this truck is super spacious inside.
The spacious interior also makes it possible to have large storage bins and cup holders for all the passengers. There's a massive quad-barreled cupholder right in the center console for holding up to four drinks.
A quad-barreled cupholder holds four cups, but this one on the F-series truck is much bigger and can hold larger cups. It is also designed so that cups fit in snuggly and limit spills when driving.
Older models of the F0Series used to have smaller cup holders in the dropdown armrest and two that retreated inside the dashboard.
Now the center console can hold up to four much larger drinks.
It looks like Ford has done away with retractable cup holders that come out from the dash area. These are often flimsy, collect dust, and can sometimes fail to open or close as intended.
Owners of the F-Series think this new design is well worth it and find it quite innovative and spacious. They are solid and minimize drink spillage whenever the truck is on the move.
2. Chrysler Pacifica
The Pacifica is a lot to digest when it comes to its impressive interior and overall cargo space. It features a third row of seats and up to 10 cup holders for convenient drink storage.
This minivan has a lot going for it in the space department, with up to eight people. What is amazing is that all the passengers have their own cup holders for storing beverages on long trips.
Cup holders in the Pacifica are larger in the front passenger seats and start getting smaller as you go down the rows. Third-row seat cup holders are much smaller in diameter compared to front-seat cup holders.
The cup holders are designed to accommodate both small and large cups. They are more suitable for malleable cups or plastic cups that can bend.
Because the cup holders have retractable adjusters inside, they are suitable for cups of all sizes. Smaller cups will also fit in snuggly because of the size adjusters inside the holder itself.
There are also two large storage bins in the center console for storing phones and other small items. These can also work well for drink storage if the car is not moving.
Second and third-row passengers will have to be careful when opening the door with a drink in the holder. Their cup holders are right in the door, so their drinks might spill if the door is opened abruptly with a full drink.
This is a great family hauler for long trips and owners do not complain about drinks spilling when on long road trips.
3. Lexus RX
Lexus has taken their cupholder design to a new level with a push button to bring a large cup back up for access.
It is simple to use with the push button and makes carrying really large drinks convenient.
With an adjustable depth for the front seat cup holders, you can now carry tall containers with ease. Smaller containers that are trapped inside the holder can be brought up for access with the push button.
This design is sure to please drivers who are often frustrated when they have to access their smaller drinks. The floor of the cupholder simply comes up for easy accessibility and down for more grip.
Speaking of grip, the inside of the cup holder also has some rubber parts so that your drink doesn't move around.
Lowering the holder floor also gives you more access to the storage bin in the center console.
On top of all that space in the cupholder, you can now open your drinks such as cans with only one hand. This is thanks to the extra grippy material inside the cupholder to hold it in place.
4. Subaru Ascent
Large SUV lovers are astounded at the value that the Subaru Ascent SUV offers. It seats up to eight passengers and has an enormous number of cup holders, a total of 19.
Subaru made sure to redesign the cup holders with extra features for convenient drink storage. Your drinks are now more secure with this revised design as compared to older models and competitors.
The cup holders are paired with large bottle holders in case you need more diameter for really large containers. You also get two flip-down cup holders in the center console that are adjustable to accommodate all many cup sizes.
The cup holder is placed strategically for ease of access at arm's length for all passengers. Large drinks are flush with the bottom of the holder and improve stability.
Going down the rows, you get 8 cup holders in the second row and 5 more in the third row. The second and third-row cup holders are smaller than the front passengers' but just as stable.
Owners of the Ascent welcome the number of cup holders in this large SUV but complain about drink spillage. Some of the holders tend to spill the drink when the car comes to a stop.
The passenger door cup holders that come in threes can be rather squashed if all three have large drinks in them. This makes accessing the drink a bit of a mission if there are three people seated.
Another issue is the middle seat in the third row, where the middle passenger will have difficulty comfortably accessing their cup holder.
The Subaru Ascent is among cars with lots of cup holders. This means its cup holders aren't just BIG, they're many too.
5. Volkswagen Atlas
The German automaker has had its fair share of complaints for not equipping its cars with enough cup holders.
The US market loves cup holders and has now gotten exactly that with the new Volkswagen Atlas.
This seven-seater SUV is now ready for the American market with plenty of cabin space and lots of cup holders. It features a total of 17 cup holders and these comfortably hold small and large drinks.
Of the 17 cup holders, the Atlas puts six of them in the front seats, which are way more than that of competitors such as the Honda Pilot.
Check also: Most seen problems with VW Atlas.
The more cup holders there are, the better it is for a large family on a long trip. Everyone has space to store their drinks, and all cup holders are within arm's reach and fairly stable.
The Atlas' trim levels differ in the number of cup holders they get as some trims only get 16 cup holders. SEL Premium trims get a foldable armrest in the second row where the 17th cup holder can be found.
All 17 cup holders are fairly large for bigger containers such as water bottles. However, holders on the second and third rows seem smaller because they are next to each other.
These cup holders themselves are designed in such a way as to not spill drinks. The bottom is flat and they are adjustable to smaller drinks.
The adjustable flaps inside the cup holders are there to grip the cup if it is smaller than the holder. Larger drinks will fit flush with the bottom of the cupholder and limit spillage when the car is moving.
Much like the other seven-seaters, the VW Atlas' third-row middle passenger will have trouble accessing their drink. Their cupholder is on either side of the far-end passenger and reaching over might be inconvenient.
You may be surprised to hear that another Volkswagen model is among some popular cars without cup holders.
Final Thoughts
You may have already deduced from the article that SUVs, vans, and trucks are more likely to have bigger cup holders than sedans or small hatchbacks.
Once again, larger cars win the debate of convenience and luxury.
Was this article helpful?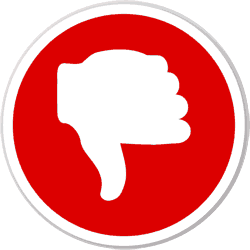 Did you find wrong information or was something missing?
We would love to hear your thoughts! (PS: We read ALL feedback)