Mercedes-Benz Group manufactures a line of compact luxury vehicles under the C-Class name. The C-Class debuted in 1993 to supersede the 190 (W201) series and was the brand's smallest vehicle until the W168 A-Class was launched in 1997.
While the present W206 series debuted in 2021, the third generation (W204) was introduced in 2007. And since 2002, the C-Class has featured a 4MATIC all-wheel drive option.
In this article, you'll discover the best and worst years for Mercedes' compact sedan.
The Best and Worst Years For Mercedes-Benz C-Class Are:
The models from the years 2008 and 2010 are some of the best Mercedes-Benz C-Class. On the other hand, the 2015 C-Class has remained the worst model ever made to date, and should be avoided at all costs.
Additionally, you should stay away from the 2016 C-Class models. 
What Mercedes-Benz C-Class Years Are the Most Reliable?
The following list shows which years were rated as the Mercedes-Benz C-Class's best in terms of reliability and overall value for money.
1. 2010 Mercedes-Benz C-Class
The 2010 C-Class is neither the sportiest nor the most luxurious 2010 midsize sedan on the market. Yet, it achieves a balance between the two attributes with an impressive cabin, high testing scores, and a polished chassis.
Based on how well the 2010 Mercedes-Benz C-Class performed in the year's luxury small cars classification, U.S. News gave it the top spot – resulting in a rating of 8.5 out of 10.
The 2010 Mercedes-Benz C-Class has also undergone extensive testing by the IIHS and NHTSA. 
It receives a four-star rating from the NHTSA's authority for frontal protection, but a five-star score for side impacts. On the other hand, the IIHS rates the C-Class's front-impact protection as "good" despite not having examined its side-impact capability.
All trim levels of the 2010 Mercedes-Benz C-Class won't be breaking any speed records when traveling in a straight line. 
However, with precise braking and handling, the car performs admirably in terms of the overall performance compared to the other vehicles in this category.
This car can handle long journeys comfortably and is rarely unpleasant on the road, considering its slightly sporty demeanor.
The fit and finish of the C-Class are improved by fewer components and a more straightforward style, except for some average trim in the base model. 
Also, its nicely cushioned surfaces and premium trim are praised by Consumer Guide, whereas Kelley Blue Book notes the stylish wood present in the cabin. The interior is also described as brilliantly made by Edmunds, who also notes an excellent build quality.
Overall, the 2010 C-Class makes this list for a cluster of positive qualities accompanied by top scores for reliability, comfort, safety, and value for money. 
2. 2008 Mercedes-Benz C-Class
Despite the possibility of a few electrical and steering problems along the way, the 2008 Mercedes C-Class can travel about 200,000 miles. It's an absolute bargain for an entry-level luxury car at $7,343 to $23,500, according to Kelly Blue Book.
Mercedes-cavalry Benz overhauled the C-Class in 2008 to fix many of the problems of the outgoing model. In return, the internal space capacity was improved, particularly in the back seat, thanks to a minor wheelbase extension.
Sports and Luxury trim levels are available like previous models, but in 2008, Mercedes worked especially hard to make the trims stand out more.
Compared to the traditionally styled C300 Luxury, the C300 and C350 Sport versions have a more assertive external appearance and suspension calibration.
Additionally, the 2008 Mercedes-Benz C-Class includes a wealth of standard safety features, such as:
Front side airbags
Full-length curtain airbags
Active front-head restraints
Stability control
Traction control and adaptive antilock brakes that feature brake assist
Brake drying
Hill-start assist.
A well-liked rival with a price difference of roughly $1,500 less is the BMW 3 Series. 
The 3 Series has sharper steering, but the C-Class offers a better cabin for the money. Since there are fewer mechanical problems for the 2008 model year, opting for the C-Class is advised.
It must be mentioned that the 2008 C-Class model has been awarded a Reliability score of 4.5 out of 5 from J.D. Power and it's recommended by 90% of customers on Cars.com.
However, RepairPal claims that routine annual maintenance charges are unusually high at $781 per year, so bear that in mind.
Overall, 2008 is a successful year for the C-Class. The polished driving experience, trustworthy engine options, and exterior style are praised in customer evaluations.
  Make sure to also check out our article on 7 Mercedes-Benz model you can lease.
The Bottomline
The process of purchasing a new vehicle is filled with excitement and anticipation. It is quite unfortunate how the excitement quickly fades away when you realize that your new vehicle may not be as reliable as you had hoped.
One way to reduce the amount of time and effort it takes to get an overview of the reliability of a vehicle is by looking at Consumer Reports' annual list of the most reliable cars.
However, if you want to save even more time and effort, there's another option – buying a model year that has been consistently rated as one of the best for its reliability.
What Mercedes-Benz C-Class Years Should you Avoid?
For the Mercedes-Benz C-Class, the 2015 model stands out as the most unreliable model of its family. However, there are a few other models you should avoid too. This is because of some Mercedes-Benz C-Class problems.
Let's check them out!
1. 2015 Mercedes-Benz C-Class
Mercedes-Benz is typically associated with high performance and sophistication. The automaker usually meets its standards, but the 2015 Mercedes-Benz C-Class fell short of most owners' expectations.
Due to its eye-catching redesign and high-tech features, the 2015 C-Class sedan created a great impression when it was first released. Over time, it gained a reputation for having low expected reliability ratings and unhappy owners.
When selecting a new car, reliability is typically a crucial consideration. This becomes much more critical when looking for a used car. 
According to customer surveys and the model's record, the C-Class has roughly 17 significant problematic areas.
These potential trouble places include:
The electrical system
Power equipment
Brakes
The engine
The 2015 C-Class has experienced 11 recalls, which undoubtedly adds to the overall issue with reliability.
The first recall was a steering problem, which led to a loss of steering control in the worst-case scenario. And the electric power-assist system's steering fault may result in accidents and a loss of control.
Some buyers complained about blinding headlights, which can result in a collision with approaching motorists. Further issues with the fuel system and engine raised the risk of collisions.
The list goes on and on and even includes problems with the airbags.
Although the outside and interior of the 2015 C-Class series are attractive, the hassle is merely not worth it. The number of problems is just too great, and the expense of ownership is too high.
2. 2016 Mercedes-Benz C-Class
In the U.S. News' ranks for small luxury cars, the 2016 Mercedes-Benz C-Class is ranked in the top third. It boasts a strong engine, an upscale interior, and excellent fuel efficiency. 
This car also falls short of taking the top rank due to its substantial ownership expenses and a subpar reliability score of 2.5 from J.D. Power.
Like the 2015 model, there is still much work for Mercedes in the C-Class category. 
To date, the 2016 C-Class has twelve confirmed safety recalls.
An unstable fracture of the rear axle attachment flange is the basis of one recall, while the possibility of unintentional driver's side airbag triggering is the subject of another.
Furthermore, there have been recalls relating to inadequate software installation, an electrical issue, and the power steering unit. 
Before purchasing, make sure these concerns have been resolved.
Additionally, you need to budget an extra $29,680 for gas, insurance, maintenance, and repairs throughout five years of ownership of the 2016 C-Class.
In contrast, the majority of rivals have slightly lower five-year prices in this regard. For instance, it will cost you $28,150 to fuel, maintain, insure, and repair the 2016 BMW 3 Series.
It is quite unfortunate that the 2016 C-Class is also listed on the Consumer Reports ranking of used cars to avoid buying. Reliability also played a big part in the publisher's critique of the vehicle.
The C-Class had a terrible 18/100 reliability rating, making it the least reliable of all 2016 premium compact sedans.
That said, please check out our article on 15 used cars with fewer problems.
Ultimately, customers can upgrade to another used entry-level luxury car that is more trustworthy and costs less. For example, the 2016 Audi A4 is a vehicle that has a Consumer Reports reliability rating of 89 out of 100.
The Bottomline
It can be tempting to buy an unreliable model when you're looking to purchase a car. After all, if you're not going to be driving it often, what does it matter if it breaks down every other week?
The truth is that even if you aren't using your vehicle often, it will still cost you money if it's a bad ride. 
An unreliable car will cost you more in repairs than a good one and will be harder to sell or trade in when the time comes. You should avoid buying unreliable vehicles at all costs!
What Are Some Typical Problems With the Mercedes-Benz C-Class Models?
There have been several problems with Mercedes-Benz C-Class models that have dissatisfied many owners worldwide. 
So be sure to remember the following seven Mercedes issues that are most frequently encountered:
Vibration when driving
Airbag problems. 
Broken piston caused by a faulty wrist pin
Shaking wiper blades
Low cargo space
Faulty steering column
Rusted Subframe
Final Thoughts
The Mercedes-Benz C-Class has been a fixture in the car market for decades and has always been a reliable choice. You can count on the C-Class to deliver a smooth ride, high performance, and plenty of safety features.
The C-Class also has a long history of being awarded some of the best safety ratings in its class. It's no surprise that this sedan is one of the most popular vehicles on the road today.
Overall, one thing is for sure – It's always been a good car. But some years are better than others.
Being one of the oldest automakers in the world, the company has had a significant amount of time to polish its cars. It goes without saying that driving a Mercedes-Benz is a joy. They are deliberately crafted to be comfortable, trustworthy, and potent.
However, they occasionally experience issues, just like any other vehicle. 
Was this article helpful?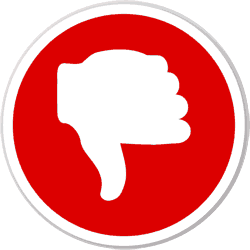 Did you find wrong information or was something missing?
We would love to hear your thoughts! (PS: We read ALL feedback)
ⓘ  The information in this article is based on data from National Highway Traffic Safety Administration (NHTSA) recall reports, consumer complaints submitted to the NHTSA, reliability ratings from J.D. Power, auto review and rating sites such as Edmunds, specialist forums, etc. We analyzed this data to provide insights into the best and worst years for these vehicle models.
---