When you have a family that enjoys long drives, a compact crossover like the Honda HR-V is a great choice.
It's important to think of the features and safety rating when you buy any car.
Read on to find out which models of the Honda HR-V are best to buy and which aren't.
Note, the Honda HR-V shouldn't be confused with its name brother. Check this article for the best and worst years for the compact crossover Honda CR-V.
Best years for Honda HR-V
When buying a car, it's always a good idea to consider which models are rated the best. It gives you a good idea of what to look for and compares it with other cars within the same range.
For the Honda HR-V, these are the four best models that have been made.
1. 2023 Honda HR-V
The 2023 Honda HR-V has been redesigned to pack more utility and intelligent features into its compact offering. It's more refined and prominent, with a sophisticated-looking interior and exterior.
The fresh styling of this model has put it above the rest to make it an excellent choice when shopping for a compact SUV.
The new design isn't the only exciting thing about this model.
The non-turbocharged 2.0-liter four-cylinder engine has 158 horsepower. It comes with new-generation tech to compete with other SUVs. You can choose between a 7 or 9-inch SmartScreen for Android Auto and Apple CarPlay.
The 2023 Honda HR-V has light steering that complements its responsive brakes. The tidy handling ensures that it delivers light-footed movement for an SUV. Additionally, you can enjoy the 138 lb-ft of torque.
2. 2021 Honda HR-V
When you're in the market for a versatile and spacious compact SUV, the 2021 Honda HR-V is an excellent choice.
The 1.8-liter four-cylinder engine has an output of 141 horsepower and is highly efficient.
The four trims have exceptional features such as:
127 lb-ft of torque,
LED daytime running lights,
and an infotainment system.
With a roomy interior and good fuel efficiency, this model gives you all you need to achieve a comfortable drive.
The interior has immense flexibility owing to its Magic Seat in the back, which flips and folds if you want to accommodate anything.
The Honda Sensing features ensure safety and reliability.
3. 2022 Honda HR-V
The Honda Sensing technology enhances the overall safety of your driving.
This model has been created with you in mind to offer maximum support and comfort.
There is more detail focused on features such as Road Departure Migration (RDM), Adaptive Cruise Control (ACC), and Lane Keep Assist System (LKAS).
This is your ideal choice for a Honda HR-V model that embodies elegance and sophistication. The 1.5-liter gasoline engine works with two electric motors that give you a combined 130 horsepower.
The panoramic glass roof and LED projector fog lights give you the best of both worlds under extreme weather conditions.
4. 2020 Honda HR-V
The most impressive thing about this Honda HR-V model is that it fine-tuned all the kinks that came with the previous models. The manufacturer improved safety and reliability by including features reserved for the more expensive versions of Honda cars.
This model takes the Honda HR-V towards a more tech-friendly route.
The interior is spacious with the adjustability of the driving position. The slim front pillars are well-placed to provide optimal forward and side visibility.
You get good value for your money when you're a budget-conscious buyer.
Honda HR-V Years to Avoid
In other cases, manufacturers need to get it right. Certain models give you more problems than you expect.
The Honda HR-V is no exception, which is why these are the four models to avoid if you don't want to deal with mechanical issues frequently.
1. 2016 Honda HR-V
You want to avoid the 2016 Honda HR-V model mainly due to its interior accessories. But the problems don't end there. Many issues have been reported on its body and paint.
The brakes and transmission also had their fair share of problems that affected the safety of drivers. When you turn off cruise control to apply the brakes, the car starts jerking.
Additionally, owners faced malfunctioning windows and uncomfortable seating.
2. 2019 Honda HR-V
The 2019 Honda HR-V had several complaints that were safety-related. Some owners reported brake failure that occurred while the car was in motion.
In other instances, unintended acceleration was reported.
Other common problems that were reported included the following.
The engine slows down while driving.
Doors don't open from the inside.
The infotainment display screen malfunctions.
Brake failure while parking.
3. 2018 Honda HR-V
The number of problems that this model faced caused significant vehicle damage in the long run.
Reported issues such as brake failure which inevitably caused road accidents. Specific concerns focused on the brake pedals jittering when you press them and being unable to use the electronic parking brake during an emergency.
The brakes giving out aren't the only concerns this model faced.
The Honda HR-V has soy-based wires that would get chewed by rodents frequently. The seats are also uncomfortable.
4. 2017 Honda HR-V
The number of problems that the 2017 Honda HR-V had likely placed it at the top of the list of models that you should avoid.
The most severe issue reported by customers was RMPs shooting up even when you don't step on the gas pedals. Other cases include the car going backward when you want to move forward or vice versa.
The locking system also malfunctions along with loose window gaskets. 
Common problems experienced include uncomfortable seats and rodents chewing on the Soy wires.
1st Generation Honda HR-V: 1999 – 2006
Did you know that HR-V stands for Hi-Rider Revolutionary Vehicle? The first generation Honda HR-V was launched in 1998. Initially, it was a three-door wagon that had a European flair.
Its oddly futuristic look made it unique. This generation of the Honda HR-V was fitted with a 1.6-liter camshaft engine powered by CVT transmission.
The capabilities of this compact crossover SUV made it a great choice.
The first generation of the Honda HR-V changed the game and was considered the most-sold compact SUV in Europe.
It became the most popular crossover in the market. However, it wasn't available in the US market. These early models are still found on the streets attesting to the good longevity of the Honda HR-V.
2nd Generation Honda HR-V: 2015 – 2021
The Honda HR-V production went on a hiatus from 2006 until 2015. In 2015, the second generation of this compact SUV was launched in the US. The second-generation Honda HR-V has various trim models with a 1.8-liter four-cylinder engine.
These trims have a single powertrain option with 141 horsepower and a torque of 127 lb-ft.
The most notable changes that came with this generation are the exterior and interior. The design is modern with more cargo space.
Also, this generation had a key fob. You can have all your questions regarding keys for the Honda HR-V answered here.
The initial three-door models were upgraded to five-doors.
While improvements to the design of the Honda HR-V were made, the second generation had more issues than anticipated.
As a result, Honda had to recall more than 100 000 models overall. You can get a good overview of the most seen problems across the Honda HR-V models.
Owners complained about problems that included uncomfortable seating after long drives, malfunctioning ignition, and an engine that stalls while the car is in motion.
The multiple issues that plagued this generation of the Honda HR-V impacted the decision to discontinue its production.
These models are best avoided when looking for a car to buy.
3rd Generation Honda HR-V: 2022 till present
The second half of 2022 revealed the launch of the latest generation of the Honda HR-V. The new generation has a fresh appeal that makes it a great contender for similar SUVs.
The exterior has a large grille with LED daytime running lights. You can read more here about questions regarding the Honda HR-V and light.
It's a cutting-edge and sporty design powered by a hybrid powertrain. However, its performance is still not as impressive as its competitors.
This generation averages 32 mpg.
Which Honda HR-V generation should you buy?
The third-generation Honda HR-V is the one that you should opt for. It has a roomy interior with more comfort than its predecessor.
There is a long list of generous safety features and driver aids.
The driver assistance tech ensures you don't face the same safety concerns that came with the second generation.
It will surprise you with its exceptional ride and redesign. This is one of the best compact crossovers for a high value that you can find.
What year is the most reliable Honda HR-V?
The most reliable Honda that you can buy is the 2022 Honda HR-V.
The design and wide range of safety features that improve performance make it a consumer's choice.
What are the most common problems with Honda HR-Vs?
The most common problems with Honda HR-Vs are cosmetic and mechanical.
Even though they can be fixed, several issues are considered safety hazards. The following are the main concerns that customers have reported over the years.
Window gaskets become loose and become an entry point for dirt and water.
Poor paint quality that chips and fades prematurely.
Fuel pumps that fail and cause stalling and starting issues.
Accelerator problems cause the car to slow down while on the highway.
Uncomfortable seats that impact support and comfortability.
Suspension issues.
Delays with the push-start button.
Transmission problems that cause car jerking when shifting gears.
How many miles will an HR-V last?
When you buy a Honda Hr-V without many problems, you should expect it to last for at least 200 000 miles. The latest models are reported to reach up to 270 000 miles. It's essential to ensure that you maintain regular maintenance.
What are the closest competitors to the Honda HR-V?
There are many compact crossover SUVs in the market that you can consider alongside the Honda HR-V.
The following are some valuable options that you can have a look at.
Subaru Crosstrek
Ford Bronco Sport
Chevy Trailblazer
Hyundai Kona
Nissan Kicks
Buick Encore GX
Jeep Renegade
Kia Seltos
Chevy Trax
How long do the transmissions normally last on these models?
The average that you get out of the transmissions of these models is between 150 000 and 250 000 miles. With adequate maintenance, you should expect some to reach 300 000 miles.
There are many reasons why you should consider a compact SUV if you're in the market for a new car. They aren't only comfortable with massive space, but they're compact enough to offer you a smooth drive.
Additionally, you can get more mileage without spending too much on them.
Back to overviews: Best & Worst Years Per Honda Model.
Was this article helpful?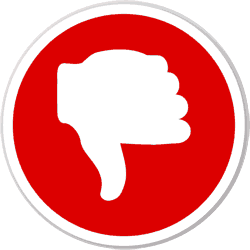 Did you find wrong information or was something missing?
We would love to hear your thoughts! (PS: We read ALL feedback)
ⓘ  The information in this article is based on data from National Highway Traffic Safety Administration (NHTSA) recall reports, consumer complaints submitted to the NHTSA, reliability ratings from J.D. Power, auto review and rating sites such as Edmunds, specialist forums, etc. We analyzed this data to provide insights into the best and worst years for these vehicle models.
---