The Toyota Prius pioneered hybrid technology, which, like Tesla, is an eco vehicle jumpstarting Toyota's green revolution.
Besides its class-beating fuel efficiency, the Prius also packed tech features and a comfortable cabin.
Although considered one of the most reliable Toyota products, over 1,000 complaints are registered about this popular hatchback.
Let's dive into the best and worst model years.
The Best and Worst Years for Toyota Prius Are:
The best years of Toyota Prius are 2000-2004, 2013-2015, and 2017 – 2021. The worst years are 2005- 2010, 2012, 2016, and 2022. Fewer complaints were reported on the 2013 – 2015 models. Be on the lookout for these years, especially the problematic ones, before you purchase a Toyota Prius.  
What Toyota Prius Years Are the Most Reliable?
The Toyota Prius is mostly considered a reliable hybrid car and has pulled positive ratings over the years.
However, some of these years have proven to be more reliable than others.
Let's take a closer look at the details.
2000 Toyota Prius
The Toyota Prius took a huge leap in the year 2000 by pioneering hybrid engine technology, paving the way for a revolution in environmentally conscious driving.
What it lacked in appearance, it more than made up for in dependability.
This model had roomy seats that provided comfort and functionality for both drivers and passengers. But the real star of the show was its incredible fuel efficiency, which would become synonymous with the Prius name.
With only four complaints on Car Complaints and on the NHTSA, the 2000 Toyota Prius exemplifies the brand's long heritage.
2001 Toyota Prius
Building on the popularity of its predecessor, the 2001 Toyota Prius embodied the spirit of the Toyota Prius series' first generation.
This model was the result of rigorous engineering, with an emphasis on gasoline and electric engines, usability, and cargo space.
Notably, there were just nine complaints regarding the high rate of oil use, a slight glitch in an otherwise great year.
Furthermore, traction control was introduced in 2001, improving the driving experience of Toyota Prius users.
2002 Toyota Prius
The first generation of Toyota Prius cars was refined even further in 2002.
The interior design was significantly improved, with a special emphasis on the dashboard arrangement.
With only three recorded complaints, all of which were linked to faulty headlights, this model reflected Toyota's devotion to quality.
2003 Toyota Prius
The 2003 Toyota Prius, which marked the conclusion of the first generation, carried on the history of excellence established by its predecessors.
It had a strong steering wheel, folding seats that increased cargo capacity adaptability, and, of course, excellent fuel efficiency.
This year, there were only four reported complaints, underscoring the first-generation Prius's lasting dependability. In fact, this generation ranks 35th out of 81 in terms of dependability, making it the most reliable of its descendants.
The 2003 Toyota Prius marked the end of an era of innovation and eco-conscious driving.
2004 Toyota Prius
The 2004 Toyota Prius is an outstanding vehicle in the second generation, separating itself from some of the hitches of the time.
The Prius had another successful year, offering great performance and fuel efficiency. This vehicle, which was available in hatchback and midsize class trims, not only prioritized eco-friendliness but also added practicality to the mix.
Many experts see it as one of the cleanest vehicles on the road for their time, and the EPA evaluated it at an astonishing 60/51 mpg, making it America's most fuel-efficient five-passenger car.
Toyota's persistent dedication to pioneering clean, efficient, and forward-thinking transportation was clearly on display with the 2004 Prius.
2013 – 2015 2rd Generation Toyota Prius
Moving on to more recent generations, Toyota Prius cars manufactured between 2013 and 2015 have built a great reputation for dependability.
With only 471 complaints on NHTSA for these 3 years, this period of the Toyota Prius manufacturing earned significant consumer confidence.
The years 2013, 2014, and 2015 stood out for their near flawless track record, with no concerns about brakes or engines.
2017 – 2021 4th Generation Toyota Prius
There were just a handful of recorded concerns from 2017 to 2021, mostly involving mice nibbling on the coated electrical cables or minor exterior fixture issues.
The 2018 Prius models included adaptive cruise control, significantly increasing the driving experience, and emphasising the attraction of these model years.
In 2019 Toyota also launched an All-Wheel Drive system for the Prius.
Notably, in 2020, cutting-edge technology was integrated with the launch of Apple CarPlay and Amazon Alexa, placing the Toyota Prius firmly at the forefront of innovation and eco-conscious driving.
What To Look Out For in Terms of Reliability
Here are factors to consider when gauging the reliability of these cars:
| Aspect | Information |
| --- | --- |
| Battery | The battery of the years mentioned above is very reliable and experiences few issues, and when problems occur, they are easy and cost-effective to resolve. |
| Second-hand Value | Toyota Prius models from the listed years have a high second-hand value, and owners generally have no complaints in the first few years of ownership. |
| Fuel Efficiency | The hybrid powertrain, regenerative braking, and aerodynamic design contribute to their impressive fuel economy. These models typically achieve high miles per gallon (MPG) ratings, often exceeding 50 MPG, which is a significant factor in their popularity among fuel-efficient vehicle enthusiasts. |
Related: How Long Do Toyota Prius Last? (Solved & Explained!)
What Toyota Prius Years Should You Avoid?
While the Prius has been lauded for its low carbon footprint, fuel efficiency, and cutting-edge technology, not all years are made equal.
Let's go into the specifics so you may make an informed decision.
2005 – 2009 2nd Generation Toyota Prius
The second generation Toyota Prius model years, which spanned from 2005 to 2009, signified a major change from the quality of its predecessors.
With a total of  8440 complaints on NHTSA, this generation has a host of issues. The NHTSA reported 1461 complaints with the 2008 model and with the 2007 model having 1990 complaints.
Owners of the second-generation Toyota Prius suffered a slew of faults that not only hampered their driving pleasure but also posed serious safety threats at times.
Among the issues raised during these years were:
Persistent Engine faults: These faults were difficult to repair, frustrating owners with reoccurring complications.
Excessive Fuel Consumption: The Prius's defining feature, outstanding fuel efficiency, appeared to deteriorate during this time period, leaving owners upset with rising gasoline prices.
Service Brakes: Concerns about the service brakes brought another layer of stress to the driving experience, harming both safety and comfort of mind.
The electrical system of these Prius models fared no better.
Users were frustrated by the malfunctioning of the gauge cluster to display status updates, as well as headlight indicators, fuel gauge, speedometer, and ABS lights.
A particularly significant issue was rats' tendency to gnaw through soy-coated electrical cabling, which was an unexpected and annoying problem for first-time owners.
2010-2015 3rd Generation Toyota Prius
The Toyota Prius hit rock bottom in 2010, with a whopping 2710 complaints spanning the previously outlined faults. This was not a good start to the third generation.
There were numerous faults and recalls throughout 2010-2012, with 10 in 2010 alone.
These drawbacks, together with the difficulties seen in the second and hird generation, plague drivers and highlight the significance of exercising caution when considering a Toyota Prius purchase.
In 2012 Toyota launched the Toyota Prius V. However. this has since been discontinued.
2022 5th Generation Toyota Prius
Although this model is still new, there is already 1 recall on its ECU software. This  may cause loss of drivetrain power.
Additionally, there are 13 complaints and terrible sales for this model year.
What To Look Out For in Terms of Unreliability
Here are problems to look out for when buying problem-ridden Prius model years:
Musty Air Conditioners
There were numerous complaints about the air conditioning systems of these unreliable years having a weird smell, which might have been caused by the drain pipes getting blocked off in the evaporator.
Brake Issues
At about 100,000 miles, users complained that Toyota Prius brakes stopped working with no known cause.
Electrical Wiring Issues

Toyota Prius models are eco-friendly and this is seen in their replacement of plastic and glass wiring with soy-coated wiring, but this is not without its issues.
The soy-based coating attracts rodents that feast on the wiring, causing issues that are not covered under Toyota's warranty.
Piston Rings and Excessive Oil Consumption

The years that have been tagged unreliable had a high number of complaints about the oil consumption being high, and this was linked to a fault with the piston rings.
Related: Toyota Prius In Snow & Winter Driving? (Explained)
The Years With Lesser Complaints
The years 2013 and 2015 Toyota Prius recorded fewer complaints overall than the rest of the years.
Part of the issues recorded was cracking of the windshield with no accident or the refusal of the cars to start even though they had no electrical issues.
The issues with these models (2013 and 2015) were reported even under low mileage as against those recorded for the other years that had issues at high mileage.
What Are Some Typical Problems With Toyota Prius Cars?
Toyota Prius models are considered a good choice in terms of power management.
Its hybrid powertrain and large interrior space makes the car ideal for those looking for a frugal daily driver.
Here are some of the typical problems you can expect from the Toyota Prius:
1. Cracking Windshield
One of the most common problems of Toyota Prius is that the windshields are prone to cracking without having a known cause.
These cracks affect the windshield and need total replacement when it occurs, with the average cost pegged around $800.
Some owners of Toyota Prius models with complaints about the cracked windshield say that it occurs at about 18,000+ miles.
2. Excessive Oil Consumption
Topping the list for excessive oil consumption is the Toyota Prius 2010 and 2011, with the owners saying that it is a pretty bad issue.
In the beginning, the oil consumption is linked to the piston rings and the cover gasket, which are easily changed to stop the problem.
This escalated over the years with the owners having to change the entire engine, and this costs an average of $3,000 to $4,000.
3. Headlight Issues
The 2007 Toyota Prius records the most complaints about headlight issues, with the owners complaining that these lights go off with no warning.
To solve this headlight issue, owners of Toyota Prius models have to change the bulbs or the entire lighting module.
In less severe cases, simply turning the headlight off and on resolved the issue.
4. Dashboard and Other Interior Issues
Toyota Prius 2007 owners had a lot of complaints about the dashboard giving them problems.
The dashboard caused things like the malfunctioning of the backup camera, faulty warning system and epileptic display of the infotainment system.
These owners further added that the problems were due to faulty batteries that had to be replaced.
To learn further about the common problems with Toyota Prius Models, their causes and possible solutions, you can read our in-depth article about the common Toyota Prius problems.
Go back: Best/Worst years for all Toyota models.
ⓘ The information in this article is based on data from National Highway Traffic Safety Administration (NHTSA) recall reports, consumer complaints submitted to the NHTSA, reliability ratings from J.D. Power, auto review and rating sites such as Edmunds, specialist forums, etc. We analyzed this data to provide insights into the best and worst years for these vehicle models.
Was this article helpful?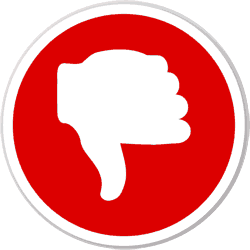 Did you find wrong information or was something missing?
We would love to hear your thoughts! (PS: We read ALL feedback)
ⓘ  The information in this article is based on data from National Highway Traffic Safety Administration (NHTSA) recall reports, consumer complaints submitted to the NHTSA, reliability ratings from J.D. Power, auto review and rating sites such as Edmunds, specialist forums, etc. We analyzed this data to provide insights into the best and worst years for these vehicle models.
---