The Chevy Trailblazer is a popular SUV, which is why it returned after an eight-year hiatus. Despite its popularity, there are several common problems that owners have reported.
Before we start, bookmark our article about how long the Chevy Trailblazers last.
This article will look at some faults the Chevy Trailblazer presents.
1. Road Noise
When you buy a new car, you don't want to listen to the road while you drive. Unfortunately, that's precisely what many Chevy Trailblazer owners have to deal with.
There have been multiple reports of road noise coming from the tires or suspension. Sometimes, it's so bad that it makes it difficult to enjoy the car's stereo system.
The Chevrolet Trailblazer is an economy SUV. As such, it's not surprising that it would have some noise issues.
Noise-cancelling technology is available on many vehicles, but there have been no reports of Chevy putting it in their Trailblazers. Instead, it's a premium feature other SUVs add to improve the experience for their customers.
In his review of the 2021 Chevrolet Trailblazer, Miguel Cortina, the managing editor for MotorTrend en Espanol, complained that
"every bit of noise generated by those bumps rings loud and clear inside the vehicle."
The only way to avoid this problem is to purchase the AWD model with active noise cancellation.
And even that doesn't guarantee a quiet ride. In a review of the ACTIV, the top-of-the-line trim for the Chevrolet Trailblazer, the person testing the vehicle complains that you can hear every bump on the road despite the smooth ride.
2. Body Shakes
Your car should stay in place when you're driving on the highway. Unfortunately, some Chevy Trailblazers shake so much that it ruins the driving experience for new owners.
Cortina listed this problem in his review of the 2021 Trailblazer.
"Over the broken pavement, the body shakes like a wet dog."
It's not only shaky over bumps and imperfections in the road. Users report the 2021 Chevy Trailblazer shakes at highway speeds, making some drivers feel unsafe in the popular SUV.
Unlike the noise problems, you can't ignore the body shaking. It's a safety hazard that needs to be addressed.
First, the vehicle shouldn't shake at any speed.
Common reasons your Chevy Trailblazer shakes are a bad axel, rusty suspension or steering parts, and misaligned wheels.
How can you fix body shakes?
First, make sure your wheels are balanced. Take the vehicle for maintenance and tire rotation every 5,000 to 7,000 miles. This step will reduce the wear and tear on your tires and help the SUV stay stable at high speeds.
Also, consider wheel rotation. Rotating the tires can help prevent your SUV from tilting or shivering when you drive on rough roads.
This service is a regular part of vehicle maintenance that can reduce wear and tear.
3. Speed Control Issues
A safety system defect that GM is working on involves unintended acceleration.
The National Highway Traffic Safety Administration (NHTSA) is investigating complaints of unintended acceleration in the Chevrolet Trailblazer.
The NHTSA received multiple reports from Chevy Trailblazer owners that their vehicles accelerated out of control at speeds above 40 MPH, with one driver reporting speeds of over 100 MPH.
What can you do to avoid unintended acceleration?
The vehicle owners with this problem also reported the brake pedal didn't stop the SUV effectively. This is a significant safety issue that requires action. Turn the vehicle off and take it to the dealership.
Luckily, this issue is limited and may not affect you. You can read more about the complaints from January 2022 at the National Highway Traffic Safety Administration's website.
4. Sluggish Engine
The standard Chevrolet Trailblazer trim is not for you if speed and handling are what you desire. Even the turbo engine struggles to get up to 60 MPH.
However, if you're looking for a safe family SUV that can carry up to seven passengers, the Trailblazer makes an excellent choice.
One of the most common problems with the Chevrolet Trailblazer is its sluggish engine. The three-cylinder base engine is weak and lazy, taking a long time to get up to 60 miles per hour.
It also struggles to pass vehicles at highway speeds.
Luckily, Chevy also offers a more powerful 1.3-liter turbo engine option that can crank out up to 155 horsepower and 174 pound-feet of torque.
While this model is still not the quickest SUV on the road, it offers significantly better performance than the base engine.
5. Equipment Failure
The Chevy Trailblazer has been recalled for several issues, including equipment failure that can cause a fractured jack.
In some cases, the emergency jack included with the SUV may not be positioned appropriately. If this happens, it can fracture while in use and cause the vehicle to collapse.
This increases the risk of injury for anyone inside the SUV.
If you need to use the emergency jack, carefully follow your owner's manual instructions.
Take your vehicle to the dealership to replace the jack to fix the problem.
You should also take your SUV in for regular maintenance and tire rotations to help keep it running smoothly and safely on the road.
6. Failure of Electric Brake Boost
You never want to experience a problem with your brakes. Unfortunately, one of the recalls for the Chevy Blazer involves the electronic brake boost assist sensor.
If the sensor connection gets contaminated, it can interrupt the communication between the sensor and the brake boost system.
This can lead to a loss of braking power, increasing the risk of an accident.
It's vital to take your SUV to the dealership to fix this issue immediately. There's nothing you can do on your own end to correct or stop the problem.
Customers also reported squealing brakes, power steering issues, and premature wear on the tires.
The best way to avoid these problems is to take your vehicle in for regular maintenance and check-ups. You should also be cautious when driving and stay up-to-date with recalls.
7. Missing Front Seat Attachment Bolts
Some vehicles had an error during the manufacturing process, which led to missing front seat attachment bolts. The full scope of the recall is unknown.
This problem is significant and requires an immediate trip to your dealership for repair.
This can cause the seats to become detached from their mounting points, posing a risk of injury to passengers.
If you notice the seat is loose, contact your dealership immediately to fix this problem. Don't drive the vehicle until it's been adequately repaired.
Overall, the Chevy Trailblazer has several common issues that can affect you and your family's safety and performance on the road.
8. Stiff Ride
While the Chevy Trailblazer is a great SUV for families, it's not the most comfortable ride available. On- or off-road, customers report feeling every bump and uneven pavement.
The suspension is on the stiff side, leading to a bumpy and jarring ride over uneven roads.
The trailblazer also struggles to smooth out bumps and potholes. None of the trim levels offered on the SUV offers an enhanced suspension, making it difficult to improve the ride quality.
What's disappointing is the stiff ride means the iconic Trailblazer isn't suitable for off-road adventures, either. So, that's clearly a downer if you're looking for an SUV that can take on some tough terrain.
Overall, if you're looking for a comfortable ride, you may want to consider a different SUV, such as the Honda Pilot or Ford Explorer.
9. Transmission Performance
The optional nine-speed automatic gearbox in the Trailblazer has been found to vary significantly during testing. In one test vehicle, it drove well with no hiccups.
However, a second test vehicle with the same transmission took longer to drop and ruined the driving experience completely.
Combined with the sluggish engine, the Trailblazer doesn't get a good score for power and performance.
If you're looking for an SUV with a smooth and responsive transmission, it's best to look for a different vehicle.
10. Low Comfort For Larger Drivers
Drivers that aren't petite may find the Chevy Trailblazer uncomfortably snug. This is because they have constructed the seat and interior design for smaller bodies, which leads to a cramped feel for taller drivers.
The back seats don't offer a lot of wiggle room, either. The smaller size means it really doesn't seat five passengers comfortably. If you have a larger frame, it's best to test drive the Chevy Trailblazer before making a purchase.
So, if you're looking for an SUV that can accommodate a larger family or taller passengers, the Trailblazer may not be the best option. You'll want to consider a three-row SUV that's better for multiple people on a road trip.
You may find the SUV too uncomfortable for regular use.
While the SUV has its fair share of problems, it's still a good option for small families that need space and utility. To improve your driving experience and stay safe on the road, visit the dealership regularly for maintenance and checkups.
Sources:
Was this article helpful?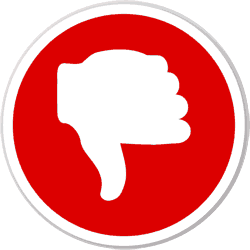 Did you find wrong information or was something missing?
We would love to hear your thoughts! (PS: We read ALL feedback)