The Toyota C-HR is a new crossover SUV, which made its debut in 2016. This vehicle is popular for its higher ride height and sporty, coupe-like design.
However, despite being a splendid car, the C-HR has its best and worst model years and to get the best experience from your C-HR, we've examined these great and not-so-great years.
Join us as we explore the different reasons that make each year stand out from the others.
The Best and Worst Years for Toyota C-HR Are:
The Toyota C-HR that has gotten the least complaints from owners so far include the years 2017, 2020, 2021, and 2022. The worst model years otherwise include 2018 and 2019, as they have the most complaints from owners and most car critics.
What Toyota C-HR Years Are the Most Reliable?
According to owners' complaints and many car critics, these model years have the least problems and issues. We explore them below.
Before we dive in, would you like to know where Toyota makes the C-HR?
1. 2017 Toyota C-HR
The 2017 C-HR has received overall favorable reviews from its owners so far. Most owners appreciated the car for being fun to drive, fuel-efficient, comfortable, and well-equipped with stylish and distinctive style.
For this model year, Car Complaints recorded only one complaint on its platform so far. It involves issues with the engine, resulting in
Power reduction
An unpleasant smell, and
A shaky car
Though engine issues are often critical, the few to no complaints made this model year reliable.
NHTSA, however, recorded zero complaints and zero recalls for the 2017 C-HR. Note that while these figures may prove the 2017 model year is highly reliable, it may also be because of the limited availability of the 2017 model year in America, as C-HR was not available in America until 2018.
This makes it impossible for most American car experts to rate the 2016 and 2017 model year. However, using the Australian database, CarsGuide gave the 2017 C-HR a reliability rating of 4.5 out of 5 stars.
The Australasian New Car Assessment Program (ANCAP) gave it a safety rating of 5 out of 5 stars.
From research, most American car retailers and websites do not have the 2017 C-HR for sale on their platforms. However, buyers can order one from Australia, using online retailers.
2. 2020 Toyota C-HR
The 2020 C-HR is popular for its
Striking design
Agile handling
Full-speed range dynamic radar cruise control
Reasonable price, and more
Car Complaints reported 13 complaints from owners overall.
However, the NHTSA site only recorded 7 complaints from owners and 1 recall. Either way, these reports are fewer compared to some year models.
The 2020 C-HR also proves quite reliable, with one of the best reliability ratings from many car experts.
According to Cars.com Consumer Review, this model year has a reliability rating of 5 out of 5 stars and an overall rating of 4.9 stars, which is excellent. 96% of drivers recommended the car, based on 26 reviews.
J.D. Power awarded the 2020 C-HR a predicted quality and reliability rating of 86 out of 100, which denotes a great reliability score.
This model year has a safety rating of 9.9 out of 10 from the Insurance Institute for Highway Safety (IIHS). This denotes the highest rating of 'Good' in most categories.
The National Highway Traffic Safety Agency (NHTSA) also awarded it a five-star for safety, which is excellent.
Before we continue, while the model years are generally a reliable car, would you like to know about the C-HR in snow and winter driving?
3. 2021 Toyota C-HR
The 2021 C-HR includes many characteristics that set it apart from its competitors. These characteristics include its
Low prices
Fuel efficiency
Good grip
Little body roll, and
Excellent handling, among others
It is also one of the most reliable model years, with fewer complaints compared to the others.
Car Complaints reported only 2 complaints on its platform and 19 combined with NHTSA reports. However, the NHTSA only reported 9 complaints and 1 recall for this year.
Cars.com reported a 4.8 reliability score and a 4.9 overall score from 27 reviews, while 96% of drivers recommended the car. J.D. Power also awarded the car an 80 out of 100 score for predicted quality and reliability.
For the safety rating, IIHS awarded the 2021 C-HR a score of 9.6 out of 10. It also awarded it its Top Safety Picks. NHTSA also awarded it five stars for safety, which denotes excellence.
Overall, the 2021 C-HR is another good choice for buyers who are considering getting a used car.
4. 2022 Toyota C-HR
Enough features come with the 2022 Toyota C-HR, which makes it popular among car owners.
They include
A fun and engaging handling
A comprehensive set of driver aids
Standard features that offer excellent value
Strong fuel economy, and
Bold exterior styling
According to Car Complaints, the 2022 C-HR has zero complaints from owners so far. The NHTSA also recorded zero complaints and recalls.
For ratings, J.D. Power rated the 2022 C-HR strongly, by awarding it 81 out of 100 scores for quality and reliability. Cars.com rated it 5.0 out of 5 stars for reliability, and 4.6 stars for overall rating.
The safety ratings reported a 9.3 out of 10 score from IIHS, which denotes a "Good" overall rating.
The NHTSA also awarded it a 4/5 star safety rating, with four stars in the frontal collision and rollover test and five stars in the side impact test.
From these reports, one can safely say the 2022 C-HR is surely a reliable choice for buyers, but would you like to know how long Toyota C-HR last?
What Toyota C-HR Years Should You Avoid?
Toyota C-HR model years do not have many complaints compared to some competitors. However, owners have reported higher complaints in some model years than the others. We explored them below.
1. 2018 Toyota C-HR
The 2018 C-HR reported the most complaints from owners compared to other C-HR model years so far. According to Car Complaints, the 2018 model year has 130 complaints overall.
The NHTSA, however, reported 80 complaints and 1 recall.
The recall includes the electronic parking brake (EPB) that may not function properly, while complaints include issues with the windows/windshield, as some owners reported windshield damage, which in most cases, needed a replacement to fix.
Note that this wasn't cheap, according to these reports. A few owners have reported this may be owing to a defective or bad slant to the windshield.
There are also complaints of window issues relating to visibility, where owners complained of limited visibility in the sides and rear, making it difficult to see when reversing or changing lanes.
Some owners further reported the body between the back window and door window barricaded the visibility of oncoming cars.
Other complaints include issues with the suspension, which can be noisy and uncomfortable, especially while navigating uneven terrain.
There are also reports of transmission issues that can cause the transmission to jerk or lurch occasionally, especially while changing gears slowly or when the car is starting up.
A few owners also expressed their displeasure with the significant wind noise that their cars make when traveling at high speeds, especially on the driver's side.
Other complaints owners have reported involve faults with the
Electrical systems including the infotainment system malfunction
Warning lights turn on suddenly, and
The battery depletes too quickly
While we can't explore all complaints, other issues include
Problems with the fuel system
Brake problems
Engine issues
Issues with steering, among others
However, aside from these complaints, some car critics have awarded the C-HR high-reliability ratings, which means this model year is not bad in its entirety.
Such is the reliability score of 4.8 out of 5 stars from Cars.com consumer reviews. It got 88% of recommendations from drivers based on 199 reviews.
J.D. Power also gave it an above-average score of 4 out of 5 predicted reliability score. The safety ratings also feature a safety score of 9.3 out of 10 scores from the IIHS and 5 out of 5 stars from the NHTSA.
However, opting for this model year, buyers should consider the complaints from owners, which is the most of the model years. Though not as many as in some competitors.
2. 2019 Toyota C-HR
The 2019 C-HR has the most complaints after the 2018 model year. However, these complaints are fewer compared to specific brands in the same category.
According to Car Complaints, the 2019 model year has 38 overall complaints from owners. NHTSA, however, reported 20 complaints and 3 recalls.
The first recall includes a seat belt webbing sensor locking mechanism failure to lock.
The second recall, however, addresses the rear axle hub bearing bolts that didn't tighten properly and the third addresses the load capacity label's lettering that had become unreadable.
However, complaints include issues with the transmission, where the CVT transmission can be abrupt or slow to react, especially when changing gears at low speeds or when the car is starting up.
Owners also reported electrical difficulties that affected the infotainment system negatively, causing it to freeze or resume suddenly.
Some owners, however, reported experiencing the effect of electrical issues on the warning lights in their vehicles, which can turn on erratically.
A few owners reported significant wind noise that their cars make when traveling at high speeds, while others mentioned premature rotor and brake pad wear that can cause less effective braking.
Complaints as well include inefficiency of fuel in the car, where the fuel efficiency is less than they expected and more.
However, for reliability, most car critics rated the 2019 C-HR above-average scores. According to U.S. News and J.D. Power, the 2019 Toyota C-HR has a little above-average reliability score of 3.5 out of 5 stars.
Cars.com consumer review, however, awarded it a Reliability score of 4.8 out of stars, while 93% of 92 reviews recommended the car.
Safety ratings include 9.6 out of 10 from IIHS and 5 of 5 stars from NHTSA, which are both excellent scores.
These ratings denote the 2019 C-HR may be another model year that is not so bad, except for the complaints, which is more compared to other model years.
What Are Some Typical Problems With the Toyota C-HR Models?
Despite the many issues owners have reported in their C-HR, some issues are typical in some model years more than others. We listed them below.
Transmission difficulties
Electric problems
Brake issues
Visibility issues
Issues with fuel efficiency
Suspension issues
Problems with engine efficiency
For more information, check our article on Toyota C-HR issues. 
Go back: Best/Worst years for all Toyota models.
Was this article helpful?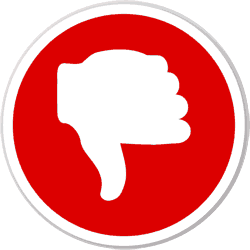 Did you find wrong information or was something missing?
We would love to hear your thoughts! (PS: We read ALL feedback)
ⓘ  The information in this article is based on data from National Highway Traffic Safety Administration (NHTSA) recall reports, consumer complaints submitted to the NHTSA, reliability ratings from J.D. Power, auto review and rating sites such as Edmunds, specialist forums, etc. We analyzed this data to provide insights into the best and worst years for these vehicle models.
---