The Land Rover Range Rover is a full-size SUV with four-wheel drive and V8 power. These four four-door utility vehicles have struggled with mechanical and electrical issues over their five generations of production.
The best year of the Land Rover Range Rover is a model still under warranty.
The Range Rover is an expensive car to purchase and maintain. If you fail to perform the proper maintenance, it will let you down. It's not a matter of if. It is a matter of when, which is true with most cars.
Let's dive into the good and bad years.
The best and worst years for Range Rover are as follows:
The best Range Rover models are all the newer models from 2019 forward. However, the 2001, 2003, 2009, and 2013 models also fall into the category of the best years. On the other hand, the worst years of the Range Rover are 2003 and 2004, 2006 to 2008, and 2014.
The production of the Range Rover spans 53 years and has gone through five generations of development under the management of three companies.
Some years were great, while others were less than optimal.
The Range Rover was Land Rover's first run at an SUV.
The fact that it is still being built five decades after its debut is a testament to its popularity. The Range Rover has carved a spot in the full-size SUV market as the luxury marque to emulate.
Few SUVs have reached the Range Rover's worldwide status. However, as a state vehicle, estate car, or daily driver, the newer models have competitive technological goodies and safety features. In addition, the last generation of Ranger Rovers is the most reliable of any that came before.
What Range Rover years are the most reliable?
As with any vehicle, some years are more reliable than others, and the Range Rover is no different. However, overall, the Range Rover has been deemed one of the least dependable vehicles ever built,
It is in this generation that Land Rover dropped the old V8s and added the power of a 4.4L BMW V8 from 2001 to 2005.
From 2005 to 2009, power was derived from a 4.4L Jaguar V8 and a 4.2L supercharged V8 in some models from 2005 to 2009.
From 2010 to 2012, the Range Rover was powered by a 5.0L V8. From 2009 to 2012, a 5.0L supercharged V8 was offered on some models.
There was also an inline 6-cylinder diesel from BMW from 2001 – 2006.
A 3.6L Ford V8 turbo-diesel was optional power on 2006 to 2010 Range Rovers, and from 2010 to 2012, optional power was from a 4.4L turbo-diesel V8.
2001 Range Rover
The 2001 Range Rover is probably the most reliable that Land Rover has ever produced.
If you are in the market for a vintage SUV, this one is worth a look if it has been maintained. This advice goes for any used car.
You never know how well someone has maintained their classic, because shiny chrome and waxed paint won't get it down the road.
Generally, the Range Rovers models also have great visibility from the driver's seat. Here's a list of mid-size SUVs with good visibility.
2003 Range Rover
Receiving a 4.1 out of 5 rating from Edmunds for 2003, it was one of the better years to buy a Range Rover.
It is also one of the better years to purchase if you are in the market for a classic SUV. Owners of this model Range Rover gave the 2003 model high marks for:
reliability and quality,
driving experience,
off-roadability,
spaciousness,
and technology.
However, the sticking points with owners were the same as many other models and included a glitchy infotainment system, transmission, and fuel efficiency.
But the rating is an improvement over other models of the Range Rover.
The 2003 Range Rover was built two years into its third generation of production. The result was that everything about it improved. However, luxury features continued to dominate, and the boxy, utilitarian coachwork, or the early models, was left behind.
Although still somewhat boxy, the sharp edges of the 2002 Range Rover were more rounded, and the coachwork took on a statelier appearance.
Sadly, however, reliability is still a problem with this generation of the Range Rover, also.
2009 Range Rover
The robust performance of the supercharged model gave the already powerful Range Rover a throaty voice and a zero to 60 mile per hour time of 7.2 seconds.
It's not a sports car fast, however, it's quick for a vehicle that weighs two and a half tons, can pull a trailer, and seat six to eight passengers.
This model had fewer problems than others and is still new enough that if you can find one with low miles, get it, especially if it is a supercharged model.
2019 to 2021 Range Rover
The fourth generation of the Range Rover is the most reliable iteration of this icon to come to market.
Moving away from the GM-designed engines of models produced before 2010 has pushed the Range Rover up the reliability ladder.
However, the years of bad reviews and problematic models have made it hard for any model of the Range Rover to rise very high in reliability standings.
Yes, sales have continued for over 53 years, and bad ratings aside, there is a reason for that.
2022 and 2023 Range Rover
The sixth iteration of the iconic Range Rover includes the 2022 and 2023 models.
So far, complaints are few and far between, so if you are in the market for a luxury SUV, now is the time to consider a Range Rover.
Because after many years of development, Land Rover has gotten this SUV very right.
What Range Rover years should you avoid?
The Range Rover is Land Rover's flagship model. Introduced in 1970, it has come a long way in reliability, performance, and appearance in the last 50 years.
The 1970 model, its first model year, is noted as one of the best years for the Range Rover. That is because it was the first time civilians could get their hands on a vehicle with military roots.
But, of course, its great off-roadability traits combined with creature comforts didn't hurt its charm, either.
Although not complaint free, the early years of Range Rover models had fewer problems in the first few years of production.
As Land Rover moved toward transforming the Range Rover into a luxury vehicle over the decades, they also made changes that worked sometimes and didn't at others.
Some of the new technologies were stymying the engineers as each model rolled out, and it has taken time to iron out the problems with every generation of the Range Rover.
2004 Range Rover
Receiving a high 4.2 out of 5 for reliability, the 2004 Range Rover from Edmunds has high rankings for.
reliability,
build quality,
ride quality,
off-road ability,
towing ability,
and acceleration.
However, as good as the ranking is, this model year had electrical issues, low fuel mileage, and transmission problems.
In other words, they are the same as they were for most models of that vintage Range Rover.
2006 Range Rover
Raising the bar, the 2006 Range Rover received a rating of 4.4 for the 2006 model year.
The accolades for this model mirror those of 2004, including high acceleration and off-road ability marks.
However, the problems that it does have can be expensive, inconvenient, and time-consuming. These problems include poor build quality over previous models and engine, transmission, and electrical issues.
These are problems that continued to impede the production of the Range Rover.
2007 and 2008 Range Rover
Accolades for the 2007 and 2008 Range Rover included mentions of the powerful performance of the supercharged powered models.
In addition, the ride is comfortable, the vehicle is spacious, and the most prevalent complaint was the price and smaller cargo space compared to the competition.
So, what is good about the Range Rover is great, but what is wrong with it can be bad, and the 2007 and '08 models were no exception. Complaints for these model years include abysmal fuel mileage (12 mpg city/18 mpg highway) are low numbers and add to the cost of operating your vehicle.
As with other models, the 2007 and 2008 Range Rovers still had problems with the engine, transmission, suspension, and electronics.
2013 Range Rover
The 2013 model is a fourth-generation Range Rover, statelier than the version before.
Power for this gen is paired down, and the only V8 in the line-up is a 5.0L, a supercharged variant.
A petrol-fueled 3.0L V6 is another option for power, and this generation produced the first hybrid Range Rover.
It uses a 3.0L inline 6-cylinder and mild hybrid features that extend the Range Rover's fuel mileage while making it more efficient.
While that may make the 2013 sound like one of the best Range Rovers, it wasn't and had problems, which led J.D. Powers to give it an abysmal 2.0 or five. They found that there were problems with airbags, brakes, latches, and locks, which are serious safety issues.
What are some typical problems with the Range Rover models?
We have a more in-depth list of Range Rover models with the most recalls here.
Almost every vehicle has issues; however, the Range Rover has more than its share. Still, the problems it does have are repairable, but they are expensive.
So, unless yours is under warranty, expect to pay a premium price for any repairs your Range Rover will need over its useful life.
There are a few problems that seem to be numerous and are as follows:
Brake problems
Powertrain issues
Engine problems
Timing chain problems
Oil leaks
Suspension problems
Electrical problems
Whether buying a new or used Range Rover, having it looked at by a reputable mechanic may save you a lot of headaches down the road.
This vehicle must be inspected before buying, unless it is new and fresh off the lot or has a warranty.
Was this article helpful?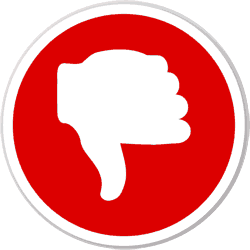 Did you find wrong information or was something missing?
We would love to hear your thoughts! (PS: We read ALL feedback)
ⓘ  The information in this article is based on data from National Highway Traffic Safety Administration (NHTSA) recall reports, consumer complaints submitted to the NHTSA, reliability ratings from J.D. Power, auto review and rating sites such as Edmunds, specialist forums, etc. We analyzed this data to provide insights into the best and worst years for these vehicle models.
---