Nissan's GT-R, often referred to as "Godzilla," has become an icon in the world of performance cars since its introduction in 2007. 
Over the years, this high-performance sports car has undergone several changes and upgrades, making each year's model unique in its own way. 
With so many different GT-Rs to choose from, it can be challenging to determine which ones are worth the investment and which should be avoided. 
In this article, we will delve into the best and worst Nissan GT-R years, examining the stats and providing examples to help you decide which model is right for you.
The Best and Worst Years for Nissan GT-R Are:
According to reliability ratings and owner reports, the best years for the Nissan GT-R are 2010-2014, 2015, and 2017. These years offer strong performance and above-average reliability. On the other hand, the worst years for the GT-R are 2009, 2012, and 2016. 
What Nissan GT-R Years Are the Most Reliable?
For car enthusiasts and speed junkies, the Nissan GT-R has always been a top contender, with its reputation for blistering performance and sleek design. 
But with the release of each new model year, questions inevitably arise about the car's reliability. 
Below, we'll explore the Nissan GT-R's most reliable years, giving you the information you need to make an informed decision about buying this iconic sports car.
2010-2014 Nissan GT-R
The Nissan GT-R has been a popular sports car since its introduction in 2007; the 2010-2014 model years are no exception. 
These model years are known for their impressive performance and reliability, making them a favorite among car enthusiasts.
One of the reasons for the reliability of these model years is the attention to detail that Nissan put into their design and engineering. 
The GT-R's twin-turbo V6 engine was refined over the years to produce even more power. The advanced all-wheel-drive system and suspension helped deliver incredible handling and stability. 
The 2012 Nissan GT-R, in particular, is often considered the best option in this range due to several key updates: 
The suspension was revised to provide even better handling, and the transmission was improved to deliver smoother shifts.
The engine also received an upgrade, with an increase in horsepower from 485 to 530.
The 2012 model year also introduced a new touchscreen interface for the infotainment system, making it easier to use.
The ongoing improvements by Nissan helped ensure that the GT-R remained a reliable and beloved sports car over the years.
With impressive power, handling, and technology, coupled with a reputation for reliability, it's easy to see why the GT-R remains a favorite among car enthusiasts. 
2015 Nissan GT-R
The 2015 Nissan GT-R is another popular model year for this high-performance sports car. This model year has earned a reputation for being both loved and reliable among car enthusiasts, thanks to a range of features that contribute to its overall performance and durability.
One of the key factors contributing to the reliability of the 2015 GT-R is its powerful engine. 
This model features a twin-turbocharged V6 engine that produces up to 545 horsepower and 463 lb-ft of torque. The engine is paired with a six-speed dual-clutch transmission that delivers quick, smooth shifts and provides responsive acceleration.
In terms of reliability statistics, the 2015 Nissan GT-R has earned high marks from both J.D. Power and Consumer Reports. 
J.D. Power gave the 2015 GT-R a reliability rating of 4 out of 5
Consumer Reports gave it an overall rating of 4.5 out of 5.
In terms of safety, the 2015 Nissan GT-R also offers a range of features to help protect drivers and passengers. These include: 
A rearview camera
Front and rear parking sensors
Airbags throughout the cabin.
Overall, the 2015 Nissan GT-R is a reliable and well-loved model year for this high-performance sports car. 
2017 Nissan GT-R
This model year of the GT-R features a host of upgrades and improvements over previous models, making it even more impressive in terms of speed, handling, and overall performance.
Regarding reliability, the 2017 GT-R has received high marks from industry experts and owners alike.
According to J.D. Power, the 2017 GT-R earned a reliability rating of 4 out of 5, indicating above-average reliability.

Consumer Reports also gave the 2017 GT-R a 4 out of 5 reliability rating, citing few reported problems and a low repair frequency.
Owners of the 2017 GT-R have praised its reliability, with many reporting trouble-free driving experiences even after several years of ownership. 
Proper maintenance and care are crucial for any vehicle, but the 2017 GT-R has proven to be a reliable and durable sports car that can handle high speeds and intense driving conditions.
Beyond its reliability, the 2017 GT-R is also loved for its: 
Advanced technology
Sleek design
Impressive performance. 
Its upgrades and improvements over previous models have made it even more impressive, and its high marks for reliability and low repair frequency make it a smart choice for car enthusiasts who value both performance and durability.
What Nissan GT-R Years Should You Avoid?
The Nissan GT-R has been a beloved sports car for more than a decade. However, like many vehicles, the GT-R has had its fair share of reliability issues over the years. 
While some model years have proven to be dependable, others have left drivers stranded on the side of the road. 
In this section, we'll dive into which Nissan GT-R years you should avoid if you're looking for a reliable ride. 
2009 Nissan GT-R
The 2009 Nissan GT-R, the first year of production for the US market, was a highly anticipated sports car with impressive performance capabilities.
However, this model year has been known to have some reliability issues that have caused frustration for owners. 
According to Consumer Reports, the 2009 Nissan GT-R has a below-average reliability rating, with an overall score of 2 out of 5. 
This is based on reported problems with the transmission, suspension, and brakes and issues with the electrical and fuel systems.
Common issues with the 2009 Nissan GT-R include:
Reports of grinding noises, rough shifting, and even complete transmission failure. 

Suspension problems, including leaks and failure of the shock absorbers.

The brakes have been known to wear out quickly,
The electrical and fuel systems have reported issues as well
Beyond the reliability issues, some consumers have also criticized the 2009 Nissan GT-R for its lack of refinement and comfort. 
The ride can be harsh, the cabin is noisy, and the seats are not particularly comfortable. Additionally, some have noted that the GT-R's performance capabilities can make driving difficult in everyday situations, with a heavy clutch and limited visibility.
Overall, the 2009 Nissan GT-R has been plagued by several reliability issues.
While this model year certainly has its fans for its impressive performance capabilities, it's important to consider the potential maintenance and repair costs before purchasing.
2016 Nissan GT-R
The 2016 Nissan GT-R is a high-performance sports car that has received acclaim for its impressive power and handling. 
However, some consumers have reported reliability issues with this model year.
According to reliability data from J.D. Power and Consumer Reports, the 2016 GT-R has below-average reliability ratings.
In J.D. Power's study, the 2016 GT-R received a rating of 2.5 out of 5. 
Consumer Reports gave the 2016 GT-R a reliability score of just 1 out of 5.
After assessing consumer complaints, below are some of the main issues listed by GT-R owners: 
Transmission:

One of the main issues GT-R owners reported is the transmission, particularly with rough shifting and jerky movements. 

Suspension:

 Some owners have also reported issues with the suspension, including rattling and clunking noises. 

Interior quality:

 Some have reported concerns with the GT-R's interior quality, particularly with the use of cheap materials and lack of storage space. 
These issues can be particularly concerning for a high-performance vehicle like the GT-R, which requires precise handling and control.
If considering a 2016 GT-R, it's essential to thoroughly inspect any potential vehicle by a qualified mechanic and be prepared for possible transmission and suspension issues.
2020 Nissan GT-R
The 2020 model year saw some updates to the GT-R, including a revised turbocharger and an improved transmission. 
However, when it comes to reliability, the 2020 Nissan GT-R has a mixed reputation.
According to the reliability ratings from J.D. Power, the 2020 Nissan GT-R has a predicted reliability rating of 2.5 out of 5.
This rating is below average for the industry, meaning the GT-R is expected to have more problems than many other vehicles in its class. 
While the reliability ratings for the 2020 Nissan GT-R are not particularly impressive, there are still many owners who are very satisfied with their cars. 
According to reviews on websites such as Edmunds and Cars.com, the GT-R is praised for its incredible performance, impressive handling, and distinctive styling. However, there are still some complaints. 
Common complaints include:
Problems with the transmission, such as rough shifting or slipping gear
Issues with the car's electronics and electrical systems.
Some owners have reported problems with the car's suspension and brakes, which can be costly to repair.
Overall, it seems that the 2020 Nissan GT-R is a car that is loved by many for its performance and styling but that also has some reliability issues that can be frustrating for owners.
What Are Some Typical Problems With the Nissan GT-R Models?
As I'm sure you know by now, Nissan's GT-R is known for its impressive performance, sleek design, and advanced technology. 
However, like any high-performance vehicle, they are not immune to problems. And whether you're a proud owner or considering purchasing a GT-R, it's essential to understand the typical issues that may arise.
Below, you'll find some of the most typical problems that Nissan GT-R owners encounter:
Brake issues
Condensation within headlights
Engine bearing issues
Transmission problems
For a more in-depth analysis, please read our article about common problems with Nissan GT-R cars.
It's worth noting that not all Nissan GT-R models will experience these issues, and many owners have reported trouble-free driving experiences. Regular maintenance and proper care can go a long way in preventing problems from arising. 
If you encounter issues, it's important to have them addressed promptly to avoid more significant and costlier repairs.
Back to best/worst years for all Nissan models.
Was this article helpful?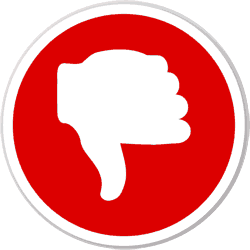 Did you find wrong information or was something missing?
We would love to hear your thoughts! (PS: We read ALL feedback)
ⓘ  The information in this article is based on data from National Highway Traffic Safety Administration (NHTSA) recall reports, consumer complaints submitted to the NHTSA, reliability ratings from J.D. Power, auto review and rating sites such as Edmunds, specialist forums, etc. We analyzed this data to provide insights into the best and worst years for these vehicle models.
---