A small and straightforward hatchback, the Mirage is a classic Mitsubishi model that's been in production since 1978.
While not a favorite with critics, the Mirage is a great budget car, particularly for city driving.
If you're sold on its 78-horsepower engine (which gets near-unbeatable fuel economy) and warranty-backed reliability, you'll probably want to know which years offer the best value.
Read on for our research on the Mitsubishi Mirage over the years.
The Best And Worst Years For Mitsubishi Mirage Are:
For the most reliability and comfort from your Mirage, choose one from 2002, 2018, or 2019. Years to watch out for include 2000, 2014, 2015, and 2017. While the Mirage is safe and reliable in general, these years saw spikes in mechanical complaints for the vehicle.
What Mitsubishi Mirage Years Are The Most Reliable?
Let's start with the 2002 model here.
2002
The contrast between consumer and expert reviews on the Mirage is jarring.
Car and Driver has consistently rated it less than 3 stars out of 10 for several years running, and other sites seem to feel similarly, often giving it less than a 50% rating.
Criticism often focuses on the cheap interior quality and lack of punchy acceleration, and insist you can find a better value in the Mirage's competitors.
But critics aren't the Mirage's target audience, and Mitsubishi doesn't seem to care about reviews.
They've pushed on with their economical little car's strengths, and have succeeded in keeping buyers happy.
Even back in 2002, the Mirage received an impressive 4.6 out of 5 from drivers, who praised its hybrid-esque fuel economy and easy maneuverability.
Mirages have also been known to last 160,000+ miles and still require little to no repairs aside from regular maintenance, so even a 2002 will likely have low ownership costs.
As an older car, the 2002 model won't have the newer tech features the way the latest generation does, but it will get you where you need to go:
comfortably,
reliably,
and inexpensively.
2018
Mitsubishi relaunched the Mirage in 2012, after several years of subbing it out with a similar model, the Colt.
While the first few years of the launch saw a small increase in mechanical defects, Mitsubishi had smoothed things out by 2018.
The model has only eight NHTSA complaints, and maintains a sold 4.4 out of 5 stars from Edmunds consumer reviews.
With strong reliability and simple, straightforward features, it's not hard to see why buyers are satisfied.
And the 2018 model also has all the benefits of a newer vehicle.
Even while maintaining their low sticker price, recent models of the Mirage still manage to offer great tech, including:
keyless entry,
a rearview camera,
touchscreen,
Bluetooth connections and USB input,
cruise control,
and automatic climate control.
The Mirage has also maintained its reputation for great gas mileage and a fairly strong safety record, making 2018 a great model year overall.
2019
2019 has seen only two consumer complaints for the Mirage, and zero recalls. While the vehicle is still on the newer side, that's an impressive record for the first 4 years of ownership.
A 2019 model may also still be covered under the basic 6-year warranty, and will still have quite a while left under Mitsubishi's 10-year powertrain warranty.
The vehicle also has the highest rating of "Good" under the IIHS safety rating system, and 4 out of 5 stars on the NHTSA safety scale, a fairly strong performance for such a little, light vehicle.
Consumers continue to stand in the Mirage's corner, rating it a 4.5 out of 5 on Edmunds. They tend to praise it's fuel economy, which is even higher than estimated in some cases, with drivers averaging around 48 MPG.
Other drivers love its unique and endearingly compact styling, which helps it stand out from other economy class vehicles.
What Mitsubishi Mirage Years Should You Avoid?
2000
The 2000 model landed right in the middle of the fifth generation of Mirages, and also saw the introduction of a parallel sedan, the Lancer.
It seems that Mitsubishi was already planning to phase out the Mirage, which disappeared for a few years after 2003.
Part of the reason for the decision may be that the Mirage had seen a dip in reliability over the 1999 and 2000 model years.
The top complaint in 2000 was an issue with broken door hinges, which often occurred at only around 60,000 miles.
Owners would have increasing difficulty opening and closing their doors, and the doors sometimes became misaligned, making them impossible to close.
The problem mostly affected the two front doors – some drivers report having to climb into the backseat to exit the vehicle.
This was followed by problems with the electrical system, where vehicles often lost power to their instrument gauges and other controls.
Issues with the brake system were also fairly common, with some drivers reporting that extended braking distances caused them to crash.
The model also saw five recalls, most dealing with aftermarket lighting replacements that failed to meet standards. Other recalls applied to the airbag labeling systems and to a potentially defective crankshaft pulley.
2014
The Mirage was recontinued in 2012, but it got off to a bit of a rocky start.
The NHTSA reports top driver complaints regarding the air bag system and the electrical system, as well as some having to do with various engine troubles.
In some cases, the airbag indicator showed a faulty reading, an annoying but also potentially dangerous problem. In some cases, drivers were even involved in crashes where the airbags didn't deploy, resulting in several minor injuries.
For the engine, drivers report various worrying noises, such as screeching upon start-up.
In other cases, coolant leaks were discovered, potentially leading to overheating and more severe mechanical problems.
While the Mirage still has an impressive 6-year warranty, and some issues did remain covered, others also fell right outside of the 60,000 mile cutoff.
Considering that a big part of the Mirage's appeal is its typically low ownership costs and steady reliability, we'd recommend going with a different model year for the best value.
2015
2015 saw a continuation of similar reliability issues to those found in the 2014 model. The vehicle has 37 registered NHTSA complaints, along with 2 recalls, but some of the problems were fairly severe.
Many drivers complain of troubles with the service brakes, several of which involved misaligned calipers. Other drivers reported a complete or partial failure of brake engagement.
Regardless of the exact cause, braking problems are always scary, and can considerably increase the risk of a crash.
Another top complaint had to do with the airbag system again, with many reports of failures in airbag deployment.
Thankfully, both of the recalls issued in 2015 were addressed to this problem, which affected nearly 85,000 vehicles.
The Mirage also continued to receive rather harsh reviews from critics, but neither the reviews nor the mechanical problems put a dent in the experience of many owners.
The vehicle still held a steady 4.3 out of 5 stars from consumer reviews on Edmunds, and a 4.5 out of 5 on Kelley Blue Book.
Drivers did tend to report slightly more issues with the CVT system rather than the standard manual 5-gear transmission.
Still, there are other models that provide the perks of the Mirage without the greater mechanical risks, so we'd stick with a year other than 2015.
What Are Some Typical Problems With The Mitsubishi Mirage Models?
Some of the issues most commonly seen with the Mitsubishi Mirage include:
Air bag system malfunctions
Premature brake wear
Faulty door hinges
As far as issues go, however, these problems are still fairly rare, and the Mirage consistently receives fewer than 50 NHTSA complaints each year.
Final Thoughts
The Mitsubishi Mirage is one of the cars with the smallest turning circle.
While the Mirage is far from receiving rave reviews, it definitely has its own little niche of appeal.
If you don;t mind its shortcomings and it checks a lot of your wishlist items, it can definitely be a purchase that repays on value.
Stay away from our suggested years to avoid, and you'll likely get thousands of worry-free miles out of your Mirage, even if its already seen a good amount of wear.
Sources
– 2015 Mitsubishi Mirage Values & Cars for Sale | Kelley Blue Book
– 2023 Mitsubishi Mirage Prices, Reviews, and Pictures | Edmunds
– 2021 Mitsubishi Mirage Review, Pricing, and Specs
– Mitsubishi Mirage – CarComplaints.com
Was this article helpful?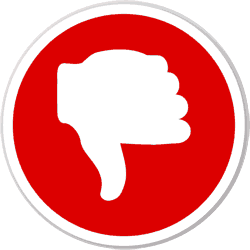 Did you find wrong information or was something missing?
We would love to hear your thoughts! (PS: We read ALL feedback)
ⓘ  The information in this article is based on data from National Highway Traffic Safety Administration (NHTSA) recall reports, consumer complaints submitted to the NHTSA, reliability ratings from J.D. Power, auto review and rating sites such as Edmunds, specialist forums, etc. We analyzed this data to provide insights into the best and worst years for these vehicle models.
---