The Chevrolet Colorado is a midsize pickup truck introduced in 2004 by GMC to replace the Chevy S-10.
That means there are plenty of excellent Chevy Colorado years for anyone seeking adventure.
The Chevy Colorado is well known to be efficient, safe, and reliable. They allow owners and passengers to explore the world as they please in style and comfort.
Despite being a favorite for many car enthusiasts, the Chevy Colorado has some models to be avoided at any cost because they may not provide you with the value you need for your money.
In this post, we will help you distinguish between the best and the worst years of the Chevy Colorado.
The Best and Worst Years for Chevrolet Colorado Are:
The best years for the Chevy Colorado you should consider buying are 2008, 2010, 2011, 2012, and 2020. On the flip side, the worst Chevy Colorado years to avoid are 2004, 2005, 2015, 2016, and 2018.
How Reliable is the Chevy Colorado?
Having been in the automotive market for almost two decades, the Chevy Colorado has proven itself a reliable vehicle.
It will handle rough terrain well.
The Chevy Colorado is also good in snow due to the high clearance.
If you already own one, you can sit back and relax for the next 15 years because your truck can run and drive up to 300,000 miles without issues. You can even make it last longer with regular maintenance.
When it comes to ratings, the Chevy Colorado gets a 4.0 out of 5.0 on RepairPal. It takes the fourth position out of seven midsize pickup trucks.
It's worth noting that Chevy has continuously worked to improve its reliability score. However, there's still more to enhance the overall vehicle.
As far as ratings are concerned, there's an alarming fluctuation in the latest models, with some of the latest ones receiving high ratings while others receive low ratings.
For instance, 2019 received a 1 out of 5 reliability rating. The 2020 model got a 5 out of 5, while 2021 earned a 2 out of 5.
Colorado seems to produce one perfect model and then mess up the next, and the cycle continues. That's why you may want to review different platforms' reliability ratings before making your final decision.
What Chevrolet Colorado Years Are the Most Reliable?
Some of the best Chevy Colorado years include:
2008 Chevy Colorado
The first few years of the Chevy Colorado had many issues that created doubt. However, the automaker didn't give up and continued working on the pointed issues. That's how the 2008 model came to life.
This performance-oriented model was well-received due to its good looks, promising crash test results, and good handling.
Available in regular, extended, and crew cab models, the 2008 Colorado is a great family truck that can carry three to six passengers. It comes in three trim levels, with the engine producing between 185 and 242 horsepower.
Owners also liked the fact that they could choose between a five-speed transmission and a four-speed transmission. They also loved the power windows, cruise control, tilt steering, and heated leather seats.
NHTSA also approved the 2008 Colorado as a safe model as it passed all tests with flying colors.
This vehicle received a reliability rating of 72 out of 100 from J.D Power and 6.1 out of 10 from U.S. News.
In fact, we see lots of older Colorado models on the roads. We have a good overview here of how long Chevy Colorados normally last.
2010 Chevy Colorado
They say newer is always better, but not for the carefully designed 2010 Chevy Colorado. This twelve-year-old model has the highest rating on J. D. Power and ranks number one among midsize pickup trucks.
It's still regarded as one of the best models to date, despite newer models coming into the market.
So far, the NHTSA has only issued two recalls and received 27 complaints about the 2010 Chevy Colorado. Considering that this model has been on the market for more than a decade, those are great numbers.
It's also crucial to note that the two recalls were not severe or costly. The first safety recall was issued due to the child restraint anchor system that was on the front seat.
This was more of a warning, and drivers were advised to keep children out of the front seat as much as possible.
The second recall was about the second hood latch, which wasn't strong enough to stay in place while driving. This recall affected vehicles produced from 2010 to 2012.
The best thing about this vehicle is its off-road abilities. It can withstand extreme weather conditions and rugged terrain. The towing capacity for this vehicle is also impressive, and you can rely on it to carry your personal belongings when out for adventure and goods for business.
The 2010 Colorado received a reliability rating of 83 out of 100 from J.D Power and 7.6 out of 10 from U.S. News.
2011 Chevy Colorado
Like 2010, the 2011 Chevy Colorado was also a success. If you're unable to find the 2010 model, you won't go wrong with the 2011 Colorado.
It comes in three engine options: four-cylinder, five-cylinder, and V8, which delivers between 185 and 300 horsepower.
The V8 engine gives it a potent edge over many of its rivals. If you are doing heavy hauling or towing, you should get the V8, which has an EPA-estimated 14 mpg in the city and 20 mpg on the highway.
The 2011 Colorado was issued with five safety recalls. Two of these were from the previous model we discussed and said affected the 2010 to 2012 models.
In January 2011, NHTSA issued a recall for the 2011 Chevy Colorado due to a rear axle pin fracture. If the cross pin is fractured, drivers will lose control of the truck. The other two recalls were about the transmission and windshield wiper motor.
The 2011 Colorado got a reliability rating of 80 out of 100 from J.D Power and 7.4 out of 10 from U.S. News.
2012 Chevy Colorado
The 2012 Colorado has high marks for reliability. It's not only sleek and versatile, but also affordable.
The 2012 Colorado comes standard with a four-cylinder engine for everyday driving. Unlike most compact pickup trucks, the Colorado has a V8 engine that delivers a more lively acceleration.
Regular cabs carry three people; extended cabs take five, while crew cabs can carry up to six people. The maximum towing capacity is 4,000 pounds, while the payload is 1,125 pounds.
The 2012 Colorado got a reliability rating of 81 out of 100 from J.D Power and 7.0 out of 10 from U.S. News.
2020 Chevy Colorado
The 2020 Colorado is one of the most reliable trucks you can buy today. While it's still new on the market, the lack of recalls or too many complaints already signal that it is a good vehicle.
NHTSA safety ratings and reliability ratings from J.D Power also point to more power and efficiency.
The 2020 Chevy has the highest towing capacity in its class. It also features:
powerful engines,
easy-to-use features,
and an upscale cabin.
It offers three capable powertrains and has plenty of hauling and towing ability. With five trims, you have plenty of options to choose from.
You will also like the modern safety features, including a rearview camera, rear parking sensors, lane departure warning, and forward collision warning.
The 2020 Colorado got a reliability rating of 81 out of 100 from J.D Power and 7.9 out of 10 from U.S. News.
What Chevrolet Colorado Years Should You Avoid?
The Chevy Colorado has a lengthy list of models with different issues.
Most models carry the same problems from previous years.
In some cases, the manufacturers caused those issues due to negligence; in others, the company manufacturers failed by creating faulty or substandard parts.
With that said, here are the worst Chevy Colorado years to avoid.
2004 Chevy Colorado
The first model of the Chevy Colorado came up with several problems. Users and car experts mainly criticized the horsepower, which they felt was underpowered.
Additionally, there were some transmission and braking system issues.
Owners reported instances where the brakes would fail, or the wheels would lock during emergencies. 
Moreover, this vehicle's heating and cooling system provided unsatisfactory results.
2005 Chevy Colorado
The 2005 Chevy Colorado wasn't too different from the 2004 model. That means they shared similar issues.
The first problem the automaker could not fix on time was the ABS brakes. The air conditioning issue was also not fixed, which made driving in a hot climate stressful.
A new issue came up that was not in the 2004 model.
This involved a faulty electrical system which led to the cruise control failure.
Another challenge that users reported was the dim headlights and backlights.
2015 Chevy Colorado
The Chevy Colorado skipped 2013 and 2014 before coming up with the all-new 2015 model. This improved version came with new problems.
For instance, owners reported that the vehicle's audio system would fail to work. They also reported facing challenges connecting their Android and iPhone smartphones.
The radio had problems capturing signals.
The mini screen would freeze from time to time, creating problems for those who used the screen to reverse the trucks.
Another major issue found in this model was the transmission. The vehicle would make grinding noises when drivers attempted to shift from manual to automatic.
Most owners reported using a lot of money to fix transmission leaks and rough shifting.
Meanwhile, Chevy had not resolved the air conditioning issue in this model.
2016 Chevy Colorado
The 2016 Colorado would not have been on this list were it not for the serious problem it had with the sensors.
The truck's sensors that offered signals to the vehicle's computer system were faulty, making the engine malfunction once in a while.
There were also multiple limitations on the pump's suction capabilities that indicated leaks.
This led to the entire fuel system of Chevy Colorado being disrupted, which significantly impacted the vehicle's fuel economy.
2018 Chevy Colorado
The most significant issue with the 2018 Colorado was the transmission.
Owners experienced various problems with their transmission, such as transmission fluid contamination and rough shifting from manual to automatic.
The vehicle would make a lot of noise, and this issue would persist even after having it fixed.
Another major issue was a problem with the pipelines.
Occasionally, owners would notice leakages in the pipelines, which lowered the vehicles' fuel economy and tampered with engine productivity.
What Are Some Typical Problems With the Chevrolet Colorado Models?
Before we dive in, check our full list of problems across the Chevy Colorado models.
Chevy problems keep recurring almost every year.
Even the latest models, such as the 2022 Chevy Colorado, already have a recall for improperly welded seat frames that fail to restrain occupants.
Some of these problems can be costly and difficult to fix, while others are much easier.
If you're planning to purchase a Chevy Colorado, it's essential to go through all its problems before making any decision.
The most common issues associated with the Chevy Colorado include the following:
Engine misfiring
Problems with the drivetrain and transmission
Key getting stuck in the transmission
Power steering failure
Problems with the fuel sensor
Air conditioning issues
Sources
Chevrolet Colorado Reliability Rating
The Best Used Chevrolet Colorado Pickup Truck Years: Models to Hunt for and 1 to Avoid
Go Back: Best & Worst data on all Chevrolet models
Was this article helpful?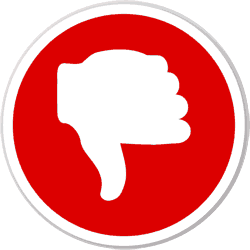 Did you find wrong information or was something missing?
We would love to hear your thoughts! (PS: We read ALL feedback)
ⓘ  The information in this article is based on data from National Highway Traffic Safety Administration (NHTSA) recall reports, consumer complaints submitted to the NHTSA, reliability ratings from J.D. Power, auto review and rating sites such as Edmunds, specialist forums, etc. We analyzed this data to provide insights into the best and worst years for these vehicle models.
---