The GMC Envoy, a popular midsize SUV, has experienced various highs and lows throughout its production years. From its initial release in 1998 to its discontinuation in 2009, the Envoy has offered different features and performance quality.
In this article, we will be uncovering the best and worst years for the GMC Envoy, providing valuable insights into the model's evolution.
Let's dive in!
The Best Year for GMC Envoy
2009 stands out as the best year for the GMC Envoy.
This model boasts several impressive features that set it apart from its counterparts. It offers a comfortable driving experience, ample space, and a strong towing capacity.
Firstly, the 2009 GMC Envoy provides a smooth and comfortable ride due to its well-tuned suspension. This allows drivers and passengers to enjoy long trips without feeling worn out. Additionally, the vehicle offers a sufficient amount of legroom and headroom, ensuring that occupants remain comfortable throughout their journey.
The 2009 Envoy's strong towing capacity is one of its key strengths.
With a towing capacity of up to 6,600 lbs, it appeals to drivers who require such capabilities for their various recreational or professional needs. This feature sets the 2009 Envoy apart from other model years, as it stands out in terms of utility.
Another notable aspect of the 2009 GMC Envoy is its variety of configurations. Owners have the option to choose between the five-passenger base version and the extended seven-passenger version. This allows buyers to find the perfect fit for their specific requirements, given the varying needs of families and individuals.
The 2009 GMC Envoy stands out as the best year due to its winning combination of comfort, utility, and versatility. Its smooth ride, spacious interior, impressive towing capacity, and flexible configurations make it a top choice for drivers seeking an SUV during this specific production year.
The 2nd Best Year
The 2006 GMC Envoy deserves its position as the second-best year for this popular SUV.
This model impressed drivers with its powerful performance, comfortable ride, and excellent towing capabilities.
The 2006 Envoy was equipped with a standard 4.2-liter inline-6 engine producing 291 horsepower, which provided a responsive driving experience. Additionally, this model was available in a trim that featured a more powerful 5.3-liter V8 engine, generating 300 horsepower.
In terms of interior design and features, the 2006 GMC Envoy offered spacious seating for five passengers, with an optional third-row seat that increased its capacity to seven. The cabin boasted a sleek design, user-friendly controls, and comfortable seats, making it an ideal choice for road trips and daily commutes.
Some standard features included dual-zone automatic climate control, a CD player, and power windows and door locks.
Moreover, the 2006 Envoy demonstrated reliable safety performance, scoring five stars for front and rear passenger protection during side impact tests. This year's model also offered several safety features, such as antilock brakes, traction control, and an electronic stability system, which contributed to the overall well-being of drivers and passengers.
Finally, the 2006 GMC Envoy proved to be a practical choice for those seeking a versatile SUV, with its impressive towing capacity of up to 6,600 pounds when properly equipped.
This made it perfect for outdoor adventures, hauling boats, campers, or trailers, and further solidified its reputation as a top choice among SUV enthusiasts.
Other Good Years
Another standout year for the GMC Envoy is the 2002 model.
This redesigned version of the Envoy not only introduced a fresh, new look, but also came with improved performance and enhanced features. Powered by a 4.2L 6-cylinder engine and available in 2WD and 4WD options, this SUV offered a comfortable and reliable driving experience for many buyers. The Envoy became a popular choice for families, as it provided ample seating for up to five passengers, with the option for an extended seven-passenger version as well.
In addition to 2002, the GMC Envoy had amnother good year: the 2008 model.
The 2008 Envoy marked the beginning of the end for this SUV, as production would cease the following year. However, the 2008 model still had strong appeal, with new luxury features such as heated leather seats and a premium sound system becoming available. These creature comforts only served to enhance the Envoy's status as a versatile and comfortable option for families and weekend adventurers alike.
Overall, these GMC Envoy models, along with the 2002 redesign, made significant strides in reliability, safety, and comfort, earning their place in the list of good years for this SUV.
The Worst Year for GMC Envoy
The 2005 GMC Envoy had some reported reliability concerns, which unfortunately places it among the less favorable years for this model. Owners experienced issues with the suspension system, particularly with the airbags developing pinhole leaks.
The related repair costs were fairly steep, with dealer estimates around $1400.
Despite these setbacks, it's worth noting that such problems can be considered somewhat normal, given the age of the vehicle. The Envoy's performance in other areas was generally satisfactory, and it continued to offer the five-passenger seating capacity, as well as an extended seven-passenger version.
While the 2005 GMC Envoy had its share of complications, it's essential to keep in mind that no vehicle is perfect, and every car encounters issues over time.
Common Problems to Look for in GMC Envoy
GMC Envoys, like any other vehicle, can come with their fair share of common issues. It's essential to know these potential problems when looking for a reliable model. One notable concern that affects some models is the electronic or air suspension.
This can be due to suspension air bags developing pinhole leaks, which may cause costly repairs.
Another area to keep an eye on is the body control module.
Some Envoy owners have reported issues with the rear gate and window controls, sunroof malfunctions, or even short circuits affecting the vehicle's overall behavior.
Watch for signs of unusual electrical behavior when assessing a potential purchase.
Here's a breakdown of some common problems reported by GMC Envoy owners:
AC Blower Inop due to Failed Resistor
CD Player in Radio May Fail
Cooling Fan Clutch May Fail Causing Noise and Check Engine Light
Check Engine Light Due to Gas Cap Issues
Worn Valve Seats May Cause Engine Misfire
To help extend the life of your GMC Envoy, consider routine maintenance like:
Addressing internal faults in the distributor
Monitoring for reduced power and check engine light warnings
Flushing brake fluid every 60,000 miles
Checking for diagnostic codes, such as P1870
Knowledge of these common GMC Envoy issues can help you stay informed when deciding on a particular model. Being aware of potential problems will aid in making an educated choice and give you peace of mind while driving your future Envoy.
Go Back: Best & Worst data on all Chevrolet models.
Was this article helpful?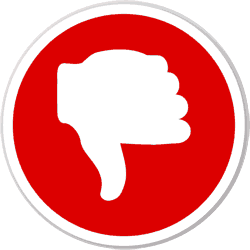 Did you find wrong information or was something missing?
We would love to hear your thoughts! (PS: We read ALL feedback)
ⓘ  The information in this article is based on data from National Highway Traffic Safety Administration (NHTSA) recall reports, consumer complaints submitted to the NHTSA, reliability ratings from J.D. Power, auto review and rating sites such as Edmunds, specialist forums, etc. We analyzed this data to provide insights into the best and worst years for these vehicle models.
---