The GMC Acadia is a popular family SUV with many great features and model years to choose from. However, not all model years have proven to be reliable.
This article will delve into the best and worst GMC Acadia model years worth considering for your next purchase.
We've already looked at the most prevalent problems with GMC Acadia, now let's dig deeper.
The Best Year for GMC Acadia
The 2016 GMC Acadia stands out as one of the best model years for this midsize SUV. This particular year marked the end of the first generation of the Acadia, which was introduced in 2007.
GMC made significant improvements to the 2016 Acadia, addressing many issues that plagued previous model years.
One of the key strengths of the 2016 GMC Acadia lies in its reliable engine. Equipped with a 3.6-liter V6 engine, this model delivers a solid 281 horsepower and 266 lb-ft of torque. The engine was noted for its durability and performance capabilities, which made it a favorite among owners.
In terms of safety, the 2016 Acadia came with an impressive list of standard features.
These included a rearview camera, six airbags, electronic stability control, and more. As a result, this model received high safety ratings, with the Insurance Institute for Highway Safety (IIHS) awarding it the Top Safety Pick+ designation. NHTSA also gave the 2016 Acadia a five-star overall rating.
Additionally, the 2016 GMC Acadia offered a spacious and comfortable interior. With three rows of seats and ample cargo space, it was a perfect choice for families or anyone needing room for passengers and gear. The interior received praise for its high-quality materials, comfortable seating, and user-friendly infotainment system.
Fuel efficiency was another area where the 2016 Acadia outshined its predecessors.
It achieved 15 mpg in the city and 22 mpg on the highway, which were competitive numbers for its class at the time.
The 2nd Best Year
The 2019 GMC Acadia definitely has a spot as the second-best model year for this versatile crossover SUV. It possessed a strong combination of performance, comfort, and modern features that appealed to many families and individuals.
One of the highlights of the 2019 Acadia was its choice of engines. Drivers could select from a 2.5L Inline-4 Gas engine, a 3.6L V6 engine, or a more powerful 3.6L V6 SIDI DOHC engine with Variable Valve Timing (VVT). This variety catered to various needs, from fuel efficiency to performance.
The 2019 model also offered advanced technology and safety features. It had the GMC Infotainment System, which included Apple CarPlay and Android Auto compatibility. Added conveniences like a rearview camera, keyless open and start, and an 8-inch touchscreen made the driving experience more enjoyable.
Furthermore, the 2019 Acadia featured modern safety components, such as rear park assist, lane change alert with side blind zone alert, and rear cross-traffic alert. These features elevated the driver's sense of security and confidence on the road.
To accommodate varying passenger and cargo needs, the 2019 GMC Acadia was available in five-, six- or seven-passenger seating configurations, each providing comfortable space and flexibility.
When examining the 2019 GMC Acadia, it's easy to recognize its well-rounded attributes and see why it earned the title of the second-best model year in the lineup.
Other Good Years
The GMC Acadia has had its ups and downs over the years, with some model years being more reliable and better-rated than others.
Let's take a look at some additional good years for the GMC Acadia.
Here's a list of these standout years:
2009:
The 2009 GMC Acadia proved to be an improvement over its earlier models, as it offers a decent balance between reliability and functionality. It features a roomy interior and a comfortable ride, making it an excellent option for families. Furthermore, the 2009 model experienced fewer transmission problems than its 2007 and 2008 counterparts.
2015:
Fast forward a few years, and the 2015 GMC Acadia stands out as another excellent option. It boasts an attractive exterior design along with a spacious, quiet cabin. This Acadia model also comes with a long list of standard equipment, such as a rearview camera, Bluetooth connectivity, and a touch-screen infotainment system.
Not only is this year known for its pleasing aesthetics and features, but it also has a reputation for being dependable.
2018:
The 2018 GMC Acadia is another strong contender in the SUV market.
This model underwent a redesign, which resulted in a lighter and more agile vehicle without compromising interior space. It also offers an improved fuel efficiency compared to previous years, making it an eco-friendlier option for drivers. The 2018 Acadia comes with advanced safety features like blind-spot monitoring, rear cross-traffic alert, and a rearview camera as standard equipment, providing drivers with peace of mind on the road.
While no model year is perfect, these three years of the GMC Acadia seem to offer fewer problems and more benefits, appealing to a wide range of drivers in search of a reliable, family-friendly SUV.
Note also that GMC Acadia last a long time.
The Worst Year for GMC Acadia
The title of the worst year for GMC Acadia goes to the 2008 model.
This particular model has been reported to have significant transmission problems, which affected its performance and reliability. It is important to note that not all 2008 GMC Acadias experienced these issues, but the prevalence of these problems was higher compared to other model years.
Apart from transmission issues, the 2008 GMC Acadia also faced several other complaints, such as water pump failures and power steering fluid leaks, which led to additional repair costs for owners.
Some owners have also reported electrical system malfunctions, including problems with the door locks and windows.
In comparison, the 2007 and 2017 GMC Acadia model years have had their share of issues, but not to the same extent as the 2008 model. The 2007 model was plagued by engine problems, while the 2017 model faced electronic glitches that sometimes required costly fixes.
Even though the 2008 GMC Acadia stands out as the worst among its peers, it's essential to recognize that no vehicle is perfect, and not all owners have experienced these issues.
Some people have had positive experiences with their 2008 Acadias and continue to enjoy their rides, while others have found that the manufacturer addressed their concerns successfully. Each used car purchase should be based on research and personal preference.
Other Bad Years
2007 GMC Acadia: The 2007 model year faced transmission issues, which were quite detrimental for the vehicle's performance. Although not every owner encountered this problem, it's essential to acknowledge its existence for potential buyers to be aware of possible repair costs.
2017 GMC Acadia: While newer than the previous model mentioned, the 2017 Acadia also had its fair share of issues. Some owners experienced transmission problems, which might be concerning. However, this doesn't mean that every 2017 Acadia will face the same problem, as each vehicle differs.
As with any car, it's crucial to keep in mind that the issues mentioned above may not be present in every vehicle with that specific model year.
Additionally, potential buyers should take into consideration the mileage, history, and care of the car before purchasing a used GMC Acadia. With proper research, you might find a reliable GMC Acadia from these model years, which fits both your needs and budget.
Common Problems to Look for in a Used GMC Acadia
When considering a used GMC Acadia, it's helpful to be aware of some common issues that might arise. One frequently reported problem is the check engine light turning on due to a loose or worn gas cap. Although this may seem insignificant, it's important to confirm the cause of the illuminated light before dismissing it.
In the 2008 GMC Acadia, the transmission is a notable concern. According to CarComplaints, more than one-third of the reported problems for this model year were related to transmission issues. As such, potential buyers should be especially cautious when evaluating a 2008 Acadia.
The 2014 GMC Acadia, on the other hand, has a better track record for reliability.
However, buyers should still be mindful of potential major repairs within the next 12 months, as suggested by Kelley Blue Book. Investing in a thorough pre-purchase inspection can help identify any potential problems before committing to a purchase.
To make the most informed choice possible, potential buyers should keep these common issues in mind when shopping for a used GMC Acadia.
Additionally, it's always a good idea to review the vehicle's maintenance history, previous owner details, and whether it has been involved in any accidents.
Go Back: Best & Worst data on all Chevrolet models.
Was this article helpful?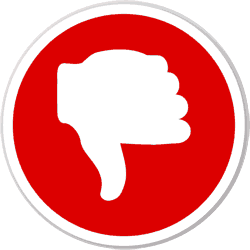 Did you find wrong information or was something missing?
We would love to hear your thoughts! (PS: We read ALL feedback)
ⓘ  The information in this article is based on data from National Highway Traffic Safety Administration (NHTSA) recall reports, consumer complaints submitted to the NHTSA, reliability ratings from J.D. Power, auto review and rating sites such as Edmunds, specialist forums, etc. We analyzed this data to provide insights into the best and worst years for these vehicle models.
---