The GMC Suburban has been a staple in the full-size SUV market for over 85 years, boasting a legacy of reliable and capable vehicles.
Note, General Motors have sold Suburbans both under the Chevrolet and GMC brand. Here are the best and worst years for Chevy Suburban.
Despite its overall success, there have been outstanding performers as well as less-than-stellar models throughout its history.
In this article, we'll go into the best and worst years of the GMC Suburban to help you make an informed decision on which models to pursue and which to avoid.
The Best Year for GMC Suburban
2019 Suburban: Notably, this year introduced the RST Performance Package with a 6.2-liter V8 offering greater power for those seeking enhanced performance.
2020 Suburban: This model offered a good balance of size, power, and luxury. It was the final model year for the eleventh-generation Suburban.
2021 Suburban: The start of the twelfth generation, it came with a complete redesign. It's larger, offering more cargo space and legroom for the second- and third-row passengers, features an independent rear suspension, optional diesel engine, and has more standard driver-assistance features.
2010 GMC Suburban: This model is highly ranked by U.S. News & World Report. As an affordable full-size SUV, the 2010 Chevy Suburban offers five attractive trims. Its affordability and range of options make it one of the better Savana years (source: HotCars).
2016 Suburban: It built on the success of the 2015 model and saw the addition of enhanced driver assistance features and the introduction of Apple CarPlay.
Among the older models, the 1999 GMC Suburban stands out as one of the best years for this full-size SUV.
This model was part of the GMT 400 generation, which ranged from 1992 to 1999. The boxy design was prevalent in the 90s, but it gave the SUV a classic and rugged appearance. This particular year marked the end of this generation, providing a refined driving experience and reliable performance.
Under the hood, the 1999 Suburban offered powerful engine options, including the popular 5.7-liter V8 and the heavier-duty 7.4-liter V8.
These engines provide ample power for towing, and the optional 4×4 capability made it a versatile choice for adventure seekers and those in need of a reliable family hauler.
In terms of interior features, this year's model was well-equipped with the necessities, such as comfortable seating for up to nine passengers and substantial cargo space. The 1999 Suburban also offered aftermarket conversions from coachbuilders like Regency and Southern Comfort, which added luxury touches and customizations to suit individual tastes.
Its long production run and final year in the GMT 400 generation meant that the kinks had been worked out, making it more dependable than the first models in the generation.
1999 GMC Suburban stands out as the best year for the vehicle because of its refined driving experience, powerful engine options, versatile interior, and impressive reliability. The combination of these factors has helped this model year earn its status as a favorite among GMC Suburban enthusiasts.
Another Good Oldie
1993 stands out as one of the best GMC Suburban years, thanks to its numerous trim levels and powerful engine options.
The eighth-generation model was based on the innovative GMT400 platform, which provided a solid foundation for this exceptional year.
The 1993 Suburban was available in four distinct trim levels, giving potential buyers a wide array of choices to suit their personal needs. These choices offered varying degrees of luxury and utility, catering to the diverse requirements of Chevy enthusiasts.
One notable aspect that set the 1993 model apart from its competition was the available V8 engine selection. At that time, the Suburban offered three different V8 engines for buyers to choose from, boasting impressive power for a large SUV. This performance capability made it a popular choice among those needing a workhorse vehicle without sacrificing comfort.
Furthermore, the aftermarket conversions from coachbuilders like Regency and Southern Comfort only added to the appeal of the 1993 GMC Suburban.
These unique conversion packages enhanced both the exterior and interior aesthetics, providing a more luxurious experience for the driver and passengers.
In summary, the 1993 GMC Suburban managed to stand out in the large SUV market due to its versatile trim levels, powerful V8 engine options, and the availability of aftermarket conversions. This year set the groundwork for the Suburban to become a staple among the American automotive landscape.
The Worst Year for GMC Suburban
The 2007 GMC Suburban stands out as a particularly troublesome year for the model.
Despite sharing the same platform with its Chevrolet counterpart, the 2007 Suburban faced some issues, making it one of the least desirable years to own.
One of the primary concerns for the 2007 Suburban was the excessive oil consumption, which was mostly attributed to the engine's Active Fuel Management (AFM) system. This system would often malfunction, leading to poor fuel efficiency and potential engine damage. While it wasn't an issue for every 2007 Suburban, many owners reported problems with their AFM and had to invest in costly repairs.
Another setback for the 2007 Suburban was the frequent failure of the power door locks.
This issue was particularly frustrating for owners, as it could leave them locked out of their vehicle or unable to secure it properly. Though power door lock failures are not uncommon in older vehicles, the 2007 Suburban seemed to suffer from this problem more often than others.
The final issue that plagued the 2007 GMC Suburban was the tendency for the dashboard to crack. Many owners noted that their dashboard would develop large cracks, sometimes over a few inches in length. This problem not only detracted from the vehicle's appearance but also posed a safety concern, as a cracked dashboard could obstruct the view of important gauges and warning lights.
While the issues mentioned above are certainly frustrating, it is essential to acknowledge that not every 2007 GMC Suburban suffered from these malfunctions.
However, given the frequency and severity of the problems, the 2007 Suburban has earned its place among the worst years for this iconic model.
Other Bad Years
2015: This was a troublesome year mainly due to transmission issues. It wasn't the only GMC model that experienced similar problems, as the 2015 Canyon, Yukon, and Sierra 1500 also faced transmission complaints. Reliability ratings for the brand slipped, and numerous recalls were issued for both the GMC Canyon and Chevrolet Colorado.
1992-1999 (GMT 400): This generation of the Suburban wasn't all bad, but it was definitely more basic in comparison to later models. The idea of adding luxurious features to a large SUV wasn't as popular in the '90s. The coolest Suburbans from this period were aftermarket conversions from companies like Regency and Southern Comfort. Unfortunately, this era wwas less desirable for some buyers.
These specific years had a few bumps in the road, but it's essential to remember that certainly not all units produced during these years experienced problems.
While it's crucial to be aware of the issues surrounding these specific years, it's also essential to give the car manufacturer the benefit of the doubt.
Not everything was all bad, and many loyal Suburban customers still appreciated their vehicles despite these setbacks.
Common Problems to Look for in a Used GMC Suburban
One of the most common issues with the GMT800 Chevy Suburban generation (2000-2006) can be found with its fuel pumps.
They are known to fail regularly and without warning. When purchasing a used Suburban from this generation, buyers should ask about any history of fuel pump replacements.
Another issue in the GMT800 generation is the knock sensor located underneath the intake.
It is prone to water damage, which can cause poor engine performance. Checking the knock sensor for any signs of corrosion or water damage is a must when looking at a used Suburban from this era.
The sunroof can also give owners trouble during this generation. Issues with sealing and operation can lead to water leaks or expensive repairs. If the Suburban has a sunroof, make sure to pay attention to its functionality and check for any signs of water damage in the interior.
Lastly, the hard plastic interiors that were popular in the GMT800 Suburbans tend to wear poorly over time. Inspect the interior for any excessive wear or damage, as this could be indicative of other maintenance issues that might have been neglected.
Moving on to the GMT900 generation (2007-2014), the 2009 Chevrolet Suburban is another model that has been deemed one of the worst. This particular model had more severe and expensive issues reported by owners, so it's crucial to closely inspect any used 2009 Suburban.
It's worth noting that the 2015 Chevrolet Suburban also had some notable issues with its appliques around the doors.
They were known to become detached from the vehicle and flap while driving, creating excessive noise. Checking for any loose or damaged appliques is essential when looking at a used 2015 Suburban.
In general, it seems that the Chevrolet Colorado and GMC Canyon were found to be the least reliable vehicles overall within the GM brand (Check here for the good and bad years for Canyon). While these models are different from the Suburban, keeping an eye out for any common reliability issues can be a good idea.
Go Back: Best & Worst data on all Chevrolet models.
Was this article helpful?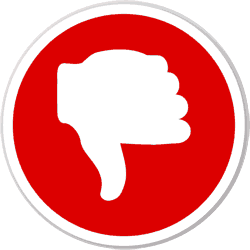 Did you find wrong information or was something missing?
We would love to hear your thoughts! (PS: We read ALL feedback)
ⓘ  The information in this article is based on data from National Highway Traffic Safety Administration (NHTSA) recall reports, consumer complaints submitted to the NHTSA, reliability ratings from J.D. Power, auto review and rating sites such as Edmunds, specialist forums, etc. We analyzed this data to provide insights into the best and worst years for these vehicle models.
---