The Buick Regal has seen numerous models throughout the years, with some earning praise for their reliability and performance, while others have been criticized for issues and shortcomings.
To provide a comprehensive look at the best and worst Buick Regal years, this article will dive into key factors such as customer reviews, expert analysis, and our personal opinions.
As a reader, you can expect a detailed exploration that offers both the highlights and low points of the Regal's history in the automobile industry.
The Best Year for Buick Regal
One outstanding year for the Buick Regal stands out: the 2011 model.
This sedan marked a significant turning point for the Regal, introducing a sleeker design, improved performance, and a well-appointed interior that appealed to a wider audience. Regal enthusiasts and new customers alike found this model exceptional, making it a clear winner in the Buick lineup.
The 2011 Buick Regal came equipped with a 2.4-liter four-cylinder engine, producing 182 horsepower and 172 lb-ft of torque powered to the front wheels through a six-speed automatic transmission.
This powertrain offered a solid balance of performance and efficiency, contributing to the Regal's appeal.
As for the interior, the 2011 Regal featured a refined cabin with high-quality materials and a user-friendly infotainment system. Passengers enjoyed comfortable seating, and drivers appreciated the well-organized controls and instrumentation. The ride was smooth and quiet, providing a luxury feel without the premium price tag.
In addition to its impressive performance and comfort, the 2011 Regal featured an eye-catching exterior design.
The car's sleek lines, bold grille, and elegant chrome accents made it a standout in its class. This fresh aesthetic allowed the Regal to compete effectively with other midsize sedans on the market while maintaining Buick's signature style.
In conclusion, the 2011 Buick Regal remains a top choice for those seeking a stylish and reliable midsize sedan. With its well-rounded performance, luxurious interior, and eye-catching design, it stands out as one of the best years for the Buick Regal.
The 2nd Best Year
Back in 1987, the Buick Regal Sedan truly made a splash in the automotive world. This stylish sedan captured the hearts of drivers with its elegant design and powerful performance. Buick's attention to detail and commitment to quality were evident in this model, making it a standout choice for those seeking a reliable and sophisticated vehicle.
Under the hood, the 1987 Buick Regal Sedan boasted a solid engine that provided more than enough power to tackle everyday driving needs. It was a true workhorse, and owners appreciated its combination of reliability and style.
This sedan's spacious and comfortable interior was also a hit, as were its wide array of creature comforts that made each journey a pleasure.
One of the most attractive features of the 1987 Buick Regal Sedan was its affordability.
It offered a high level of luxury and performance without breaking the bank, and this made it a popular option for those looking for a quality vehicle at a fair price. In addition, its long-term reliability and low cost of ownership meant that it made good financial sense for drivers.
The 1987 Buick Regal Sedan's sleek appearance and attractive design was popular, with its distinctive grille, eye-catching headlights, and the overall sense of elegance it exuded. It was truly a car that stood out from the crowd and remains a favorite among Buick enthusiasts to this day.
Other Good Years
While the 2020 Buick Regal stands out as an excellent choice for those seeking a comfortable and stylish mid-size car, there are other notable years worth considering.
Here are a few more great Buick Regal models that deserve a mention:
2011 Buick Regal: This sedan offers a sophisticated design and smooth driving experience. It marked a major comeback for the Regal with its European-inspired styling and sporty handling. This year's model introduced features like a turbocharged engine option, comfortable seating, and excellent fuel economy.
2017 Buick Regal: A part of the sixth generation, this model boasted a refreshed appearance and impressive performance options. The GS version became especially popular for its enhanced power and agile handling.
2018 Buick Regal Sportback: This hatchback version combines the perks of a sedan with the versatility of a hatchback. The 2018 model received praise for its ample cargo space, attractive exterior, and user-friendly tech features like Apple CarPlay and Android Auto.
Each of these models brings something unique to the table, making them great options for anyone looking for a reliable and enjoyable Buick Regal experience. From refined styling to spacious accommodations and advanced technology, these years showcase the best that the Buick Regal has to offer.
The Worst Year for Buick Regal
The title of the worst year for the Buick Regal goes to the 2012 model.
Though the 2011 model had more complaints, the severity of the issues with the 2012 models and their occurrence at low mileage gave it the infamous title. One of the most significant problems reported by owners was brake failure, which is a critical safety concern.
Another issue that contributed to the negative reputation of the 2012 Buick Regal was its fuel efficiency. Some owners reported decreased gas mileage, potentially leading to higher fuel costs over time. Additionally, there were instances of electrical problems related to the power seat and window controls.
It should be noted, however, that not all 2012 Buick Regals came with these issues. Many owners had positive experiences with their cars and appreciated the comfortable ride and quality interior. The worst model year still had some redeeming qualities, and the Buick brand went on to make improvements in later models.
Other Bad Years
2001 Buick Regal: This year's model faced some issues with window regulators, resulting in a large number of complaints. However, it's important to note that not every vehicle experienced these problems.
2002 Buick Regal: Similar to the 2001 model, the 2002 Regal also had its fair share of window regulator issues. Despite these minor inconveniences, many owners were still able to appreciate the vehicle for other aspects.
2018 Buick Regal TourX: This model received some criticism for its interior quality, with hard plastic and base vinyl seats. Additionally, the exterior cladding appeared less rugged upon closer inspection. While these concerns could be disappointing for some, others might not find them as significant.
These years stood out as having certain drawbacks in comparison to other Buick Regal model years.
However, it's crucial to approach these issues with a balanced perspective, acknowledging that no car is perfect while still appreciating the positive aspects each model has to offer.
Common Problems to Look for in Used Buick Regals
The 2011 Buick Regal has had several reported issues, so potential buyers should be aware of these when looking at purchasing a used model.
One of the main concerns with this year is the ignition key getting stuck due to a failed shifter.
Additionally, the car may stall due to mass air flow or crankshaft position sensor failure, an issue you'll avoid.
Another common problem reported across various Buick Regal models is the power windows failing, leaving you unable to open or close them.
Remember to keep in mind that problems may vary depending on the specific model year, so doing thorough research on the year and model of your desired Buick Regal will help ensure that you're making an informed decision.
Go Back to list of all Buick models (best and worst years)
Was this article helpful?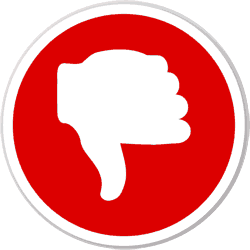 Did you find wrong information or was something missing?
We would love to hear your thoughts! (PS: We read ALL feedback)
ⓘ  The information in this article is based on data from National Highway Traffic Safety Administration (NHTSA) recall reports, consumer complaints submitted to the NHTSA, reliability ratings from J.D. Power, auto review and rating sites such as Edmunds, specialist forums, etc. We analyzed this data to provide insights into the best and worst years for these vehicle models.
---