The Avis Preferred Program is a beneficial loyalty scheme designed for customers of the well-known car rental company, Avis.
As a member, you get a faster process when renting, and the opportunity to earn points on each rental.
This article delves into the main questions people have about the Preferred program.
Let's dive in!
What Does Avis Preferred Get You?
Avis Preferred is a rental car loyalty program that offers members various benefits. As a member, you can enjoy expedited service and go straight to your car at most locations.
You also earn a minimum of 100 points on each rental.
The best part is that the program is free to join and does not require any minimum activity to remain active. However, you must be at least 25 years old to participate.
Can I Add My Avis Preferred to an Existing Reservation?
Yes, you can add your Avis Preferred membership to an existing reservation.
To do this, you'll need to contact Avis customer service and provide them with your reservation details and Avis Preferred membership number. They will update your reservation accordingly.
Can You Add Past Rentals to Avis Preferred?
To add past rentals to your Avis Preferred account, you'll need to contact Avis' customer service. Provide them with the rental details, including the rental agreement number, location, and date.
They will review the information and, if eligible, add the rental and points to your account.
Can My Spouse Use My Avis Preferred?
Avis Preferred membership benefits are generally for the sole use of the member. However, if your spouse or domestic partner is a driver on the rental agreement, they may be able to access some of the benefits, such as the ability to earn points.
Keep in mind, though, that some benefits, like expedited service, may be limited to the primary member.
Does Avis Preferred Work at Budget?
Avis Preferred benefits are specific to Avis Rent a Car and do not extend to Budget Rent a Car.
Though they're owned by the same group, Avis and Budget are two separate companies.
Both companies fall under the same parent corporation, but their loyalty programs are separate. So, Avis Preferred members cannot access their benefits when renting from Budget.
Avis Preferred Cost
The Avis Preferred loyalty program is designed for those who frequently rent cars from Avis. In this section, we will cover the costs associated with the Avis Preferred program and its membership tiers.
Does Avis Preferred Cost Money?
Joining the Avis Preferred program is free of charge.
All you need to do is create an Avis Preferred account and enjoy the perks without any upfront fees or ongoing membership costs.
The only requirements are that you must be at least 25 years old, and there are no mandatory minimum activity requirements to remain active in the program.
Although there are no fees associated with Avis Preferred membership, earning points and enjoying the benefits, several tiers within the program can unlock even more advantages. The more frequently you rent cars from Avis, the higher your membership tier becomes, providing you access to extra perks.
The tier structure is as follows:
Avis Preferred: This tier is the base level and comes with expedited service and a minimum of 100 points for each rental.
Avis Preferred Plus (Tier 1): Once a member earns 10 rentals or spend $4,000 on rentals, they achieve this first level of Preferred Plus. Benefits include 25% more points per rental and complimentary upgrades, subject to availability.
Avis President Club (Tier 2): This top tier level is reached when a member accumulates 20 rentals or spends $6,000 within a calendar year. The benefits include 50% more points per rental, an even higher priority for upgrades, and guaranteed car availability.
Keep in mind that the points you earn can be used towards free rentals, upgrades, and accessories, making it a great program for loyal Avis customers to save on their rentals.
Avis Points
How Many Avis Points Are Needed For A Free Rental?
Rentals up to $50 per day will cost you 700 points (per day). $50 – $80 per day rentals cost 1,400 points per day.
The number of points needed for a free rental depends on the specific vehicle and location. Keep in mind that earning more points allows for better rewards and options when redeeming for free rentals.
Also, remember to check what payment methods your Avis rental company accepts.
Do Avis Preferred Points Expire?
Avis Preferred points do not have an expiration date as long as the member remains active in the program.
Inactivity is defined as not having any rental transactions or points redemptions for a 36-month period. If a member becomes inactive, their points will be forfeited.
How Much Are Avis Points Worth?
Avis Preferred points have varying values depending on how they are redeemed. Generally, the value of one Avis point ranges from 2-6 cents. Factors affecting the value of points include the type of rental car, the location, and the time of redemption.
Again, 700 points is needed for rentals up to $50 per day.
How Do Avis Points Work?
Here's how the Avis Preferred points system operates:
For every dollar spent on rentals, one point is earned.
Double points are earned for every dollar spent on accessories.
A minimum of 100 points are earned for all rentals.
New members receive a 250 point bonus when signing up for Preferred Points and renting within 3 months.
Members enjoy expedited service and can go straight to their car at most locations, making the rental process smooth and efficient. To join the Avis Preferred program, one must be at least 25 years old.
Was this article helpful?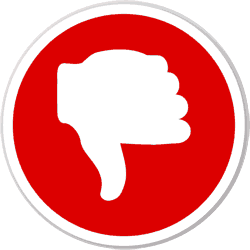 Did you find wrong information or was something missing?
We would love to hear your thoughts! (PS: We read ALL feedback)