Introduced in 2004, the Ford GT was Ford's entry into the modern-day supercar segment.
It was based on the legendary GT40 sports car, a four-time winner of the 24 Hours Le Mans Endurance Race.
Ford had released the GT as part of its centennial celebrations, giving the model a limited production run for the next two years. Afterward, it discontinued the model, only bringing it back for the 2017 model year.
The Ford GT is the American version of the Italian supercar. While it is street legal, the racetrack is where the GT truly shines. It gives over 600 horsepower and can go from 0 to 60 mph in 3.0 seconds.
If you like ultra-fast cars and have enough money to spend on one, the GT may well be a perfect choice. This article contains key facts and numbers about the Ford GT models.
We review yearly sales, recalls, pollution statistics, gas mileage, resale values, and many more!
How Many Ford GT Have Been Sold

in The US Yearly?

Supercars rarely sell in large numbers, given their unearthly price tags. The same goes for the Ford GT, which has remained a low-volume model since its release in 2004. In fact, Ford had planned to sell limited units of the GT during the model's initial run. To this end, the company required prospective buyers to send in applications and put selected individuals on a waiting list.

Ford sold 144 units of the GT in 2004 and 1,302 units in 2005. The following year (2006) saw Ford sell 1,919 GT models, bringing total sales to 3,365.

Ford stopped production of the GT in 2006, but sales continued into 2007, with 231 units sold. Cumulatively, US sales of the GT totaled 3,596 in the model's first production run.

Ford brought the model back for the 2017 model year, showing production would continue up until the 2021 model year. Sales of the second-generation GT totaled 89 models in its first year, with the figure rising to 126 units the next year (2018).

Ford sold 229 GT cars in 2019, marking the highest number of GTs sold since it re-introduced the model in 2017. Overall, Ford has sold 4,040 units of the GT in the United States.
When Did Ford Start the Ford GT Models?
The Ford GT entered production in 2004.
It was based on the GT40 model, which dominated the Le Mans Endurance Race in the late 60s. To produce the model, Ford conscripted many top engineers and designers, including Carroll Shelby, designer of the original GT40. Although the new GT shared the GT40's appearance, it was significantly different from its predecessor.
Among other things, the GT was bigger and wider than the GT40. It was also taller, beating the GT40's overall height of 40 inches by 4 inches. The GT had additional features such as aluminum body panels, 'ship-in-the-bottle' gas tank, capless fuel-filler system, one-piece panels, and a superplastic frame.
A supercharged 5.4-liter V8 engine powered the models, producing 550 horsepower and 500 pound-feet of torque. It had a top speed of 205 mph and could go from 0 to 60 mph under 4.0 seconds.
Ford discontinued the GT after the 2006 model year. The hiatus continued until 2017, when Ford announced it would resume production of the GT, releasing 250 models per year.
Significant changes included the use of a 3.5-liter EcoBoost V6 engine in place of a supercharged V8. Compared to the V8, the new V6 was more powerful, producing 647 horsepower and over 500 pound-feet of torque. Other changes included the addition of new aerodynamic design elements and a larger diffuser and hollow tail lights that help expel air in the vents.
The GT got additional features for the 2020 model year. This includes more powerful ignition coils and an all-new exhaust that weighs nine pounds less than exhausts used on previous models.
It also received a performance boost, with engine power increasing from 647 horsepower to 660 horsepower.
How Is the Fuel Economy On Ford GT Models?
In producing supercars like the Ford GT, the focus is hardly on fuel economy as it is on performance.
Moreover, anyone affluent enough to buy a supercar would likely see fuel costs as mere drops in a bucket. However, it helps to know how much gas mileage these models get so you can calculate how much you will spend at the pump.
Gas mileage on the GT is dismal, as with every other supercar on the market.
The new 2020 model, with a turbocharged 3.5-liter six-cylinder engine, earns 12 MPG on city roads and 18 MPG on the highway. This makes for a combined 14 MPG, which is one of the best fuel economy figures in the hypercar segment.
Rivals like the Buggati Chiron (11 MPG) and Lamborghini Aventador (11 MPG) have worse gas mileage numbers.
What Features Does the Key Fob Have?
The Ford GT has lots of little features and cool things you should know about the key fob.
In fact, we wrote a separate article here about the Ford GT keys.
How Quickly Do Ford GT Depreciate?
The Ford GT is a low-volume production supercar that's owned by a select few. Resale values for this type of car are high because demand outstrips supply. Moreover, like the Ferraris and Porsches, people will pay a premium for the status attached to these cars.
Although depreciation data isn't available for the second-generation GT cars, models from the first generation have held their value. In fact, owners of first-generation Ford GTs have seen the value of their cars appreciate.
For example, Mecum Monterey sold a Ford GT (Heritage Edition) for $403,925 in 2013, more than double the original price. The same company sold another Ford GT in 2014 for $550,000.
Barret-Jackson, another automotive auctioneer, sold an early GT model for a record of $605,000.
Based on these data, we predict second-generation models will be worth quite a lot in the next few years. Production volume for the second-generation GTs is even lower than the 2005-2006 era GT.
Demand for the GT will continue to outpace supply, increasing resale prices.
Did Ford Recall Any of The Ford GT Models?
Ford has recalled the GT model nine times.
We have ranked the model years according to the number of recalls for them.
| | |
| --- | --- |
| Model Year | No. Of Recalls |
| 2005 | 4 |
| 2006 | 3 |
| 2017 | 1 |
| 2018 | 1 |
How Much Do The GT Models Tow?
Ford doesn't rate the GT for towing; hence, there's no official towing capacity for the model.
That said, we don't think anyone would spend half a million dollars on a car and haul loads with it.
If you do so, prepare to spend a premium on fixing the resultant excessive engine and transmission wear.
How Reliable Are Ford GT?
With supercars, especially low volume types like Ford's GT, it is hard to determine reliability.
This is because there are so few of them that there are rarely widespread issues. Mostly, the GT seems like a reliable supercar, if such a thing exists. In particular, the newer second-generation models have seen relatively few issues, and fewer recalls.
Exercise caution if you're buying a used model, though. Many owners are infamous for garaging their cars to keep mileage down. Low-mileage "garage queens" command high resale prices, but the problem is they can develop problems from extended periods of non-use.
We recommend having a specialist technician conduct a pre-purchase inspection to spot any problems. You don't want to spend a fortune on a car and spend more to keep it running.
How Safe Are Ford GT?
To start with, NHTSA or the IIHS rarely test supercars. We guess no manufacturer is willing to have one of its pricey cars smashed through a barrier for some safety rating.
Moreover, they do not outfit these cars with the driver-assistance features that are common on mass-market models. This is because the emphasis is on lightweight design and exceptional performance.
Hence, many supercars like the Ford GT come with a limited number of parts.
Asides the mandatory airbags and brakes, the GTs don't have any other safety-enhancing feature. Although, brakes on the GT cars are often bigger and better than ones you will find on other production Ford models.
What Is the Typical Buyer Demographic for This Model?
The majority of GT's buyer demographic comprises more men than women.
They are quite affluent, which is not surprising, given the GT's six-figure price tag.
Most GT buyers are concerned with qualities such as handling and performance as opposed to environmental impact or fuel economy.
Moreover, they are usually Ford enthusiasts, as one of Ford's conditions for selling the GT to a customer is prior ownership of a Ford vehicle.
Ford GT Theft Numbers
The NHTSA Vehicle Theft Rate Database does not have sufficient theft data for the GT; hence, we cannot give definitive theft rates.
However, we don't see thefts of the GT rising to high figures, given the limited number of models in existence. Besides, we don't think anyone will spend $150,000-$500,000 on a car and park it carelessly where thieves can steal it.
Per owner reports, the Ford GTs have anti-theft technologies such as a GPS tracker that pinpoints its location in the event of a theft.
It also comes with an engine immobilizer that kills the engine if it detects the use of an "unknown" key or potential "hotwiring."
Sources:
en.m.wikipedia.org/wiki/Ford_GT
fueleconomy.gov/feg/noframes/42384.shtml
Was this article helpful?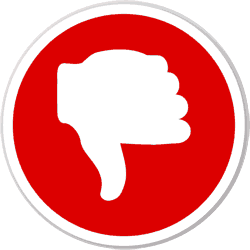 Did you find wrong information or was something missing?
We would love to hear your thoughts! (PS: We read ALL feedback)