A motorcycle helmet is an essential part of riding.
There are myriad options available on the moto-market, though; various styles, colors, graphics, and functions from which to choose.
While there are some decent, affordable options out there, taking advantage of the diversity of possibilities requires some hefty coin, unless you catch a good deal, of course.
But when do motorcycle helmets go on sale? Read on to find out!
Here's the Short Answer to When Motorcycle Helmets Go on Sale:
Motorcycle helmets go on sale in the wintertime, especially where the climate gets cold, and the sun disappears for months, and bikes are put in storage. Black Friday, Labor Day, and just after Christmas are also periods when motorcycle helmets tend to go on sale.
When Is the Best Time To Buy a Motorcycle Helmet?
The best time to buy a motorcycle helmet is during the winter months, on retail holidays like Black Friday, Labor Day, and after Christmas Time, when motorcycle gear warehouses are overstocked with helmets. Following helmet brands on social media will help you find deals on motorcycle helmets online.
As soon as spring hits, motorcycles are on the mind. New riders are swearing that this is the year they're finally going to start riding, and old-heads are itching to get their steel steed out of the stable to jump back in the saddle.
Motorcycle gear retailers are well aware of the spring/summer seasonal rush. They take full advantage of the end of moto-hibernation by marking helmets up to the total price. 
To explore when to buy a motorcycle helmet in-depth, let's take a look at when NOT to buy a motorcycle helmet:
Springtime and summer are when bikes are back in style, for the first time in half a year in some places. Buying a helmet in the spring and summer months guarantees you're paying the highest price. And while the warehouse is packed in the on-season, you're competing for that shiny new helmet you want with millions of other people in your area; the most desirable helmet models might be sold out. 
When a helmet brand drops a new helmet. Releasing a stylish new protective-lid model, a helmet brand's media sites get active, traffic increases, and they launch their new helmet at full-market-price they can. Buying a new model helmet during its launch is a wrong move. 
Don't buy a new helmet if you don't know what you're shopping for. A modern motorcycle helmet comes in various styles, with all likes of upgrades and features, the cost of which add up quickly. Bluetooth, modular designs, race protection, intercom mics, music speakers, even electronic visual displays—if you don't know what you're looking for, you might end up paying out your pocket for things you don't need.
Now that we understand when not to buy a helmet, we can deduce the time of year when it's best to buy a motorcycle helmet.
Winter
When people are not riding motorcycles, they're not using their helmets. Not only can we infer from this that helmets aren't incurring the wear and tear they do throughout the rest of the year, but it also makes it safe to assume that they're not thinking about shelling out money for a new helmet either.
This heavy dip in sales forces helmet brands, retailers, and online stores to drop the price during wintertime helmet sale events to get traffic in the door and money in the drawer. 
Tax Season
Here's one that doesn't get talked about very often, but I've found it to be true. Some of the more prominent motorcycle gear retailers will put helmets on sale at the end of March to reduce their inventory before their April tax due date, effectively reducing the money they owe by shrinking their product inventory.
New Helmet Model Launch
We talked a bit earlier about how trying to buy a brand new helmet can be expensive/unfruitful, but there are two sides to the coin. Leading up to the launch of a new helmet design, or before they introduce a new generation to a classic line of helmets, many of the leading helmet brands will put the old model on clearance to make room. I've scored some great helmet deals by buying last year's model a few days before this year's model drops.
Retail Holidays
Retail holidays like Labor Day, Black Friday, Cyber Monday, and just after Christmas are always good times to buy a helmet on sale. We'll go into more detail about getting good deals on helmets during the holidays below—read on!
Related: Do Motorcycle Helmets Have UV Protection? (Explained)
What Are the Best Days of the Week To Buy a Motorcycle Helmet on Sale?
Motorcycle helmets are more likely to go on sale during the weekdays, and motorcycle gear retailers stay busy on the weekends, with customers willing to pay full price on riding day. During the week, retailers are slower and sometimes offer deals on helmets to incentivize customers. 
Before we get into the seasonal and holiday influences on the price of a motorcycle helmet, let's talk about the best days of the week. 
Weekdays in moto-gear-retailer-land tend to be slow. I've gotten deals on display helmets that multiple customers had tried on just by striking up a conversation with the bored-to-death salesperson at the gear joint.
Weekdays are slow, and retail management will often take some money in place of no money.
So willing that after a slow Monday or Tuesday, they'll often put gear and helmets on sale in the middle of the week to get people to walk in the door.
Since these mid-week turn-em-and-burn-'ems are usually spontaneous decisions, the surest bet is to join their mailing lists or follow your local motorcycle gear retailers on social media.
That way, you're first to know about a good deal on a protective lid. 
Speaking of social media, follow the helmet brands you like and the retail chains that sell them. Like retailers will spur up helmet sales when the demand is down, social media pages will give helmets away to get views and likes.
If traffic is down, motorcycle helmet brands and retailers will often spark up a contest or throw out a sale on helmets for a limited time until they're back at the top of your feed. 
Make the social media tactics of the leading helmet brands work for you by watching their pages, especially during the week, when you're in the market for a new helmet and jump on the sale as soon as you hear about it.
These social media pages will also send out discount codes to anyone who subscribes to their newsletters, another route you can take. 
Related: How To Wear A Helmet Without Messing Up Hair (Explained)
What Are the Best Months To Buy a Motorcycle Helmet on Sale? 
The months between November and January are good months to buy a motorcycle helmet, as the cold climate detours retail traffic from motorcycle-related products. In February, retailers have fewer days to meet their monthly quotas and sometimes offer helmet deals to boost sales. 
Motorcycle product retailers are desperate to move helmets and enough gear to keep the lights on in the slower winter months.
Gear isn't getting used as much in the winter months; it's not getting hit with wear-and-tear like it does in the summer, so naturally, helmet sales tend to dip.
Brick-and-mortar gear stores and online helmet-slingers alike will often throw up winter sale events to move helmets into the hands of riders like you.
Being a shorter-than-average month, February gives retailers less time to sell gear like helmets and meet their quota. Sometimes they'll offer helmet sales to get a little boost.
What Is the Best Season To Buy a Motorcycle Helmet on Sale?
Winter is the best season to buy anything motorcycle-related, including helmets. It's hard to move moto-helmets when the sun is gone, temperatures are freezing, and motorcycles are far from thought. Therefore, helmet brands and gear retailers offer sales on helmets to get traffic back up.
Winter results in a loss of interest in motorcycling every year. Less social media traffic for helmet brands and lower moto-gear sales creates an incentive not only to boost sales but to keep their base engaged. 
One fast and easy way for brands to do this is by creating winter helmet sales events.
Related: Best Motorcycle Helmets For Skinny Guys (4 Great Options!)
What Are the Best Holidays To Buy a Motorcycle Helmet on Sale?
Black Friday, Labor Day, and just after Christmas are the best holidays to buy a motorcycle helmet on sale. Motorcycle-gear retailers compete with nationwide sales events in every category; retailers offer helmet deals to steer the holiday consumer traffic towards moto-gear.
Here's a quick breakdown of the best holidays to buy a motorcycle helmet on sale:
Black Friday

is host to some of the most significant sales events all year in the retail world, and motorcycle gear and helmet retailers are quick to take advantage of the massive influx in consumer traffic. Black Friday just so happens to fall in the wintertime, when motorcycle helmet sales are already down—gear retailers are more than willing to throw that for-sale-sticker on your favorite helmet and get it out the door.

Labor Day

is a huge holiday in the world of motor vehicles, and this, of course, includes the motorcycle market. It's a huge weekend for riding, with rallies being held from sea to shining sea in the peak of perfect riding weather. Helmet retailers will throw some helmet sales up to accommodate these sales events, so keep an eye out.

After Christmas 

and the winter holidays, you'll see helmet sales popping up left and right, both online and in gear retail stores. It's a quick way for retailers to get rid of the excess helmet stock they ordered up on for the holiday consumer rush. 
What Is the Best Time To Buy a Motorcycle Helmet Online?
During the winter months, buying a motorcycle helmet online, social media sales events and giveaways, and cyber Monday offer the best motorcycle helmet deals. Following your favorite helmet brands on social media finds you spontaneous deals, and joining the newsletter gives you access to promotional codes throughout the year.
Online helmet shopping gives you access to an assortment of helmet options, styles, and deals and lets you compare prices between brands and retailers with efficiency.
8 Tips for Getting a Better Deal on Motorcycle Helmets
Here are eight excellent tips to find the best motorcycle helmet deals:
Buy a helmet on clearance.
Offer to pay a discounted price for the display helmet customers try on.
Buy a motorcycle helmet during winter, during sales dip.
Buy your motorcycle helmet in the middle of the week, when it's slow, and retailers are more likely to offer sales and deals.
Follow your favorite helmet brands on social media to find out about sales and promotions.
Join motorcycle gear retailers and helmet brands' newsletter lists to receive exclusive promo codes
Don't pay for high-tech motorcycle helmet features you will not use.
Don't pay for Snell-rated race-track level motorcycle helmets if you don't ride aggressively at dangerous speeds; a standard DOT-approved helmet provides adequate protection for motorcycle cruising. 
Was this article helpful?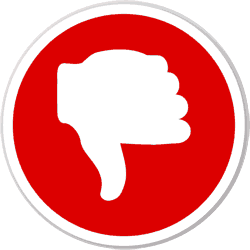 Did you find wrong information or was something missing?
We would love to hear your thoughts! (PS: We read ALL feedback)