It's no secret that car rentals have been around for quite some time now. Not only is it convenient, but it can also be affordable if you look around for the right rates.
Sometimes you find yourself in a position where you need a car quickly, such as in an emergency. Your best bet is renting a car if you don't have the option to borrow it from someone else.
There are plenty of companies to choose from when looking to rent a car. With so many options to choose from, they are all likely to have different costs for a deposit.
A security deposit is the upfront fee you pay the company before you take the car. Rental companies take this as a way to not lose money if something goes wrong.
Checking all the different costs from different companies saves you time and money. It's best to start your research with some of the top companies in your area.
In this article, we're listing out some of the top rental companies and if they all require deposits.
Here's the short answer to whether all rental car companies require deposits:
Most rental car companies require customers to deposit a certain amount when renting vehicles. The amount you will deposit depends on whether you're paying with a debit or credit card or cash. The companies charge varying amounts of deposits and may even require you to hold an account with them before you can rent a car.
How Much Is the Deposit Normally on Rental Cars?
Rental car companies all differ in their deposit fees. On average, rental companies normally require a deposit of around $200 to $500.
It is important to note that not all companies are the same in size and in quality service. Bigger and well-known companies will more often need a bigger deposit.
Most companies that require a bigger deposit likely have other service fees included in the deposit amount. It is mostly to make sure that customer satisfaction is high.
Check also: the user demographics of rental car users.
How Much Is the Deposit With These Car Rentals?
Let's look at some well-known rental companies and how much they require for a deposit.
Keep in mind that the various deposit amounts often depend on which car you're choosing. The fee can also vary with the area the company is in.
How Much Is the Deposit With Hertz?
With Hertz, you can expect to pay a minimum deposit fee of $200 for credit cards and $500 if using a debit card. This deposit is for certain conditions that will be outlined at the time of rental.
How Much Is the Deposit With Enterprise?
Enterprise has a deposit fee of $100 and $300, depending on which package you choose.
You have the option of using cash when paying your deposit. The money will be paid on the return of the car unless there are other charges incurred.
How Much Is the Deposit With Avis?
At the time of rental, Avis will require a credit card hold of $200. If the car is returned in the condition it was in, the funds are returned to your account after about 10 working days.
How Much Is the Deposit With Budget?
The minimum account hold amount is $100, but can increase up to $300 to cover estimated charges.
This company also accepts deposits that are paid with a debit card at the time of rental. Paying with a debit card requires that a credit check be performed.
How Much Is the Deposit With Dollar?
When renting with Dollar, you'll be required to pay a deposit fee of around $200. This amount is in addition to any rental-related charges.
You can get the money back when you return the car in the same condition it was upon collection.
With Dollar, you can also opt to use your debit card for the deposit amount. However, deposits done with debit cards can go up to $500 in additional charges.
How Much Is the Deposit With Thrifty?
Renting a car with Thrifty Car Rental will incur a $200 deposit fee. This fee increases up to $500 when you choose to pay with a debit card.
You are required to wait for approximately 21 working days to get the money deposited on the return of the car.
How Much Is the Deposit With Fox?
Fox states that it requires a deposit of between $150 to $400 when renting a vehicle with them. They have a wide variety of vehicles in different classifications and packages.
The deposit amount will vary when paying by debit or credit card and which car classification you choose from.
How Much Is the Deposit With Rent-A-Wreck?
Rent-A-Wreck requires a $100 deposit for renting one of their vehicles. A onetime fee of $15 and $200 is charged when using a debit card to pay for the deposit.
This company also charges a $25 fee when you cancel your reservation.
A deposit is expected to reflect on your chosen credit card within 7 working days.
Related: Car Leasing Problems: 6 Main Problems People Face
These Rental Car Companies Have The Least Deposit
Enterprise, Rent-A-Wreck, and Budget all seem to have the least deposit. These companies all charge $100 except for Rent-A-Wreck, which charges a minimum of $150.
It is also worth noting that even if the company has a low deposit amount; it doesn't necessarily mean it's cheap.
On top of the deposit, there are usually other costs, such as administrative and processing fees. These are added to the deposit fee before you can take the car out.
It is also best to take into consideration that the car has to be brought back in the same condition it was in. Large penalty fees will apply when this is not taken care of.
These Rental Car Companies Have The Highest Deposits
Thrifty and Hertz seem to have the highest deposits. Both Thrifty and Hertz have deposit fees of $200.
The fees get quite high when you decide to pay using a debit card. The fees then shoot up to $500 for both these companies.
A debit card is riskier than a credit card for these companies. With a credit card, the company knows that you're more likely to be creditworthy.
Related: Do Leasing Companies Track Cars With GPS? (Solved)
Do You Always Get the Deposit Back On Car Rentals?
In most cases, it takes up to about 15 working days for the funds to reflect in your account. Most companies will keep to the terms and conditions attached to their deposit policy.
It is important to read the rental agreement extensively to understand what costs you'll incur.
The rental agreement will stipulate how much the deposit amount will be. It will also tell you what costs will be deducted from the original deposit amount.
Companies would rather avoid bad customer service scores and ratings. This means that in most cases, your car rental deposit will be returned.
If you do not get a return as outlined by your rental company, it is best to follow up. This can be done via the customer satisfaction team of the company.
When the rental was done through another third-party service online, they can also correct the error for you. In cases like this, it is best to rent directly through the rental company to avoid more paperwork on your end.
In most cases where the deposit was not returned, it's often due to bank processing delays. However, human error can also occur and incorrect amounts entered into the system.
What Car Rental Companies Are Most Trustworthy?
The most trustworthy car rental company is Enterprise for its excellent customer service. This is from a study conducted by J.D. Power, which ranked the leading car rental companies.
The study scored Enterprise 861, with an industry average being 830. A score this high is considered very trustworthy in the industry.
Hertz comes in as the chosen car rental company for most airport locations. Having more airport locations means customers are comfortable using the company between trips.
Car rental companies get most of their customers through airport locations. With more locations, you have peace of mind that a car will be available at the destination airport.
A good rule of thumb is to go online and check reviews of different companies. Most companies will have an online presence and you can see how well they treat their customers.
Related: Can You Negotiate With Car Rental Companies? (Solved)
What Is the Deposit Used for?
The deposit is used as a security measure to ensure that the car is returned in an acceptable condition.
Most companies use the deposit to deduct the cost of fuel, cleaning the car, and repairing minor damages to the car.
Upon returning the vehicle, it will be inspected and costs will be calculated and deducted from the original deposit amount.
We all know that accidents happen and so the rental company wants assurances to cover the damages. Damages include dents or scratches and whether the car is very dirty.
A full-to-full agreement means that you have to bring the car back with a full tank. In this case, the company has to provide a full tank of gas when you receive the car.
Deposits will always vary in terms of location of the company, class of car, and a credit risk profile. Smaller economy cars will have smaller deposit fees than luxury cars.
This also goes for the age and experience of the renter. An older and more experienced driver will usually incur lower deposit fees.
How Do You Avoid a Large Deposit on a Rental Car?
The most common way to avoid high deposits is to buy extra cover or insurance.
Another way would be to avoid extras such as a child seat, GPS device, and bicycle mounts. Extra equipment from the rental company often comes at a higher price.
If you'll be going on a really long trip and need a GPS device, for example, it's best to hire it from another company.
A great takeaway is to also inspect the car closely before driving it off. You might notice dents or scratches that you could be charged for when returning the car.
When inspecting the car yourself, it is advised to check inside the vehicle too. Check the cleanliness of the car and also test the clutch and brakes.
Checking vehicle components allows you to detect issues that might arise after you take the vehicle out. This will likely help avoid costly deposit fee reductions.
Was this article helpful?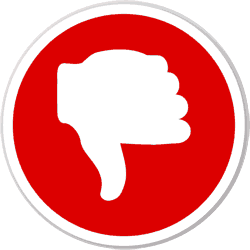 Did you find wrong information or was something missing?
We would love to hear your thoughts! (PS: We read ALL feedback)