Introduced in 2016 into the sub-compact crossover sector, the Nissan Kicks has made a splash.
The Kicks is one of the best-priced cars in its segment and is roomy enough for you and four other passengers.
We already looked at how long Nissan Kicks last and now we'll look at some of the most common problems owners face with these fine cars.
The body style of the Kicks takes its cues from the Juke and its larger siblings. It is sporty and looks smaller on the outside than it is on the inside.
The standout feature of the Nissan Kicks is its fuel efficiency. When paired with a low initial cost, it makes it a solid winner in the subcompact class of CUVs.
1. Clicking sounds from the instrument cluster
Owners have complained about clicking noises in the instrument cluster on a 2019 Kicks with fewer than 1000 miles on the odometer.
After owning the car for a week, a warning light displayed a message stating, "Cannot Detect Front Crash Sensor."
After the message, the front warning alarm sounded, and no one was in front of the car. As a result, the dealer replaced the 'front crash sensor.'
However, the dealer never identified the source of the clicking sounds from the instrument cluster.
Although there is only one incident of clicking sounds in the instrument cluster, the complaints about the infotainment system and forward collision alarm are numerous.
Although Nissan has not issued a recall on the collision alarms or instrument clusters, it indicates the problems are few.
2. Front collision sensor failure
Several reports say when the front collision sensor fails, the car will stop on its own. This complaint was reported to the NHSTA (National Highway Traffic Safety Administration).
There have been numerous complaints about this issue, and the fix is a replacement of the sensor. One auto owner claimed it only happened when he was facing the sun.
Another problem seems to be that some dealerships were not installing the right part, so the problem is not fixed.
A few owners have taken their Kicks to a different dealership, whose mechanics were able to fix the problem.
Whatever the reason for the failure of the front collision sensor, it needs to be repaired as soon as you know you have a problem.
Sudden stops in highway traffic are dangerous enough. Still, the danger increases when your car decides to do it with no prompting from any direction.
3. The vehicle shuts off while driving
A car that stops itself is dangerous, so too is one that cuts off while driving, and there have been several incidents of the car shutting down while driving.
One owner who reported this incident claims that the car would not restart immediately.
Instead, the driver had to wait 15 to 30 minutes before it would restart.
The driver has had their Kicks serviced twice since it shut down while driving, yet the mystery remains unresolved.
There have been several other incidents of engines randomly stalling. The cars affected are mostly 2018 and 2019 models. A few stalling problems showed up in the 2020 models. However, for 2021 there has only been one recorded complaint.
A service bulletin from Nissan indicates that the stalling of the Kicks is due to a fuel system issue. However, there is a fix for it, and if you have a Kicks from 2018 forward, it is covered in the service bulletin, as are many other Nissans.
4. The car will not accelerate.
A few of the 2020 Kicks models had this problem, and a few drivers mentioned that the car would stop for a second and then have trouble accelerating.
This issue could result from the above.
If the engine is not getting fuel when it should, it will not accelerate as it should.
However, there are many reasons a car may not accelerate properly, and there may be any of the following:
Clogged air filter
Clogged fuel filter
Clogged MAF (mass airflow sensor)
Dirty throttle body
As you see, there are many reasons your Kicks may not accelerate as they should. A Nissan mechanic should be able to diagnose your car and fix the problem.
5. Rough Idling engine and grinding transmission
The next problem with the Nissan Kicks is also an engine issue. Some owners have reported rough idling, as well as transmission grinding.
Some of the complaints made about the Kicks are directed at the CVT (continuously variable transmission). The consensus is that it slips, and then the engine stalls.
Rough engine idling can be related to fuel system problems and some of the problems that prevent your car from accelerating as it should.
As for the transmission, Nissan put out a recall for Kicks made in 2019. There is no information on other years.
However, there are reports of 2021 models that have:
Shifting delays
Car shake
A burning smell from under the hood
One owner heard whistling noises coming from the engine. However, since this engine is not turbocharged, whistling is not a typical sound.
6. Automatic emergency braking is faulty in some models.
A few models of the Kicks have had braking problems since the first model was introduced. This is the most critical issue with any Kicks problems other than it stalling at speed.
Owners say that the emergency braking will engage at highway speeds and slow the car. Other problems include a system that failed to activate.
Either scenario could be a disaster if you are traveling at highway speeds.
Nissan has worked on this problem, and again there is no recall for faulty emergency braking.
Your local Nissan dealership will often take care of these issues, so a recall is unnecessary.
7. Malfunction of the infotainment system/backup camera
Some models had issues with their infotainment systems that caused them to perform unpredictably. Complaints from owners claimed the infotainment system behaves erratically. There are times the radio will quit working altogether.
Other owners complain that Bluetooth connectivity is often unpredictable in its behavior.
There are no complaints about the navigation system.
However, it is about the backup camera.
The unpredictability of the infotainment system can affect everything that syncs with it. This includes:
the functions of the radio,
navigation system,
and backup camera.
However, Nissan has worked to correct every issue with each new model year.
Cost of Repairs
The listed costs for the above repairs are non-existent, except for the transmission, which costs about $3500 to replace. So, giving you ballpark figures on the price to have your Kicks repaired.
Other than the recall for the transmission of the 2019 models, there is very little information about the problems with the Kicks.
Since the first cars hit the market, front collision sensor failures have been a problem.
So, getting your dealer to repair this part at cost should be easy.
Finding the part you need, however, may not be so easy.
List Pros and Cons
Even though the Nissan Kicks has a few problems, it also has a lot going for it and is worth a look if you are in the market for a subcompact crossover.
Pros
One of the lowest base-priced crossovers on the market
The Kicks packs a lot of room in a bit of space
The base price of less than $20,000
Excellent fuel mileage (31 city/36 highway and 33 combined miles per gallon)
Carries five passengers, comfortably
It has a stylish, sporty body.
It is easy to drive and easy to park.
Cons
It could use a more powerful engine.
No all-wheel drive is available.
Interior materials are of a lower quality than competitors.
The manual transmission feels heavy and makes city driving uncomfortable.
You need to check out the infotainment features if you are buying used Kicks.
Quote Reviews
'The Kicks is great as an urban runabout, but we wish its powertrain were smoother and more powerful.'
'Among its many extra-small SUV rivals, the Kicks is most like the Hyundai Venue and Kia Soul.'
'If you're considering the Nissan Kicks, know that it's an affordable and practical small SUV.'
Resale Prices
For a compact crossover, the Nissan Kicks holds its value well and retains almost half of its value when it reaches its five-year mark.
| | | | | | |
| --- | --- | --- | --- | --- | --- |
| Age | Depreciation | Residual Value | Resale Value | Mileage | Resale Year |
| 1 | $5,596 | 74.18% | $16,078 | 12,000 | 2022 |
| 2 | $7,386 | 65.92% | $14,288 | 24,000 | 2023 |
| 3 | $8,594 | 60.35% | $13,080 | 36,000 | 2024 |
| 4 | $8,873 | 59.06% | $12,801 | 48,000 | 2025 |
| 5 | $11,156 | 48.53% | $10,518 | 60,000 | 2026 |
| 6 | $12,127 | 44.05% | $9,547 | 72,000 | 2027 |
| 7 | $13,804 | 36.31% | $7,870 | 84,000 | 2028 |
| 8 | $15,037 | 30.62% | $6,637 | 96,000 | 2029 |
| 9 | $16,106 | 25.69% | $5,568 | 108,000 | 2030 |
| 10 | $16,470 | 24.01% | $5,204 | 120,000 | 2031 |
Final Thoughts
Although the Nissan Kicks has a few problems, it is a solid little car. It has over eight inches of ground clearance, which gives you a commanding view of the road.
Stylish, with cutting-edge technology, and phenomenal fuel mileage for a crossover, the Kicks have become popular very quickly.
Only a couple of crossovers in this segment are competitors to the Nissan Kicks.
They include:
the Kia Soul,
the Toyota C-HR,
the Kia Seltos,
the Hyundai Venue,
and the Chevrolet Trailblazer
However, the Kicks can beat them all on price, and its taller stance appeals to many buyers.
GO BACK: Problems for all Nissans.
Was this article helpful?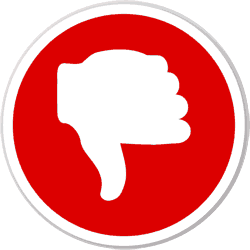 Did you find wrong information or was something missing?
We would love to hear your thoughts! (PS: We read ALL feedback)
ⓘ  The information in this article is based on data from National Highway Traffic Safety Administration (NHTSA) recall reports, consumer complaints submitted to the NHTSA, reliability ratings from J.D. Power, auto review and rating sites such as Edmunds, specialist forums, etc. We analyzed this data to provide insights into the best and worst years for these vehicle models.
---